National sports commentators and talk hosts: 5 most polarizing personalities and opinion mongers
Everyone has something to say, especially media voices these days. Some share opinions that make some sense. Others make listeners and viewers scratch their heads. These five take the prizes for the most polarizing:
#1 Jason Whitlock
The man, the mess, the legend, Jason Whitlock. The epitome of controversy in sports media.
A black man who rarely shares the opinions and interests of outspoken black athletes, Whitlock has built a career around blatantly disagreeing. The sports world's equivalent of that one kid in your biology class who disagreed with the teacher on evolution. Although infamous or famous for insensitive commentary on athletes like Lebron James, Whitlock has made his way to number one on our list due to his opinions on Black Lives Matter for its conspiracy theories.
Calling out Lebron on his emotional response to Ahmaud Arbery's death
Whitlock tweeted that LeBron was using the tragedy as a ploy to build an image and brand. He said Lebron was spreading fear by saying "black men are hunted everyday"
Response to Lebron James home being vandalized with racial slur
Colin Cowherd's radio show, The Herd, Whitlock: "He has fallen into the far-left trap of, 'There's value in embracing your victimhood.'"
Controversial Interview with Rank
Explaining the ulterior motive behind athletes joining the fight for change:
"It's a tool being used to promote themselves." He goes on to explain that the attention players receive is in order for them to create a public image suitable for a well paying salary after sports. Whitlock also proposed his view on the matter of police brutality by adding, "Black men live in fear of the police, that's all BS, particularly if they have any life experience in a black community. You are more likely to be struck by lightning than to be killed by a cop."
#2 Skip Bayless
Delivering loads of hot takes through the years on Fox and ESPN have allowed Skip Bayless to create a wildly successful career as a sports analyst. He expressed peculiar admiration for the playing abilities of Tim Tebow who essentially failed in the NFL. This blew up in Skip's face: "Tim Tebow is the next Brett Favre!"
Report on Dak Prescott falling into a depressed state after his brother Jace died by suicide in April.
His attack on the leadership qualities of Dallas quarterback Dak Prescott because he struggled with the death of his brother, led to this headline, "Skip Bayless just made the biggest mistake of his career."
Bayless said on Fox Sports that Prescott didn't deserve his sympathy and that showing depression was a sign of weakness for a team leader. "He's the quarterback of America's team. The sport that he plays is dog-eat-dog. There's no compassion on the football field. If you reveal any little weakness publicly, it can affect your team's ability to believe in you in the toughest spot."
Leaving Lebron out of top 5 in the NBA?
Dwayne Wade, Kobe Bryant, Dirk Nowitzki, Kevin Durant, Carmelo Anthony
#3 Colin Cowherd
Colin Cowherd, former host of ESPN's The Herd and currently on Fox Sports. He enjoys a cult and loyal following. Cowherd is glib and he articulates his views cogently.
In 2015, right before he was booted off ESPN network for his ill thought out comments on Dominicans in MLB:
Cowherd said that he didn't believe baseball was a complex sport. He maintained that a third of the sport was from the Dominican Republic, which had "not been known, in my lifetime, as having, you know, world-class academic abilities." ESPNs Response: Colin Cowherd's comments over the past two days do not reflect the values of ESPN or our employees," ESPN said in a statement. "Colin will no longer appear on ESPN."
The Big Lead sports blog
In its early existence, the Big Lead was critical of Cowherd, accusing him of plagiarism. In 2007, it said, "He blatantly stole material from the M Zone, a popular blog about Michigan sports, and tried to pass it off as his own. Classy guy, indeed." To counter, Cowherd asked his listeners to flood the young site with visits causing it to be shut down for two days.
Disparaging John Wall (now with Houston)
He implied that Wall doesn't have the adequate IQ to be a successful NBA point guard: "Point guard is like the quarterback. It's an IQ-judgment position," Cowherd said. "The great ones are not about themselves. They're about the others. Leadership is IQ, it's not skills." Wall went on to flourish as a two time all star with the Wizards.
Called out fellow broadcaster Dan Patrick
Cowherd was discussing the exceptional work ethic of Jim Rome, Skip Bayless, and, of course, himself when he made the claim that Patrick needs "35 producers to fill a segment" on his self-titled radio show, adding gratingly that Patrick doesn't work as hard as Rome. "Not even close," Cowherd said. Patrick's response: "I don't have 35 producers. I do have two producers here who did work on Colin's show, and the one thing that I do is I give credit to my producers on the air. It's not a one-man show."
#4  Stephen A. Smith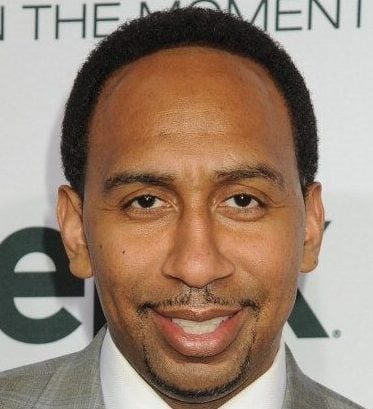 When they partnered years ago, it was no wonder why ESPN's First Take hosts Skip Bayless and Stephen A. Smith, drew big ratings. Controversy was their currency. With a new ESPN contract estimated at $8 million per year, Smith is known just as much for his memorable quips and comedic exuberance as he is for his provocative takes and controversial commentary. Like Bayless, Stephen A. is famous for wide angled opinions that stir his audience:
Abuse Victims
¨What I've tried to employ [with] the female members of my family—some of whom you all met and talked to and what have you—is that … let's make sure we don't do anything to provoke wrong actions, because if I come—or somebody else comes, whether it's law enforcement officials, your brother or the fellas that you know—if we come after somebody has put their hands on you, it doesn't negate the fact that they already put their hands on you," he said on First Take.¨ He issued an apology: "The most egregious error of my career."
Sexist comment about Ayesha Curry, Steph's wife. Stephen A. wouldn't recognize her as an independent woman. "You are not just Ayesha Curry. You are Steph Curry's wife," he said and Bayless, his partner then, concurred. Apparently, once a woman marries an NBA player, they no longer have their own identity. They're merely ornamental ,"Be a good NBA wife" He invoked the name of Lebron James' wife Gloria, who mainly stays quiet.
Tony Romo
Smith declared that Tony Romo's race is why he was honored after his retirement with a broadcast gig at CBS.
Steve Nash hired by Nets as their coach
'This is white privilege,' Stephen A. emoted, calling his hiring an example of white privilege because the former NBA star had no head coaching experience compared to other Black candidates.
#5 Jim Rome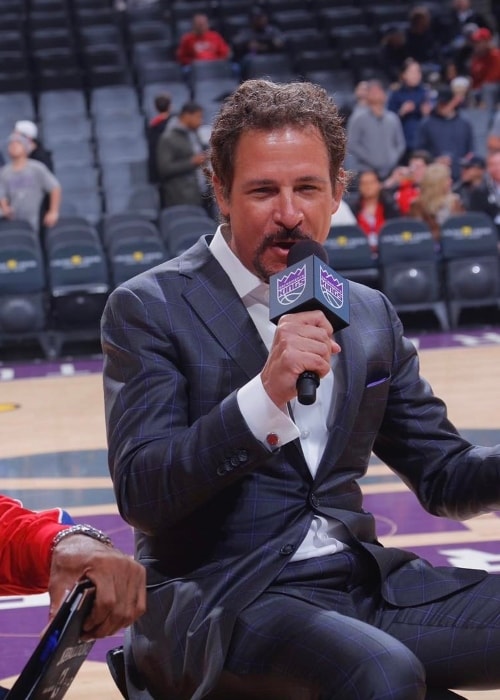 Rome will always be remembered for his brawl with Rams' Quarterback Jim Everett on live television. In 1994, Rome was young and up and coming in the relatively new world of national sports talk. In his dominant years, Rome made a ton of dough, built a large fan base and created his own lingo.
Jim Everett vs. Jim Rome
On ESPN, Rome mockingly called the established NFL quarterback ,"Chris" Evert, comparing him to the woman tennis star and strongly suggesting that he was soft. On the show the QB is actually seen knocking Rome to the ground after the host again called him "Chris."
NBA Draft in 1985 in which the Knicks got Patrick Ewing in the lottery
Years later, Rome famously asked the late commissioner David Stern whether the draft was rigged. Stern, never shy, replied, "Have you stopped beating your wife yet?"
NHL superstar Gordie Howe
In 1997, Howe announced he wanted to play a shift with the International Hockey League's Detroit Vipers, which would have made him the only professional hockey player to play in six decades.
Rome then offered a bounty of $3,000 to any player on the team playing against the Vipers to take out the 69-year-old ex-hockey star, saying, "Putting this old fool back to reality."
Howe and his wife threatened Rome with a lawsuit, and the bounty offer was withdrawn.