NBA releases first round playoff schedule and networks; TNT identifies it four play-by-play crews
The playoffs are around the corner and here's the schedule and what we know about the talent.
 TNT Coverage
TNT will televise more than 40 NBA Playoff games, the most of any network, including first-round action tipping off with four games on Tuesday, Aug. 18th (see below). TNT will televise up to 29 first-round games , along with the Conference Semifinals, and exclusive coverage of the 2020 NBA Western Conference Finals.
Ernie Johnson, Charles Barkley and Shaquille O'Neal and Kenny Smith provide analysis for TNT's NBA Tip-Off, the Halftime Report and Inside the NBA. Turner managed NBA TV will televise up to nine first-round NBA playoff games. 
TNT's and NBA TV's playoffs game coverage will include these announce teams:
Brian Anderson and Chris Webber
Spero Dedes and Stan Van Gundy
Bob Fitzgerald and Jim Jackson
Joel Meyers and Greg Anthony
TNT's reporters for the first Round will include Jared Greenberg, Rebecca Haarlow and Stephanie Ready. Commentator pairings for the Conference Semifinals and Western Conference Finals will be announced at a later date.
For those unfamiliar, Bob Fitzgerald does the Warriors games on television and is not wildly liked there. He succeeded the very popular Greg Papa and the fans haven't taken to him. But Bob's still adequate.
Meyers has bounced around. Doesn't last too long in any one place. He was fired by the Lakers before eventually being picked up by the Pelicans whose games he continues to call. Meyers famously missed Kobe Bryant's 81 point game in 2006 because he was running himself too thin calling football games elsewhere. That couldn't have sat well with the club. Still, Meyers is adequate.
Dedes is terrific and an experienced NBA voice. He's done Knicks and Lakers broadcasts plus work nationally for Turner. Spero is a Fordham man, like ESPN's Mike Breen. What I've heard from Jim Jackson I've liked. He doesn't spew inanities. It's good to have Webber back. He hasn't worked to this point. For Greg Anthony, it's an opportunity which I'm sure he cherishes. After committing an indiscretion, he was canned by CBS several years ago, he's working his way back. Good to see him continue to get a second chance. 
Importantly, Turner brings in Brian Anderson who's being considered for Marv Albert's top spot when he retires. Anderson plays well throughout the country. He has a breezy delivery and a pleasant voice. He doesn't yell or scream and has a friendly disposition. 
Kevin Harlan, Reggie Miller and Ian Eagle who worked to this point are not slated for duty in the first round.
ESPN coverage
The 2020 NBA Playoffs will tip off on Monday, August 17, with a quadrupleheader, totaling more than 10 consecutive hours of live event coverage on ESPN. ABC and ESPN will combine to broadcast up to 44 NBA Playoffs game telecasts, including up to 18 first round games. Additionally, ESPN will exclusively televise the 2020 Eastern Conference Finals and ABC will exclusively broadcast the 2020 NBA Finals. All games emanate from the ESPN Wide World of Sports Complex at the Walt Disney World Resort in Lake Buena Vista, Fla.
ESPN will exclusively televise the 2020 NBA Draft Lottery  on Thursday, August 20, amid its four-game slate that day. The 30-minute telecast will air at 8:30 p.m. ET after ESPN's third game of the day and prior to the 9 p.m. ET nightcap.
The lead team of Mike Breen, Mark Jackson and reporter Lisa Salters will provide commentary with officiating expert Steve Javie. The network hasn't released its commentators for the opening round games. Note that Jeff Van Gundy is not on the announcer roster for the first round.
To this point, play-by-players Mark Jones and Dave Pasch have both worked games for ESPN in the bubble. Both are solid.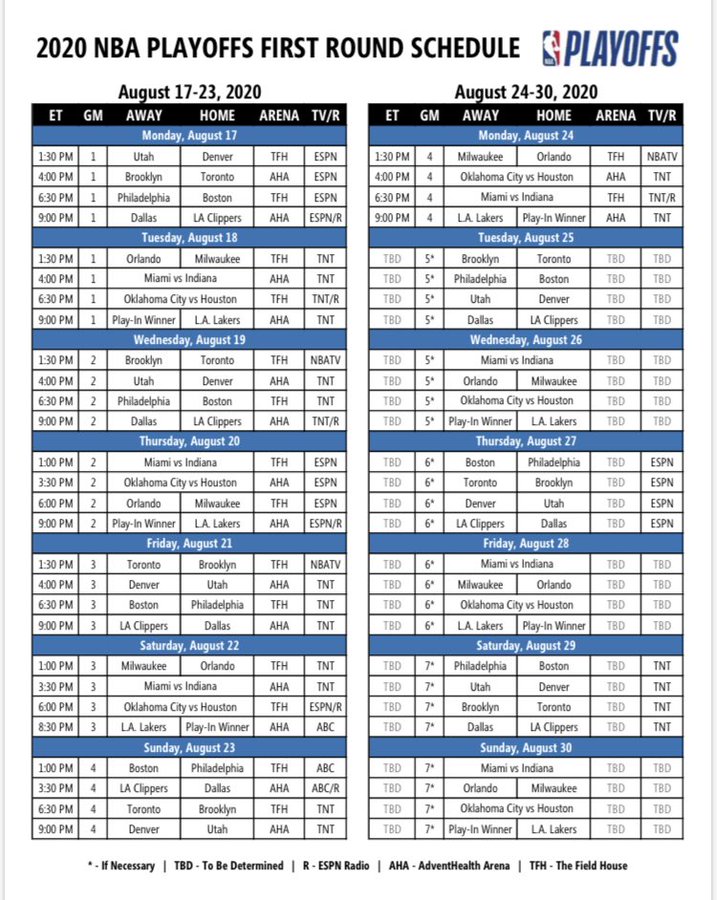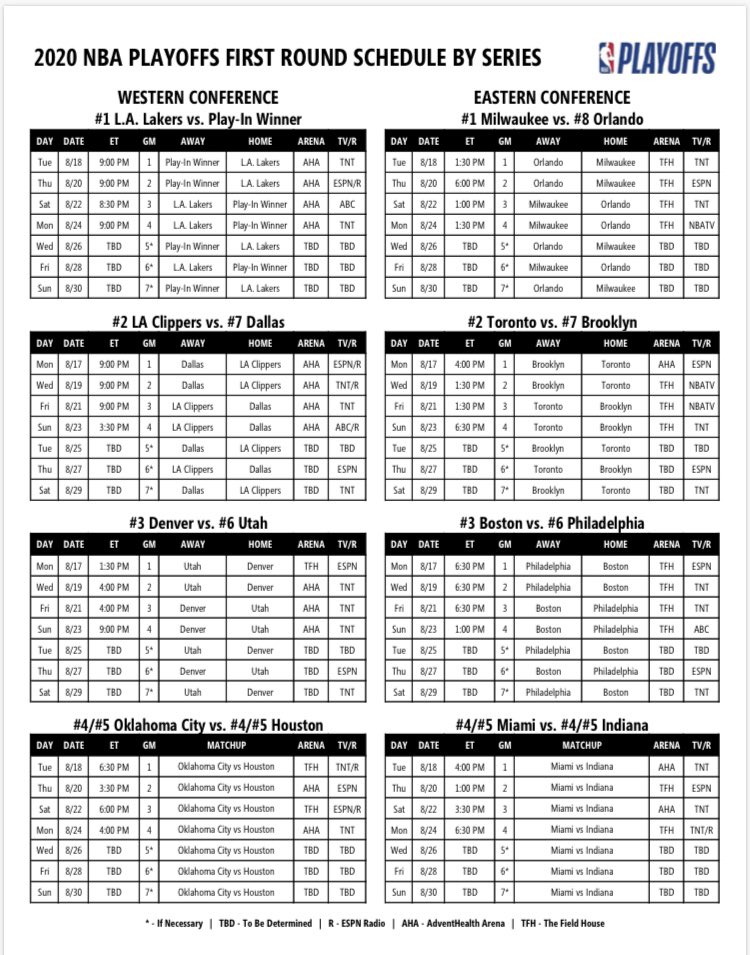 First week spelled out:
Monday, August 17
1:30 PM  1      Utah – Denver, (ESPN)   
4:00 PM  1      Brooklyn – Toronto, (ESPN)          
6:30 PM  1      Philadelphia – Boston, (ESPN)           
9:00 PM  1      Dallas  – LA Clippers, (ESPN)  
Tuesday, August 18
1:30 PM  1      Orlando – Milwaukee , (TNT)
4:00 PM  1      Miami – Indiana, (TNT)
6:30 PM  1      Oklahoma City – Houston, (TNT)
9:00 PM  1      Play-In Winner – L.A. Lakers, (TNT)
Wednesday, August 19
1:30 PM  2      Brooklyn – Toronto, (NBA-TV)
4:00 PM  2      Utah – Denver, (TNT)
6:30 PM  2      Philadelphia – Boston , (TNT)
9:00 PM  2      Dallas – LA Clippers, (TNT)
Thursday, August 20
1:00 PM  2      Miami vs Indiana, (ESPN)
3:30 PM  2      Oklahoma City vs Houston, (ESPN)
6:00 PM  2      Orlando – Milwaukee, (ESPN)
9:00 PM  2      Play-In Winner – L.A. Lakers, (ESPN)
Friday, August 21
1:30 PM  3      Toronto – Brooklyn, (NBATV)
4:00 PM  3      Denver – Utah, (TNT)
6:30 PM  3      Boston – Philadelphia, (TNT)
9:00 PM  3      LA Clippers – Dallas, (TNT)
Saturday, August 22
1:00 PM  3      Milwaukee    Orlando, (TNT)
3:30 PM  3      Miami vs Indiana, (TNT)
6:00 PM  3      Oklahoma City vs Houston, (ESPN)
8:30 PM  3      L.A. Lakers – Play-In Winner, (ABC)
Sunday, August 23
1:00 PM  4      Boston – Philadelphia, (ABC)
3:30 PM  4      LA Clippers – Dallas, (ABC)
6:30 PM  4      Toronto – Brooklyn, (TNT)
9:00 PM  4      Denver – Utah, (TNT)