NBC and Pro Football Talk's Mike Florio, once a full-time lawyer, likes Washington as his surprise team
Thanks to his passion and drive to uncover the story, Mike Florio, a one-time lawyer, has become one of the most visible purveyors of NFL news, developments and rumors. Millions see him share breaking news and his views on NBC's Sunday Night Football and many turn eagerly to the publication he runs, Pro Football Talk.
Florio, 56, a West Virginian, started covering the NFL as a hobby—as a break from the taxing grind, working as an attorney. Florio wrote several weekly unpaid articles for NFLTalk.com.
In 2001, while still practicing law, Florio made a six-month deal with ESPN to publish his daily news and rumor column. But it got to the point where he was putting in 18-hour unsustainable shifts. The workload and the wait each day to have his copy go through ESPN's editorial process prompted him to go out on his own.
So he launched his website–ProFootballTalk, which removed ESPN's red-tape and enabled him to publish stories as he pleased. The site started small in '01, but gradually gained momentum and more traffic. A turning point was 2004 when Florio undertook and achieved his New Year's resolution to consistently produce an abundance of new, daily content. Mike says it worked. Readership for the site ballooned.
ProFootballTak's  reports on Ben Roethlisberger's 2009 sexual assault lawsuit and Michael Vick's 2007 dogfighting scandal increased circulation further. In 2009, Florio struck a partnership with NBC Sports and he's also served as host of a Pro Football Talk Show with Chris Simms. PFT has 1.6 million followers on Twitter.
Interestingly, Florio grew up a Vikings fan in what is mostly Steelers country, West Virginia. He tells us, "I saw the Vikings on TV and something about the purple helmet with the white horns on each side flipped a switch for me. Once I got into the business and started covering all of the teams, the rooting interest diminished."
I had a chance to catch up with Mike.
There was a time that the NFL was fairly quiet between the Super Bowl and the opening of camps in July. When ESPN started televising the draft, the league became a constant subject of conversation during the off-season. What's it like for you? Any time off? 
The NFL has realized over the years that the offseason is about selling hope, and that the regular season and postseason are about seeing hopes realized or dashed. This has made the NFL, as Joe Rose of WQAM in Miami often calls it, "the league that never sleeps." There's always news. There's always something to discuss. The ongoing popularity of fantasy football and the spread of legalized gambling will increase demand for this type of content. So no, there's no time off. No days off, as Belichick says. And that's fine. I've had jobs I didn't like. I've had jobs that wore me down. I delivered newspapers before dawn, in all elements. I worked at Kentucky Fried Chicken. Much of the time I spend covering the league I'd otherwise spend following it. Who needs time off from that?
You believe that the Michael Vick dogfight story in 2007 put you on the map. How were you able to uncover the information?
I studied all of the reports and public comments from the authorities, and all other developments. I instinctively knew that there was no way Vick owned a house in Virginia but never visited the property and had no idea that instead of a swimming pool there was a dogfighting operation in the backyard. Every story I wrote flowed from that very strong hunch. Some in the media insist that the local prosecutor would have never acted on the issue; believing that the federal government successfully prosecuted Vick only because of our stories on the subject. I do not believe that (about the prosecutor); if it was obvious to me that Vick knew and was involved, it surely was obvious to those working the case.
Who is your surprise NFL team in 2021 and why? 
Washington, without question. They have the best roster in the NFC East, they've improved on both sides of the ball, they have one of the most underrated coaches in the league in Ron Rivera, Most importantly, they have what it takes to torment Tom Brady in a single-elimination setting: A potent front-seven that can create pressure from every angle, especially up the middle.
You now host a Pro Football Talk show with Chris Simms. How do the two of you complement one another?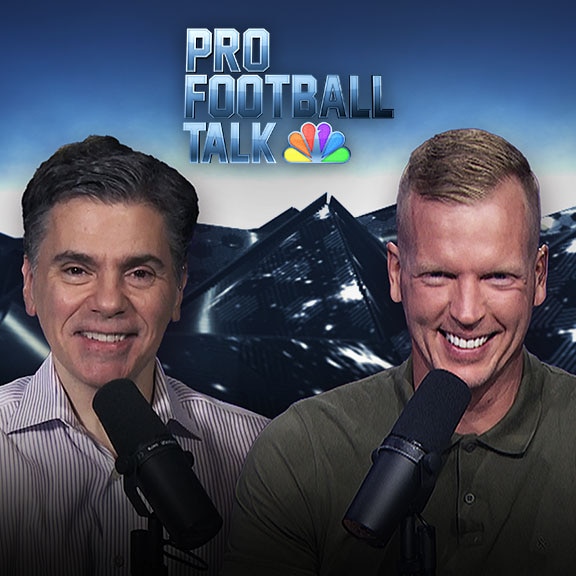 Chris (right, with Florio) and I have had dramatically different life experiences, but there is one thing we have firmly in common: An intense passion for the game of football. I've learned about it as a fan and then as a member of the media. He lived it directly, growing up as the son of a Super Bowl MVP and then becoming a quarterback who was so intent on proving himself that he nearly died on the field in 2006. He's as good at evaluating quarterbacks, both pro and college, as anyone I've ever encountered. He doesn't take himself too seriously; if he makes a verbal blunder, he owns it and laughs about it.
The partnership is effortless and natural. The audience can tell that, if we weren't hosting a show together, we'd be hanging out, watching games, having a few drinks, and smoking a cigar. Mine would have tobacco in it; his would not.
You run a website, co-host a show and contribute to SNF on NBC? How does the preparation differ?
 For PFT Live, there's no preparation because I'm constantly plugged into the NFL matrix. Our producers put together a format every night, I read it and give feedback (usually not much) and then we just go. Some of the most fun I have comes from talking through issues with Chris. We both think of new angles and ideas when the show is live, and we have to figure out how to communicate these thoughts in real time. For Sunday Night Football, the news gathering depends on the events of the day. Injuries, controversies, whatever happens will dictate what I try to chase and where I try to find it. Those Sundays are nonstop, high-energy, fire-drill days, especially after the 1 p.m. ET games end.
When it comes to breaking stories, who is PFT's biggest competitor?
I stopped thinking in terms of "competitors" several years ago. I've also learned over the years that there are very different types of news to be broken. Jay Glazer once told me that, in the NFL universe, the best stories are the things they didn't want us to know. That's when I realized that 98 percent of the "breaking news" items that show up on Twitter are transactions that will be officially announced, often only five minutes later.
It's a strange sort of symbiosis. Agents and team executives funnel information to reporters in the hopes that the reporters won't criticize those agents or executives, or that they'll slant coverage in a way that praises them when others are being critical.
I once had a general manager who didn't want me to keep pushing a certain angle, (promise) to give me his team's next big story if I'd drop the issue I'd been writing about. I declined, and I thanked him for confirming for me the way that the NFL Insider sausage gets made.
Since then, I don't view anyone as a competitor. We are, and have been, the only outlet that does what we do. Others have tried to copy it, but it requires a full and complete dedication bordering on an obsession to constantly be looking at every relevant development, deciding which ones are worthy of our audience's time and attention, and looking for ways to explain the developments in a way that helps the audience better understand the broader issues and dynamics that often are at play.
In the past twenty years, I've learned a lot more about all other aspects of the game and the business behind it, and I try to share that information with those who don't have the benefit of that experience or perspective.
Aside from yourself, who are the biggest contributors at Pro Football Talk?
Michael David Smith was our first actual hire in 2007. He's been the managing editor since 2012. Josh Alper also has been with us for a very long time and works fast and smart and creates a lot of compelling content for us. Charean Williams arrived in June 2017. She's a Hall of Fame voter and has a seat at every important table. Myles Simmons became our most recent full-time hire last year after spending time covering the Rams, the Raiders and the Panthers. Curtis Crabtree has served as our late-night correspondent since 2012. While we sleep, he monitors the NFL universe from Seattle.
Several years ago, NBC lured Peter King away from SI.com, and his Monday morning column now appears exclusively at PFT. Having his iconic weekly submission appear on the platform that started as a lark in 2001 helps me realize how far we've come