NBC gets an A+ for its Baltimore-Buffalo playoff coverage; Michaels and Collinsworth sparkled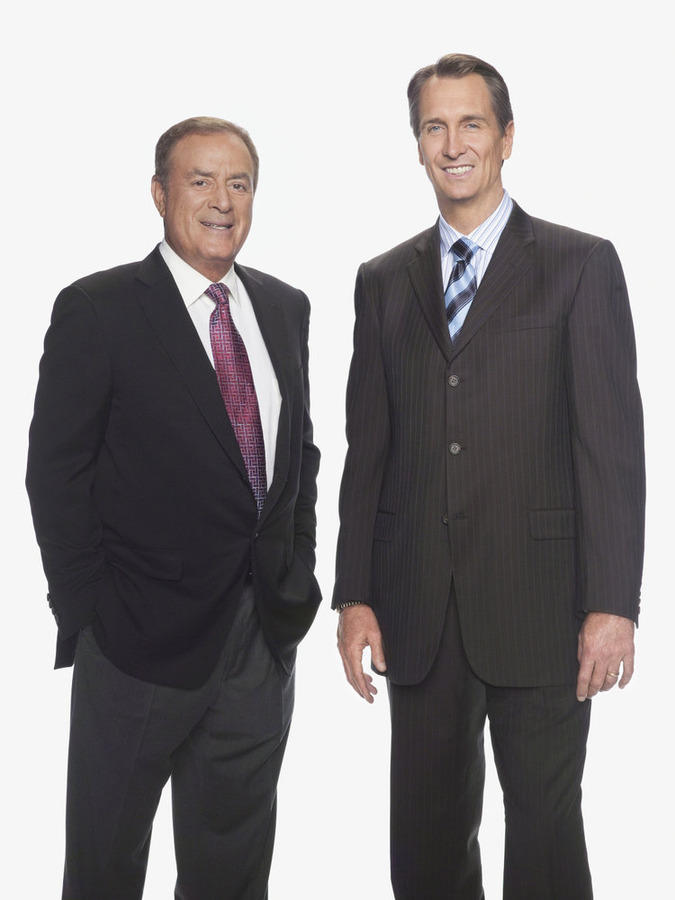 The dean of NFL play-by- play voices Al Michaels and former receiver Cris Collinsworth (l-r) had the call of Saturday night's AFC Divisional Round matchup, Baltimore at Buffalo. The teams were among the hottest in the NFL. The Ravens had won six straight and the Bills seven, leading up to kickoff.
The voices worked symbiotically and covered the AFC divisional playoff game brilliantly. Michaels has always brought out the best of his partners. Some need more prodding or runway than others. From coach John Madden to talkie Dennis Miller, Michaels plays his hands perfectly.
Collinsworth and Michaels have flawless chemistry. It just sounds like they're having fun in the booth. (Do you remember when Collinsworth and Troy Aikman worked together in the Fox booth with Joe Buck?) Two analysts might have been much then. It's still much most of the time.
Network play-by-play announcers generally root for a close game. Down a couple touchdowns late, the Ravens' lost their field general Lamar Jackson. Hobbling off, Michaels showed he's human. There was a grunt of despair in his voice. He knew what it meant to the competitive nature of the game. When sideliner Michele Tafoya later reported from the field  that Jackson would not return due to concussion protocol, Al took it back in the booth in disappointed fashion. The game is an emotional roller-coaster even for the broadcasters. No actors, no great movie. Yet when backup Tyler Huntley showed some ability to scramble, Michaels aptly suggested that we were seeing an imitation of Lamar Jackson by the backup QB.
Broadcast highlights:
This season has been unlike others. Stadiums have been nearly empty across the NFL. Michaels said that Saturday was the first time since Covid that he's witnessed fans affecting the game. There were 6,700 fans allowed in the stadium by local law. Watching the game and hearing real fans, not fabricated crowd noise, was somewhat of a reminder of pre-COVID days. The effect of the fans was reinforced early in the second period when the Ravens had multiple false-start penalties due in part to the rattling fans.
When you play in an open stadium, weather is always a factor. Buffalo is hardly a warm weather paradise. It's mid January. When Michaels let us know that the wind was clocked at eight miles an hour, he sarcastically quipped , "If the wind is eight miles an hour, I'm an astronaut." The swirling winds led to three missed field goals including two from the most accurate kicker of all-time. "He's accurate tonight, accurate at hitting the crossbar." Collinsworth joked about Ravens kicker Justin Tucker who hit the crossbar twice. Another facet of the game that was impacted by the wind was the passing game. Collinsworth believed that the wind caused multiple incomplete passes including the critical overthrow by Ravens backup quarterback Tyler Huntley to Marquise Brown.
Michaels is arguably the best NFL network play-by-play voice ever. He knows when to play it up and when to play it down, when to give a big play the treatment and when to be matter-of-factly. There's something a bit subtle that Al does which viewers might not note. He doesn't have to set up Collinsworth with direct questions. He raises a topic, provides background information and Collinsworth can then seamlessly carry it from there. By the time Cris begins, viewers already have the facts from Al.
Collinsworth on the two quarterbacks:
Collinsworth called Ravens Quarterback Lamar Jackson the most exciting player in the NFL. He notes how it's frightening for defenses to play anything but zone against Jackson, because playing man requires the defense to turn its back on the QB. Blink on Jackson, Collinsworth says, and he is already standing in your end zone!
Cris praises the development of the MVP candidate Buffalo QB Jeff Allen who he says has improved more in three years than any QB he can remember. He believes it's Allen's accuracy, which jumped from 52% to 69% this year as the biggest reason for Allen's ascension into stardom.
More Collinsworth on other personnel and strategy:
Collinsworth makes an excellent point about Stephan Diggs who led the league in receptions and receiving yards this year. He points out that offensive coordinator Brian Daboll hasn't used Diggs the same way he played in Minnesota where he was essentially a deep threat. In Buffalo, Cris says, Diggs lives near the line of scrimmage. It's there where Stephan's "short area quickness" enables him to catch quick and open short range passes, then extend them for huge gains.
Cris shares a thing or two for the NFL aficionado. He assessed the Ravens offense against the Buffalo defense, saying that it will be a matchup of power versus speed. He adds that the Ravens O-line loves to use double team blocks to run over opposing teams' defensive fronts. The Bills don't have the greatest defense but Collinsworth references the tactical stunts used by their linebackers and D-lineman to shoot the gaps before the powerful Ravens line can lay a hand on them. Speed won the night as the Bills defense held Baltimore to three points and even scored a record setting 101 yard pick-six by Taron Johnson. The final was 17-3.
Collinsworth attributed the Bills' success to their zone coverage and blitz. It stopped QB Jackson from using outside lanes to rush the ball. They also used zone coverage to force Jackson to make quick throws instead of throwing the ball downfield. Jackson was not willing to take the short throws and this led to many incompletions and sacks.
Overall grade:
The two veterans, Michaels and Collinsworth, were magnificent in their last game of the 2020-2021 NBC season. Next year, at least at this point, will be the last that two will be  together. Michaels' NBC contract ends then and Collinsworth's future is uncertain.
Al and Cris deserve an A+ as they head into their offseason.