NBC's Michele Tafoya: "I think the distinction between men and women in sports media is old and tired"
You look at Michele Tafoya's resume and you're struck by her MBA from the University of Southern California. "I thought that sports and broadcast journalism are the way to go, so I pursued my MBA as a fallback. I knew that sports would be a big risk," Michele says. Well the gamble paid off!
NFL fans certainly know Michele as the sideline reporter on NBC's Sunday Night coverage, one of network television's highest rated programs every year. She's become a network sports fixture, having joined CBS in 1994 and then leaving for a stint with ABC/ESPN. Tafoya joined NBC in 2011.
Those who've followed her career know that it isn't just football. She's also covered the Olympics, tennis' U.S Open, lots of college football, the NBA and more. She's been awarded a Sports Emmy for Outstanding Sports Personality and has also presided over the play-by-play mic. If that's not enough to keep a sportscaster, wife and mother busy, Tafoya has also hosted sports radio programs on stations like powerhouse WCCO in Minneapolis, a city which she's called home for 25 years.
Michele grew up in Southern California where sports were part of her regular family activity. As a kid, she played soccer and basketball but admits that she wasn't very good at it. Her parents were from Northern California and her father was a fan of the 49ers and the baseball Giants. "I remember my dad working extremely hard to save up and get in line so we could attend the 1984 Olympics in Los Angeles," Michele recalls. "But I liked the Lakers during the Showtime era and dad loved Larry Bird so he didn't appreciate it much." 
Tafoya, 54, earned her undergraduate degree from Berkeley and while in the Bay Area became obsessed with legendary football names like Joe Montana and Bill Walsh. "Through all of it I came to love the NFL more than anything else," she says.
We had a chance to talk with Michele about her career:
What advice would you give to women who want to be a part of sports media? And what do you think is the biggest struggle for woman in the industry?
I think the distinction between men and women in sports media is old and tired. I am asked this question a lot and I have been doing this for 25 years plus. I guess my advice to anyone, male or female, would be not to worry about it. We are all people. The idea is to be a professional journalist, and to do that, you just have to be extremely prepared, know your subjects, work your tail off, and compete with every other journalist out there. I don't understand why people would want to put another make-believe hurdle in their way, by suggesting that because they are a woman, they need special advice. It is just not true anymore and I hope that's not too brash, but I certainly believe it.
There are very few play-by-play announcers who are female. You have done some. What are your thoughts?
Well, I think it is evolving. I called men's and women's college basketball and the WNBA. Beth Mowins is a great example of someone who has been very successful, but that's only one name. Pam Ward was very good too. When the WNBA first came into being, I felt Robin Roberts and Hannah Storm were the main play-by-play voices, but that was kind of expected because it was the women's game. It was also quite some time ago. If more women want to do it, they will. It's an evolution, If they are better at it than their male counterparts, they will get the job. It's a matter of pursing it.
Talent is a very subjective thing. People have to understand that there is competition for all these jobs and lots of it. It comes down to knowledge, preparation, voice and work ethic.
At what point did you decide to pursue something on the broadcast side and which broadcasters inspired you?
I realized I love sports more than anything else in my life, why don't I pursue it? At that time Robin Roberts was definitely a role model. She was just becoming a superstar on ESPN. Dan Patrick was a guy I liked. He was just funny. Also, Bob Costas because he is impeccably smooth. Of course, I remember the Miracle on Ice, and I can't believe I work with that man now (Al Michaels).
You worked with Al twice, at ABC and now at NBC. What makes him so successful?
He is so well prepared and has seen so much. Stylistically, when he is calling a game he is almost like a fan. He doesn't cram in information every second. He knows when to pause. "Do you believe in miracles?" and all those phrases that come out of his mouth are completely organic. He never planned any of them. He simply has a way with words. We can be in a car going to practice or out to dinner and he can phrase things in such a way where I just start laughing. He puts his stamp on the moment magically.
You've worked with some of the best.
I have been really lucky I have worked with Jim Nantz and Mike Tirico but Al is special. When Bob Costas left the Olympic chair, I wrote him a five-page letter, because for me so much of the Olympics was Bob Costas. Same way for me, so much of Sunday and Monday night football is Al Michaels.
I just don't see anyone else out there like Al, and that's great. He is irreplaceable. There is no one else out there with his array of talents and skills who puts the perfect signature on a game. America will miss him when he leaves.
What was your takeaway, covering the Olympics?
My first was the Winter Olympics in 1998 in Nagano, Japan. I got to co-host the late-night show and that was a blast. I wish I had more opportunities to do things like that, but for whatever reason it just wasn't in the cards. I covered swimming at the Olympics in Rio and hope we can do it again next year in Tokyo.
When you interview NFL players at the end of a game, at what point do you start thinking of the couple of questions you will ask?
It varies. In some instances, you go into a game knowing, for instance, if Aaron Rodgers wins, we will ask him X, Y, and Z. If we know, for example, that Drew Brees will set a record, we'll structure the interview accordingly.
But then it is a live game and stuff happens. You adjust constantly. There have been some moments where I am certain a team will win so I prep accordingly/ But then a game could go into overtime or there could be a last minute field goal to win it, so I have to be ready with questions for both teams. If it's a really close game or it's a blow out, the questions are very different too. It's all about circumstances.
I've had a couple interviews where I had no idea who I would interview until they were standing right next to me. So, yeah it is definitely interesting and challenging.
Radio vs Television
The man who hired me at CBS Sports, was Rick Gentile, he was the Executive Producer there at the time. He saw my radio background as being something very valuable because it meant that I could tap dance. On radio, you don't worry about the cosmetic aspect, like the wind blowing your hair into your face. It doesn't matter, if you're looking down at your notes. On television, I'm lucky when I get a minute of air-time. Each one, radio and TV,  is fun in its own way, but I would say there is more freedom on radio.
What was your oddest moment on-air?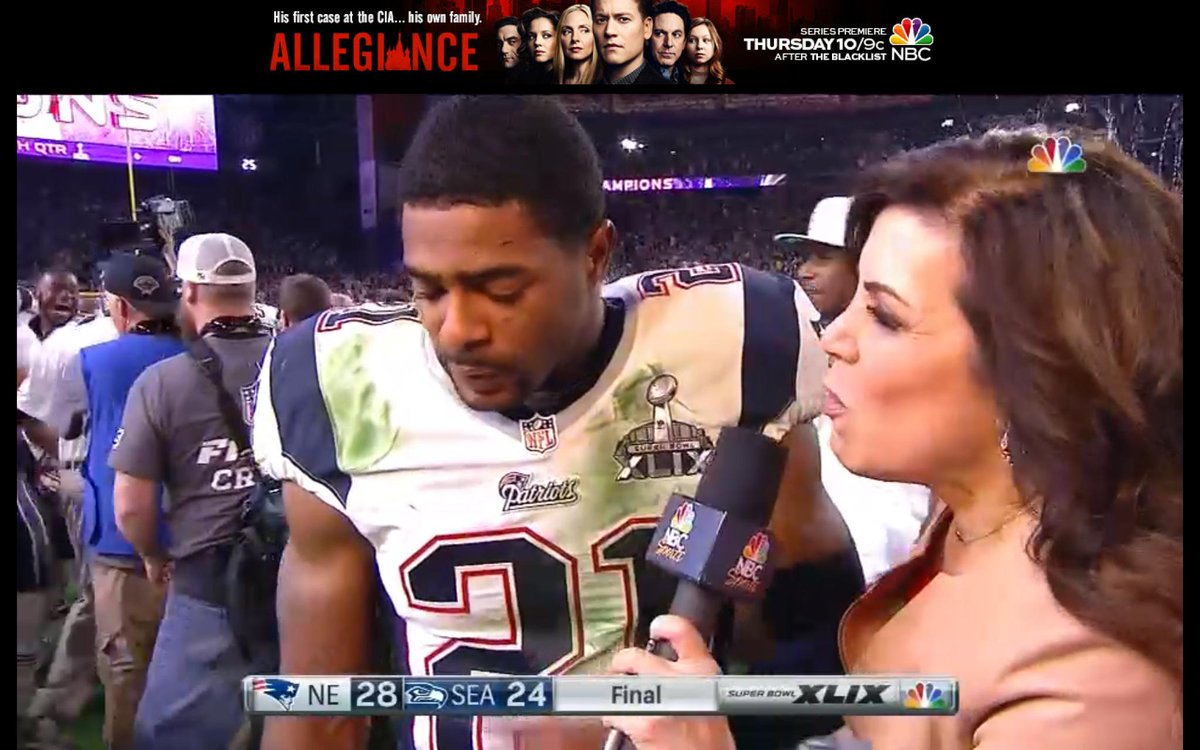 Here's one! Remember the Seahawks losing  in Superbowl #49 when Malcolm Butler of the Patriots intercepted the ball on the goal line with 20 seconds to go in the game. It was my job at the end of the game not to lose sight of Butler in the wild celebration. I needed to interview him immediately. So, I corralled him. But you know, he just won the Superbowl and wanted to join his team's wild celebration. So he runs away and I have to go chase him. I have never seen the footage of it, but I guess it is funny because I am running after him. Finally, I grab him, and he answered two questions. I think that was the oddest moment for me because the circumstances were intense. It was just not what I expected!