NBC's swimming coverage excels, but the network overkilled viewers with the Simone Biles storyline
Mike Tirico is anchoring an interesting week of Olympic primetime coverage for NBC Sports. Swimmer Michael Phelps, arguably the greatest United States Olympic athlete in history, provided insightful analysis on the swimming events during Monday night's coverage.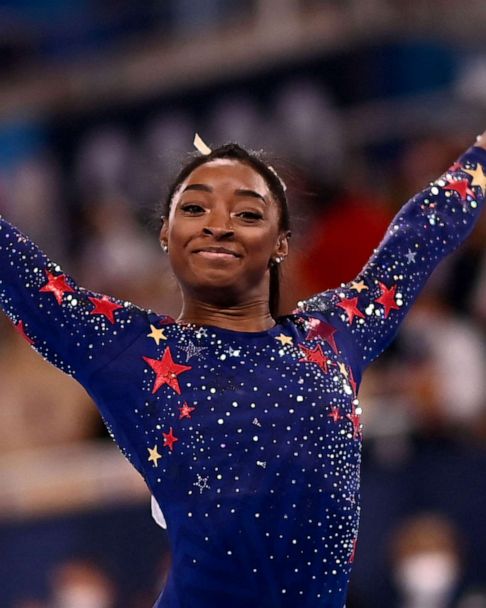 However, gymnast Simone Biles (left) captured many headlines after she pulled out of the Women's Team All-Around Final Tuesday night in Tokyo. She cited her mental health and having the "twisties" as reasons for her exit. Biles' exit from this event is becoming the storyline of these Olympics.
Throughout NBC's live swimming coverage Tuesday and Wednesday nights, they "updated" viewers on the "situation".
Here are five bullet points on how Biles was covered by NBC Sports and the media:
On Tuesday night gymnastics analyst Nastia Liukin, an Olympic gold medalist for the U.S. in 2008, praised Biles for removing herself from the competition. Liukin stated there is "more to life than gymnastics."
It made sense to cover this situation more on Tuesday night, so I appreciated Liukin's perspective. However, Wednesday night's coverage, regardless of sport, revolved around Biles. NBC Sports made a questionable decision doing this, as the coverage got redundant. There was no new news Wednesday night during a swimming competition that saw Caeleb Dressel win a gold medal and set an Olympic record in the 100-meter freestyle final.
Being oversaturated with coverage of the Biles situation negatively impacted on how viewers see the situation. It was easy to feel sympathetic for Biles with the struggles she is going through. As far as gymnastics are concerned, it can be argued that she does not have much more to prove. But when the media (from every angle) keeps on feeding a narrative, it feels like they are trying to tell the viewer how to feel. It is important to lay out the facts of the situation and let the viewers make their minds up for themselves.
I hope Biles was not watching Steve Kornacki on the big board Monday night. Kornacki did a great job of analyzing how the gymnasts would have to score in the all-around final to be able to beat the Russian Olympic Committee, Brazil, and their other competition. Kornacki was just doing his job in the one particular moment. Still, presenting this type of content could have a negative effect on the fans watching it as well as the athletes themselves. Viewers expected Biles to have a certain score that is very difficult to attain, and athletes may see this and feel these analysts are putting unobtainable expectations on them. There was pressure from the same media figures that were praising Simone Biles for making her decision. The media built Biles up to be this unstoppable gymnast. However, her human side is what has made the headlines these Olympics. Hopefully, Biles gets some time to get away from the noise after the Olympics regardless, of if she competes in any more events.
There were plenty of people attacking Biles through various media outlets after the events of Tuesday morning. It is a bit surprising to see some from various media outlets criticize Olympic athletes that they will not utter a word about for another four years. The Olympics are a big event, but in all likelihood many would not know when the last World Artistic Gymnastics Championships were (they were from October 4-13, 2019 in Stuttgart, Germany). Many of these people (including myself) are not experts in sports such as gymnastics or swimming.
Now that I was able to get that off my chest, I do have some thoughts on how NBC Sports covered the live swimming events in primetime on NBC:
Points 6-8 are from Monday Night's Swimming Coverage
U. S. swimmer Regan Smith (left), who won a silver and bronze medal so far in the Olympics, narrated a first-person package before she won bronze in the Women's 100m Backstroke Final. The package started out like many other stories do, with the "she got here through hard work and determination" narration. I appreciated that this story was different, and Smith did a good job in the role.
Fellow U.S. swimmer Lydia Jacoby, a 17-year old from Alaska, won gold in the Women's 100m breaststroke. Her family watched the race from Florida, and her mother's face was not seen in the celebrations because she was holding her tablet in front of her face. On the other hand, everyone from her high school in Alaska was jubilant, jumping up and down in excitement. It is interesting to think about how these celebrations might change if there was no camera on the people celebrating.
Michael Phelps was in studio with Tirico Monday night. He talked about the challenge U.S. swimmer Katie Ledecky faced on Tuesday racing in the 200m and 1500m freestyle finals back-to-back. It would have been good to also hear Phelps' perspectives on the previous races before they occurred, as he was not on-camera until after those races.
Points 9-10 are from Tuesday Night's Swimming Coverage
During Ledecky's gold-medal swim in the 1500m freestyle, NBC Sports showed a feature on the miles she has swam since she was ten years old. Ledecky swam the distance from Washington D.C. to Tokyo in her training and competitions since she started at that age. I thought this was a good feature, but it could have been shown before the event took place. There was also side-by-side coverage of the event with advertisements. I get that it is a 15-16 minute race, but ESPN broadcasts two-hour Formula 1 races without a single commercial break. This event got its deserved hype since Ledecky swam in it, and it would have been better to give full coverage of the race for the duration of it.
Not having fans in Tokyo did not affected the viewing experience of the swimming finals. Swimming is one of the most popular events of the Tokyo Olympics.. Dan Hicks did a great job calling the event and Rowdy Gaines has helped with insightful analysis.
Overall, NBC Sports is doing a good job covering these Olympics given the restricting circumstances due to Covid and the venues almost halfway around the world. The network continues to "take" millions of viewers to Tokyo, making fans feel it, albeit they're  thousands of miles a way. Although the fanfare is not what it usually is due to Tokyo's COVID-19 restrictions, Mike Tirico and company are able to produce a sense of importance, drama, and excitement.