News of Vin Scully's death came late; David Hinckley's story was thorough; LA puts patches on later this week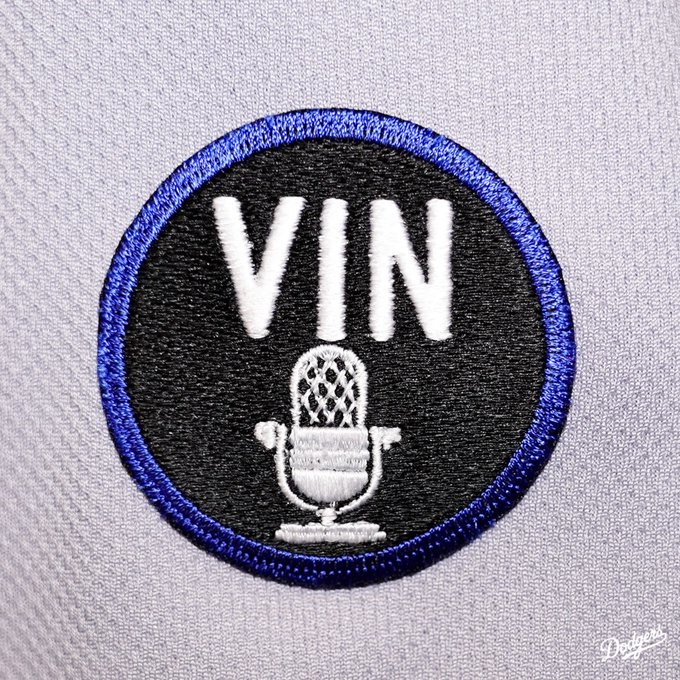 The first story I read of the death of Vin Scully, was written by David Hinckley. I never met the man, yet I've interacted with him a couple times in New York, a score of years ago. His abbreviated bio says: "David Hinckley wrote for the New York Daily News for 35 years. Now he drives his wife crazy by randomly quoting Bob Dylan and "Casablanca."
Hinckley's straight-down-the-middle report of Vin's death was driving and gripping, particularly for those who listened during his 67 years. And for those who just got up in a fog in the Eastern Tine Zone. David drew Scully's enormous ability to draw pictures brilliantly and do so in a colorful manner. No one who followed him could dispute it. Scully was the most blessed voice ever to hit the earth, especially in New York and Los Angeles. (Players will wear this patch on their uniforms  beginning this weekend.)
May I add that Vin passed when the Dodgers were playing the Giants in San Francisco last Tuesday. The connection to the Giants arrived in New York grade school when he was all of eight and walking back from class. The poor Giants were being obliterated, 18-4 by the Yankees. Vin pitied the Giants and even kidded that when he retired in 2016  he'll root for them again.
Somewhere, up in the heavens Tuesday, God must have demanded a tight game to remember when the Dodgers came from behind to beat the Giants. 9-5. Scully's last game too was also in SF. Lots of history and a century of rivalries between these two franchises. (L-R) Connie Desmond, Red Barber and Vin Scully in his rookie season. They're all gone as are the two enormous men on the home scree, Dick Enberg and Vin.
With all the television in Brooklyn in 1950, including all home games, Branch Rickey wanted three voices, including 22 year old Vincent Scully to fill both radio and TV.  
In David Hinckley's words summarizing Scully's life in an economy of words:
For 67 years he worked for the Dodgers, calling four Sandy Koufax no-hitters and multiple World Series championships, including the 1988 win defined by Kirk Gibson's home run off Dennis Eckersley in Game 1.
Scully's call of that apocalyptic shot neatly illustrated why he was so good at it. "High fly ball to right field," he said, his voice rising with the ball. "She i-i-is gone."
Then, as the explosion of the Dodger Stadium crowd, swept into the announcer's booth, Scully went silent.
For almost a minute he said nothing. Where other announcers would be tripping over their tongues trying to find a memorable tagline, Scully let crowd euphoria — a sound cherished by anyone who has ever heard a baseball game on the radio — tell the story.
When he finally spoke, he used exactly a dozen words, which were exactly the right dozen words: "In a year that has been so improbable, the impossible has happened."
He was right. There is no way Gibson should have hit that home run. Scully, however, was showing the same touch he had been perfecting for decades, whether it was the World Series or the sixth inning of a 9–2 loss to the Cubs on an August afternoon in Chicago.
The man simply knew baseball. When he called a game, it was all about baseball. His own rhythm was in precise harmony with the rhythm of the game. He narrated a baseball game as a fan sees it, the larger drama and the countless subplots unfolding from batter to batter, pitch to pitch. Some baseball games may be more exciting than others, but none are without a storyline, and Vin Scully was the master storyteller.
Scully also picked up the value of preparation. While he came before the era of endless arcane statistics, and was glad of it, he knew the storyline for all the players on the field, supplemented with just enough anecdotes so it felt like Scully was the guy you wanted in the seat next to you.
But it was the Dodgers with whom he left his indelible mark. When the team broke Brooklyn's heart and moved west in 1958, he decided to go along — which also made him one of the final links, alongside Koufax, between the split lives of a beloved franchise.
Out of the broadcast booth, Scully was a modest man who led by all accounts your basic good life — punctuated by the extensive travel he often said was the one part of sportscasting that he didn't like. His first wife and his son both died in tragic accidents, and he often said it was his strong Catholic faith that helped him through.
Philosophically, he was conservative. After some NFL players knelt during the National Anthem in 2017, he said he would not watch another NFL game.
What baseball fans got from Vin Scully was the joy and tension of baseball, conveyed in precisely the number of words necessary.
When he called the sixth game of the 1986 World Series, which the Mets won over the Red Sox on a Bill Buckner error, this was all he needed to say: "Little roller up along first. Behind the bag! It gets through Buckner! Here comes Knight and the Mets win it!"
His asides were as economical as his play-by-play. Bob Gibson pitches "as if he's double-parked."
Tom Glavine pitches "like a tailor; a little off here, a little off there and you're done, take a seat."
He could get philosophical: "Statistics are used much like a drunk uses a lamp post: for support, not illumination."
Or cosmic: "Andre Dawson has a bruised knee and is listed as day-to-day. Aren't we all?"
Vin Scully knew his value. He left CBS in 1983 after the network took him off (his potential goal, doing) the Super Bowl. When NBC split the play-by-play of the 1966 World Series, asking Scully to call the four and a half innings and then have Curt Gowdy take over, Scully was so annoyed he didn't speak for the rest of the game. (This wasn't Gowdy's decision. It was NBC management's, but it stuck as Vin might say to his ribs.) 
David Hinckley is gifted too. The man with a pen can turn a word so nicely!
https://dhinckley.medium.com/the-legacy-of-vin-scully-every-baseball-game-tells-a-story-ef31ed570d97