NFL: CBS, Fox, NBC and ESPN set for Week # 8; Buck works World Series other than Thursday Night Football
Fox' NFL lineup tweaked again this week due to the network's coverage of the World Series
Courtesy
CBS has the Sunday doubleheader, Fox the single game and Dallas and Baltimore have byes.
Maintaining a balance of all the scheduling configurations is a challenging task. This week CBS gets an NFC game, Arizona at New Orleans. 
Joe Buck has a bag packed at all times in October. He'll be in Houston for the Series tonight, fly to the Twin-Cities for the NFL Thursday Nighter tomorrow and into Washington to rejoin baseball on Friday. 
Understated Greg Gumbel, 73, has done 383 NFL games through his career. Dick Stockton, 76, has 620 NFL play-by-play broadcasts on his resume. The play-by-play leader is Al Michaels with 668. (Courtesy: Un/Necessary Sports Research)
Fox' coverage of the World Series results in assignment shuffles. In addition to Buck, Kevin Burkhardt won't be back on NFL until the Classic has been completed. It means Sam Rosen is doing a game this weekend and that Kenny Albert is elevated to partner with Charles Davis.
A few of the Fox sideline assignments this week have Pam Oliver on Giants at Lions, Laura Okmin with Eagles at Bills and former ESPNer Sara Walsh reporting from Atlanta on Seahawks at Falcons. For CBS, Tracy Wolfson joins the game with the largest geographical coverage, Browns at Patriots and Evan Washburn is in Indy for Broncos at Colts. Wolfson and Washburn worked the sidelines last year at the Super Bowl.
Nice to see Matt Millen working again after major heart surgery. Former number two for NFL's Fox broadcasts has been doing college football for the Big Ten Network. He joins Kevin Kugler on Tampa Bay at Tennessee. Kugler is essentially a radio man.
Jake Baskin has a profile of Kevin Kugler, it's tucked below the detailed schedule that follows:
Thursday, October 24, 2019
Washington Redskins at Minnesota Vikings 8:20p FOX/NFLN/Amazon*
Joe Buck, Troy Aikman on Fox and NFL Network
Hannah Storm, Andrea Kremer on Amazon Prime
100% of USA – NFL Network reaches 63 million homes; Amazon Prime has almost 100 million subscribers
Sunday, October 27, 2019
Seattle Seahawks at Atlanta Falcons  1:00p FOX
Sam Rosen, Ronde Barber
Georgia and the Great Pacific Northwest
8% of USA
Philadelphia Eagles at Buffalo Bills 1:00p  FOX
Chris Myers, Daryl Johnston
Mid Atlantic, Pennsylvania Upper New York State, West Virginia, parts of Ohio, Texas up to Nebraska
33% of USA
Los Angeles Chargers at Chicago Bears 1:00p  FOX
Thom Brennaman, Chris Spielman
Southern California, Midwest and Upper Midwest; e.g. LA, Chicago, Minneapolis
18% of USA
New York Giants at Detroit Lions 1:00p  FOX
Kenny Albert, Charles Davis
New York, Connecticut, Detroit and the placid Upper Peninsula, home of Tom Izzo and Steve Mariucci 
12% of USA
New York Jets at Jacksonville Jaguars 1:00p  CBS
Spero Davis, Adam Archuleta
Much of Florida, NY, Connecticut and outlier Spokane, Washington home of Gonzaga 
16% of USA
Cincinnati Bengals at Los Angeles Rams (London) 1:00p CBS
Greg Gumbel, Trent Green
Will dominate West Coast, dinner time in London and brunch in California, also Western Ohio
18% of USA
Arizona Cardinals at New Orleans Saints 1:00p CBS
Kevin Harlan, Rich Gannon
All of Texas through Louisiana and a large part of the south through the Carolinas
37% of USA
Tampa Bay Buccaneers at Tennessee Titans 1:00p FOX
Kevin Kugler, Matt Millen
Five Florida markets, Tennessee and neighboring markets
6% of USA
Denver Broncos at Indianapolis Colts 1;00p CBS
Ian Eagle, Dan Fouts
Large swath of the nation thinly populated; Indy to Nevada 
28% of USA
Carolina Panthers at San Francisco 49ers 4:05p FOX
Dick Stockton, Mark Schlereth
North half of California, Mountain zone and lots of the Carolinas
18% of USA
Oakland Raiders at Houston Texans 4:25p CBS
Andrew Catalon, James Lofton
Texas, California, Colorado, Kansas, western Missouri, Tennessee and Indianapolis
28% of USA
Cleveland Browns at New England Patriots 4:25p CBS
Jim Nantz, Tony Romo
All of America other than markets taking Oakland-Houston (just above)
72% of USA
Green Bay Packers at Kansas City Chiefs 8:20p NBC
Al Michaels, Cris Collinsworth 
100% of USA
Monday, October 28, 2019
Miami Dolphins at Pittsburgh Steelers  8:15p ESPN
Joe Tessitore, Booger McFarland
100% of  USA; ESPN is in some 84 million homes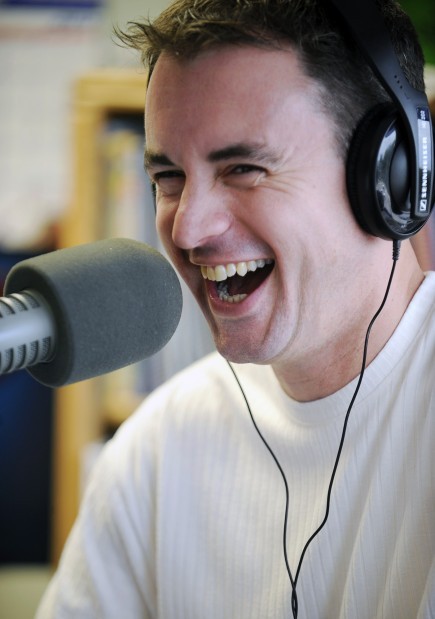 Kevin Kugler makes his season debut on TV for Fox this weekend as the Buccaneers take on the Titans. Working with him is original NFL on Fox analyst Matt Millen, his regular broadcast partner on Big Ten Network.
Kugler, 47, is best known for his long career as a play-by-play announcer for Westwood One, a career that started in 2003 when the radio network brought him in as one of the voices of the College World Series, which is held annually in his home state of Nebraska. By 2006, Westwood One had brought him in full-time, and he would emerge as one of their marquee announcers. He called his first NCAA men's basketball Final Four in 2008 and has called an NFL conference championship game each of the last six seasons as he continues to serve as the radio voice of Sunday Night Football.
On television, Kugler did play-by-play of college football, basketball and baseball for Fox Sports 1 and Big Ten Network. He made his NFL television debut during the 2018 season in week 8, calling a Seahawks-Lions game.