NFL faces a weaker schedule this weekend; due to 4 byes; But in actuality the league never weakens
Fox gets the doubleheader this Sunday and CBS has single game. Those away for baseball and other conflicting events are back.
There used to joke about overworking. Three Albert twins, Marv, middle brother Al and the youngest Steve, And let's not forget Kenny, still on the NFL for Fox. Often, all four would overlap one another.
Before the extra week and fewer broadcasts each Sunday, CBS and Fox battle against a paucity of product. The Sunday afternoon networks don't have enough a sufficient schedule from which to choose. So Spero Dedes does a Westwood radio game in Munich. It's this Sunday at 9:30. The Seahawks and Tampa Bay will match in Munich, Germany. The matchup will be played in one of the world's most modern venues. Allianz Arena is home to FC Bayern, Munich's home soccer club.
The Baltimore Ravens, Cincinnati Bengals, New England Patriots and New York Jets have bye weeks on this coming 10th.
Thursday, November 10
8:20 PM- Atlanta Falcons at Carolina Panthers

(All Prime Subscribers)
AMZN: Al Michaels, Kirk Herbstreit, Kaylee Hartung
Westwood One: Ian Eagle, Tony Boselli 
Sunday, November 13
9:30 AM- Seattle Seahawks vs. Tampa Bay Bucs

(NFL Network + local TV)
NFLN: Rich Eisen, Michael Irvin, Steve Mariucci, Kurt Warner, Sara Walsh, Jamie Erdahl
Westwood One: Spero Dedes, Mike Mayock 
1 PM- Jacksonville Jaguars at Kansas City Chiefs

(44% of US, 135 stations)
CBS: 
Jim Nantz, Tony Romo, Tracy Wolfson
ESPN Radio:
Chris Carlin, Bart Scott 
1 PM- Houston Texans at New York Giants

(21% of US, 28 stations)
CBS: 
Ian Eagle, Charles Davis, Evan Washburn
Compass Media: 
Chris Carrino, Brian Baldinger 
1 PM- Cleveland Browns at Miami Dolphins

(13% of US, 28 stations)
CBS: Greg Gumbel, Adam Archuleta, AJ Ross 
1 PM- Denver Broncos at Tennessee Titans

(9% of US,35 stations)
CBS: Andrew Catalon, James Lofton, Amanda Renner 
1 PM- Minnesota Vikings at Buffalo Bills 

(84% of US, 166 stations)
FOX: Joe Davis, Daryl Johnston, Pam Oliver 
Sports USA:
Josh Appel, James White
1 PM- New Orleans Saints at Pittsburgh Steelers

(6% of US, 26 stations)
FOX: Adam Amin, Mark Schlereth, Kristina Pink 
1 PM- Detroit Lions at Chicago Bears

(9% of US, 20 stations)
FOX: Kevin Kugler, Mark Sanchez, Laura Okmin
4:05 PM- Indianapolis Colts at Las Vegas Raiders

(13% of US, 20 stations)
CBS: Kevin Harlan, Trent Green, Melanie Collins
Sports USA: Larry Kahn, Alex Mack  
4:25 PM- Dallas Cowboys at Green Bay Packers

(92% of US, 204 stations 
FOX: Kevin Burkhardt, Greg Olsen, Tom Rinaldi, Erin Andrews 
Compass Media: Kevin Ray, Danny White
4:25 PM- Arizona Cardinals at Los Angeles Rams

(7% of US, 8 stations)
FOX: Kenny Albert, Jonathan Vilma, Shannon Spake
ESPN Radio: Jorge Sedano, Kirk Morrison
8:20 PM- Los Angeles Chargers at San Francisco 49ers 

(100% of US)
NBC, Peacock: 
Mike Tirico, Cris Collinsworth, Melissa Stark
Westwood One:
Ryan Radtke, Brady Quinn
Monday, November 14
8:15 PM- Washington Commanders at Philadelphia Eagles 

(estimated 75 million subs)
ESPN: 
Joe Buck, Troy Aikman, Lisa Salters
Westwood One: Kevin Harlan, Ross Tucker

CBS SINGLE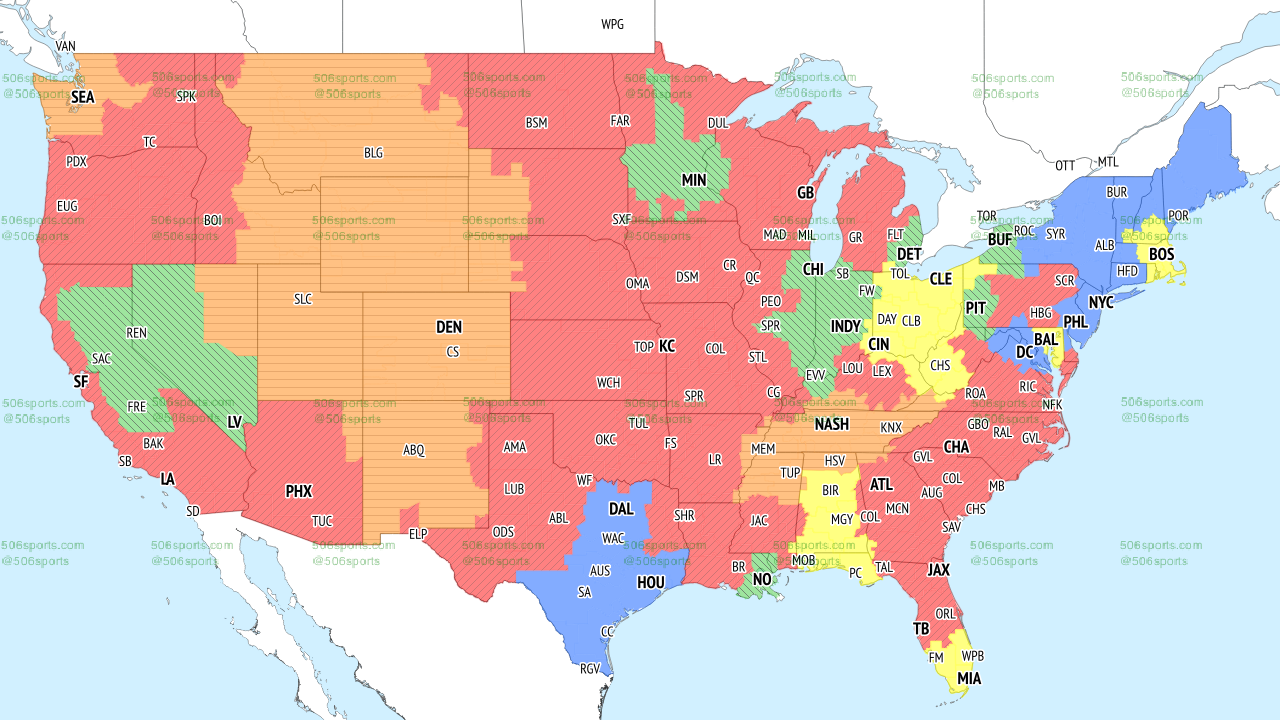 █ 
Jacksonville @ Kansas City, Jim Nantz, Tony Romo
█ 
Houston @ NY Giants, Ian Eagle, Charles Davis 
█
Cleveland @ Miami, Greg Gumbel, Adam Archuleta
█ 
Denver @ Tennessee, Andrew Catalon, James Lofton
█ 
Indianapolis @ Las Vegas (LATE), Kevin Harlan, Trent Green
---
---
FOX EARLY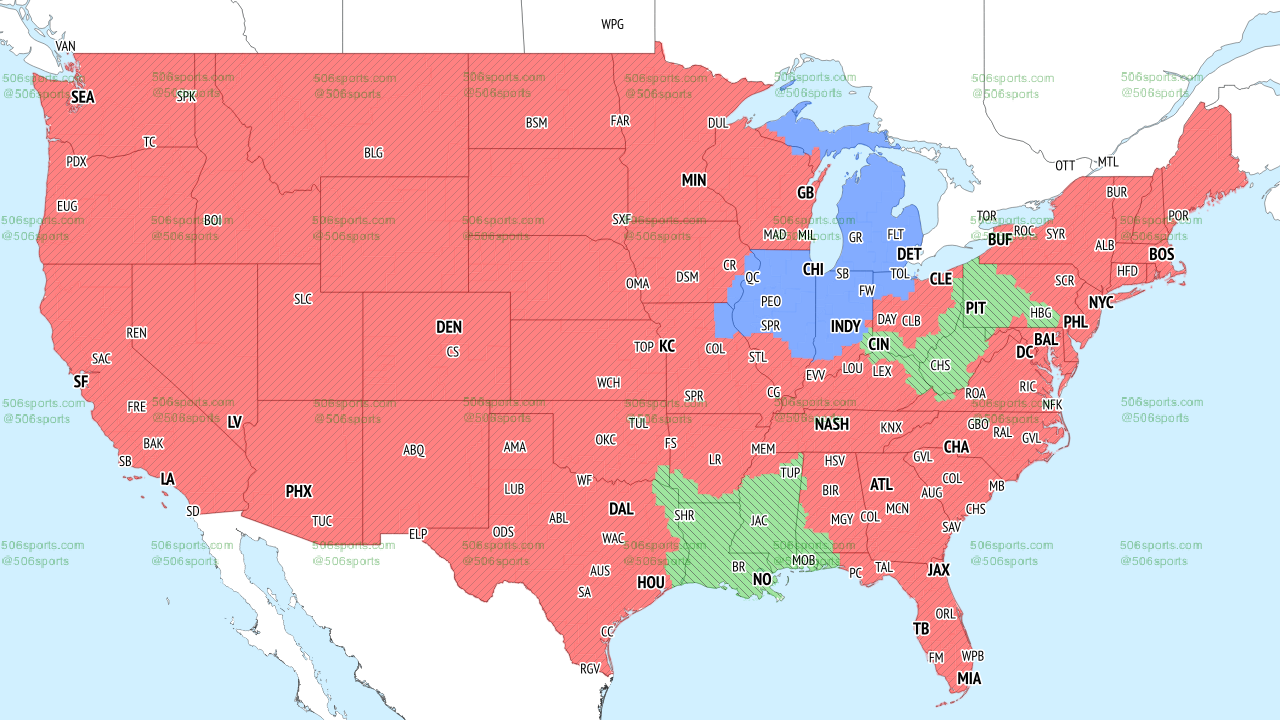 █ 
Minnesota @ Buffalo, Joe Davis, Daryl Johnston
█ 
Detroit @ Chicago, Kevin Kugler, Mark Sanchez
█
New Orleans @ Pittsburgh,
Adam Amin, Mark Schlereth
---
FOX LATE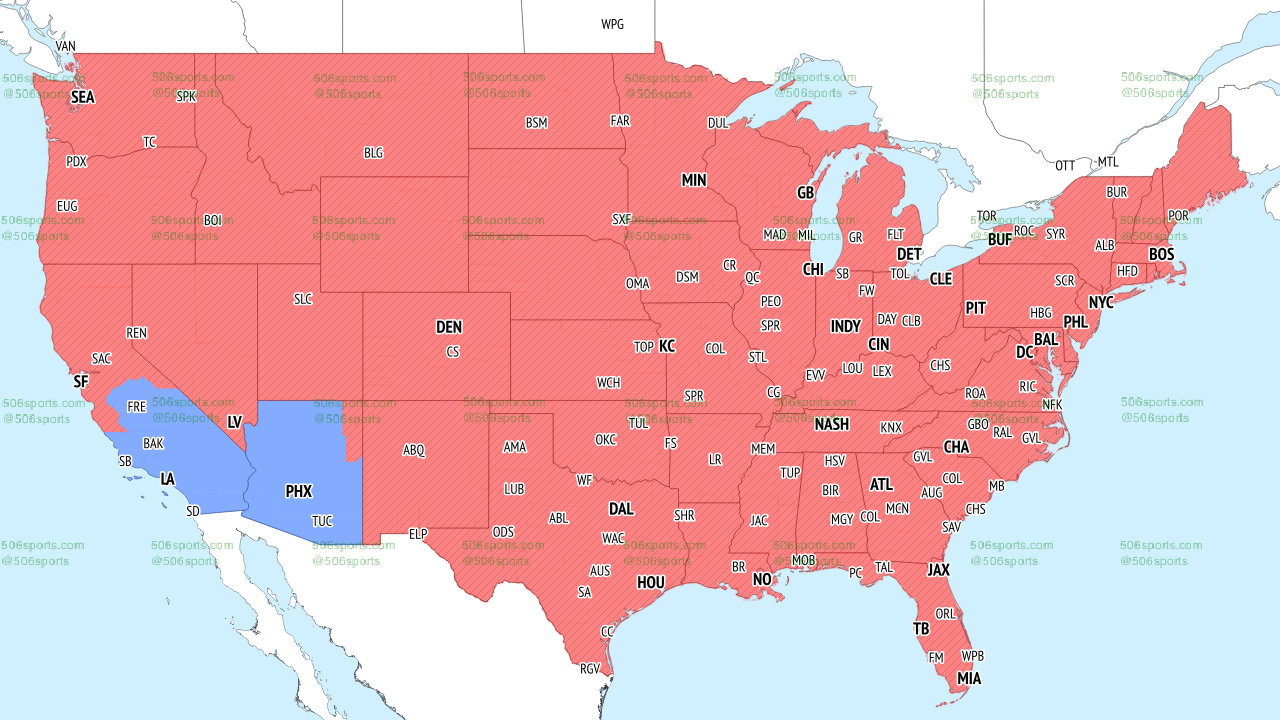 █ 
Dallas @ Green Bay, Kevin Burkhardt, Greg Olsen
█ 
Arizona @ LA Rams, Kenny Albert, Jonathan Vilma