NFL news never stops: Recognizing the league's most visible TV reporters, those deep in the trenches
Football without reporters is unthinkable. The game represents American culture, divided politics, mega-finances and it serves as a major source of entertainment. But without coverage by hungry reporters, the sport wouldn't be half of what it is, America's favorite game.
A seasonal sport that extends for fewer than six months, the NFL has evolved into a year-round sport. It wasn't always that way, not until ESPN, the NFL Network, NBC and Fox assigned reporters to dig for stories throughout the off season. There's no wonder that the NFL is a subject of conversation twelve months a year.
It was ESPN that asked the late NFL commissioner, Pete Rozelle for permission to air the draft. Rozelle asked a colleague in his office why they would want to do so. After all, running down names and having to wait minutes between each announcement hardly makes for stimulating television. ESPN did and you might say it demonstrated the power of the NFL and the hunger of the league's fans for year-round information.
It's one thing for local newspaper writers to cover their NFL teams for twelve months and still another for national television reporters to pop onto our screens with all sorts of news, be it March or June.
Today, we spotlight half a dozen television reporters who work the trenches and keep the NFL visibly vibrant at all times. They're listed in alphabetical order.
Mike Florio – NBC Sports
So how did this man end up covering football?
Born and raised in Wheeling, West Virginia. Florio graduated from Pittsburgh's Carnegie Mellon University with two engineering degrees, and for good measure a law degree from West Virginia University.
While practicing law in Clarksburg, West Virginia, he started Pro Football Talk, a website that quickly built traction with NFL fans. In time, he scaled back law and pumped his heart into PFT. The results told a story of great success.
In 2009, Pro Football Talk became an affiliate of NBC Sports and Florio began to contribute to NBC's Sports' television coverage, including Football Night in America on Sundays. There, he fluidly breaks down the NFL's top stories of the day and puts his own spin on them.
PFT has attracted 1.6 million followers on Twitter. Mike is opinionated, provocative and humorous.
But not all has been fun and games. He's engaged in polemics with outspoken media personalities like Jason Whitlock and Clay Travis over matters of color, He also had to issue apologies over disparaging comments about the LGBT and disabled communities.
Lawyer, entrepreneur, debater, hustling reporter and smooth television commentator, Florio has talent. His colleagues have nothing but praise for his work. He was called "A leading source of information," by the New York Times. Jay Galzer of Fox fame says Florio is "tireless. He's been our watchdog." Sunday Night Football play-by-play voice Al Michaels told the LA Times that Florio is, "as wired into the NFL as anyone."
Jay Glazer – Fox Sports
From Manalapan Township, New Jersey, he attended Pace University in New York, graduating with a mass media degree. Glazer started his career as a reporter for the New York Post. Building his capital as a football reporter allowed him to work as the NFL insider for Fox Sports in 2004.
He is seen on Fox Sports' pregame show, Fox NFL Sunday, where he shares exclusive updates and news. Glazer has also hosted a variety of shows for his network, including Fox Football Daily and Fantasy Football Uncensored.
Glazer's peers talk of his ability to form relationships with athletes, which makes his reporting that much more authentic and interesting. Priding himself on his hard work and accuracy, Jay has established a reputation for breaking major stories. In April 2020, Glazer announced that Los Angeles Rams center Brian Allen tested positive for COVID-19, which was the first known case among the NFL players. He was criticized by some fans because he made it sound like he was announcing good news, but it didn't turn out that way.
One of Glazer's more prominent stories was his exclusive interview with Richie Incognito during the bullying scandal in 2013.
Glazer was the first reporter to sit down with him. Jay was also the only reporter given access to the video showing the New England Patriots illegally filming the Cincinnati Bengals sideline. When it was a hot issue, Glazer reported that then 49ers head coach Jim Harbaugh would not return for the following season.
In today's world of digital media, it's about getting stories out first and Glazer is right there, hustling for news.
Peter King –  NBC Sports +
Born in Springfield, Massachusetts, King grew up in Enfield, Connecticut. He graduated from Ohio University's E.W. Scripps School of Journalism in 1975. Writing was in his blood. He spent time at the Associated Press and was with the Cincinnati Enquirer from 1980 to 1985, covering among other things, media. He then covered the NFL for Newsday on Long Island from 1986 to 1989.
From there, King's career fell into place like dominoes. He ascended to the crème de la crème, Sports Illustrated, and was prominent there from 1989 to 2018. There he also penned, Monday Morning Quarterback from 1997 to 2018. It was an internet hit!  
King was honored as National Sportswriter of the Year in 2010, 2012 and 2013 by the National Sports Media Association. During his time at SI, King provided 24/7 in-depth analysis and coverage on NFL games and teams. He left Sports Illustrated joining NBC in 2018, where he bundles his talent and writes a popular Monday morning NFL column each week. At NBC, he has shared news and analysis on TV, radio and on NBC's sports website.
When it comes to the NFL, all roads lead to Peter King. He's done lots of radio interviews and contributes to Football Night in America.
In the past, King worked for ABC as a halftime correspondent for Monday Night Football, for CNN as an NFL reporter, and for HBO as managing editor and reporter of Inside the NFL. During King's time at HBO, he won a Sports Emmy for his Outstanding Sports Studio Show in 2002, 2004 and 2005.
King has written hundreds of ground-breaking articles, including one about Ben Johnson's 1988 stripped Olympic Gold medal and another about Lawrence Taylor's cocaine addiction and abuse. And if that's not enough, Peter also authored five books focusing on pro football.
As you scroll through King's Twitter account, it is obvious how prolific he is, and he doesn't limit his comments to football, "I know he lost tonight, but Steph Curry is the maker of miracles. What a gift to watch him play", King wrote when the Warriors fell to the Celtics.
Chris Mortensen – ESPN
A Torrance, California native, Mortensen attended El Camino College, then went on to serve two years in the army during the Vietnam Era before being honorably discharged. His sports reporting career began in 1969 as a writer for the Daily Breeze newspaper, a local Torrance paper in Southern California. Mortensen took his talents east, working at the Atlanta Journal-Constitution, filing investigative reports, and covering the Atlanta Braves, Atlanta Falcons and the NFL (1987 through 1989). He was also a contributor to Sport magazine. In 1987, Mortensen won the coveted George Polk award for excellence in reporting.
Mortensen's career hit stride when he was hired by acclaimed Frank DeFord to cover the NFL for the now defunct The National from 1989 to 1990. The National was a daily all-sports newspaper that never quite made it. Mort also consulted CBS Sports' NFL Today.
Chris joined ESPN in 1991 as an NFL Insider. His time at ESPN brought him immense visibility, making him one of the more respected and accomplished reporters to cover the NFL. He appears regularly on NFL Insiders, NFL Live, Sunday NFL Countdown, Monday Night Countdown and Sports Center. Yes, he is ubiquitous. Mort's been a steady at every Super Bowl since joining ESPN. But he was sidelined by Stage #4 throat cancer and could not cover Super Bowl #50 in 2016.
In 2015, Mortensen tweeted that Indianapolis writer Bob Kravitz reported that the NFL was investigating the Patriots for purposefully underinflating the footballs. Mortensen though followed through and elaborated on the report, noting that 11 of the 12 footballs used in the AFC Championship game of 2015 were under NFL regulation. Mortensen was given the scoop by a league official but later the investigative Wells Report, concluded that only one ball was underinflated. mort took some heat for the error.
Even while Mortensen was undergoing cancer treatment, he broke one of the biggest NFL news stories of 2016 that Peyton Manning would retire. Mort's close with the Manning clan. Talk about hitting the road, in 2010, Mortensen and NFL Insider Adam Schefter undertook the enervating task of visiting all 32 NFL training camps in 19 days. Together the two of them logged more than 15,000 miles.
He told a reporter a couple year ago, "I'm probably in better shape than I have been in a long time," Maybe, they have plans someday to retire me, but I'm telling you I have no plans to retire."
Ian Rapoport – NFL Network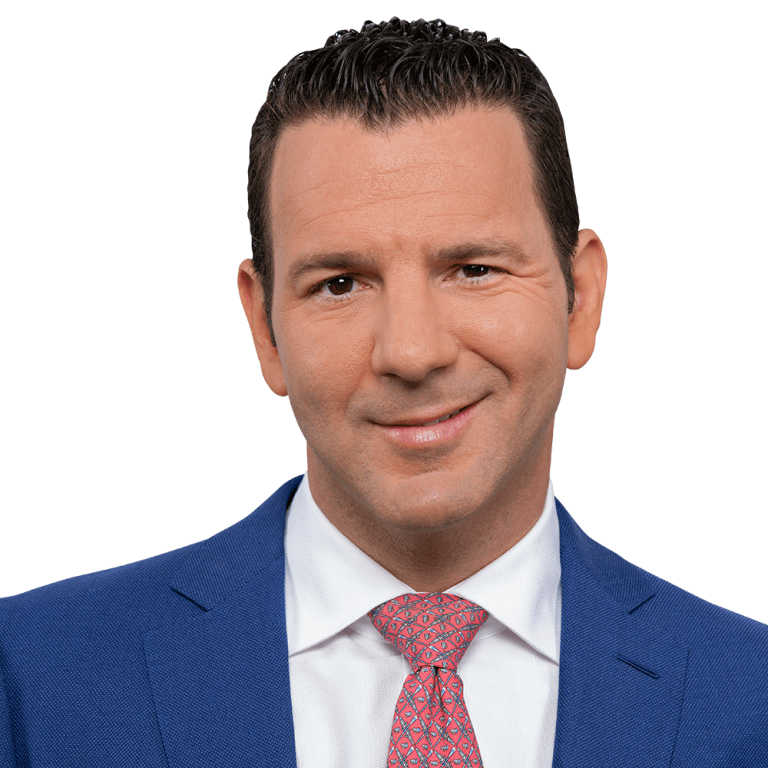 Raised in the New York area, in Westchester County, Rapoport attended the distinguished college prep, Hackley, and proceeded to get his degree from Columbia. In college, he penned stories for the campus newspaper, the Spectator.
After cutting his teeth at Westchester County's Journal News, Rapoport headed south where he first worked in Jackson, Mississippi covering Bulldogs football. Ian later moved to Birmingham following Alabama football. It was there that he faced the challenges of interacting with the accomplished and nationally recognized coach Nick Saban. In 2009. hoping to take his skills to a larger market, Ian applied for the  Patriots beat job with the Boston Herald. He told his interviewer that he would cover Bill Belichick the way he did Saban in Alabama. Bingo. He was hired. Three years later in 2012, Rapoport was put to work by the NFL Network.
Ian is constantly working the trenches and breaking news. Like other football reporters, he's been on recent NFL headline stories like the next steps for Deshaun Watson and Dak Prescott. The NFL Network insider was first to break the news that Jadeveon Clowney is taking his skills to Cleveland, signing a one-year, $8 million contract that includes potentially, an additional $2 million in incentives. Rapoport was right on it, when former West Virginia cornerback Rasul Douglas reached a deal with the Las Vegas Raiders.
Last fall though, Rapoport made unwanted news himself when he was suspended by the NFL Network for using social media to advertise what the New York Post reported was a body groomer.  "Manscaped Lawn Mower, an electric trimmer, apparently the 'perfect tool for your family jewels.'"
Adam Schefter – ESPN
Adam grew up in Bellmore, Long Island where he attended John F. Kennedy High School. He graduated from the University of Michigan in 1989 and Northwestern University's Medill School of Journalism. Schefter was an editor at The Michigan Daily, where he began his writing career. While at Northwestern, Schefter worked as a freelance reporter for the Chicago Tribune. Schefter wrote for several newspapers, including The Denver Post in 1996, then went on to work at the NFL Network in 2004. Schefter appeared on NFL Total Access and wrote for NFL.com. He's been an NFL insider for ESPN since 2009.
In 2010, Sports Illustrated named Schefter in its "Top 40" listing of the NFL's top officials, executives, coaches, players and media members. In 2014, Schefter was named the "Most Influential Tweeter in New York" by New York Magazine. Schefter has a following of 8.3 million on Twitter and over one million followers on Instagram, providing fans with the most up-to-date NFL information. As an NFL Insider, Schefter appears on a variety of programs, including NFL Live, Sunday NFL Countdown, Monday Night Countdown and SportsCenter. The NFL has been his beat (and his life) since 1990.
Schefter has perfected his writing, in part due to his strong work ethic and an ability to leverage information from sources and players. He has even done NBA sideline reporting duringthe NBA Playoffs.  "[Schefter is] crucial because he basically has become sort of this omnipresent guy who seems to know everything," said Peter King. True! When reading any smattering of articles, you often see the phrase, "According to Adam Schefter'" because he is that knowledgeable about anything NFL related. In 2015, Schefter tweeted a medical chart photo indicating that Jason Pierre-Paul had his right index finger amputated. Schefter calls sources, but sources also call him, and that is absolutely a testament to his reporting.