NFL Week #10: In an unpredictable season, games are more competitive; and ratings are up
CBS has doubleheader; Fox runs a single game
With a single game, Fox' top voices of Joe Buck and Troy Aikman work Thursday night and will be fully distributed around the country. They'll be off Sunday.
Byes: Chicago, Cincinnati, Houston and NY Giants
It will be cloudy and in the 30s in Green Bay when the Packers host Seattle on CBS' late game with Nantz, Romo and Wolfson.
What makes Erin Andrews (left) better than Pam Oliver (right) whom she unseated years ago? Probably nothing! So Oliver is #2 and Andrews is #1. Did I hear age discrimination?
Adam Amin calls three sports very well, football, baseball and basketball. He was an excellent Fox hire.
Brian Custer, another ESPN gem. So ESPN lets Amin go to Fox and opens the door for below average play-by-players like Custer.
So one announcer says the score is "4 zero." What follows is that many announcers say it's "4 zero" instead of the customary, "four – nothing"  Language changes inexorably. Now folks say, "it's like I said," and it's fine. Growing up, "It's as I said."
Maps below Feel free to check out the 506 over the weekend for clearance updates here
Sports Media Watch reports:

At what used to be the midpoint of the season, the NFL continues to deliver in the ratings.

NFL games are averaging 16.5 million viewers across the league's TV and digital platforms, up 9% from the same point last year. The NFL said  that the league accounts for 45 of the 50 most-watched television shows since the start of the season.
If you're wondering, Fox has 212 affiliates and covers 99% of the country. CBS has 240 stations and covers 100% of the U.S.  CBS TV launched in 1941 and Fox in 1986.
Thursday, November 11
8:20 PM- Baltimore Ravens at Miami Dolphins 
FOX/NFL: Joe Buck, Troy Aikman, Erin Andrews, Kristina Pink 
Fox – 99%, 212 stations; NFL Network has 53 million subscribers
AMZN: Hannah Storm, Andrea Kremer
147 million estimated subscribers in the U.S.
Sunday, November 14
1 PM- Atlanta Falcons at Dallas Cowboys
FOX: Kevin Burkhardt, Greg Olsen, Pam Oliver 
1 PM- Tampa Bay Buccaneers at Washington Football team
FOX: Adam Amin, Mark Schlereth, Shannon Spake
FOX: Chris Myers, Daryl Johnston, Jen Hale
1 PM- Cleveland Browns at New England Patriots
CBS: Ian Eagle, Charles Davis, Evan Washburn
1 PM- New Orleans Saints at Tennessee Titans
CBS: 
Kevin Harlan, Trent Green, Melanie Collins
1 PM- Jacksonville Jaguars at Indianapolis Colts
CBS: Andrew Catalon, James Lofton, Sherree Burress
1 PM- Buffalo Bills at New York Jets
CBS: Spero Dedes, Jay Feely
4:05 PM- Carolina Panthers at Arizona Cardinals
FOX: Kenny Albert, Jonathan Vilma, Sara Walsh
4:05 PM- Minnesota Vikings at Los Angeles Chargers
FOX: Kevin Kugler, Mark Sanchez, Laura Okmin
4:25 PM- Seattle Seahawks at Green Bay Packers
CBS: Jim Nantz, Tony Romo, Tracy Wolfson
4:25 PM- Philadelphia Eagles at Denver Broncos 
CBS: 
Greg Gumbel, Adam Archuleta, A.J. Ross
8:20 PM- Kansas City Chiefs at Las Vegas Raiders
NBC, Peacock: Al Michaels, Cris Collinsworth, Michele Tafoya
Monday, November 15
8:15 PM- Los Angeles Rams at San Francisco 49ers
ESPN, ESPN+: 
Steve Levy, Brian Griese, Louis Riddick, Lisa Salters 
ESPN2: Peyton Manning, Eli Manning 
█
Jacksonville @ Indianapolis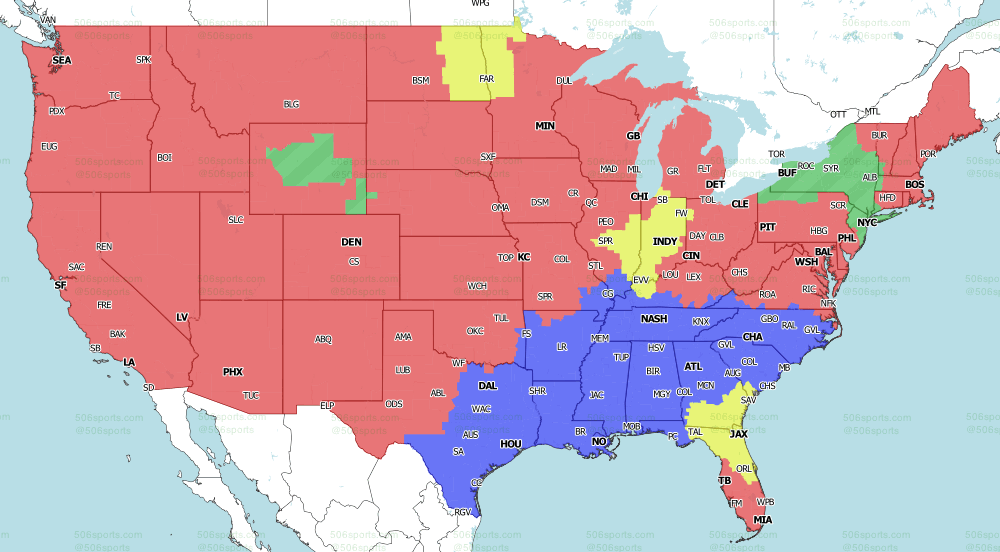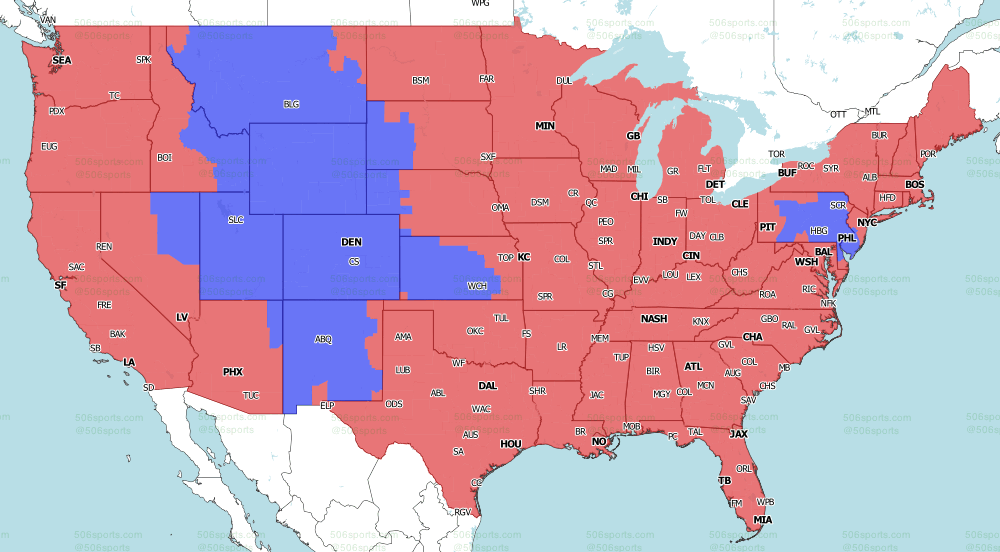 █
Minnesota @ LA Chargers (LATE)
█
Carolina @ Arizona (LATE)