NFL Week #11: In an uneven year, results of more games will have a bearing on post-season matchups
The Foxies have the doubleheader. CBS is single this Sunday.
Byes: Los Angeles Rams, Denver Broncos
Kevin Burkhardt is one of these fellows who feels equally comfortable in the studio as he does in the announcer's booth. As I glance though the NFL broadcast roster, others comfortable doing both are Greg Gumbel, Chris Myers, Steve Levy and Jim Nantz
Gus Johnson will be back yelping this NFL weekend- for Detroit @ Cleveland. Gus is the lead Fox voice for college football.
Fox' number one NFL team, Joe Buck and Troy Aikman are assigned to two games this weekend. Tonight's New England-Atlanta on both Fox and NFL Network and Sunday's Denver @ Kansas City
Everyone has a story. The deep-throated Kevin Harlan is the son of Bob Harlan who  was

formerly

the CEO of the Green Bay Packers.
The 506 has the latest on clearances and geographic distribution. Maps below. Changes on the 506 site.
As it turns out, Al Michaels did his first network NFL game in 1971, 50 years ago. He partnered with Johnny Morris. As Al explained it, NBC was then the one and only network doing post season baseball which meant that it needed some back-up broadcasters. Curt Gowdy and Jim Simpson stuck with baseball and Jay Randolph and Charlie Jones were moved into the top two NFL booths. So Al, all of 26 at the time broadcast a Buffalo at Minnesota matchup. "The game though was blacked out in Minneapolis by NFL rule at the time," Al told me. He added, "We were on in only one market, Buffalo, and on some UHF station which required some magical rabbit ear antennas to have a chance of seeing the game."   

There's an interesting twist to the story. In 1971, Buffalo had both O.J. Simpson and Al Cowlings. The two overlapped in Buffalo for a couple seasons. Never would Al have believed that 23 years later, in June, 1994, while working for ABC, he would again do play-by-play of the two. This one involved the two men in the riveting slow-car chase which captivated America. There they were, O.J. and Cowlings evading the pursuing police through the highways and byways of Southern California.
Chris Myers will be back in his home state of Florida this weekend for 49ers-Jaguars. Myers is a South Floridian through and through. He began his broadcast career on Miami radio and for that matter hosted a talk-show on WIOD. He had that bizarre game last week that ended in a tie between the Steelers and Lions that ended in an overtime tie.
Thursday Nov 18 
8:20 PM – Fox, NFLN, Amazon Prime, New England @ Atlanta – Joe Buck, Troy Aikman
Fox 99%, NFL 53 million homes, Amazon Prime – Hannah Storm, Andrea Kremer
Sunday Nov 22 
1PM – CBS  Baltimore @ Chicago – Jim Nantz, Tony Romo 
46% , 127 stations 
1PM – CBS Indianapolis @ Buffalo – Kevin Harlan, Trent Green 
8%- 31 stations 
1PM – CBS, Miami @ NY Jets – Greg Gumbel, Adam Archuleta
 9% – 4 stations
1PM – CBS, Houston @ Tennessee – Andrew Catalon, James Lofton
10% – 29 stations 
1PM – Fox, Green Bay @ Minnesota Kevin Burkhardt, Greg Olsen 
57% – 123 stations 
1PM-Fox – New Orleans @ Philadelphia – Adam Amin, Mark Schlereth
 15% – 31 stations
1PM-Fox – Washington @ Carolina – Kevin Kugler, Mark Sanchez
14% – 28 stations 
1PM-Fox – Detroit @ Cleveland – Gus Johnson, LaVar Arrington 
8% – 19 stations 
1PM-Fox – San Francisco @ Jacksonville- Chris Myers, Daryl Johnston 
5% – 10 stations 
4:05 PM -CBS  Cincinnati @ Las Vegas – Ian Eagle, Charles Davis 
 27% – 51 stations
4:25 -Fox Arizona @ Seattle – Kenny Albert, Jonathan Vilma 
6% – 17 stations 
4:25 PM -Fox – Dallas  @Kansas City – Joe Buck, Troy Aikman 
93% – 195 stations 
8:20 PM -NBC – Pittsburgh @ LA Chargers – Al Michaels, Cris Collinsworth 
100%  
Monday Night Football  
8:15 PM -ESPN – NY Giants @ Tampa Bay – Steve Levy, Brian Griese, Louis Riddick
84 million homes – Mannings side-by-side on ESPN2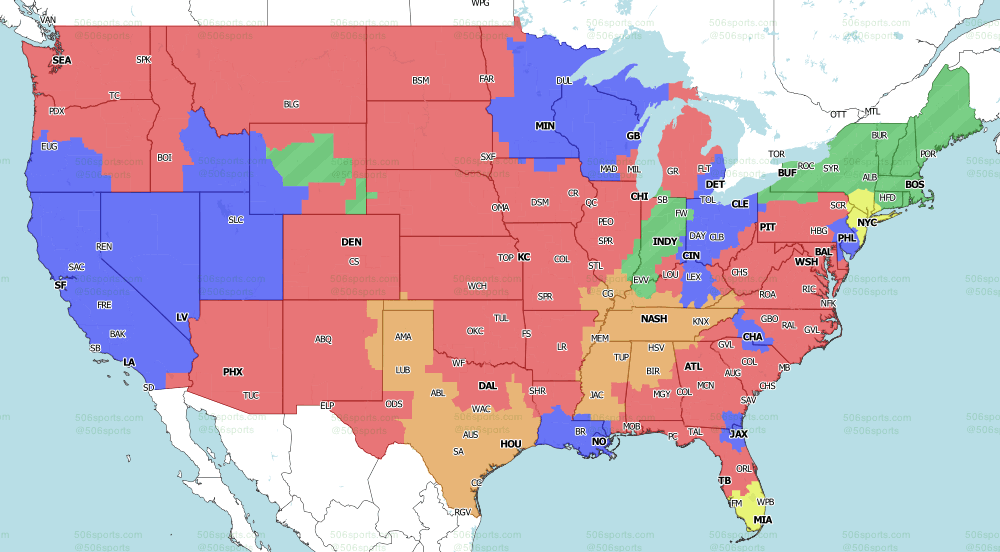 █

Baltimore @ Chicago

█

Indianapolis @ Buffalo  

█

Miami @ NY Jets

█

Houston @ Tennessee
█
Cincinnati @ Las Vegas (LATE)
FOX EARLY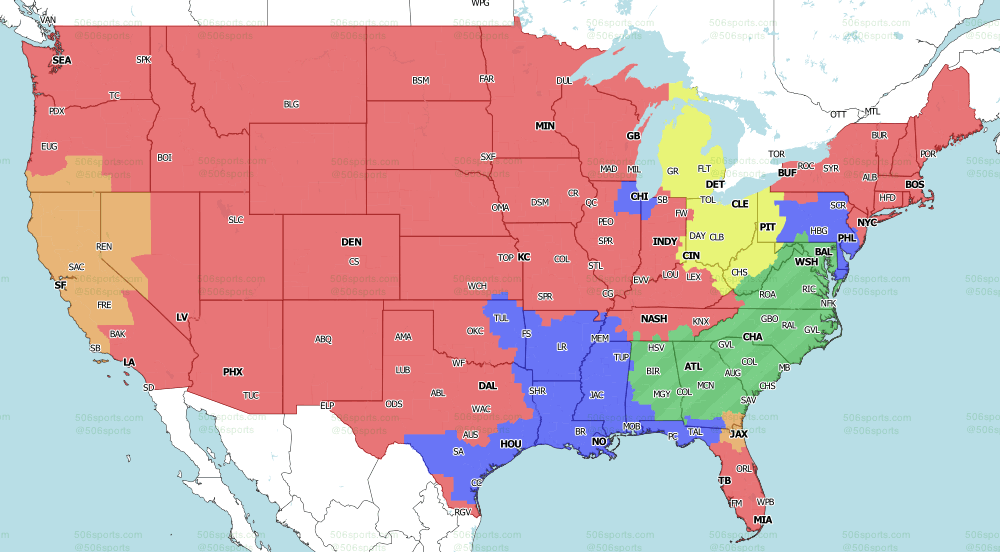 █

Green Bay @ Minnesota 

█

New Orleans @ Philadelphia

█

Washington @ Carolina

█

Detroit @ Cleveland
█
San Francisco @ Jacksonville
FOX LATE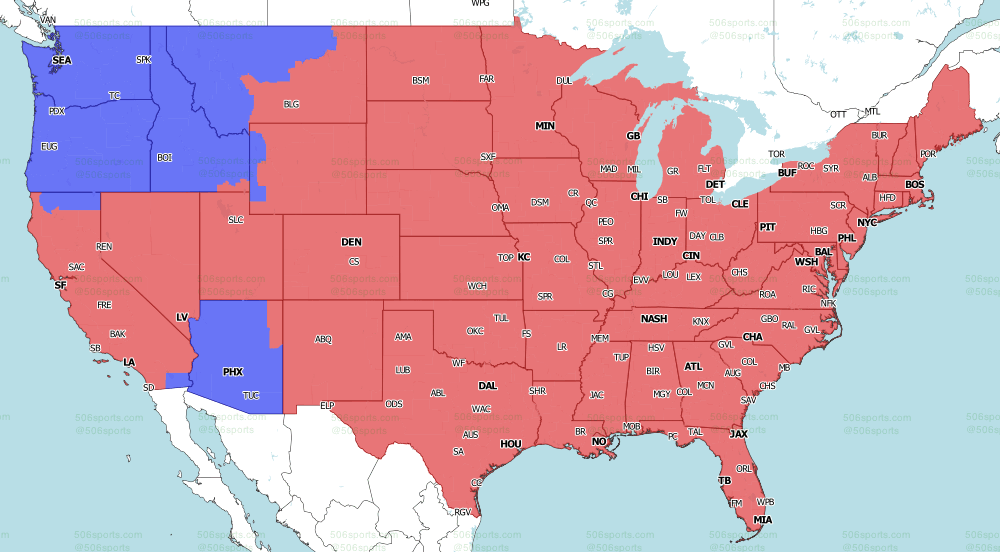 █Dallas @ Kansas City █Arizona @ Seattle