NFL Week #13: CBS, ESPN, Fox and NBC busy; Regional coverage broken out, All talent listed; Tirico calls game
12 games Sunday: 6 on CBS, 5 on Fox and 1 on NBC; Nantz/Romo work twice, Buck/Aikman have Sunday off and Michaels/Collinsworth work Sunday only
CBS has the doubleheader, Fox the singleton. No byes. Weekend brims with turkey and a full 16 game NFL schedule.
All teams play this weekend. There's a tripleheader on Thanksgiving Day. Of the top broadcast teams, only the Jim Nantz/Tony Romo duo work both Thursday and Sunday. Joe Buck/Troy Aikman are on the Chicago-Detroit holiday game but off on Sunday.  NBC's Al Michaels/Cris Collinsworth are off off Thursday night and return for the Sunday nighter, New England at Houston.
Mike Tirico, Tony Dungy and Rodney Harrison team on NBC for the Thursday night game, New Orleans at Atlanta. The game is only on NBC, not simulcast on the NFL Network. You might recall that there was an issue when the league insisted that Thursday night simulcasts, at the time on NBC/NFL Network, be called by Michaels and Collinsworth. Tirico had been penciled in but the NFL insisted on the network's first team.
Sunday's NFC game, Washington at Carolina flips to CBS.
CBS' late game on Sunday, Oakland at Kansas City, is carried in 89% of the country. Corresponding CBS game in the window, Chargers at Denver goes to 9% of America. By NFL rule, CBS' Arizona affiliates don't get a second game at all in the 4p window.  The Cardinals are at home at that hour against the Rams on Fox.
History: The first ever national broadcast of an NFL game was on Thanksgiving Day, 1934. TV wasn't around yet. NBC Radio ran the game, Chicago at Detroit, and pioneer Graham McNamee was the announcer. In those days, families huddled around big radio sets and Vin Scully crawled under the four legged ones to listen to football.
Fox is basking in ratings glory. Cowboys-Patriots last Sunday was its most watched NFL game of the season and the Penn State-Ohio State matchup was its largest college audience this year. Network's motto: "Fox is Football."
Peter Schrager, a New Jersey boy, visible on NFL Network, works the sidelines for Fox' Miami-Philly game which goes to 15% of the country and 26 markets.
Talk of limited distribution. Jacksonville-Tampa Bay reaches only 5% of America and 7 Florida markets. I'm not a statistician but I'm struggling to believe that the few markets getting this telecast add up to 5%.
UPDATE: CBS Sports' Thursday broadcast was the network's most-watched Thanksgiving Day game in 27 years and the most-watched regular-season game on any network in three years. The broadcast averaged 32.538 million viewers.
UPDATE: Fox too was up. Its audience for Thursday's Thanksgiving Day game delivered 27, 283,000 viewers across all platforms (TV, cable, streaming) It's Fox' best performance since 2016.
Jake Baskin has a profile of veteran Greg Gumbel below the schedule.
SCHEDULE:
NFL Week # 13
Thursday, November 28, 2019 (Thanksgiving)
Chicago Bears at Detroit Lions  12:30p FOX
Joe Buck, Troy Aikman
100% of country
Buffalo Bills at Dallas Cowboys   4:30p CBS
Jim Nantz, Tony Romo
100% of country
New Orleans Saints at Atlanta Falcons  8:20p NBC
Mike Tirico, Tony Dungy, Rodney Harrison
100% of country
Sunday, December 01, 2019
San Francisco 49ers at Baltimore Ravens 1:00p FOX
Kevin Burkhardt, Charles Davis
44% of country/116 markets
8 California markets including SF, San Diego and Sacramento and Pacific NW. Add Wyoming, Colorado, Utah and much of Montana. Plus: Kansas, Missouri, Oklahoma and southern markets from Arkansas, Louisiana, Mississippi and Georgia through the Carolinas and the Mid-Atlantic and much of New England
Washington Redskins at Carolina Panthers 1:00p CBS
Greg Gumbel, Trent Green
10% of country/18 markets
Mid-Atlantic south through the Carolinas and Eastern Georgia
New York Jets at Cincinnati Bengals  1:00p CBS
Spero Dedes, Adam Archuleta 
9% of country/8 markets
NYC, Albany, Binghamton and Hartford, Cincinnati, Dayton, Lexington and Hazard, Ky (Motto: Queen City of the Mountains)
Tennessee Titans at Indianapolis Colts 1:00p (ET) 1:00p CBS
Kevin Harlan, Rich Gannon
9% of country/21 markets
Tennessee, Indiana, Louisville and Bowling Green, Ky, a couple Mississippi markets and Houston which will be the biggest  market picking up the game. Texans in same division
Tampa Bay Buccaneers at Jacksonville Jaguars 1:00p FOX
Dick Stockton, Mark Schlereth 
5% of country/7 markets
This all-Florida matchup will be seen in Northern and Western Florida up through the panhandle
Philadelphia Eagles at Miami Dolphins 1:00p FOX
Kenny Albert, Ronde Barber
15% of country/26 markets
All Texas markets (of NFC East interest), Albuquerque, Eastern Pennsylvania, Miami and West Palm Beach
Cleveland Browns at Pittsburgh Steelers 1:00p CBS
Ian Eagle, Dan Fouts
71% of country/188 markets
Chicago west, except Houston and markets running Tenn-Indy, Washington-Carolina and Jets-Cincy games
Green Bay Packers at New York Giants 1:00p FOX
Thom Brennaman, Chris Spielman
22% of country/50 markets
All of NYS except Buffalo and Rochester, Hartford, Ct. Big Midwest States of NFC North, Michigan, Illinois, Wisconsin and Minnesota, plus much of Indiana, Iowa, Nebraska and the Dakotas
Los Angeles Rams at Arizona Cardinals  4:05p FOX
Chris Myers, Darryl Johnston
13% of country/22 markets
LA, Palm Springs, Arizona, plus outliers, Indy, Cincinnati, Charlotte, Pittsburgh, Nashville and Cleveland
Oakland Raiders at Kansas City Chiefs 4:25p CBS
Jim Nantz, Tony Romo
89% of country/210 markets
Entire country with exception of the region covering game below, Chargers-Broncos. Arizona blacked out by NFL rule and will not run either of the two late CBS games
Los Angeles Chargers at Denver Broncos  4:25p CBS
Andrew Catalon, James Lofton
9% of country/27 markets
Mountain Time Zone plus Southern California markets
New England Patriots at Houston Texans 8:20p NBC
Al Michaels, Cris Collinsworth
100% of country
Monday, December 02, 2019
Minnesota Vikings at Seattle Seahawks  8:15p ESPN
Joe Tessitore, Booger McFarland
ESPN is in some 84 million homes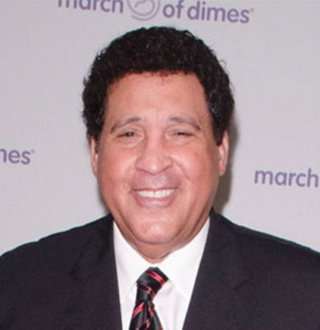 Greg Gumbel has the call for Sunday afternoon's matchup between the Redskins and Panthers. Gumbel, who has been a sportscaster for over 45 years, partners with two-time Pro Bowl quarterback Trent Green in their sixth season together on CBS's #3 team.
Gumbel, 73, played baseball at small Loras College in Iowa but only got into media in his late 20s when his younger brother Bryant, a successful TV personality in his own right, informed him of a job opening at the NBC affiliate in their hometown of Chicago. The station hired him as a sportscaster, and he proved to be successful, working for NBC 5 for seven years.
He joined ESPN in 1979 as one of its original SportsCenter anchors and got his first play-by-play work when the fledgling network picked up a small NBA package in 1982. He spent time as a host on WFAN and later MSG Network, hosting Knicks and Yankees games and filling in for Marv Albert on play-by-play who often had other commitments. After coming into national prominence, Gumbel also briefly held play-by-play jobs for the Seattle Mariners and Cleveland Cavaliers.
CBS brought Gumbel in as a play-by-play announcer in 1988, and he would become their lead NFL host two seasons later. Greg held that job for four years at which point CBS lost its football package to Fox. In addition to his NFL work, he also called pro and college basketball and baseball and hosted CBS' Winter Olympic coverage in 1992 and 1994. He jumped to NBC to work in similar roles as lead NFL host and to serve as an NBA and MLB play-by-play announcer.
Gumbel rejoined CBS in 1998 and was named top play-by-play announcer. He held the role for six seasons and called two Super Bowls, becoming the first and so far only African-American to work in the booth for The Big Game, play-by-play or analyst. Gumbel moved to the studio in 2004, but returned to play-by-play in 2006 on CBS's #2 team. His partners over the course of his NFL announcing career have included Ken Stabler, Pat Haden, Phil Simms, and Dan Dierdorf in addition to Green.
Gumbel has been CBS's lead studio host for the NCAA Tournament since his return to the network in 1998.