NFL Week: 13: Tight races make for good TV; Chicago and Las Vegas blacked out of a second game
NFL Week #13 of#18
Byes:  Carolina Panthers, Cleveland Browns, Green Bay Packers, Tennessee Titans
With the byes, only 14 NFL games this weekend.
CBS has the doubleheader and Fox is single this week.
If you're wondering why WBBM, CBS' Chicago affiliate is getting only one game, it's because Fox has the 1pm Cards-Bears home game and it's given exclusive viewership to protect the Bears turnstile from outside viewing competition. So viewers in the Windy City will see only one game on WBBM, the 4:25 matchup, Baltimore at Pittsburgh and the home game at Fox. In the early time slot, 1pm, 97% of the country will see regional action, all but Chicago.
Similarly, CBS' late games will be seen in 99% of the country. Vegas is blacked out because it will show a home game on Fox against Washington.
Fox, the newest of the four conventional networks has a universe of only 99%. The latecomer network doesn't have affiliates in tiny markets that make up the last one percent.
It's unusual to see San Diego and Los Angeles markets split. This weekend CBS' late game SF-Seattle will be televised in LA while the Baltimore-Pittsburgh goes to San Diego.
Seeing Hannah Storm and Andrea Kremer on the roster  for Thursday Night Football makes me wonder whether the duo will be be back next season and if so in what role. Amazon will shoulder the responsibility for producing the telecasts beginning next fall. There's talk that Prime will use NBC to anchor the production for both groups. Al Michaels might stay on in some combination assignment, NBC and Amazon. Like it or not, it appears that Mike will get the SNF play-by-play.
Fox' Kristina Pink shares sideline reporting with Erin Andrews for Fox. It didn't take lots of steps. She first worked locally in Jackson, Mississippi, Miami and New Orleans. For the most part, they've all paid their dues somewhere.
Sara Walsh is on the Fox sidelines. Good to see her regularly. Remember when ESPN let her go while she war pregnant. Nice.
It's hard to identify the NFL's biggest game of the weekend. Lots of teams need wins. CBS is giving its number one trio, Jim Nantz, Tony Romo and Tracy Wolfson one of the late games, Baltimore at Pittsburgh. The Steelers were rocked last week.
Kevin Harlan is in the Pacific Northwest for Sunday's San Francisco at Seattle on CBS. By Monday night he'll be in Buffalo for New England at Buffalo on Westwood One Radio.
Former NFLer Hank Bauer, 67, does some radio color for a regional network. Nowhere have I see any reference to the former Yankee and later baseball manager by the same name. The baseballer was strapping and not reluctant to mix it up .
The maps are courtesy of the506
Schedule issues? Updates on Eye on Sky and Air Sport
Thursday, December 2
8:20 PM- Dallas Cowboys at New Orleans Saints
FOX/NFL: Joe Buck, Troy Aikman, Erin Andrews, Kristina Pink
Fox 99%, 212 stations
AMZN: Hannah Storm, Andrea Kremer
Sunday, December 5
1 PM- Arizona Cardinals at Chicago Bears
FOX: Adam Amin, Mark Schlereth, Shannon Spake
23%, 72 stations
1 PM- Tampa Bay Buccaneers at Atlanta Falcons
FOX: Kenny Albert, Jonathan Vilma, Sara Walsh
23%, 57 stations
1 PM- New York Giants at Miami Dolphins
FOX: Chris Myers, Daryl Johnston, Jen Hale
12%, 17 stations
1 PM- Los Angeles Chargers at Cincinnati Bengals
CBS: Ian Eagle, Charles Davis, Evan Washburn
64%, 163 stations
1 PM- Indianapolis Colts at Houston Texans
CBS: Greg Gumbel, Adam Archuleta, A.J. Ross
10%, 36 stations
1 PM- Philadelphia Eagles at New York Jets
CBS: Andrew Catalon, James Lofton, Amanda Balionis
14%, 10 stations
1 PM- Minnesota Vikings at Detroit Lions
CBS: Spero Dedes, Jay Feely
9%, 36 stations
4:05 PM- Washington Football Team at Las Vegas Raiders
FOX: 
Kevin Burkhardt, Greg Olsen, Pam Oliver
34%, 59 stations
4:05 PM- Jacksonville Jaguars at Los Angeles Rams
FOX: Kevin Kugler, Mark Sanchez, Laura Okmin
7%, 7 stations
4:25 PM- Baltimore Ravens at Pittsburgh Steelers
CBS: Jim Nantz, Tony Romo, Tracy Wolfson
83%, 207 stations
4:25 PM- San Francisco 49ers at Seattle Seahawks
CBS: Kevin Harlan, Trent Green, Melanie Collins
16%, 32 stations
8:20 PM- Denver Broncos at Kansas City Chiefs
NBC, Peacock: Al Michaels, Cris Collinsworth, Michele TafoyaMonday, December 6
8:15 PM- New England Patriots at Buffalo Bills
ESPN, ESPN+: 
Steve Levy, Brian Griese, Louis Riddick, Lisa Salters 
83 million subscribers
ESPN2: Peyton Manning, Eli Manning 
CBS EARLY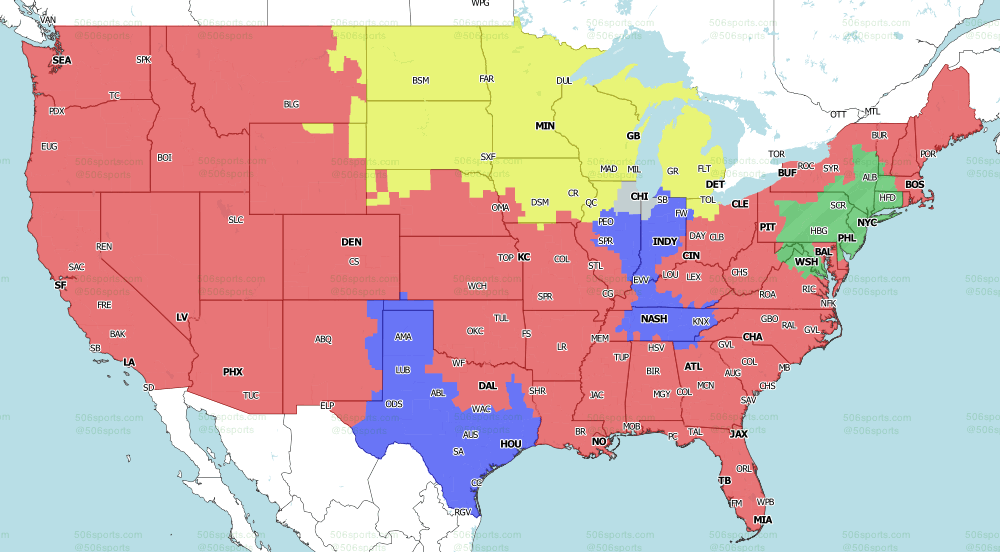 █
LA Chargers @ Cincinnati
█
Indianapolis @ Houston
█
Philadelphia @ NY Jets
█
Minnesota @ Detroit
CBS LATE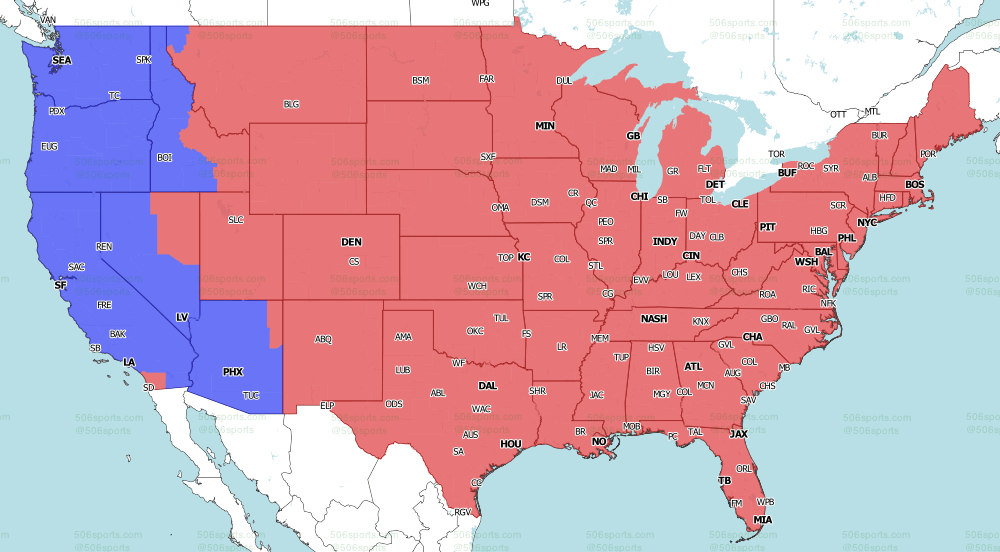 █
Baltimore @ Pittsburgh
█
San Francisco @ Seattle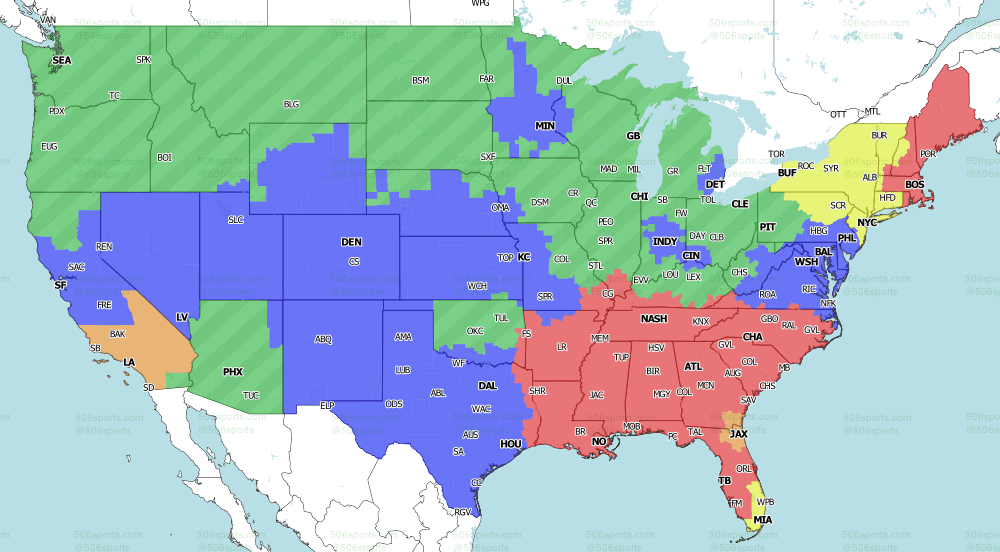 █
Tampa Bay @ Atlanta
█
Arizona @ Chicago
█
NY Giants @ Miami
█ 
Washington @ Las Vegas (LATE)
█
Jacksonville @ LA Rams (LATE)