NFL Week, #14 of #18: Getting closer to post season, Tight races; Good channel hopping on Sunday
Last weekend Erin Andrews began a comment from the field after being introduced by the booth. She told Buck and Aikman, "I know you are close friends with (Saints coach) Sean Peyton." What was that? It left me as a viewer wondering, why in the world did she say so? Was it accusatory of something or other? Was she trying to show up the duo? It came out of nowhere. In recent years, I've wondered what Erin brings to the mic altogether. I came to the conclusion that she brings little. Maybe the Foxies are figuring it out.
Michele Tafoya, out last week, is due back this weekend with NBC's Sunday crew, Al Michaels and cheery Cris Collinsworth.
Sill nothing on what will come of Amazon's Hannah Storm and Andrea Kremer. There's lots of talk on where Al Michaels lands. He's still pretty much considered the best. If Uncle Al is brought in as Amazon's lead voice for Thursday Night, I wonder if there will be a groundswell of protest from women activists. If Al lost a step, I can't find it. Can you? So we'll get Mike Tirico a notch above average. But please, NBC. Keep Ms. Taylor out of the mix. She's no more than a troublemaker.
Charles Davis came along for CBS. He does a real nice job, a bit pedantic, still good. He and Ian Eagle have a nice rapport. But no one is making a fuss over Charles.
Greg Olsen has a strong future ahead of him. If Joe's Troy explores networks elsewhere or an executive suite, Greg would move up and make a good number one for Fox. Can't say the same thing yet for NBC's Drew Brees. For that matter, I can't say the same thing for the last three NBC hires, Tirico, Taylor and Brees.
CBS should dump Jay Feely. He's simply awful. He adds no more than a headache. In Detroit's first win last weekend, he had nothing to add at the end of the game except a couple mistakes. Sounds like a village idiot half the time.
Missing CBS' Tom McCarthy. He's too far down the ladder to show his wares much. Too bad. Ditto for James Lofton.
Jim Nantz is so good at golf that he doesn't get the credit for his superb football assignment. He brings stories and anecdotes to life. It's like Vin Scully. He was so good at baseball that he was rarely praised for his seven years doing the NFL or golf like the Masters. Go to YouTube and listen to the Clark catch or his role on the Masters.
I would like to hear Steve Levy or Al Michaels with the Mannings together. This business where the brothers are on their own, away from the field, is tough to which to adjust.
Brian Griese and Louis Riddick are okay. Both know the game but listeners need the ear of a jeweler to figure out which of the analysts are talking. Father Bob Griese wasn't exactly glittering when he worked with Keith Jackson. I remember watching when the two were together. Jackson was so good, he should have worked alone. The older Griese added very little.
This weekend these four teams have byes:

Colts, Dolphins, Patriots, Eagles
The 506 has the latest geographic schedule. For TV buffs, it's always worth checking it out each NFL weekend.
Thursday, December 9
8:20 PM- Pittsburgh Steelers at Minnesota Vikings: Fox 99%, 228 stations
FOX/NFL Network –  Joe Buck, Troy Aikman, Erin Andrews, Kristina Pink
AMZN – Hannah Storm, Andrea Kremer
Sunday, December 12
1 PM: Dallas Cowboys at Washington Football Team: 58%, 138 stations
FOX: Kevin Burkhardt, Greg Olsen, Pam Oliver 
1 PM: Atlanta Falcons at Carolina Panthers, : 8%, 16 stations
FOX Kenny Albert, Jonathan Vilma, Lindsay Czarniak
1 PM: Seattle Seahawks at Houston Texans, 6%, 32 stations
FOX: Chris Myers, Daryl Johnston, Jen Hale
1 PM: Las Vegas Raiders at Kansas City Chiefs 70%.180 stations
CBS: Ian Eagle, Charles Davis, Evan Washburn
1 PM: Baltimore Ravens at Cleveland Browns, CBS, 13%, 28 station
Kevin Harlan, Trent Green, Melanie Collins; 
1 PM- New Orleans Saints at New York Jets: 9%, 15 stations
CBS:  Andrew Catalon, James Lofton, Amanda Balionis 
1 PM- Jacksonville Jaguars at Tennessee Titans: 7%, 16 stations
CBS: Spero Dedes, Jay Feely
4:05 PM- New York Giants at Los Angeles Chargers: 21%, 23 stations
FOX:  Adam Amin, Mark Schlereth, Shannon Spake
4:05 PM- Detroit Lions at Denver Broncos: 63%, 19 stations
FOX:  Kevin Kugler, Mark Sanchez, Laura Okmin
4:25 PM- Buffalo Bills at Tampa Bay Buccaneers: 16%, 206 stations 
CBS: Jim Nantz, Tony Romo, Tracy Wolfson
4:25 PM- San Francisco 49ers at Cincinnati Bengals 16%, 34 stations
CBS, Greg Gumbel, Adam Archuleta, A.J. Ross
Sunday Night, December 12
8:20 PM- Chicago Bears at Green Bay Packers – 100% of the country
NBC: Al Michaels, Cris Collinsworth, Michele Tafoya
Monday, December 13
8:15 PM: Los Angeles Rams at Arizona Cardinals- 100% of country
ABC, ESPN, ESPN+: Steve Levy, Brian Griese, Louis Riddick, Lisa Salters 
CBS EARLY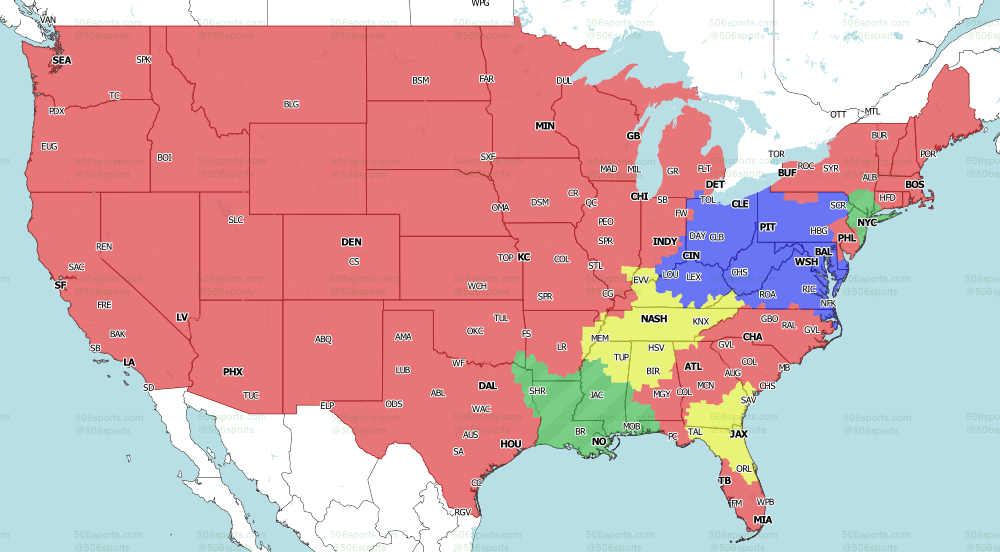 █ 
Las Vegas @ Kansas City 
█
Baltimore @ Cleveland
█
New Orleans @ NY Jets
█
Jacksonville @ Tenn 
CBS LATE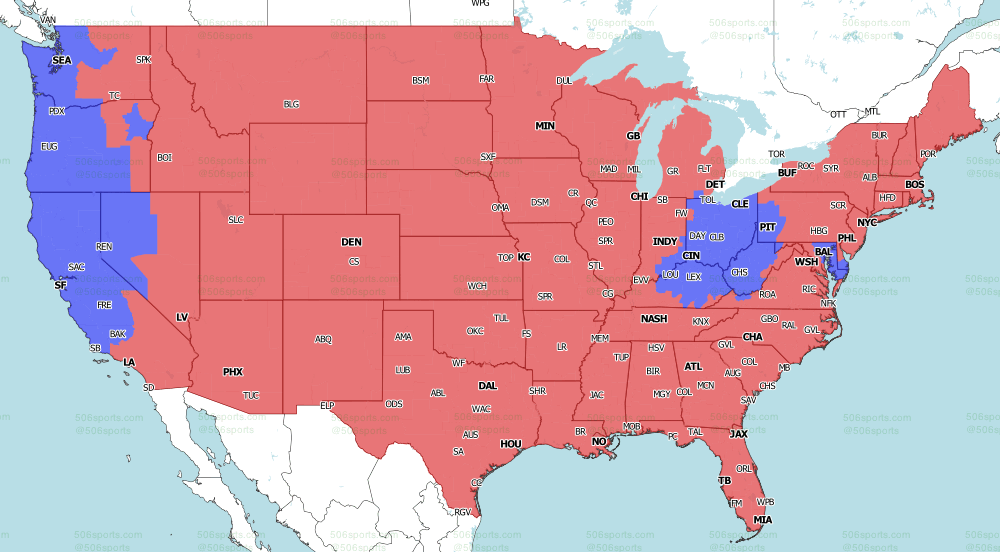 █
Buffalo @ Tampa Bay
█
San Francisco @ Cincinnati
FOX SINGLE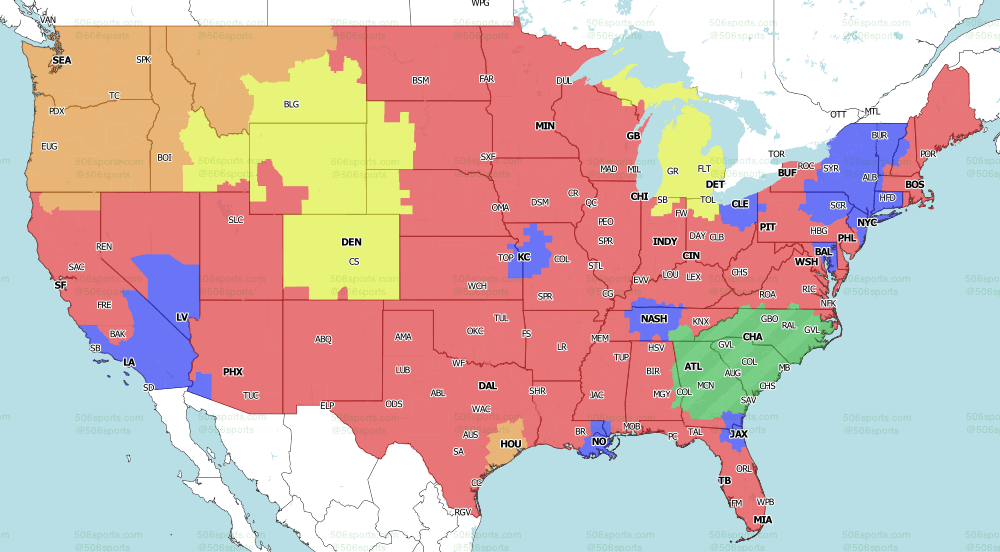 █ Dallas @ Washington █ Atlanta @ Carolina █ Seattle @ Houston █ NY Giants @ LA Chargers  █ Detroit @ Denver