NFL Week 15 of 18: Tight races; Covid forces games on Saturday, Sunday, Monday and Tuesday
Summarizing the four NFL lead play-by-players' strengths:
Nantz: shares warm anecdotes and invitingly so
Buck: Can't say it any better than Tom Verducci, "Buck's concise." Aikman can never complain about too little runway.
Michaels: Brings the perfect mix. Accurate play calling and taps into his wealth of historical retention to draw parallels.
Levy is slowly becoming a fan favorite, your friend at the game. Working with two analysts in the booth is a difficult challenge. Each year Steve gets better.
When Jim Nantz, Tony Romo and company are given a beaten up Tennessee at Pittsburgh, it's hardly a star-studded week of matchups.
Adam Amin (good) and Mark Schlereth (bad) have a long on-going rivalry, Dallas at the Giants. If Mark doesn't show some zip and insight, he can be gone with the wind. He's a panful listen. Talks haltingly, meaningless gibberish.
For the latest geographical market assignments, check out the 506.com  
When I saw this on LinkedIn,  I thought I'd die. Steve Strain's occupation – "Pre-arrangement funeral counselor and freelance sports broadcaster." I've seen sportscasters who are lawyers, psychologists, salespeople and the like! But a pre-arrangement funeral counselor?
Per below, the largest swath of TV geography on Sunday afternoon is GB-Baltimore on Fox – 86% of America and 187 stations. Joe Buck, Troy Aikman and little to say Erin Andrews will preside. Thanks for Tom Rinaldi joining the Fox show. CBS which will run single Sunday will have its top team, Nantz, Romo and Wolfson- 62% and 178 stations, Tenn-Pitt and no Derrick Henry. Nantz will be ready with excellent and pertinent stories.
With tight races and close games, Sunday Ticket's menu is a panacea for parity?
This year, Fox will supply the two crews for the Sat afternoon DH on NFLN. Like other vertical and cable networks, subscriptions are dropping. NFL Network is down to just 53 million subscribers. At its height, ESPN had over 100 million customers.
While the colleges are quiet until the playoffs, the NFL has encroached upon Saturday. This weekend's sked covers Thursday, Saturday, Sunday and Monday
Things funny going on with Michele Tafoya, 'Ms. Material.' She's good but has been AWOL for a while and won't return on NBC's SNF next season. That's too bad. A solid performer! The network is saying that she'll do Super Bowl in LA. Sounds like it might be her farewell.
COVID HAS FORCED  SCHEDULE CHANGES!
COURTESY OF THE 506! HERE ARE THE UPDATES
Sunday night, December 19

8:20 PM- New Orleans Saints at Tampa Bay Buccaneers
NBC, Peacock: Mike Tirico, Cris Collinsworth, Michele Tafoya

Monday, December 20

8:15 PM- Minnesota Vikings at Chicago Bears 
ABC, ESPN, ESPN+: Steve Levy, Brian Griese, Louis Riddick, Lisa Salters
---
December 19, 2021
All listings are unofficial and subject to change. Check back often for updates.
NATIONAL BROADCASTS
Thursday Night: Kansas City @ LA Chargers (FOX/NFLN) Joe Buck, Troy Aikman
Saturday 8:15 ET: New England @ Indianapolis (NFLN; Kevin Burkhardt, Greg Olsen)
Sunday Night: New Orleans @ Tampa Bay (NBC) Al Michaels, Cris Collinsworh
Monday 5:00 ET: Las Vegas @ Cleveland (NFLN; Joe Davis, Kurt Warner)
Monday 8:15 ET: Minnesota @ Chicago (ESPN/ABC) Steve Levy, Brian Griese, Louis Ridick
---
CBS SINGLE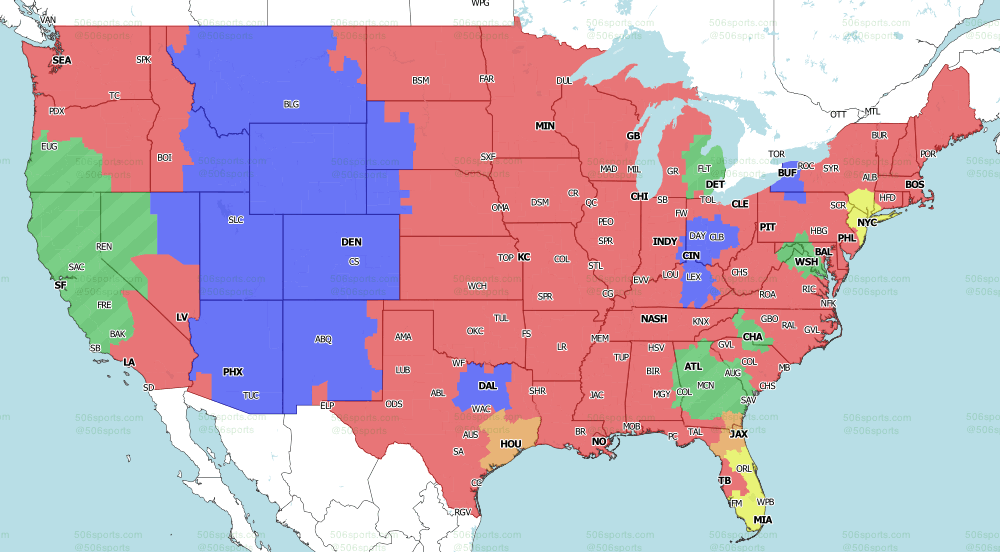 █
Tennessee @ Pittsburgh
Jim Nantz, Tony Romo
█ 
NY Jets @ Miami – Greg Gumbel, Adam Archuleta
█
Houston @ Jacksonville – Andrew Catalon, James Lofton
█
Cincinnati @ Denver (LATE)- Ian Eagle, Charles Davis
█
Atlanta @ San Francisco (LATE) – Kevin Harlan, Trent Green
---
---
FOX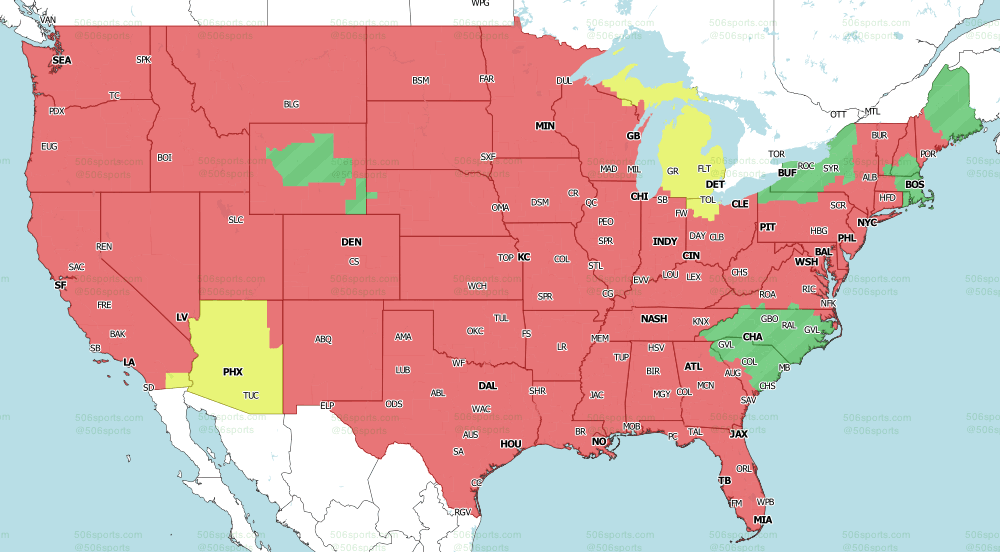 █
Dallas @ NY Giants –  Kevin Burkhardt, Greg Olsen
█
Carolina @ Buffalo – Kenny Albert, Jonathan Vilma
█
Arizona @ Detroit – Gus Johnson, Aqib Talib
---
FOX LATE █ Green Bay @ Baltimore – Joe Buck, Troy Aikman
This game will now be nationally televised.
---
FOX TUESDAY
7:00 PM ET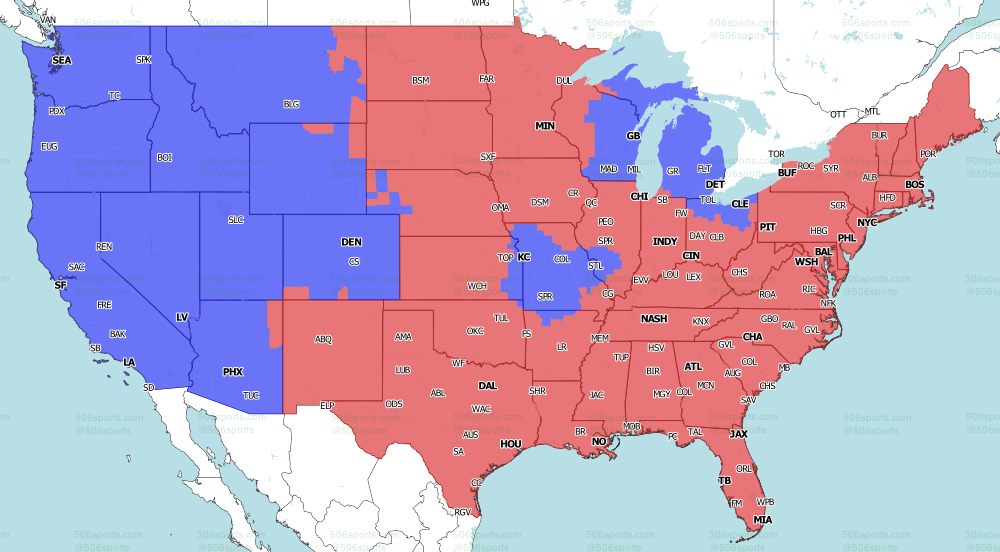 █
Washington @ Philadelphia
Kevin Kugler, Mark Sanchez
█ 
Seattle @ LA Rams Chris Myers, Daryl Johnston
Both games have been moved from Sunday due to COVID outbreaks on the WFT and Rams. The game not televised in your area will be available on Sunday Ticket.