NFL WEEK #16 OF #18: Schedules are made to be broken in the Covid era; Andrea Kremer on Amazon '22
A couple broadcast notes:
Andrea Kremer: With all the speculation about where Al Michaels lands next fall, be it ESPN or combo, Amazon/NBC, there's been little written about the incumbent duo, Hannah Storm and Andrea Kremer, both of whom are always well prepared. They're seasoned at their crafts. When I asked Andrea, she told me:
"Absolute truth – we have two more games – Christmas and a playoff game – and that is ALL I am thinking about. I have consistently said throughout the season that there is no next year without a great this year and that's what I have been singularly focused on!"
Michele Tafoya When NBC's Sunday Night Football kicks off this Sunday, December 26, with the Washington Football Team visiting the Dallas Cowboys,  Tafoya will serve as the sideline reporter for her 300th NFL regular-season game – a primetime NFL record.
James Lofton – CBS doesn't seem to want to budge on Lofton. Deserves to be up the depth chart. This fellow is good. He knows the game and has personality.
Old man's game in the studios. Sixty or older, Phil Simms, 60, Boomer Esiason, 60, James Brown, 70, Bill Cowher, 64, Howie (Say something material, please) Long, 61, Jimmy Johnson, 78, Terry Bradshaw, 73 and Tony Dungy 66. The young man, everything is relative, takes over SNF next season, Mike Tirico, 55. Michele Joan Tafoya, 58, won't likely be back on NBC next season. With Al Michaels and Tafoya gone, where does that leave Cris Collinsworth?
Let's hope that Covid won't disrupt this weekend's schedule into another mad scramble. If so check out The506 or Eye on Sky and Air Sports 
CBS has the DH, Fox is single this weekend – Details below
Notes contributed by Philip Tepper of Syracuse University last week while watching a couple games:
Absorbing ignominious numbers: After the Jets jumped of Miami 10-0, Greg Gumbel noted appropriately how the last time the Jets beat the Dolphins in Miami was Week #17 in 2014, which would end up being former Jets' coach Rex Ryan's last game as the New Yorkers head coach. (Haven't heard the Ryan name in a while. Rex' dad was Buddy Ryan, like his son quite colorful.)
Trick plays: After a Jets trick play almost failed, Gumbel couldn't help but laugh. He guessed that the play executed was not the one drawn up. The commentator added "If it all goes wrong, just throw it up and someone will be there."
Anecdotal: CBS sideline reporter AJ Ross infused a nice anecdote about how Dolphins' running back Duke Johnson, a Miami native, played at the University of Miami and this was his first time getting to play for his hometown team.
Tip-top Analysis by Fox' lead color commentator Troy Aikman. He strongly suggested that Ravens' head coach John Harbaugh is going for it on fourth down due to his aggressive mindset; an injury-riddled defense, and the need to set the tone on offense since they are going up against Aaron Rodgers. Harbaugh also went for a two point conversion for a potential win later, instead of conservatively pursuing a point after.
Aaron Rodgers: Troy Aikman stated that Packers quarterback Aaron Rodgers is in his 17th year and that he is playing the game at a different speed than everyone else, suggesting that he has gotten better with age.
Quipping: Joe Buck was amazed that they were already at the two-minute warning and fans haven't even left the tailgate outside the stadium.
Acerbic line: When Ravens linebacker Patrick Queen's chain was exposed, Joe  expressed concern that it could be ripped off his neck and that he would lose the equivalent of a couple paychecks if it were broken.
Comment worth a thought: Troy noted how when a team is as injured as the Baltimore Ravens are, it affects the special teams unit because more often than not special teams players are backups that are now forced to play offense and defense.
Humorous Exchange: When Packers tight-end Marcedes Lewis caught a big pass for a first down, Buck and  Aikman went back and forth trying to guess what college he went to until they correctly guessed that he went to UCLA. 
SCHEDULE WEEK # 16 of #18
 Thursday, December 23
8:20 PM- San Francisco 49ers at Tennessee Titans 
NFLN: Kevin Burkhardt, Greg Olsen, Pam Oliver, Kristina Pink
53 Million subscribers
Saturday, December 25
4:30 PM- Cleveland Browns at Green Bay Packers 
FOX/NFL: Joe Buck, Troy Aikman, Erin Andrews, Kristina Pink
AMZN: Hannah Storm, Andrea Kremer
Fox – 99% – NFLN 53 million subscribers
8:15 PM- Indianapolis Colts at Arizona Cardinals 
NFL: Joe Davis, Kurt Warner, Melissa Stark, Peter Schrager
NFLN 53 million subscribers
Sunday, December 26
1 PM- Los Angeles Rams at Minnesota Vikings 
FOX: Adam Amin, Mark Schlereth, Shannon Spake 
35% – 85 stations
1 PM- New York Giants at Philadelphia Eagles
FOX: Kenny Albert, Jonathan Vilma, Sara Walsh
27% – 49 stations
1 PM- Tampa Bay Buccaneers at Carolina Panthers 
FOX: Kevin Kugler, Mark Sanchez, Laura Okmin 
15% – 34 stations 
1 PM- Detroit Lions at Atlanta Falcons
FOX: Chris Myers, Robert Smith, Jennifer Hale 
6% – 16 stations 
1 PM- Buffalo Bills at New England Patriots 
CBS: Ian Eagle, Charles Davis, Evan Washburn 
68% – 190 stations 
1 PM- Baltimore Ravens at Cincinnati Bengals 
CBS: Kevin Harlan, Trent Green, Melanie Collins 
15% – 28 stations 
1 PM- Los Angeles Chargers at Houston Texans
CBS: Andrew Catalon, James Lofton, Sherree Burruss
9% – 16 stations 
1 PM- Jacksonville Jaguars at New York Jets
CBS: Spero Dedes, Jay Feely 
8% – 5 stations
4:05 PM- Chicago Bears at Seattle Seahawks
FOX: Aaron Goldsmith, Aqib Talib, Megan Olivi
16% – 28 stations 
4:25 PM- Pittsburgh Steelers at Kansas City Chiefs 
CBS: Jim Nantz, Tony Romo, Tracy Wolfson 
89% – 203 stations
4:25 PM- Denver Broncos at Las Vegas Raiders 
CBS: Greg Gumbel, Adam Archuleta, AJ Ross
11% – 37 stations
Sunday Night, December 26
8:20 PM- Washington Football Team at Dallas Cowboys 
NBC, Peacock: Al Michaels, Cris Collinsworth, Michele Tafoya

100 %
Monday, December 27
7 PM- Miami Dolphins at New Orleans Saints
ESPN, ESPN+: Steve Levy, Brian Griese, Louis Riddick, Lisa Salters 
83 Million subscribers
CBS EARLY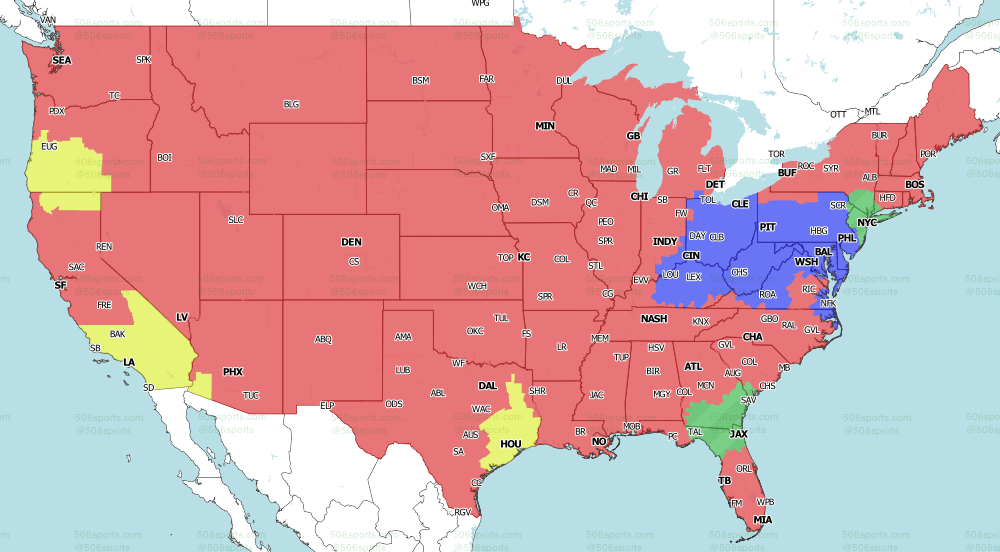 █ 
Buffalo @ New England
█
Baltimore @ Cincinnati
█
Jacksonville @ NY Jets
█
LA Chargers @ Houston
CBS LATE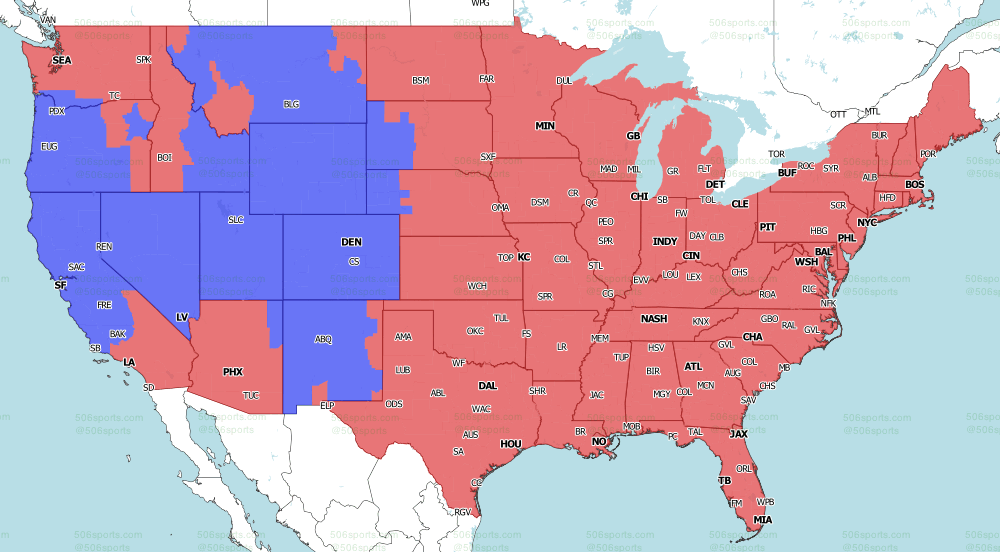 █
Pittsburgh @ Kansas City
█
Denver @ Las Vegas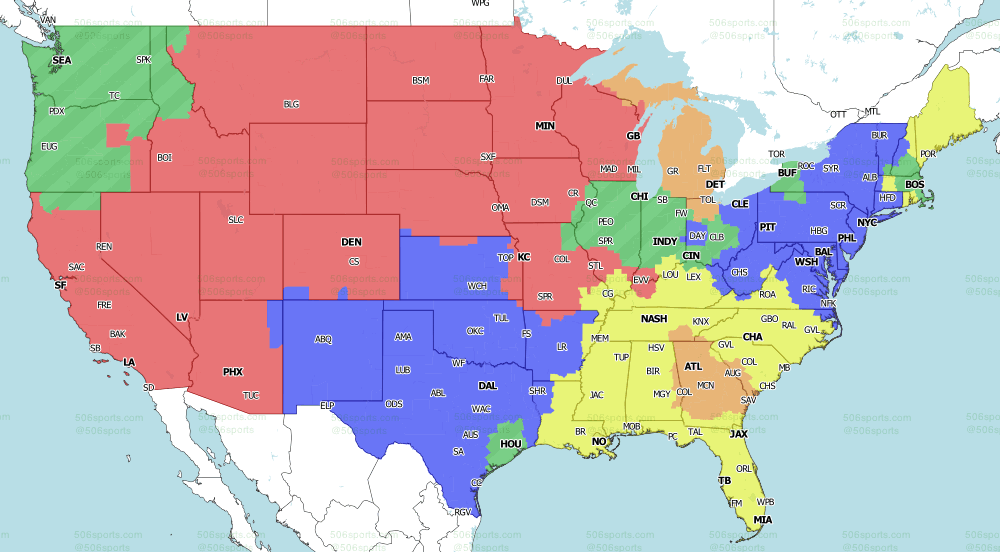 █
LA Rams @ Minnesota
█

NY Giants @ Philadelphia
█
Tampa Bay @ Carolina
█
Detroit @ Atlanta
█ 
Chicago @ Seattle (LATE)
---