NFL Week #6: Brady to Philly for Thursday night; Dallas at New England goes to 80% of U.S. Sunday
NFLWeek #6 Broadcast notes
NBC's Al Michaels gets Sunday off. Did he ask for it? I don't think so. Getting Mike Tirico ready for next season.
CBS has this week's doubleheader and Fox the single game.
Joe Back and Troy Aikman partner on the Thursday night match up, Tom Brady and the Bucs into Philly.
Busy time of year for Joe Buck. He'll be weaving his way through Fox' NFL and MLB post-season cities when he presides over the World Series microphones later this month. It will be his 24th, tying Tim McCarver's 24 who was an analyst. The closest to Joe Buck on play-by-play are three voices who are tied for second, Curt Gowdy, Vin Scully and Mel Allen. Each had 11.
Joe Davis was better on baseball this week than he was in the past. He'll need to show some more zest on football this weekend too.
I've been enjoying Steve Levy more and more. He's cut out of a different cloth than others. Levy isn't as guarded and doesn't hold back. He'll also have a busy fall. In addition to the NFL, Steve will be the lead studio host for ESPN's NHL coverage. He'll also do some games.
Jim Nantz and Tony Romo will have the largest swath on Sunday afternoon. Dallas-New England goes to 80% of the country.
Byes: Atlanta, New Orleans, New York Jets, San Francisco
From Sports Media Watch: "The NFL's ratings were mostly up in Week 5 of the season. Sunday's NFL national window, featuring Giants-Cowboys in 88% of markets, topped Week 5 with an 11.3 rating and 22.05 million viewers on FOX — down 7% in ratings and 4% in viewership from last year, when the same matchup anchored the same window on CBS (12.2, 22.87M), and down 18% and 10% respectively from a fully national Packers-Cowboys game in 2019 (13.8, 24.60M)."
Geographic overage is depicted below – Courtesy of The 506.  Feel free to consult the 506 for all updates. 
Week 6 – Schedule
Thursday, Oct. 14
Tampa Bay at Philadelphia, 8:20 p.m. (Fox/NFLN)
Joe Buck, Troy Aikman
100%, 53 Million subscribers on NFLN
Sunday, Oct. 17
Miami vs. Jacksonville (London), 9:30 a.m. (CBS)
Kevin Harlan, Trent Green
100 %, 240 stations
Los Angeles Chargers at Baltimore, 1 p.m.
Greg Gumbel, Ted Archuleta
45% 82 stations
Minnesota at Carolina, 1 p.m. (Fox)
Kenny Albert, Jonathan Vilma
8%, 21 stations
Green Bay at Chicago, 1 p.m. (Fox)
Joe Davis, Greg Olsen
50%, 124 stations
Cincinnati at Detroit, 1 p.m. (Fox)
Chris Myers, Daryl Johnston
6%, 12 stations
Houston at Indianapolis, 1 p.m. (CBS)
Spero Dedes, Jay Feely
7%, 20 stations 
Los Angeles Rams at New York Giants, 1 p.m. (Fox)
Adam Amin, Mark Schlereth
15%, 19 stations
Kansas City at Washington, 1 p.m. (CBS)
Ian Eagle, Charles Davis
48%, 138 stations
Arizona at Cleveland, 4:05 p.m. (Fox)
Kevin Kugler, Mark Sanchez
20%, 36 stations
Las Vegas at Denver, 4:25 p.m. (CBS)
Andrew Catalon, James Lofton
20%, 63 stations
Dallas at New England, 4:25 p.m. (CBS)
Jim Nantz, Tony Romo
80%, 177 stations
Seattle at Pittsburgh, 8:20 p.m. (SNF)
Mike Tirico, Cris Collinsworth
100% of country
Monday, Oct. 18
Buffalo at Tennessee, 8:15 p.m. (ESPN)
Steve Levy, Brian Griese, Louis Riddick
83 Million homes
**
CBS Early Game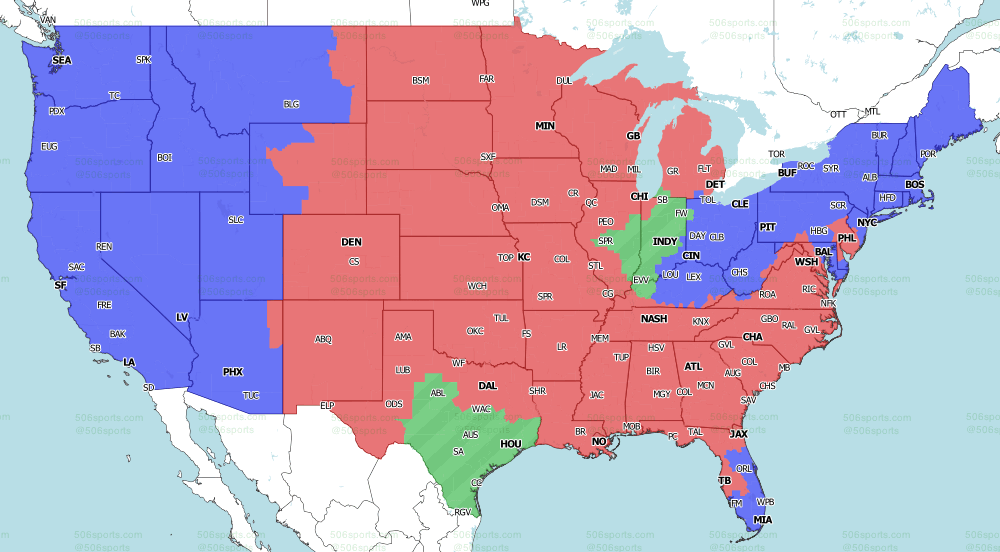 █ 
Kansas City @ Washington
█
LA Chargers @ Baltimore
***************