NFL Week #7: Manning Brothers back on ESPN2; Buck off Sunday; Nantz and Romo on Bears at Bucs
Broadcast Notes Week #7
CBS has the doubleheader. Fox, the single game.
Joe Buck is busy with baseball. He and Troy Aikman work Thursday and are off on Sunday.
Greg Gumbel lives here in South Florida. The weather and the beaches must agree with him. He is still sharp at 75.
The Manning brothers are back Monday with a side-by-side versions of MNF on ESPN2.
Kenny Albert needs a chill pill. In addition to the NFL for Fox, he's now the number one man for Turner on the NHL. He also squeezes in Rangers games when he can.
Fox' Greg Olsen sounds good in his first full season as a commentator. His usual boothmate Kevin Burkhardt is out on baseball work in the studio. Joe Davis takes his spot. Maybe Olsen can give Davis a strong pinch in the arm before kickoff so that this overrated voice has some energy to to his call. A young man with a lofty assignment and it sounds like he's in the library and doesn't want to wake anybody up.
Trent Green who partners with the sonorous Kevin Harlan disappointed me at the end of the Jacksonville win over Miami. He added little to the heart-throbbing finish. When the Jaguars made a gutsy call with some four seconds left to throw the ball for a quick first down and have an easier shot at a winning field goal, he should have pointed out that had the Dolphins not the touched the receiver, the clock would have expired. Once the receiver was touched, the clocked stopped with one second left.  The game would then have gone into overtime. Green missed a critical point. Boomer Esiason pointed it out later on The NFL Today.
BYES: Buffalo, Dallas, Minnesota, Pittsburgh, LA Chargers, Jacksonville
Maps below – courtesy of The 506 – check regularly for updates
NFL WEEK #7 SCHEDULE:
Thursday, October 21
Denver at Cleveland, FOX/NFL/PRIME 8:20 p.m.
Joe Buck, Troy Aikman, Erin Andrews, & Kristina Pink
Amazon Prime: Andrea Kremer, Hannah Storm
Sunday, October 24
Cincinnati at Baltimore, CBS 1 p.m.
Kevin Harlan, Trent Green, & Melanie Collins
16%/30 stations
Washington at Green Bay, FOX 1 p.m.
Joe Davis, Greg Olsen, & Pam Oliver
48%/133 stations
Atlanta at Miami, FOX 1 p.m.
Chris Myers, Daryl Johnston, & Jen Hale
6%/11 stations
NY Jets at New England, CBS 1 p.m.
Andrew Catalon, James Lofton, & Amanda Balionis
12%/16 stations
Carolina at NY Giants, FOX 1 p.m.
Adam Amin, Mark Schlereth, & Shannon Spake
15%/25 stations
Kansas City at Tennessee, CBS 1 p.m.
Ian Eagle, Charles Davis, & Evan Washburn
72%/194 stations
Detroit at LA Rams, FOX 4:05 p.m.
Kevin Kugler, Mark Sanchez, & Laura Okmin
10%/16 stations
Philadelphia at Las Vegas, FOX 4:05 p.m.
Kenny Albert, Jonathan Vilma, & Lindsay Czarniak
20%/26 stations
Houston at Arizona, CBS 4:25 p.m.
Greg Gumbel, Adam Archuleta, & AJ Ross
10%/22 stations
Chicago at Tampa Bay, CBS 4:25 p.m.
Jim Nantz, Tony Romo, & Tracy Wolfson
90%/218 stations
Indianapolis at San Francisco, NBC 8:20 p.m.
Al Michaels, Cris Collinsworth, & Michele Tafoya
100% of country
Monday, October 25
New Orleans at Seattle, ESPN 8:15 p.m.
Steve Levy, Brian Griese, Louis Riddick, & Lisa Salters
ESPN2: Peyton Manning, Eli Manning
ESPN has 83 million subscribers
Maps below- courtesy of The 506 – check regularly for updates
CBS Early: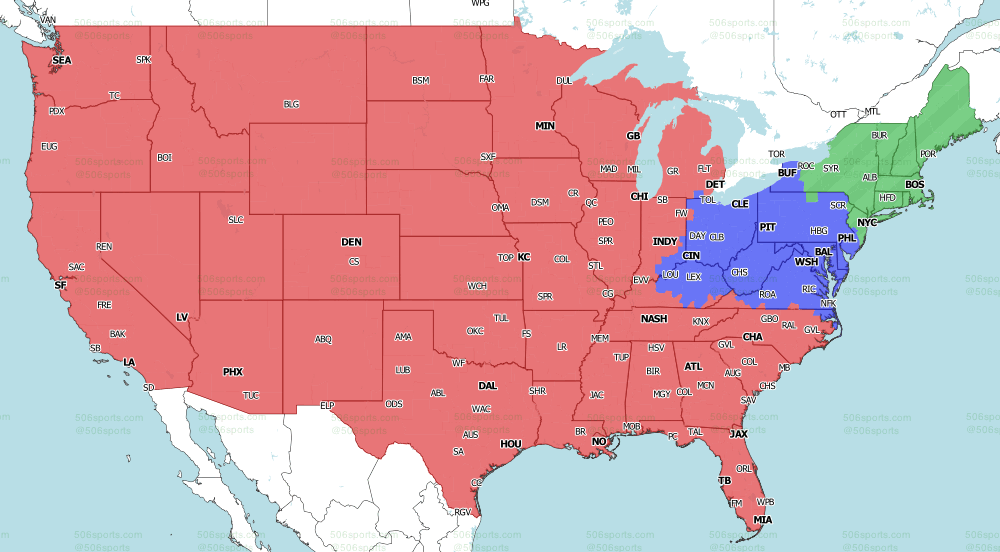 CBS Late: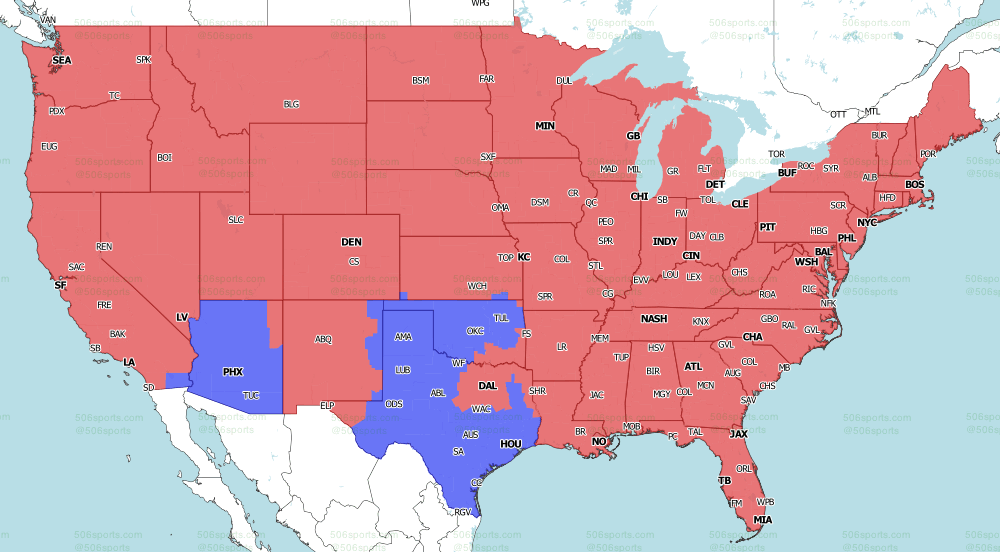 FOX: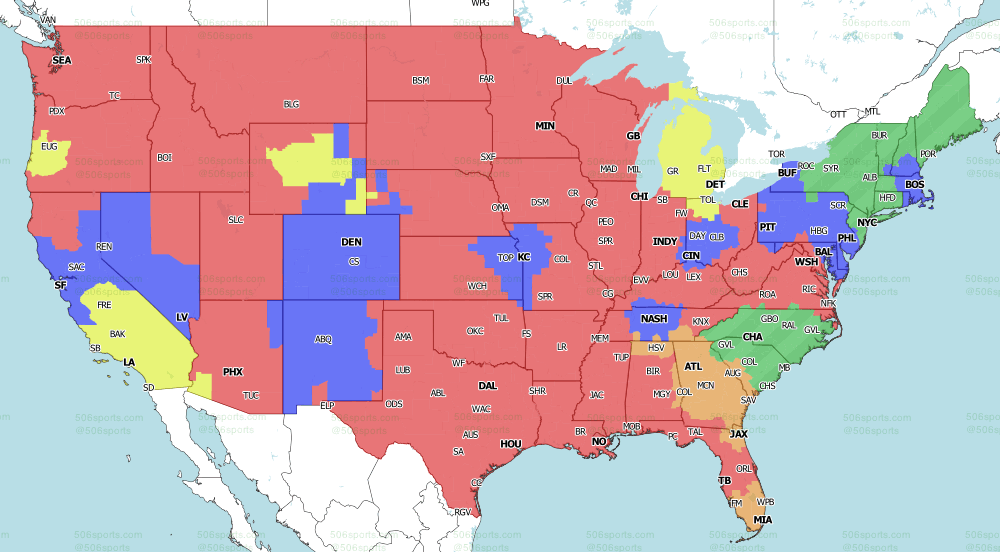 █
Philadelphia @ Las Vegas (LATE)
█
Detroit @ LA Rams (LATE)