NFL Week #8: Giants-Chiefs can be surprisingly competitive Monday night; Fox has Tampa Bay-Saints
CBS has the singleton, Fox the doubleheader.
Detroit Lions, Seattle Seahawks, Tampa Bay Buccaneers and the Washington Football Team.
With Joe Buck on baseball, Joe Davis joins Troy Aikman on Sunday afternoon's telecast of Tampa Bay at New Orleans. Fox can do better than Sleepy Joe. So this weekend Davis has the widest national audience, 191 stations and 92% of country. Bring back Thom Brennaman. Stop with the excuses.
Chris Myers continues to be among the the most underrated and diverse broadcasters covering football.
Kevin Kugler was good on radio. His voice though is thin, maybe the thinnest of any TV network voice covering the NFL. Smart guy, well prepared but as boring as watching your money grow in the bank at miniscule interest rates.  We're not all Kevin Harlan.
Brandon Gaudin is very good at Fox. Good hire. Was voice of Georgia Tech.
Mark Schlereth's comments are shallow and he talks haltingly. Aren't there better analysts than he?
Kenny Albert just won't stop. He's one place one day and somewhere else the next. He'll end up like me, so many frequent flyer miles, he'll never be able do use them.
Geography of NFL TV distribution below and check for updates at the 506 through the weekend.
People have told me that Steve Levy keeps growing on them. Indeed. A warm guy.
You have to be impressed with with Nate Burleson's assertiveness on CBS' Inside the NFL. He comes on strong and is likely to take over for 70 year old Janes Brown.
Monday night's Giants at Chiefs might be more competitive than first thought.
The Mannings had three footballers for 3 of their 4 guests Monday night. Tom Brady and Drew Brees were insightful. Marshawn Lynch's performance summed it up best, "I had three shots of Hennessy before the game."  Sue Bird was out of place, added little and was laconic.
Thursday, October 28
8:20 PM- Green Bay Packers at Arizona Cardinals
FOX/NFL: Joe Buck, Troy Aikman, Erin Andrews, Kristina Pink
AMZN: Hannah Storm, Andrea Kremer
100%/NFL Network 53 million subscribers
Sunday, October 31
1 PM- Pittsburgh Steelers at Cleveland Browns 
CBS: Jim Nantz, Tony Romo, Tracy Wolfson 
1 PM- Cincinnati Bengals at New York Jets
CBS: Kevin Harlan, Trent Green, Melanie Collins 
1 PM- Miami Dolphins at Buffalo Bills 
CBS: Andrew Catalon, James Lofton, Sheree Burruss
1 PM- Tennessee Titans at Indianapolis Colts 
CBS: Spero Dedes, Jay Feely 
7%, 21 stations
1 PM- San Francisco 49ers at Chicago Bears
FOX: Adam Amin, Greg Olsen, Pam Oliver 
1 PM- Philadelphia Eagles at Detroit Lions
FOX: Kenny Albert, Jonathan Vilma, Megan Olivi
1 PM- Carolina Panthers at Atlanta Falcons 
FOX: Kevin Kugler, Mark Sanchez, Laura Okmin 
21%, 52 stations 
1 PM- Los Angeles Rams at Houston Texans 
FOX: Chris Myers, Daryl Johnston, Jennifer Hale 
4:05 PM- New England Patriots at Los Angeles Chargers 
CBS: Ian Eagle, Charles Davis, Evan Washburn  
28%, 28 stations
4:05 PM- Jacksonville Jaguars at Seattle Seahawks
CBS: Greg Gumbel, Adam Archuleta, A.J. Ross
4:25 PM- Tampa Bay Buccaneers at New Orleans Saints 
FOX: Joe Davis, Troy Aikman, Erin Andrews, Tom Rinaldi
4:25 PM- Washington Football Team at Denver Broncos
FOX: Brandon Gaudin, Mark Schlereth, Shannon Spake 
8:20 PM- Minnesota Vikings at Dallas Cowboys
NBC, Peacock: Al Michaels, Cris Collinsworth, Michele Tafoya
8:15 PM- New York Giants at Kansas City Chiefs
ESPN, ESPN+: Steve Levy, Brian Griese, Louis Riddick, Lisa Salters
ESPN2: Peyton Manning, Eli Manning 
ESPN has 83 million subscribers 
EARLY- CBS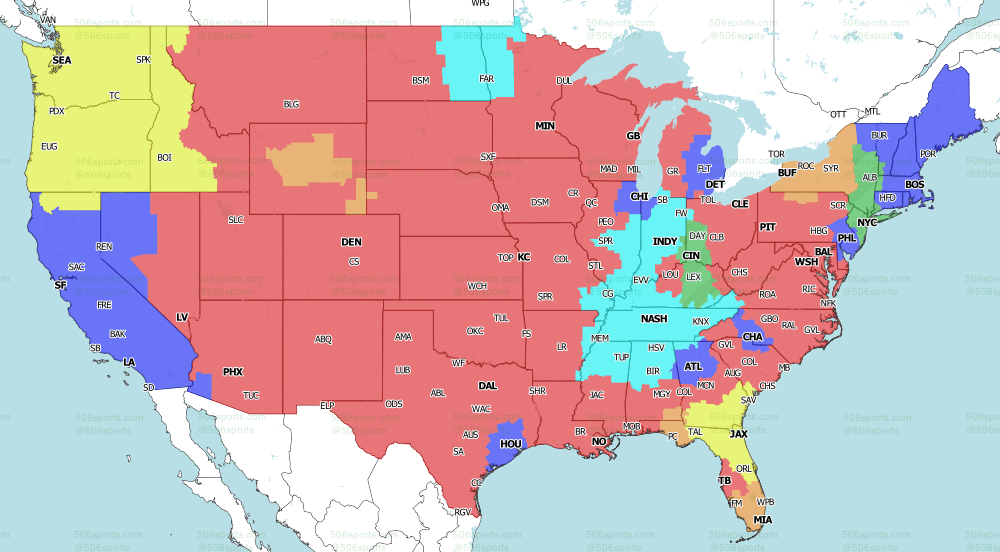 █
Tennessee @ Indianapolis
█
New England @ LA Chargers