NFL Week #9: CBS' Nantz-Romo get Cleve-Cincy; Fox' Buck-Aikman have GB-KC + Thu nite, Jets-Indy
NFL WEEK #9 
Byes: Detroit, Seattle, Tampa Bay, Washington
With baseball behind us, Joe Buck is now back fulltime to NFL coverage for Fox.
CBS has single game coverage this Sunday. Fox has the doubleheader. As such, the telecast of 

Cleveland-Cincinnati, covered by

CBS' top crew of Nantz and  Romo, will be seen in a very narrow swath of the country's geography, 43%.
NFL voices underrated: Chris Myers, Fox; James Lofton, CBS (left)
NFL Overrated: Mark Schlereth, Fox; Trent Green, CBS
DirecTV has a physician, an orthopedist, commenting on injuries Sundays on the Red Zone channel. It's a helpful feature.
I checked in with the wonderful Gene Deckerhoff, Voice of both Florida State and the Tampa Bay Bucs. He tells me that the broadcast crew of Florida State flies on the team charter. The Bucs broadcasters and production people fly commercially. Apparently, NFL rules: No travel on the team charters.
Kevin Burkhardt, Fox' #2 NFL voice is also back from baseball and will resume his football role Sunday.
From Sports Media Watch, "A marquee matchup between elite teams lifted last week's

Thursday Night Football

to its largest audience in three years. Packers-Cardinals averaged an 11.2 rating and 20.26 million viewers on the latest NFL 

Thursday Night Football

 simulcast on FOX and NFL Network (20.4M across all platforms), the largest audience for the 

TNF

package since 2018
DirecTV has a physician commenting on injuries – Red Zone channel. Well done
We thank the506 for the broadcast contour maps below. We urge you check the506 for updates through the weekend.
The celebrated New England Patriots will be seen in only 11% of the country
Thursday, November 4
8:20 PM- New York Jets at Indianapolis Colts 
FOX/NFL: Joe Buck, Troy Aikman, Erin Andrews, Kristina Pink
Fox – 99%, 212 stations 
AMZN PRIME: Hannah Storm, Andrea Kremer
147 million estimated Prime customers in U.S.
Sunday, November 7
1 PM- Cleveland Browns at Cincinnati Bengals  
CBS: Jim Nantz, Tony Romo, Tracy Wolfson 
1 PM- Las Vegas Raiders at New York Giants
CBS: Kevin Harlan, Trent Green, Melanie Collins 
1 PM- New England Patriots at Carolina Panthers 
CBS: Greg Gumbel, Adam Archuleta, AJ Ross
1 PM- Buffalo Bills at Jacksonville Jaguars 
CBS: Andrew Catalon, James Lofton, Jenny Dell
1 PM- Denver Broncos at Dallas Cowboys 
FOX: Kevin Burkhardt, Greg Olsen, Pam Oliver 
1 PM- Minnesota Vikings at Baltimore Ravens
FOX: Adam Amin, Mark Schlereth, Shannon Spake 
1 PM- Atlanta Falcons at New Orleans Saints
FOX: Kenny Albert, Jonathan Vilma, Sara Walsh
1 PM- Houston Texans at Miami Dolphins 
FOX: Chris Myers, Daryl Johnston, Jennifer Hale 
4:05 PM- Los Angeles Chargers at Philadelphia Eagles
CBS: Ian Eagle, Charles Davis, Evan Washburn 
4:25 PM- Green Bay Packers at Kansas City Chiefs 
FOX: Joe Buck, Troy Aikman, Erin Andrews, Tom Rinaldi
4:25 PM- Arizona Cardinals at San Francisco 49ers 
FOX: Kevin Kugler, Mark Sanchez, Laura Okmin 
7%, 12 stations
8:20 PM- Tennessee Titans at Los Angeles Rams
NBC, Peacock: Al Michaels, Cris Collinsworth, Michele Tafoya
8:15 PM- Chicago Bears at Pittsburgh Steelers 
ESPN, ESPN+: Steve Levy, Brian Griese, Louis Riddick, Lisa Salters 
ESPN has 83 million subscribers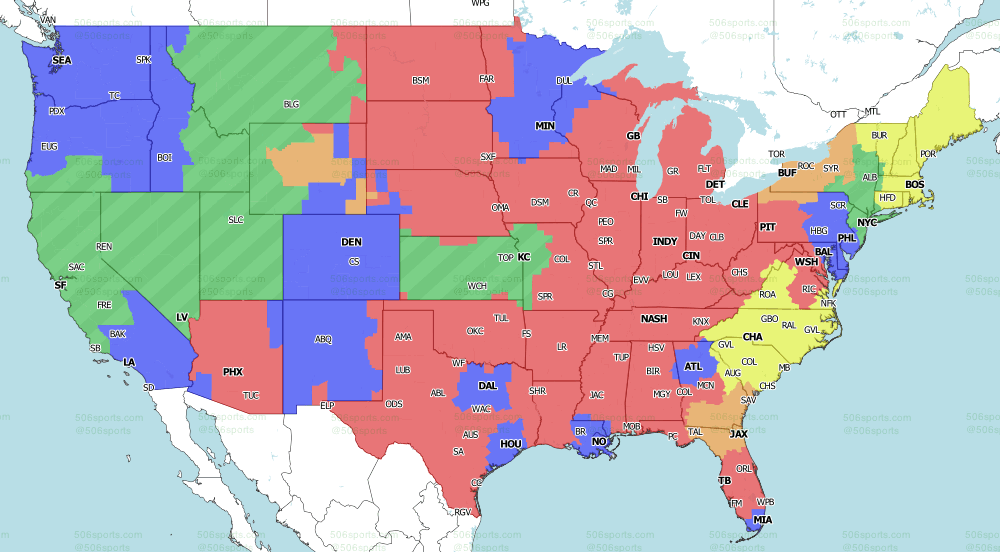 █
LA Chargers @ Philadelphia (LATE)