NHL's all-time best voices: Broken down by American and Canadian, play-by-play and color commentators
Editor's Note: Jake Baskin is a dedicated student of play-by-play and sports broadcast history. He has a particular passion for hockey. Jake assessed NHL broadcasters and stacked up the sport's all-time announcing greats and presents them in his words in this column.
**
I took into account my personal enjoyment of these announcers, their reputations among those in the business and their contributions to hockey broadcasting as a whole. There are a lot of great hockey announcers and I had to draw the line somewhere. I could not narrow the list to just 5 or 10 voices, so I split it into categories, to cover as many bases as possible.
Radio and television were given equal consideration, but I only considered English-language broadcasters (apologies to Rene Lecavalier, Pierre Houde, and Gilles Tremblay), and left out those who made their greatest contributions in the studio (such as Dave Hodge, Ron MacLean, and Don Cherry).
These lists are in alphabetical order, and the years listed next to the announcers' names are the years in which they called games in the NHL.
Top 6 Canadian(In honor of the Original Six):
This list covers play-by-play announcers who spent the majority of their careers working in Canada. It was very hard to narrow this to five. All five names I chose worked primarily for national networks. Other names I considered were Foster Hewitt's son Bill Hewitt, longtime CBC multi-sport announcer Don Wittman, current TSN commentators Chris Cuthbert and Gord Miller, and popular Albertan local voices Calgary's Peter Maher and Edmonton's Rod Phillips.
Joe Bowen (1982–present)
Radio voice of the Maple Leafs since 1982, still calling a full schedule. Has called over 3,000 Leafs games. Known for his catchphrases such as "Holy Mackinaw" and broad range of vocabulary. He's at his best in frantic moments near the end of games.
Bob Cole (1969–2019)
Called NHL games for 50 years, with over 40 years on national TV, retiring at 85. Worked 28 consecutive Stanley Cup Finals. Called games with a reserved, Pat Summerall-like style. He influenced many of the Canadian announcers today. Bob was untouchable in the Toronto market despite never working for the Maple Leafs.
Danny Gallivan (1952–84)
Montreal counterpart to the Toronto Hewitt family. Contributed more to the terminology of hockey broadcasting than anyone before or since. Called 16 Canadiens Stanley Cup victories. Rapport with color commentator Dick Irvin made him a fan favorite across English Canada.
Foster Hewitt (1927–68)
Broadcast pioneer. Original voice of Hockey Night in Canada. Goal call of "He shoots, he scores" is replicated by nearly everyone today. Only broadcaster in the Hockey Hall of Fame as a builder. The Hall's broadcast award is named in his Hewitt's honor. Came out of retirement at 69 to call the famed 1972 Summit Series between Canada and the Soviet Union.
Jim Hughson (1979–present)
Lead voice of Hockey Night in Canada since 2008. Has called NHL games since his early 20s, working nationally since the mid-1980s. Has worked locally for Maple Leafs and Canucks. Smooth voice and unique, free-flowing style. Known as "the only broadcaster without a crutch."
Jim Robson (1970–99)
Called Canucks games for 29 seasons, both on TV and radio. First Western Canadian voice of Hockey Night in Canada. Called parts of four Stanley Cup Finals for CBC between the long tenures of Danny Gallivan and Bob Cole. Beloved in Vancouver, though never came across as a homer.
Top 12 American:
Not all of these announcers are American by birth, yet all of them made their greatest impact south of the border.
There were some really tough omissions. I tried to give equal weight to local and national voices, though when I had an especially difficult time deciding, I sided with those who made greater contributions nationally. Names I also considered include Bruins radio announcer Bob Wilson, Sabres announcers Ted Darling and Rick Jeanneret, original Capitals voice Ron Weber, Blackhawks broadcaster Pat Foley, former national mainstays Tim Ryan, Marv Albert, and Gary Thorne, and current national voices Kenny Albert and John Forslund, who will likely end up on this list soon.
Fred Cusick (1952–97)
One of the first notable American hockey voices. Called Bruins games on radio and television from 1952 until 1997, missing just two seasons. Ex-player at Northeastern University. Known for his loud goal call, "Score!" Original Foster Hewitt Award winner. Also won Lester Patrick Trophy for growing hockey in the United States.
Mike "Doc" Emrick (1982–present)
Most highly-acclaimed American-born hockey announcer ever. Still the lead NBC hockey voice at 73. Has called 21 Stanley Cup Finals on American television. Spent years calling games for the Flyers and Devils. Known for extensive, thesaurus-like vocabulary and command over hectic moments.
Gene Hart (1967–95)
Voice of the Flyers during their inaugural season 1967-68 and also from 1971 until 1995. A Philadelphia area native and one of the few long-lasting American announcers of his era. Catchphrases include "He scores for a taste of Tastykake!" and "Good night and good hockey." His call of the Flyers' first Stanley Cup win in 1974 is one of the most iconic in hockey history.
Chuck Kaiton (1979–2018)
Voice of the Whalers/Hurricanes franchise from their first NHL season in 1979 through 2018. Known for correct pronunciations of foreign players' names and extensive hockey knowledge. Worked alone for the majority of his broadcasting career. Received Foster Hewitt Award at 52 years old, tied for the youngest ever. Longtime president of the NHL Broadcasters' Association.
Dan Kelly (1966–89)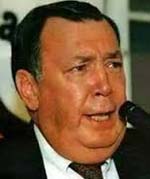 If this list were a ranking, he would be #1. Came down from Canada in 1968 to become the voice of the Blues, was the lead NHL voice in America by the end of his first season, and held that mantle until his death at age 52. Worked for the Blues for 21 seasons. Called Stanley Cup Finals on both sides of the border. Able to project over large crowds and properly capture the excitement on big calls. Son John is the current TV voice of the Blues, son Dan called NHL games for a decade.
Mike Lange (1974–present)
Has worked for the Penguins since 1974, only missing one season since then. Still calls home games on radio. Best-known for his unique punctuation of goal calls, usually obscure or made-up sayings. Often imitated by modern announcers. Has broadcast 5 Penguins' Stanley Cup wins and chronicled careers of all-time greats Lemieux, Jagr, Crosby, Malkin.
Ken "Jiggs" McDonald (1967–2017)
Worked for five NHL teams, but was best-known for his 15-year stint with the Islanders. Original voice of the Kings and the then-Atlanta Flames. Canadian expat received the Foster Hewitt Award at 52 years old, tied for the youngest ever with Kaiton. Called NHL games for 50 years, continuing with a partial schedule until he was 78. Worked four Stanley Cup Finals on SportsChannel America.
Bob Miller (1973–2017)
Voice of the Kings for 44 seasons, 18 of which were radio/TV simulcasts. Called games until the age of 78. Considered one of Southern California's very best sports announcers. Enthusiasm never wavered despite years of calling games for subpar and sometimes unpopular teams in the pre-Gretzky era. So beloved among Kings fans that the team had him record calls of the team's Stanley Cup-clinching games to air later.
Lloyd Pettit (1961–76)
One of the first great American hockey voices, though he only called NHL games for 14 seasons. Popular TV and radio voice of the Blackhawks. Was the first to use "A shot, and a goal!" as his goal call. Left the broadcasting world before turning 50 to focus on business interests, but was still given the Foster Hewitt Award in 1986.
Sam Rosen (1977–present)
Has been the television voice of the Rangers since 1984, continues to call a mostly-full schedule at 72. One of the most recognizable American hockey voices ever, has also voiced many other sports at a national level, including football which he still does day. Was the #2 NHL voice on Fox in the 90s, and called 12 Stanley Cup Finals for Westwood One. Known for his catchphrase, "It's a power play goal!", initially developed as a tongue-in-cheek jab at his perceived lack of enthusiasm.
Al Shaver (1967–2001)
Canadian expat, radio and television voice of the North Stars for their entire franchise history in Minnesota . Chose to retire rather than follow the team to Dallas. Enthusiastic style resonated in hockey-crazed Minnesota and influenced many announcers who grew up there. Son Wally and grandson Jason have carved out careers in hockey play-by-play.
Dave Strader (1985–2017)
Called games for four NHL teams, as well as ESPN and NBC. Paired with Mickey Redmond to form a popular tandem on Red Wings broadcasts before matriculating to his national gig in the mid-90s. Was NBC's #2 hockey announcer for eight seasons, and called 18 Stanley Cup Finals on the NHL's international feed. Covered multiple outdoor games and Olympics. Died after a lengthy battle with cancer at 62.
Top 6 Analysts
This list covers color commentators. All six spent much of their careers working on national broadcasts. I did not seriously consider most names who did not work much nationally. Other names that were under consideration included a whole host of former NHL players and coaches, including Gary Green, Mickey Redmond, Bill Clement, and the national #1 analysts of today: Eddie Olczyk, Pierre McGuire, and Craig Simpson. There are a lot of really good analysts today at the local level, including Daryl Reaugh and Darren Pang, who certainly have an argument for this list, but I elected to only choose one current name.
John Davidson (1983–2006)
Ex-Rangers goaltender. The standard by which all analysts are measured, even 15 years after he called his last game. Unmatched passion for hockey and teaching hockey. Worked Stanley Cup Finals on both sides of the border. Spent 21 seasons as the Rangers' analyst. Also the lead analyst for both Fox and NBC. Left the broadcast booth in 2006 to become a hockey executive. Currently the president of the Hockey Hall of Fame Selection committee.
Ray Ferraro (2002–present)
Scored over 400 goals in his playing career. Ideal analyst for the modern sports viewer. Tells stories but doesn't rely on knowledge about the minute details of every player. Loves the game but isn't afraid to call out a bad play or a coach's decision that went wrong. Gets reps with TSN in Canada and NBC in the United States.
Dick Irvin (1966–99)
Son of Canadiens coach of the same name. Did everything over the course of his broadcasting career, including hosting, rinkside reporting, and later, play-by-play. Worked for Hockey Night in Canada for 33 years, most of them as Danny Gallivan's partner on Habs games. Later would help break in new analysts, working them into the broadcasts as part of a three-man booth. Knows more about hockey than pretty much anyone.
Brian McFarlane (1964–91)
Played Division I hockey at St. Lawrence University. Was established in television before taking Hockey Night in Canada job. Worked at Hockey Night for 25 years, mostly on Maple Leafs games. Served as studio host for NBC's NHL coverage in the 1970s. Wide wealth of knowledge about the sport and the players. Helped create the Peter Puck series of videos to explain hockey to casual fans. Not afraid to express his opinions. Once banned from the Leafs' press box by owner Harold Ballard.
Howie Meeker (1969–98)
All-Star player for the Maple Leafs in the 1940s and 50s who was elected to Canadian Parliament during his playing career. Popular Canucks and later TSN analyst. The first hockey analyst to make use of the telestrator and break down instant replay in detail. Created Howie Meeker's Hockey School television series on CBC teaching hockey skills to kids. Worked NHL games until he was 74.
Harry Neale (1986–2014)
Ex-Canucks coach best known for getting suspended for a playoff run after fighting with an opposing fan. Became lead Hockey Night in Canada analyst in 1986 and held that position for 21 years. Finished his career working on Sabres broadcasts. Developed rapport with Bob Cole that made them possibly the most-beloved broadcast team ever in Canada. Famous for his sense of humor and precise estimation of shot distances.
Six voices for the Future:
These six announcers are all 45 or younger and have worked nationally at some points of their careers. They are established in their markets, and will be the next generation of top hockey voices in North America.
John Bartlett
Maple Leafs announcer for Sportsnet, does his share of national games as well. Spent seven years with the Canadiens before taking the Leafs job. Called junior hockey and AHL games before that. Improving every year, employing the traditional Canadian, more reserved style of broadcasting. Called his first two playoff series last season.
Brendan Burke
Television voice of the Islanders. Named Broadcaster of the Year at both ECHL and AHL levels. First called NHL games in his 20s, filling in on Blues radio. Made the rare jump from the AHL to an NHL TV job in 2016. Received his first national reps with NBC soon after, and still calls playoff games for them. Has mastered the art of building up a play, and has a great goal call. Excitable, but not over the top. Also calls lacrosse for NBC.
Alex Faust
Television voice of the Kings. Named Bob Miller's successor at age 28. Admittedly did not follow hockey until college, but has made a rapid rise up the hockey broadcasting ranks. Called his first NHL game for NBC before getting the Kings job, and still calls playoff games for them. Technically very proficient, avoids buzzwords and has natural chemistry with analyst Jim Fox. Calls many other sports. Rumored to be considered for the successor to Alex Trebek on Jeopardy.
Steve Mears
Television voice of the Penguins. Next in a long line of NHL announcers who hail from Western Pennsylvania. Worked on Islanders radio in the late 2000s, honed his TV skills on NHL Network calling Team USA games at the World Junior Championship. Has called the Stanley Cup Finals the last three years for the NHL's international feed.
Bryan Mudryk
Canadiens announcer for TSN, occasionally fills in on Senators games. Replaced John Bartlett in that role. Joined TSN in 2005 as a SportsCentre host, called international games before getting NHL opportunities. Works well with a variety of different partners, getting more comfortable with the speed of the NHL game. Also a talented curling announcer.
John Walton
Radio voice of the Capitals. One-time PA announcer for the Cincinnati Reds. Made the jump from the AHL in 2011, has become one of the most popular radio announcers in the league. Calls a partial TV schedule for NBC. Known for his signature call after overtime goals, "Good morning, good afternoon, and good night!"