No Hollywood glitz this time: ESPN's ESPYS go virtual; Wilson, Bird and Rapinoe host; Kobe Bryant honored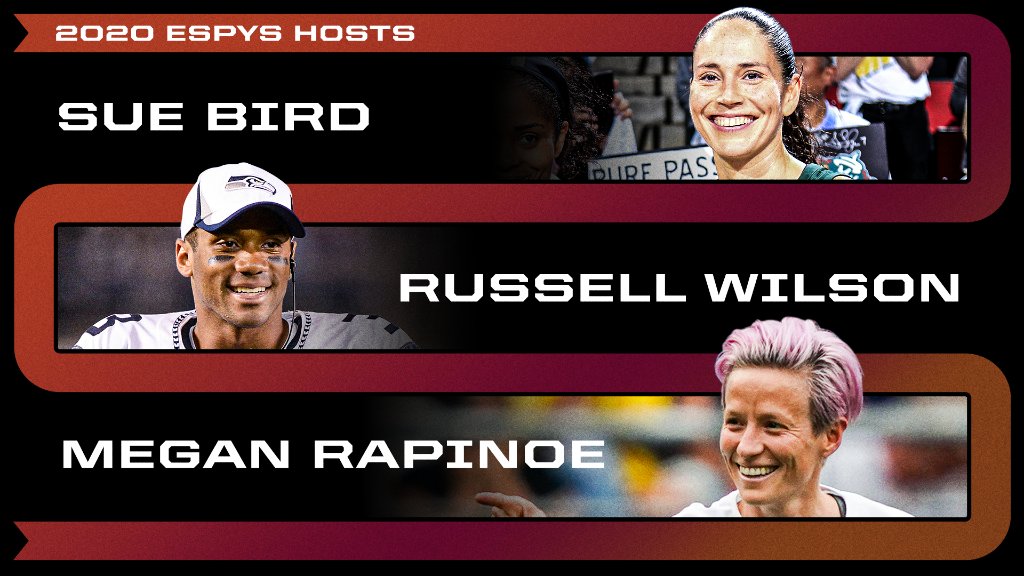 The 2020 ESPY Awards were truly a success! Although the ESPYS were virtual and had a special twist because of the state of our nation, now more than ever, individuals might want to listen and understand the message of the award show: "We believe, we persist, we unite, we celebrate."
ESPN anchor, Hannah Storm, articulated it well: "While we are used to cheering outside sporting arenas, now we take the time to instead cheer outside of hospitals for our health professionals and first responders."
Furthermore, combining the ESPY and Humanitarian Awards emphasizes how the show transcends sports. It also recognizes service to others. In past years, athletic prowess and winning performances were the focal point. In 2020, humanitarian causes and inspiring others took center stage. Lastly, the Seattle Seahawks QB Russell Wilson, WNBA All-Star Sue Bird, and US professional soccer player Megan Rapinoe did a wonderful job as hosts, keeping the show interactive and entertaining. The trio opened the broadcast by calling for action against racial injustice and invoked the names of Jackie Robinson, Bill Russell, Muhammad Ali, Serena Williams, George Floyd, Ahmaud Arbery, and Breonna Taylor.
Some noted comments:
Throughout the two hour awards show, there were certainly some highlights and messages that stuck out to viewers all around the world. Some of these memorable moments included:
Russell Wilson:

"Sports unite us on the same team and bring out our best." Wilson, who hasn't been as vocal as other superstars throughout the ongoing drive for social justice, chose to wear a #BlackLivesMatter shirt on air. Furthermore, he expressed a strong statement: "Our country's work is not anywhere close to done. We need justice. We need true leadership. We need a change, and we need it now. I look at my children, and I pray for a better future. The only thing that must die is racism. Black lives matter." 
The clever and humorous introduction segment featured athletes such as

Derrick Henry, Simone Biles, Alex Ovechkin, Mike Trout, Giannis Antetokounmpo,

and

Elena Delle Donne

. Each one boldly reinforced how even after all the challenges of 2020, "We are ready for anything." This was a great way to kick off the show.
Tom Brady had an inspiring message for high school and graduating seniors with his Gatorade Senior Tribute. The tribute celebrated athletes such as 2020 WNBA 1st pick, Sabrina Ionescu, and former Michigan State basketball superstar, Cassius Winston, for their outstanding collegiate basketball careers, while also emphasizing that every senior around the country is not alone in the fact that their season, graduation, and quest for championships were unfortunately put to a halt by the coronavirus. 
The fact that sixteen-year-old tennis prodigy, Coco Gauff, and US Open champion and veteran, Naomi Osaka, embraced after their third-round matchup at the US Open highlighted the success that young athletes can achieve with hard work and persistence. It was one of the most emotional and honest displays of sportsmanship when the older Osaka invited the young rookie, Gauff, to join her for a media interview. 
Stephen Curry: "This year was overflowing with great performances," referencing the last 12 months of sports achievements across the sports landscape. What a way to underscore the fact that even when seasons are cut short, there is still so much to cherish and celebrate.
Snoop Dogg

performed a heart-warming tribute to NBA legend,

Kobe

Bryant

. Bryant wasn't just known for his achievements on the court. He was one of the greatest to ever take the NBA floor and was also recognized for who he was off the court as a father and role model for his daughters and for sports enthusiasts around the world. #BestGirlDad ever. No better way to acknowledge that the broadcast capped off Father's Day for many sport aficionados.
Malcolm Jenkins

made a powerful statement on how "all of us; athletes, coaches, and media have an obligation to spark change and use their platforms in the right way." Several athletes went on to promise that they will do all they can to help prevent systemic racism in the United States.
The throwback tribute to Andy Reid's Kansas City Chiefs winning Super Bowl LIV was a nice touch. The video illustrated how up until February 2020, Reid had the most career wins as an NFL head coach without a Super Bowl victory.
Let's take a look at a few of the award-winners from the 2020 ESPY Awards:
Pat Tillman Service Award – Kim Clavel (Professional Boxer)
Kim Clavel: "The hardest fight I have is to help care for individuals in the fight against COVID-19." Clavel became a leader in her hometown of Montreal and risks her own health and safety each and every day in order to benefit others in her community.
Muhammad Ali Sports Humanitarian Award – Nelson Cruz (MLB Player)
Nelson Cruz won this award because of his persistent support and guidance toward civilians who reside in his small hometown of the Dominican Republic, Las Matas de Santa Cruz. Since Cruz's hometown lacks a fire department, Cruz went out of his way to purchase a fire truck and the necessary equipment that go along with it in order to prevent the continuous fire disasters. He continues to serve as a role model for the community and gives back to Las Matas de Santa Cruz in any way he can.
Jimmy V Award for Perseverance – Taquarius Wair (Collegiate Football Player at Mesabi Range College)
When Taquarius Wair was just 4-years old, his family suffered a huge house fire in the middle of the night. Wair's youngest sister passed away, and Taquarius was given a three percent chance to live due to the degree of the burns he had suffered. Taquarius defied all odds, and he is now a happy and healthy collegiate football player. He continues to appreciate and stay close to his family and teammates. It is in his nature "not to give up."
Arthur Ashe Award – Kevin Love (NBA Player)
Kevin Love discussed his rise to fame within the NBA and how basketball was the "last pillar that had fallen for him" as he dealt with anxiety and depression throughout his career. In 2016, Love released his story that "everyone is going through something." He appreciates

DeMar DeRozan

and all of the support that he has garnered from his fans, family, and teammates. What an inspiration Love is for working to eradicate the stigma that is often associated with mental health. Speaking candidly about the challenges he continues to overcome will hopefully motivate others to seek the help and support they need.
Billie Jean King Youth Leadership Award Honorees
Honors high school and college-aged students,

Joel Apudo, Batouly Camara, Ally Friedman, Javonn Islar, Elijah Murphy, Chelsea Quito

and

Niah Woods

were all recognized, because like Billie Jean King, these young leaders use sports to improve their communities.