NSMA announces its 2022 winners, nationally and state-by-state
Let me begin with this. I don't think any of us appreciate the work and dedication of Dave Goren, NSMA'a Executive Director. He puts his heart into the job and doesn't seem to ever lose it. Not easy. Everyone has an opinion on who does and doesn't deserve attention. I hope that as media outlets continue to grow the media membership will swell. 
The winners follow these desultory opinions:
Frankly, I'm not very familiar with many of these winners and hope that these rotating names aren't engaging in horse-trading.

 
Happy to see Idaho's Chris Lewis is on this list. He earned some work from NBC at the Summer Olympics in Tokyo,  deservedly so. Otherwise, he does local local and regional broadcasting in the Idaho area. He's vocal and polite about the paucity of Blacks in broadcasting's fore.
Another name I recognize is John Rooney in Missouri. He was excellent for CBS Radio back in the 80s and has also been with the Cards and White Sox. John rarely gets the recognition he should. With Mike Shannon retired I trust he'll get more focus.
The career of Adam Amin took some steps ahead in recent months. He moved up a notch on Fox' NFL depth chart. Leaving ESPN was a good move for him. Lots of broadcasters can do hoops and football. Not many are solid at baseball too. Amin, the Valparaiso alum, can do baseball well and he has for Fox.
Good to see that Hubie Brown got the honor this year. He'll be 89 on September 25th. But for whatever reason, he himself doesn't do very many interviews. He should. I'm also overwhelmed at how current he is, game after game, never groping for the correct name.
Top studio folks Ernie Johnson Jr. and Scott Van Pelt are being recognized too. They're excellent.
I'm glad Kate Scott gets an honor. She's among the best women play-by-players to come along. 

(Lisa Byington is light years behind Kate. Lisa is with the Bucks and Kate, the Sixers.)
Curry Kirkpatrick, was huge with SI when I was young. Nice to see his name in lights again.
Jose Paneda, who's the Heat's Spanish announcer gets a nod this year. Good for him, a hard worker and a good guy.
Bob Socci might be getting a lip-lashing from Coach Bill Belichick for ridiculing the Patriots. I was surprised to hear how tough he was on the Pats late in the season. 
THE WINNERS
(Index below)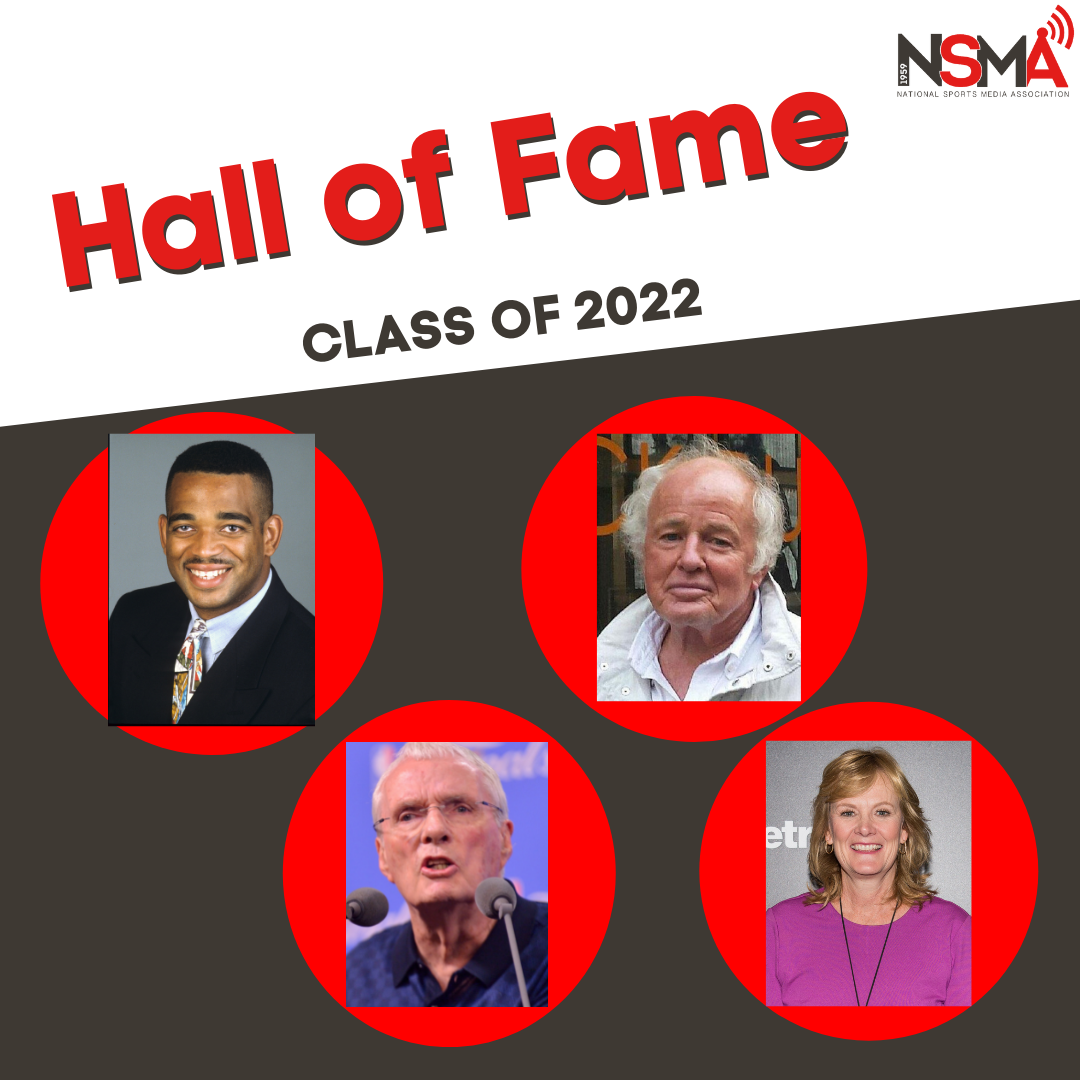 HALL OF FAME SPORTSCASTERS
Hubie Brown, ESPN/ABC, Turner, CBS, et. al.
*Stuart Scott, ESPN  (Clockwise: Stuart Scott, Curry Kirkpatrick, 
Jackie Macmullan and Hubie Brown)
HALL OF FAME SPORTSWRITERS
Jackie MacMullan, ESPN.com, Sports Illustrated, The Boston Globe
Curry Kirkpatrick, Sports Illustrated
NATIONAL SPORTSCASTER OF THE YEAR (TIE)
Ernie Johnson, Turner Sports (1)
Scott Van Pelt, ESPN (1)
STATE-BY-STATE AWARDS- BROADCASTERS AND WRITERS
NATIONAL SPORTSWRITER OF THE YEAR
Jeff Passan, ESPN.com (1)
ALABAMA SPORTSCASTER OF THE YEAR
Andy Burcham, Auburn Sports Network, Auburn (1)
ALABAMA SPORTSWRITER OF THE YEAR
Jason Caldwell, AUTigers.com, Auburn (1)
ARIZONA SPORTSCASTER OF THE YEAR
Al McCoy, Suns Radio Network/KTAR, Phoenix (12)
ARIZONA SPORTSWRITER OF THE YEAR
Jeff Metcalfe, Arizona Republic/azcentral, Phoenix (1)
ARKANSAS SPORTSCASTER OF THE YEAR
Jourdan Black, 40/29 Sports, Fayetteville (1)
ARKANSAS SPORTSWRITER OF THE YEAR
Bob Holt, Arkansas Democrat-Gazette, Fayetteville (4)
CALIFORNIA SPORTSCASTER OF THE YEAR
Kate Scott, PAC12 Network, Learfield, 76ers/NBC Sports Philadelphia, San Francisco (1)
CALIFORNIA SPORTSWRITER OF THE YEAR
Marcus Thompson, The Athletic, Oakland (1)
COLORADO SPORTSCASTER OF THE YEAR
Jenny Cavnar, AT&T SportsNet, Denver (1)
COLORADO SPORTSWRITER OF THE YEAR
Mike Singer, Denver Post, Denver (1)
CONNECTICUT SPORTSCASTER OF THE YEAR
John Pierson, WTNH-TV, New Haven (2)
CONNECTICUT SPORTSWRITER OF THE YEAR
Dom Amore, Hartford Courant, Hartford (6)
DELAWARE SPORTSCASTER OF THE YEAR
Gary Laing, HSRN, Dover (1)
DELAWARE SPORTSWRITER OF THE YEAR
Kevin Tresolini, News Journal, Wilmington (13)
DC SPORTSCASTER OF THE YEAR
Joe Beninati, Capitals/NBC Sports Washington, Washington (3)
DC SPORTSWRITER OF THE YEAR
Mark Zuckerman, MASNsports.com, Washington (2)
FLORIDA SPORTSCASTER OF THE YEAR (TIE)
José Pañeda, Heat Spanish Radio, Miami (1)
David Steele, Magic/Bally Sports Florida, Orlando (2)
Shayne Wright, WPBF-TV, West Palm Beach (1)
FLORIDA SPORTSWRITER OF THE YEAR
Omar Kelly, Palm Beach Post, West Palm Beach (1)
GEORGIA SPORTSCASTER OF THE YEAR
Steve Holman, Hawks Radio Network/92.9 The Game, Atlanta (5)
GEORGIA SPORTSWRITER OF THE YEAR
Chris Kirschner, The Athletic, Atlanta (1)
HAWAII SPORTSCASTER OF THE YEAR
Alan Hoshida, KHON2, Honolulu (1)
HAWAII SPORTSWRITER OF THE YEAR
Rob Collias, Maui News, Wailuku (1)
IDAHO SPORTSCASTER OF THE YEAR (TIE)
Chris Lewis, Bronco Sports Properties/Learfield & Freelance, Boise (1)
Brittany Cooper, KMVT-TV, Twin Falls Idaho (1)
IDAHO SPORTSWRITER OF THE YEAR
B.J. Rains, Idaho Press, Nampa (4)
ILLINOIS SPORTSCASTER OF THE YEAR
Adam Amin, Bulls/NBC Sports Chicago & FOX Sports, Chicago (1)
ILLINOIS SPORTSWRITER OF THE YEAR
James Fegan, The Athletic, Chicago (1)
INDIANA SPORTSCASTER OF THE YEAR
Tim Newton, Purdue Radio Network, W. Lafayette (1)
INDIANA SPORTSWRITER OF THE YEAR
Gregg Doyel, Indianapolis Star, Indianapolis (4)
IOWA SPORTSCASTER OF THE YEAR
Keith Murphy, WHO-TV, Des Moines (5)
IOWA SPORTSWRITER OF THE YEAR
Travis Hines, Ames Tribune, Ames (1)
KANSAS SPORTSCASTER OF THE YEAR
Chris Lilly, KAKE-TV, Wichita (1)
KANSAS SPORTSWRITER OF THE YEAR
Matt Tait, Journal World, Lawrence (1)
KENTUCKY SPORTSCASTER OF THE YEAR (TIE)
Fred Cowgill, WLKY-TV, Louisville (2)
Kendrick Haskins, WAVE-TV, Louisville (1)
KENTUCKY SPORTSWRITER OF THE YEAR
Jon Hale, The Courier Journal, Louisville (1)
LOUISIANA SPORTSCASTER OF THE YEAR
Jacques Doucet, WAFB-TV, Baton Rouge (2)
LOUISIANA SPORTSWRITER OF THE YEAR
Rod Walker, New Orleans Advocate/Times-Picayune (1)
MAINE SPORTSCASTER OF THE YEAR
Jon Shields, Maine Black Bears Hockey/Learfield, Orono (1)
MAINE SPORTSWRITER OF THE YEAR
Travis Lazarczyk, Portland Press Herald, Portland (4)
MARYLAND SPORTSCASTER OF THE YEAR
Bruce Cunningham, FOX 45, Baltimore (11)
MARYLAND SPORTSWRITER OF THE YEAR
Jeff Zrebiec, The Athletic, Baltimore (4)
MASSACHUSETTS SPORTSCASTER OF THE YEAR
Bob Socci, Patriots Radio Network/98.5 the Sports Hub, Boston (1)
MASSACHUSETTS SPORTSWRITER OF THE YEAR
Kevin Dupont, The Boston Globe, Boston (6)
MICHIGAN SPORTSCASTER OF THE YEAR (TIE)
Jack Ebling, Ebling Media, Lansing (32)
Brad Galli, WXYZ-TV, Detroit
MICHIGAN SPORTSWRITER OF THE YEAR (TIE)
James Edwards, The Athletic, Detroit (1)
Ryan Ford, Detroit Free Press, Detroit (1)
MINNESOTA SPORTSCASTER OF THE YEAR
Marney Gellner, Bally Sports North/KFXN-FM, Minneapolis (1)
MINNESOTA SPORTSWRITER OF THE YEAR
Aaron Gleeman, The Athletic, Minneapolis (1)
MISSISSIPPI SPORTSCASTER OF THE YEAR
Noah Newman, WJTV-TV, Jackson (1)
MISSISSIPPI SPORTSWRITER OF THE YEAR
Parrish Alford, Northeast Mississippi Daily Journal, Tupelo (2)
MISSOURI SPORTSCASTER OF THE YEAR
John Rooney, Cardinals Radio Network/KMOX, St. Louis (13)
MISSOURI SPORTSWRITER OF THE YEAR
Derrick Goold, Post-Dispatch, St. Louis (2)
MONTANA SPORTSCASTER OF THE YEAR
Zach Mackey, Bobcat Sports Properties/Learfield, Bozeman (1)
MONTANA SPORTSWRITER OF THE YEAR
John Letasky, Billings Gazette, Billings (1)
NEBRASKA SPORTSCASTER OF THE YEAR
Chris Schmidt, KLMS Radio, Lincoln (1)
NEBRASKA SPORTSWRITER OF THE YEAR
Luke Mullin, Lincoln Journal Star, Lincoln (1)
NEVADA SPORTSCASTER OF THE YEAR
Russ Langer, Aviators Radio & UNLV Sports Properties/Learfield, Las Vegas (11)
NEVADA SPORTSWRITER OF THE YEAR
Ed Graney, Las Vegas Review-Journal, Las Vegas (7)
NEW HAMPSHIRE SPORTSCASTER OF THE YEAR
Brett Franklin, WTSV Radio & Dartmouth College/Learfield, Lebanon (1)
NEW HAMPSHIRE SPORTSWRITER OF THE YEAR
Ben Conant, Monadnock Ledger-Transcript, Peterborough (1)
NEW JERSEY SPORTSCASTER OF THE YEAR (TIE)
Jerry Recco, Rutgers Sports Properties/Learfield & WFAN, New Brunswick (1)
Tom Williams, Prime Events, Ocean City (11)
NEW JERSEY SPORTSWRITER OF THE YEAR (TIE)
James Kratch, NJ Advance Media, Newark (1)
Keith Sargeant, NJ Advance Media, Newark (1)
NEW MEXICO SPORTSCASTER OF THE YEAR
Jeff Siembieda, KNML The Sports Animal, Albuquerque (3)
NEW MEXICO SPORTSWRITER OF THE YEAR
Geoff Grammer, Albuquerque Journal, Albuquerque (1)
NEW YORK SPORTSCASTER OF THE YEAR
Mike Breen, Knicks/MSG Network & ABC/ESPN, New York (1)
NEW YORK SPORTSWRITER OF THE YEAR (TIE)
Donna Ditota Syracuse Post Standard, Syracuse (1)
Bob Glauber, Newsday, New York (3)
NORTH CAROLINA SPORTSCASTER OF THE YEAR
Adam Gold, 99.9 the Fan/WRAL Radio, Raleigh (1)
NORTH CAROLINA SPORTSWRITER OF THE YEAR
Joe Person, The Athletic, Charlotte (1)
NORTH DAKOTA SPORTSCASTER OF THE YEAR
Brian Shawn, Midco Sports Network, Fargo (1)
NORTH DAKOTA SPORTSWRITER OF THE YEAR
Carissa Wigginton, The Forum, Fargo (1)
OHIO SPORTSCASTER OF THE YEAR
Paul Keels, Ohio State Radio Network/Learfield, Columbus (5)
OHIO SPORTSWRITER OF THE YEAR (TIE)
Geoff Hobson, Bengals.com, Cincinnati (1)
Zack Meisel, The Athletic, Cleveland (1)
OKLAHOMA SPORTSCASTER OF THE YEAR
Adam Hildebrandt, Oral Roberts Radio Network, Tulsa (1)
OKLAHOMA SPORTSWRITER OF THE YEAR
Guerin Emig, Tulsa World, Tulsa (2)
OREGON SPORTSCASTER OF THE YEAR
AJ McCord, KOIN-TV & 1080 the Fan/ESPN Portland, Portland (1)
OREGON SPORTSWRITER OF THE YEAR
John Canzano, The Oregonian, Portland (64)
PENNSYLVANIA SPORTSCASTER OF THE YEAR
Marc Zumoff, Sixers/NBC Sports Philadelphia, Philadelphia (3)
PENNSYLVANIA SPORTSWRITER OF THE YEAR
Jim Salisbury, NBC Sports Philadelphia, Philadelphia (3)
RHODE ISLAND SPORTSCASTER OF THE YEAR (TIE)
Morey Hershgordon, WPRI-TV, Providence (1)
Ian Steele, WLNE-TV, Providence (1)
RHODE ISLAND SPORTSWRITER OF THE YEAR (TIE)
Mark Daniels, Providence Journal (1)
Brendan McGair, Pawtucket Times/Woonsocket Call, Pawtucket/Woonsocket (5)
SOUTH CAROLINA SPORTSCASTER OF THE YEAR
Julia Morris, WYFF-TV, Greenville (1)
SOUTH CAROLINA SPORTSWRITER OF THE YEAR
Gene Sapakoff, Post and Courier, Charleston (8)
SOUTH DAKOTA SPORTSCASTER OF THE YEAR
Dellas Cole, KBRK Radio, Brookings (3)
SOUTH DAKOTA SPORTSWRITER OF THE YEAR
Matt Zimmer, Argus Leader, Sioux Falls (1)
TENNESSEE SPORTSCASTER OF THE YEAR
Terry Crisp, Predators/Bally Sports South, Nashville (1)
TENNESSEE SPORTSWRITER OF THE YEAR
Maurice Patton, Main Street Preps, Columbia (1)
TEXAS SPORTSCASTER OF THE YEAR
Dana Larson, Bally Sports Southwest, Dallas (1)
TEXAS SPORTSWRITER OF THE YEAR
Brad Townsend, Dallas Morning News, Dallas (1)
UTAH SPORTSCASTER OF THE YEAR
Greg Wrubell, BYU Radio Network, Provo (1)
UTAH SPORTSWRITER OF THE YEAR
Jay Drew, Deseret News, Salt Lake City (3)
VERMONT SPORTSCASTER OF THE YEAR
Angelique Martinez, WVNY/WFFF-TV, Burlington (1)
VERMONT SPORTSWRITER OF THE YEAR (TIE)
Michael Beniash, Caledonian-Record, St. Johnsbury (2)
Tom Haley, Rutland Herald, Rutland (10)
VIRGINIA SPORTSCASTER OF THE YEAR (TIE)
Lane Casadonte, WTVR-TV, Richmond (2)
Wes McElroy, 910 the Fan, Richmond (3)
VIRGINIA SPORTSWRITER OF THE YEAR
David Teel, Times-Dispatch, Richmond (14)
WASHINGTON SPORTSCASTER OF THE YEAR
Ian Furness, Sports Radio 950/KJR Radio & FOX 13 TV, Seattle (15)
WASHINGTON SPORTSWRITER OF THE YEAR
Jim Meehan, The Spokesman-Review, Spokane (16)
WEST VIRGINIA SPORTSCASTER OF THE YEAR
Dave Wilson, Metronews, Morgantown (1)
WEST VIRGINIA SPORTSWRITER OF THE YEAR
Grant Traylor, HD Media, Huntington (1)
WISCONSIN SPORTSCASTER OF THE YEAR (TIE)
Matt Lepay, Badger Sports Properties/Learfield, Madison (11)
Jim Paschke, Bucks/Bally Sports Wisconsin, Milwaukee (1)
WISCONSIN SPORTSWRITER OF THE YEAR
Lori Nickel, Milwaukee Journal Sentinel, Milwaukee (2)
WYOMING SPORTSCASTER OF THE YEAR
Trevor Jackson, KWYO, Sheridan (2)
WYOMING SPORTSWRITER OF THE YEAR
Alex Taylor, News Record, Gillette (1)
1 – won 2 Alabama Sportscaster of the Year Awards
2 – won 3 Michigan Sportswriter of the Year Awards
3 – won 1 Illinois Sportscaster of the Year Award
4 – won 2 Oregon Sportscaster of the Year Awards
5 – won 1 Utah Sportscaster of the Year Award
6 – won 5 Idaho Sportswriter of the Year Awards
*-deceased