On Roone Arledge's 90th birthday, former ABC Sports exec Jim Spence remembers a TV giant
In the early 1970s, television executive extraordinaire Roone Arledge became a household name. And not many, if any TV executives since, have enjoyed the press that Roone drew.
When Monday Night Football hit the air on ABC in 1970 and when print sill mattered, Arledge's mug was visible in the nation's most widely circulated magazines like Time, Life and TV Guide. For that matter, Life Magazine tagged him as  "one of the 100 most important Americans of the 20th Century"
In our Q&A with his longtime top executive Jim Spence, he tells us what made Arledge, Arledge.
Roone, who would have turned 90 tomorrow, July 8th, was a New York kid. He was born in Forest Hills, Queens, and reared on Long Island. He passed in 2002 at 71. 
After graduating from Columbia University in 1952, he went to work for the short-lived DuMont  Network, had a stint in the military, produced shows for the NBC affiliate in New York before joining ABC Sports in 1960.
Before taking the job, Arledge read the room correctly. He saw an opportunity for himself to grow ABC which at the time could have been labeled in today's vernacular, a "start-up." Employing his creativity and getting the freedom from management that he anticipated, Roone developed ABC Sports into a broadcast behemoth.
His first assignment was to produce the network's NCAA football package. In September, 1960, Arledge was in charge of the telecast of a southern showdown between Georgia and Alabama. He introduced things never seen before on television, for instance, doing a closeup of Tide coach Bear Bryant in deep concentration on what play to call next. Viewers also saw a young Georgia QB Fran Tarkenton exult after advancing the ball on a first down scramble. It was Roone's way of bringing viewers to the stadium.
At the time, ABC was not only third among the three line-networks, it wasn't considered by financially stable either. When ABC got the rights to the 1964 Olympics, the IOC insisted on a bank guarantee to cover the rights fees. 
In 1960, NBC's headline events were baseball and the Rose Bowl, CBS had the NFL and the Masters. ABC's menu was limited, NCAA Football and the brand new American Football League.
Under Arledge, ABC would produce ten Olympics including the 1972 Munich games which turned tragic. After 11 Israeli athletes where taken hostage and eventually murdered by Arab terrorists, Jim McKay somberly articulated his famous words, "They're all gone." With all the reporters it had on the ground in Munich, ABC became the lead network that Americans turned to for updates during the crisis.
Under Roone the popularity of ABC's Wide World of Sports swelled. The show mixed mainstream and ancillary sporting events and did so dramatically. As host McKay would say, "The thrill of victory and the agony of defeat." There was an unpredictability every Saturday the program ran. You'd never know what you'd get.
Monday Night Football caught America's attention. It was fresh, flashy and it had an alluring appeal under the bright lights. To that point, it was rare to see any NFL games at night. In the 70s too, there were only three networks and no cable. MNF was appointment viewing.
Jim Spence was a Senior Vice President under Arledge and his top lieutenant. His office was right next to Roone's. In 1977, Arledge's responsibility broadened. In addition to ABC Sports, he was assigned to head up ABC News which badly trailed the other two networks in ratings. Roone's plate began to brim and Spence was asked to take the day-to-day reins of leading ABC Sports . 
No one worked as closely with Roone as Spence did, working for him for 25 years. In a breakthrough book, Up Close and Personal, Spence told the story of ABC Sports including some of the dark sides of the industry and some of the internal backroom theatrics.
Q&A with Jim Spence, ABC Sports, 1960-86, reflecting on the legendary Roone Arledge
Roone passed away in 2002. He would have been 90 this July 8th. He is still considered by many as the father of modern-day television sports. Others have labeled him the greatest sports network television head ever. You worked for him at ABC for eons and was his top lieutenant until you left in the late 1980s. Does he deserve the loftiest of praise? Was he that influential?
In my opinion, Roone Arledge is the most significant and influential executive in the history of network television sports in America. (Spence, left, with Arledge)
What were Roone's greatest contributions to television sports?
Roone pioneered the concept of transporting viewers to the stadium or arena from which events were televised, emphasizing the importance of what television viewers saw and heard. ABC Sports was a production-oriented organization first and foremost. Roone also deserves tremendous credit for making the Olympics such a highly sought-after property via the exciting and compelling coverage he led when ABC was known as the "Network of the Olympics".
If you had to identify his strengths, what were they?
Roone had impeccable program judgement — the selection of programming that would be appealing to viewers. He also was expert in how to produce that programming, offering extreme closeups, enhanced natural sound, interesting features, and insightful commentary, etc., with emphasis on the human element.  Our coverage, then, was "Up Close & Personal." The media consistently praised Roone for technical innovations such as underwater cameras and slow-motion replays but missed his real strength – "creative" production.
The three smartest people I ever met during my career in sports television were Roone, Howard Cosell and Tex Schramm, who ran the Dallas Cowboys.  I tell the story of bringing situations to Roone for resolution, with suggested alternatives. I would present alternatives A, B and C and designate the one I advocated.  Roone would pause for a moment then say – those are all good solutions and I agree with your choice but have you thought of D, which was, most often, better. (Spence, left)
What was your relationship like with him? Was he loyal?
Overall, I had a positive relationship with Roone. In particular, we were in total sync in terms of almost every major decision we had to make.  I would say we were in agreement 95% of the time and the 5% of the time we disagreed, he usually was right.
It was often difficult dealing with him as he tended to procrastinate in making decisions and was an inefficient administrator. But when he made a decision, it was often brilliant. Case in point – Roone decided we would cover, at considerable cost, the Men's Downhill skiing competition at the 1976 Winter Olympic Games in Innsbruck, Austria from start to finish. What resulted was some of the most exciting television sports coverage ever seen as Austrian Franz Klammer won the event by one third of a second.
Talk about Monday Night Football for a moment. It was launched in 1970 with great fanfare. Roone seemed to be the protagonist, the one who carried the torch. Was the series all due to his work and effort? Was he met by internal resistance? How much of a sell through was there at the NFL?
"NFL Monday Night Football" was actually a National Football League concept. Pete Rozelle, the NFL Commissioner, wanted NFL football televised in primetime.  He spoke to his then partners, CBS and NBC, and both passed. The CBS network President Bob Wood said "Preempt Doris Day?  Are you out of your mind?"
To his credit, Roone believed in the potential success for NFL football in primetime from the outset.  He initially received resistance from the network but was able to convince the ABC brass that a Monday night football series would work.  It also did not hurt that ABC was concerned about losing many of its affiliated television stations to an NFL- organized syndicated network arrangement if ABC, like its competitors, also passed.
Was Roone good to his people? Did he back them? Did he give them credit when it was due?
Roone, for all of his abilities, did exhibit some leadership flaws. He would pit one executive against another and one announcer against another. In this way, no one would gain too much authority or prominence within our division. Roone also had the tendency to accept credit when things went well while rarely sharing it.  He managed as well to avert negative occurrences. Someone else was always responsible.
What was Roone's relationship like with Howard Cosell? How did he deal with Howard's ego and insecurities?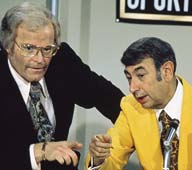 Roone had, I would say, a positive and fruitful relationship with Howard Cosell. Cosell was very appreciative that Roone backed him for his role on "NFL Monday Night Football", especially when there was pressure from advertisers to remove him from the series.  Roone also made the decision to air Howard's issues-oriented program – "ABC SportsBeat" and resisted efforts by Major League Baseball (Commissioner Bowie Kuhn) not to have him as a commentator on "Monday Night Baseball" on ABC. As far as Cosell's ego was concerned, Roone, as was the case with those of us in leadership roles, knew what to expect from Howard and dealt with it accordingly. (Arledge, left, with Cosell)
ABC gave birth to Wide World of Sports. It was a Saturday staple. Was that another one of Roone's brainchild?
ABC's Wide World of Sports was the brain child of Ed Scherick, the President of Sports Programs, Inc., the predecessor organization to ABC Sports.  Roone was definitely responsible for executing the concept for ABC's Wide World of Sports – presenting coverage of a variety of sports events from all over the United States and around the world.
He also recruited and hired the legendary Jim McKay as host. Roone was instrumental in what started out as summer replacement programming, and aired for over 36 years, becoming the most impactful sports series in U. S. television history.
He was instrumental in the series, which aired for over 36 years, becoming the most impactful sports series in U. S. television history.
Would love your opinion on how Roone treated a few folks in particular, Keith Jackson, Frank Gifford and Chris Schenkel.
KEITH JACKSON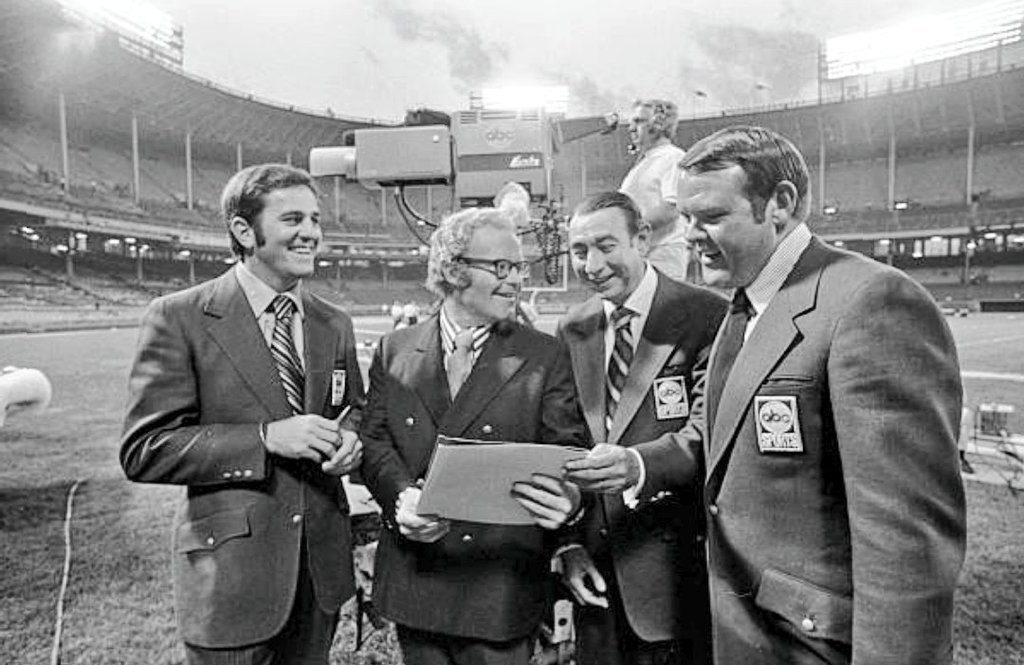 Roone respected Keith Jackson but their relationship deteriorated after Roone made the decision to replace Keith with Frank Gifford following our highly successful first season of "NFL Monday Night Football" in 1970.  Keith was not treated fairly by Roone and was particularly disturbed that he learned about the change, not from Roone but the media. (Don Meredith, Roone Arledge, Howard Cosell and Keith Jackson, l-r, First MNF crew – 1970)
FRANK GIFFORD
Roone was always one who was attracted to "Stars" and Frank Gifford certainly fit that description. Roone, then, treated Frank like the star he was.  He was hell-bent to bring Frank to ABC Sports and offering him the play-by-play role on NFL Monday Night Football in 1971 was his way of accomplishing that objective. 
CHRIS SCHENKEL
Chris Schenkel, one of the nicest people I have ever met, was instrumental in the success of ABC Sports in its early days. Chris was very well respected by the advertising community and had established relationships with the leaders of important events such as The Kentucky Derby and the Indianapolis 500. ABC Sports reaped the benefits of his reputation and relationships and Chris was upset that Roone did not take into account his contributions in determining his announcing assignments.
We know that Dick Ebersol was one of Roone's proteges. Anyone else spawn off his executive tree?
Barry Frank, who was Program Planning Vice President for ABC Sports, left the network to join International Management Group, Mark McCormack's company, and Don Ohlmeyer, who worked in production at ABC Sports for many years, was hired by NBC Sports as Executive Producer.
How did ABC Sports function once Roone had dual responsibility for ABC News and sports?
For a period of time, Roone continued to run both divisions. It became clear since he was spending probably 90% of his time on ABC News that day-to-day responsibility for ABC Sports had to be delegated.  That's when Fred Pierce, then President of ABC Television, made the decision that I was to be promoted to Senior Vice President of ABC Sports with day-to-day responsibility for all areas of the division.