Pittsburgh has never had a more colorful voice than Bob Prince! "All we need is a bloop and a blast!"
Historian Curt Smith takes us through baseball's nifty and dominant 50s and 60s
To hail baseball's return, we continue our series of profiles of top past and present baseball broadcasters by Curt Smith: to USA Today, "the voice of authority on baseball broadcasting." Below, the Pirates' irrepressible longtime Voice, the late Bob Prince.
***
From 1948 to 1975, a listener to Pirates baseball learned enough jargon for a lifetime. A home run met "You can kiss it good-bye!" A late-inning rally prompted "We had 'em all the way!" A disputed call was "as close as the fuzz on a tick's ear." Some thought Bob Prince a maniac. He was surely maniacally riveting. He hexed rival players, identified Pirates by animal names, and was devoted to charity. "How sweet it is!" Bob said. Hearing him was.
Pick a small town in western Pennsylvania, West Virginia, or eastern Ohio. During a game, you could walk down a street and hear Prince's blowtorch voice on flagship KDKA from a porch or through a window. "In Pirates' history," said ex-pitcher and announcer Steve Blass, "Bob had more effect on this area than any Pirate—even Roberto Clemente or Honus Wagner." I attended college 90 miles from Pittsburgh. Blass was right.
As a child, Prince, born in 1916, had a daily word placed by mama under his breakfast cereal dish to be learned by night. Later the Army brat flunked out of four universities before entering Harvard Law. Nothing took till he recalled how in the Army "I'd been trained to loaf." Suddenly, broadcasting seemed its cousin. Wrote Sports Illustrated: "Once … you've heard him, you'd swear the man who invented the microphone had him in mind."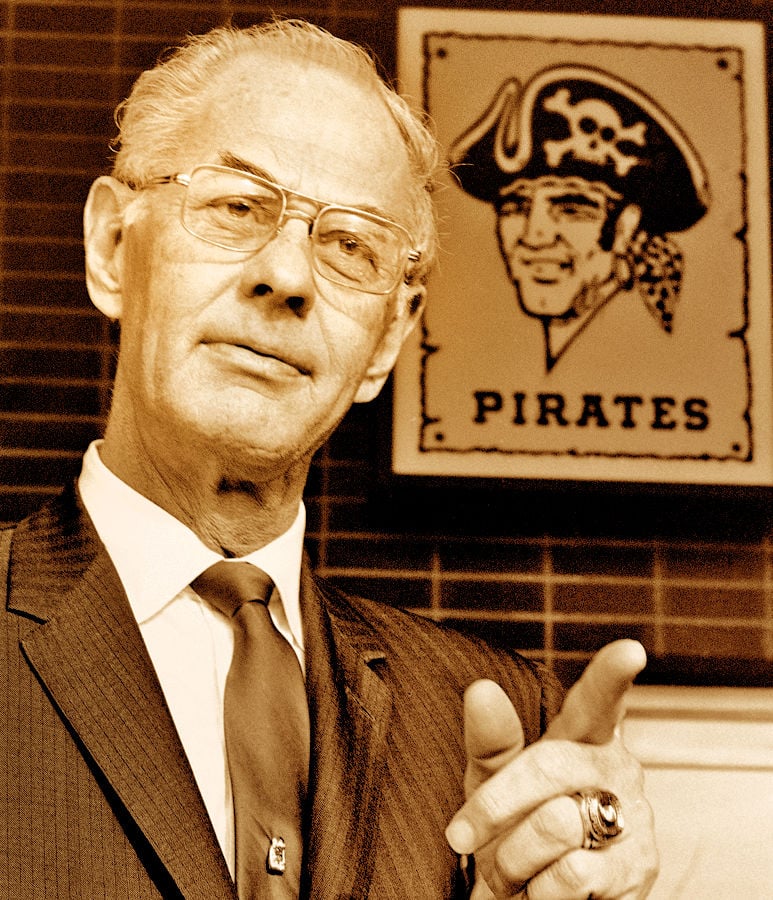 In 1948, Pirates radio aide Jack Craddock resigned. To replace him, team part-owner Tom Johnson touted Prince to help lead Voice Albert "Rosey" Rowswell, who prized zany lingo, too. Bob asked why he discussed poetry, "crazy sayings," recipes, and the zoo—a "Rosey Ramble." Rowswell replied that balls and strikes were necessary, but insufficient: "It's not just play-by-play that matters. It's what said between the pitches that counts." No Voice said it better—till Princ
"Rosey" led the majors in percentage of area radio sets in use, lauding everything not germane to score. A "dipsey-doodle" was a curve. A "doozie marooney" meant extra bases. The Bucs became the "Picaroonies." Rowswell coined "FOB" for bases "Full of Bucs," Red Barber adopting it for "Brooks." The phrase paled v. Rosey's surreal call of a home run at the Pirates' Forbes Field: "Get upstairs, Aunt Minnie," he shouted, "and raise the window! Here she [the baseball] comes!" (Prince, left)
Simultaneously, Rowswell signaled Prince, standing on a chair, who dropped a pane of glass: to a listener, a window breaking. "Oh, that's too bad," Rosey cried. "Aunt Minnie tripped over a garden hose! She never made it!"—so beloved that one day a plump belle called Minnie entered Forbes in a car for a KDKA TV promotion. Few criticized baseball's Empress with No Clothes. Said Prince: "Everyone knew she was fictitious, and they didn't care."
For a time, Bob, like previous Rowswell aides, continued dropping glass. Ultimately, "it got too messy," Prince explained, buying a dumbwaiter's tray with bells, nuts, and bolts. In 1954, the Bucs added weekend road TV to their 20-affiliate radio network. Rosey died of a heart attack next February. A plaque in today's PNC Park hails the "Pittsburgh Pirates' first announcer." God bless Aunt Minnie, in memory still searching for her hose.
Inheriting Rowswell's post, Bob utilized his style. "By the way," he footnoted, "[Frank] Thomas grounded out, [Bob] Skinner flied out, and that's the inning." Prince's "Ramble" extended even beyond the booth. In 1957, he ribbed several Bucs at the Chase Hotel in St. Louis about baseball's languid pace. Mocking Bob's boniness, infielder Gene Freese dared him $20 to dive into the pool from his third-floor room. "If he doesn't clear [12 feet of concrete]," said team trainer Danny Whelan, "it's strictly a blotter job." Bob did.
Next year Bob got a new partner, Jim Woods, nicknamed "Possum" by Enos Slaughter, who said of his haircut: "I've seen better heads on a possum." In turn, Poss named Prince "The Gunner" after the husband of a woman he was talking to in a bar pulled a gun. Aware of Bob's idiosyncrasy, Jim decided to "try him on for size." The pair used just a pencil and scorecard in the booth. "We'd do play-by-play or tap dance," said Bob, crying "Booze!" on the final out. Like Rosey, they led baseball in the percent of area radio/TV sets in use.
In 1959, the Pirates' Harvey Haddix left Bob almost mute by pitching the eighth perfect nine-inning big-league game—indeed, "counting his last victory at Forbes Field, retired 38 men in order before a man got aboard, and then only on an error," Bob said in a scoreless 13th inning. Joe Adcock then hit a "ball to deep right-center!… It is gone! Home run! Absolutely fantastic!"—Braves, 1-0. The term defined a new decade's start.
The 1960 Pirates drew a team record attendance 1,705,828. MVP shortstop Dick Groat batted a big-league-high .325. Second baseman Bill Mazeroski turned a double play so quickly the ball seemed radioactive to his glove. Outfielder Clemente threw out a National League-best 19 men. On September 25, the Pirates clinched a first flag since 1927. The Series opened at Forbes, Prince's "House of Thrills." After six sets of "Go figure"—three Pittsburgh close-run things v. the Yankees' bombs-away—Game Seven resembled a blind-folded tour of an English garden.
Prince and Mel Allen telecast NBC's Series. In the first inning, Rocky Nelson hit "a drive!" said Bob. "Back she goes! You can kiss that one goodbye!"—Buccaneers, 2-0. Down, 4-2, Yogi Berra hit in the sixth. "There's a drive hit deep to right field!" Mel said, calling it foul. He then amended: "All the way for a home run!"—Bombers, 5-4. In the eighth, Bill Virdon slapped a grounder to Tony Kubek. "A sure double play," said the Yankees shortstop, "except the ball hit something, came up, and hit me in the throat!"
Groat and Clemente singled: 7-6. Hal Smith's three-run "electrifying homer," read the Pittsburgh Press, "turned Forbes Field into a bedlam": 9-7, Bucs. New York tied the score in the top of the ninth. In the bottom, Ralph Terry threw a slider at 3:36 p.m. "There's a drive deep into left field!" said Allen, Berra nearing the 406-foot sign. "Look out now! That ball is going … going, gone! Mazeroski hits it over the left-field fence for a home run. And the Pirates win it, 10 to 9, and win the World Series!"
Bob spent the final inning doing what the game had done: go up and down. With Pittsburgh ahead, 9-7, he was ordered to broadcast its NBC clubhouse soiree. Prince took an elevator, found the score tied, and returned to the booth as Maz's blast "shook the yard." An NBC staffer yelled, "Get back downstairs!" Prince again reached the clubhouse as reality dawned: He had no idea how the Pirates won.
Gunner interviewed "everyone except the one guy people wanted to see," he said. At last, Mazeroski was maneuvered to the mike. "How does it feel," Bob asked, "to be a member of the world champions?" Maz: "Great." Prince: "Congratulations." At dinner, Prince asked wife Betty, "By the way, how did we win?" Mrs. Prince: "You must be kidding. Maz hit a homer." Whatever transcends numbness, Bob felt it then.
In 1966, Prince popularized a green plastic hot dog-shaped rattle he absurdly named the "Green Weenie," modeled after a rubber dog used by trainer Whelan to supposedly jinx rivals. Bob's huckstering led to more nicknames: Dave Parker became "The Cobra"; Don Hoak, "The Tiger"; Mormon Vern Law "The Deacon," ordained a priest at 17. Willie Stargell owned a fast-food chicken joint in the Hill District, Prince blaring, "Let's spread some chicken on the Hill."
Topping Pittsburgh's hill was Clemente, taking four batting crowns and 12 Gold Gloves. Once Bob asked the Spanish word for "let's go." Arriba, Roberto said, meaning "rise up" or "arise." It became Clemente's byname, and he and Prince friends. In 1970, the Bucs moved to Three Rivers Stadium. Next year Roberto invited Bob to his native Puerto Rico to receive a silver bat he won in 1961 for his first batting title. Earlier, Game Four of the Pirates-Orioles Series became the first Classic night set, more than 60 million watching.
In Game Seven, "Here is Bobby Clemente, who has had, if there has ever been a vendetta, this might be it!" Prince said. "And there's a ball hit very deep into right field! … It's gone!"—Buccos win, 2-1. Gunner then introduced him on TV as Series MVP. After thanking him in English, Clemente asked his family in Spanish to bless "the most important day of my life." Throughout, Prince used the Americanized "Bob" or "Bobby," Roberto loathing it when used by anyone but him.
In July 1972, "Bob Prince Night" at Three Rivers hailed the public and private man. On September 30, "Everybody standing. They want Bobby to get that hit 3,000. Bobby hits a drive into the gap in left-center field! There it is!"—Clemente's last hit. That New Year's Eve, he died aiding victims of a Nicaraguan earthquake. Two years later, accusing Prince of "getting too big for his britches," KDKA owner Westinghouse Co. dropped its axe. "For many," wrote the Pittsburgh Post-Gazette's Charlie Feeney, "the baseball world yesterday came to an end."
In 1976, ABC TV made Bob the new Monday Night Baseball's Voice. "Baseball can succeed," vowed sports president Roone Arledge. "It'll take something different in prime time to work." ABC grasped the pastime's lulls and triangular shape on a rectangular screen—and its twist was different. It sprinkled heavily with Bob Uecker, prescribed ample doses of Howard Cosell, but insipidly curbed Prince's individuality..
That June 7, the series aired from Pittsburgh, a minute and a-half ovation greeting him. Bob began to cry, soon ousted for bad ratings and reviews. In 1985, he had mouth cancer surgery even as KDKA admitted its decade-old blunder by rehiring him. "Other than my family," Prince said, "you've giving me back the only thing I love."
In his first game back, the crowd chanted "Gun-ner, Gun-ner!" Bob later entered the hospital, dying June 10. Next year Prince won the Ford C. Frick Award for "broadcast excellence." In 2001, the Pirates left Three Rivers for PNC Park, its "Gunner's Lounge" a perfect sobriquet. When he was fired, Feeney wrote, "There are people in the Tri-State area who think Prince is irreplaceable." He was.