Radio is asleep at the switch; Instead of celebrating its 100th birthday on Friday, they're hiding it under the rug
Several years ago, in advance of 2021, I had informal conversations with top national radio executives, influencers who sit on national boards or run big broadcast groups. I suggested to them that the medium's 100th birthday was coming up and it was time to get ready for radio's centennial jubilee.
I fully expected an enthusiastic response. No sir. Quite to  contrary, what I heard was disturbing. "Everyone thinks radio is old," one executive told me, adding, "doing something special would reinforce radio's stodgy image." So instead of planning commemorative dates and milestones, subdued executives seemed to want to hide radio's milestone under the carpet. It was disappointing. 
There are so many dates through the last one hundred years, when the medium was indispensable. President Franklin Roosevelt's fireside chats during the depression and WWII were uplifting. FDR consoled millions, eased fears, stoked pride in the strength and resilience of our great country. There were a couple of blackouts in the east in the 60s and 70s when radio helped steer the public to safety.
The golden years of the medium are long gone. Yet radio has shown that it can take some severe punches to the stomach and remain profitable. When television erupted in the 1950s, many thought it was a death sentence for radio. But the medium demonstrated its spunk and creativity. Radio expanded to the more music friendly FM dial in the 1970s and genres sprouted across the dial.
There were other hurdles like cable television. In-car CDs were another obstacle. Then satellite radio was born offering a menu of endless choices. In the digital age, radio changed its label to audio, making stations available not only on free frequencies in the ether, but worldwide, online and on Smartphones. Now there's podcasting. In many ways, radio or audio, call it what you will, is vibrant. So why the dour attitude and myopic decision to hide 100 productive years of a dependable medium?
Sports were what really fueled the birth and popularity of radio in its formative years. Radio is still the home of local teams with beloved voices, from Bob Uecker in Milwaukee to Al McCoy in Phoenix and from Joe Castiglione in Boston to Merrill Reese in Philadelphia. The list is long.
Radio turns 100 this Friday, July 2nd and I hope I'm not the only one saying happy birthday. Yes, a few fledgling stations were already on the air a little earlier but not many. For radio to become popular, it needed a big event to draw attention to it.
The medium was born out of ship to shore communication. To that point, radio receivers were marketed exclusively to shipping companies, vessel operators and passenger liners. It was RCA's David Sarnoff and his team who saw something special in the technology of the day, the ability to beam a human voice into the air and have it heard through a receiver over a vast area. 
He saw radio as an opportunity for RCA to reach the masses. Doing so , he correctly envisioned, would broaden consumption of receivers  from industries alone to the general public. Initially, to Sarnoff, advertising wasn't in the equation. Sarnoff saw radio as an opportunity to generate revenue from the sale of receivers to mainstream consumers, not just businesses. The plan was to air, music, news and entertainment.
But in 1921, only audio enthusiasts and ham operators had receivers. So a big event was identified to bring attention to the power of radio.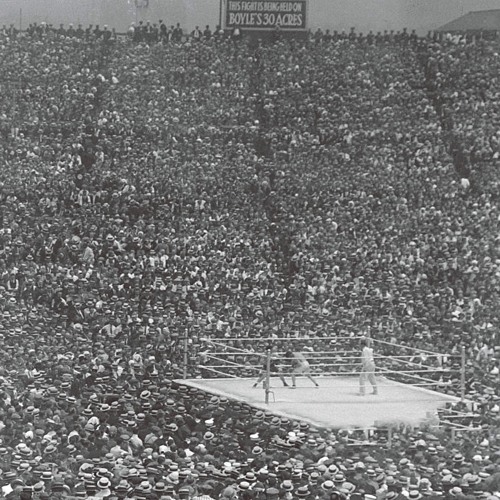 Enter boxing. In 1921, there was nothing bigger than a heavyweight championship fight. The battle between Georges Carpentier and champ Jack Dempsey in Jersey City on July 2nd was highly anticipated. Some 90,000 seats had been sold.
RCA, in partnership with Loews Theaters, General Electric, the Lackawanna Railroad and promoter Tex Rickard of Madison Square Garden agreed to go with a radio experiment of airing a blow-by-blow report. In the east, those who didn't have receivers could pay an admission fee at Loews Theaters to listen to the tussle. Major J. Andrew White who was the public relations man for RCA and did much of the detailed coordination was to serve as the announcer. White saw to it that some of the proceeds from theater ticket sales were donated to charities.
The experiment was a smashing success. It showcased radio as indispensable, capable of providing live news, sports, music and entertainment. After the fight, radio was off to the races. Over the next few years, AM stations were licensed all across the American landscape.
The granular of what exactly happened the day of the fight is somewhat murky and has been a matter of debate for scores of years. Whether it was Major White's voice that was heard over the airwaves or it was a fellow to whom White's voice was relayed. It remains unclear. One thing is known. If there's a date to celebrate the birth of broadcasting, it's July 2, 1921.
From a sports perspective, boxing, college football and the World Series stole the spotlight through the war years. Horse racing was quite popular too. Regattas were also covered. The early names during the first generation of the medium were as big then as Al Michaels, Tony Romo and Bob Costas are today.
NBC Radio's Graham McNamee dominated the microphone early. He was a generalist who hosted music programming, covered political conventions and also called World Series, the Rose Bowl and huge championship fights.
Long forgotten by most is America's first sportscaster, CBS' Ted Husing who created the depth chart, still used in some fashion, by announcers who call football today. His arch rival was NBC's Bill Stern. The two had a bitter rivalry. They'd often call the same national game and pull mischievous tricks on one another to undermine the other's broadcast.
Quite a few of the TV greats cut their teeth on radio, beginning with Mel Allen, who dominated network TV sports in the 50s, Vin Scully who called the World Series nationally at 25 years young, Curt Gowdy, NBC's man in the 60s and 70s and Al Michaels who spent his first three MLB seasons as a radio voice of the Reds and doing the same thereafter for the Giants.
Come on radio. Why hide? There's so much to celebrate.