Remembering the late A's voice Ray Fosse; Reports say John Sterling, 83, will be asked back for 2022
Ray Fosse, a baseball fixture for over fifty years, passed away last week, October 13th.  He was an Oakland A's analyst for 35 seasons, beginning in 1986. Ray succumbed to cancer after a 16-year battle. The Illinois native spent 13 years on the field as a heralded catcher with four different American League clubs.
As a player, Fosse's best remembered for his hard collision in the final play of the 1970 All-Star Game in Cincinnati. In the bottom of the 12th inning, Pete Rose ran thunderously into Fosse at the plate to win the game for the NL all-stars. At the time, Fosse was with the Cleveland Indians.
Ray was a toughie. During his couple years with Oakland in the 70s, he broke up a brawl in the clubhouse between Reggie Jackson and Billy North.
While he caught for two A's World Series championship teams in 1973 and '74, Fosse was best known in the Bay Area as the club's longtime color commentator.
I had a chance to catch up with an old friend, Mickey Morabito who's been Oakland's Director of Travel since 1980. Mickey and I were buddies at Hunter College in the 1970s. He tells me that like ex-third-baseman Sal Bando, Fosse was a leader.
"Ray liked people. What I always loved about him was that he kept his eye on the little guy," Morabito told me. "When, we'd arrive at the ballpark on the road, he'd come in and show appreciation for the clubhouse kids. He'd say hello to the little fellow, those easy to ignore. Those who generally don't get much recognition. Ray would reach out by name. He treated everyone equally.
"When word was out that he passed, I immediately got a call from our bus driver in Seattle. He wanted to extend his condolences. Then I got others, coming from all over the country, scouts, coaches and others."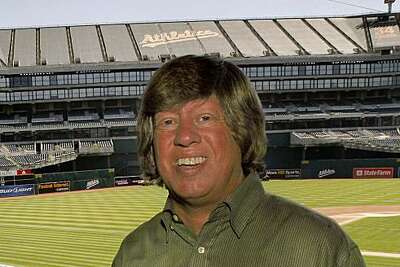 Mickey told me that in recent years, the team brought in other analysts like Dallas Braden and Scott Hatteberg. Management might have wanted to go younger with TV. But Mickey said, "The truth is that Ray was loved, especially by the older fans. In the end, the team didn't want to distance the fan base and kept Ray in place." (Morabito, left) 
This past August, Fosse collapsed in the A's press box. "He was perspiring profusely. The team doctors were summoned. Ray had to be taken out on a gurney," Mickey told me. Since then, he distanced himself from baseball and kept close to his family. "I kept getting calls from some of his closest friends. They'd tell me that they'd left him multiple massages and he didn't return their calls."
What kind of fellow was Fosse on the road? "He was quiet, not a big drinker. He didn't go out much when we were away. When Lon Simmons called our games, the two were inseparable," Morabito remembered. Lon was a play-by-player for the Giants when they arrived from New York in 1958, a beloved 49ers voice and later the A's.
I asked Morabito about the immortal broadcaster Bill King, considered a renaissance man and the best ever. Bay Area announcer. Mick's voice picked up. "Bill was the best. Some of the best dinners I've ever had in my life was with Bill. They were one of the most enjoyable. They could go three to four hours. The table would go through three to four bottles of the finest wine. King was a gourmet. He'd regale us with old NBA stories, what it was like when the league played doubleheaders at the old Boston Garden."
Back to Ray, "He worked best with Glen Kuiper who seamlessly elicited baseball insight from him," Morabito underscored.
As for the A's radio and TV this year, Mickey says, "We didn't travel, neither radio nor TV. I know the guys want to be back on the road. This year though, maybe half the radio teams around baseball traveled but that's it. No TV broadcasters that I know of did."
Morabito started as a Yankees' batboy in the old, old Yankee Stadium. Before you knew it, he was George Steinbrenner's PR man. Meanwhile, Mickey and Billy Martin built a friendship. After awhile, the onetime batboy had experienced enough of an emotional roller-coaster under George. So when Billy asked Mickey to follow him to Oakland, Morabito was on the next flight. That was 41 years ago. There's hardly anyone in baseball who doesn't know Mickey Morabito. You couldn't find a better soul.
**
Future: John Sterling and Suzyn Waldman     
Chris Oliviero is one of the smarter gentlemen in radio. He built strong ratings for the old CBS Radio Stations, programming news, talk, sports and music by genre. He left CBS when it sold its stations to Entercom. Not long thereafter, he returned to run Entercom's cluster of New York radio stations. Radio general managers generally emerge from sales, not Chris. His roots are programming.
In my little dealings with him, I found him cordial and careful with his choice of words. Watch his nuances of dialogue. Good advice for everyone anywhere.
After the New York Post's Andrew Marchand reported yesterday that John Sterling, 83, would be asked to come back next season with partner Suzyn Waldman, Oliviero issued this statement:
"John is the voice of the New York Yankees, and that's not changing in 2022. We will all sit down soon at one of his favorite New Jersey diners and game plan for next season when both he and Suzyn (Waldman) are back in The Bronx behind the WFAN microphones."
So let's go through Chris' comments with some interpretation:
"John is the voice of the New York Yankees, and that's not changing in 2022 (Nothing about 2023). We will all sit down soon at one of his favorite New Jersey diners and game plan for next season (Ask yourself. Does the station want to slowly phase him out? Do the Yankees agree? If not, the club would have had something to say to protect Sterling.) when both he and Suzyn (Waldman) are back in The Bronx behind the WFAN microphones (Carefully Worded, 'Back in the Bronx.' There's nothing about traveling to call road games. Sterling has been complaining about not traveling. But he sets up Waldman to articulate it on-air. He's got a tough balancing act to follow.)"
I've been around broadcasters for over 50 years. I can't say than any one announcer has ever had an accolade for John. All we continue to read about are his mistakes.
John is a nice man, well rounded, occasionally funny and doesn't stat listeners to death. When talking to other announcers about Sterling, they generally have one common complaint. He lacks fundamentals.
He's fortunate to have Suzyn as a sidekick. Together, they remind me of the children's song Daisy.
John to Suzyn –  "You'll look sweet, on the seat, on a bicycle built for two."