Remote MLB broadcasts: Ten voices share their '20 experiences and thoughts on the future of the practice
Texas' Hall of Famer, Eric Nadel: "I would not be interested in doing it remotely long term. At this point of my career, if the job isn't enjoyable, I am probably not going to do it."
We learned the hard way last spring and summer. Major League Baseball is not immune to the coronavirus.
The result was one of the strangest seasons in history. That's saying a lot considering that baseball has survived two world wars, labor strife and a depression. To do so in 2020, the 162 game regular season was cut to a mere 60.
Players and teams were not the only pieces of the puzzle to help bring baseball back into American homes. Networks and local broadcast stations had to figure out how to present their productions safely. So the focus shifted to accommodate health concerns on both the state and national level. For the most part, there were no fans in the ballpark, pumped in fan noise and cardboard cutouts in the coveted seats.
Meanwhile, announcers had to call games remotely, relying on live streams, computer monitors and fixed position cameras. For the most part, the MLB announcers got the job done but did so overcoming unaccustomed limitations, being many miles from the action and having access to just partial views.
Ten MLB broadcasters took us through their experiences last season and expressed their thoughts on whether they see remote broadcasts continuing in baseball's future.
We asked two simple questions:
How did the 2020 season go, having to call games remotely?
Do you think broadcasting games remotely is something that can be put into place permanently and would you still be eager to do the job under such limitations?
Chip Caray – Atlanta Braves – TV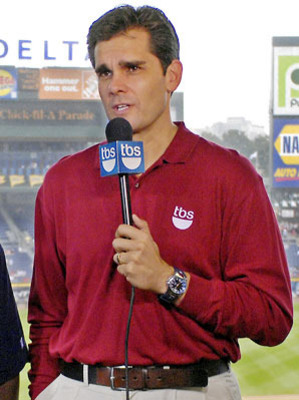 Broadcasts went as well as could possibly be expected. While not ideal by any means, broadcasting remotely certainly was better than not broadcasting at all. I'm really proud of our crew for handling all of the technical and editorial challenges that arose daily in order to bring games to our fans across the Southeast. They did an amazing job.
It's my hope that we will be back to normal ASAP. So much of our job and the info we get and transmit, is based on relationships and those private moments we get with players, staff, and management. Obviously, that wasn't possible in 2020. Further, strictly from the "performance" aspect of the job, it is extremely difficult to call a game based on not just what camera shots we received, but also another producer's vision of how the game should look. So much of the "art" of broadcasting is in the moment, on site, anticipating, using the crowd as an instrument…using info gathered from the batting cage, other writers, reporters, broadcasters…all of which is erased by being hundreds, if not thousands of miles away. So, if it's the only option available (and I'm hoping it isn't), remote broadcasting works….but only at the bare minimum. We need to be on site, "feeling" those moments, engaging with the personalities that are the game in order to make the game more alive and meaningful for the viewer, IMO.
Joe Castiglione – Boston Red Sox – Radio 
Broadcasting the away games remotely from an empty Fenway Park worked out much better than expected. We had two broadcast booths…one for me and the other for my broadcast partners Will Flemming and Sean McDonough, Lou Merloni and our engineer Doug Lane. Each booth had a big screen monitor and three smaller monitors…one with a wide shot of the playing field, another with the actual tv feed with graphics and the other keyed on the bullpens. Of course, we were at the mercy of the TV director and had to pause briefly for camera changes, but the toughest calls were on boundary calls…. fair or foul…home run or foul ball. With crowd noise pumped in many fans told us they could not tell we were not at the ballpark.
The main drawback was no personal contact with baseball personnel. The social aspect is a big part of baseball and going forward it would not nearly be as much fun to stay remote. It also makes it much more difficult to do our job as reporters, getting information and stories. We would also miss the highlights of visiting other cities and sites. However, it would not be surprising if, given the expense money saved, there would be more such remote broadcasting after the pandemic passes.
Michael Kay – NY Yankees- TV
Actually, it went as well as anyone could have hoped. It was odd for the first couple of games but then we fell into a rhythm and it became a different normal.
Unfortunately, because most were able to pull it off with very little drop off, I think companies that lost money in 2020 will be looking to cut costs, and I believe remote broadcast of road games will become something that will become permanent at some point down the road. Are there limitations to doing the games that way? Of course. Certain plays simply cannot be called in real time because the camera can only follow one thing at a time.
For instance, I heard Joe Buck say that his call at the end of Game 4 of the World Series could not have been properly done off a monitor and I totally agree. (Lots happened simultaneously you'll recall and in rapid succession.) But those plays are few and far between and for those that have to find a way to cut money, it will he a small price to pay to save on traveling an entire production and broadcast crew to every road game. Whether I would be eager to do the games under such limitations, well, the answer is I would rather do it in person but if these are the rules of engagement, then I would be willing to do it. Is it a perfect world? No. But the things that have gone on in our world would make broadcasting remotely seem very small.
Ken Korach – Oakland A's  -Radio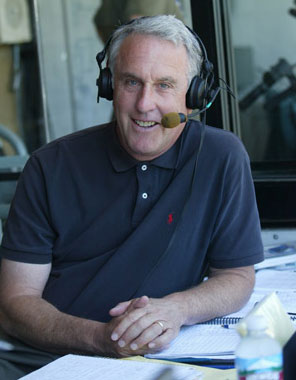 I thought the broadcasts went as well as possible considering the circumstances.  I was pleasantly pleased by how the home games sounded. The piped in crowd noise was a plus and I thought the audio sounded fairly close to normal. It's important to give kudos to our technical team, led by engineer Mike Baird. The fake crowd noise helped me.  It added a bit of energy which was badly needed with no fans. I fully understand and support the decision not to travel, but the road games were more of a challenge.  It was inevitable we were going to miss things. Once I came to grips with this, it helped me relax and get into a better flow.
The toughest were potential home runs down the line—determining fair or foul, and getting runners around the bases, especially with multiple runners on possible plays at third or home.  The "All 9" was very little help since the shots were usually from far away and/or in delay. In a nutshell, I described it thusly: "Normally, we call what we see. In this case, we called what we were shown." But I want to stress that our TV crew did a great job getting us the best possible shots. All in all, everyone did the best they could.
I have no idea what next year is going to look like. I suppose it's possible we won't travel, but it would be nice to be back on the road. It really helps when you're able to go down on the field and talk to players and staff.  That being said, the daily Zoom calls were a big help.  It took quite a bit of work to make those happen.
Eric Nadel – Texas Rangers
I approached working remotely as an "adventure" and it was certainly a challenge. I can honestly say that working off the TV monitors on Rangers road games was not as bad as I thought it would be. We didn't miss as many plays or details as I feared we would. However, in a couple of cases we missed crucial plays when the ball was hit very sharply to 1b or 3b and the director couldn't switch to a different camera in time to see what happened as the ball got through to the outfield. Trying to judge the ball off the bat is also very difficult off a tv monitor. And of course, following runners around the bases when a ball is hit in the gaps requires looking back and forth from the main feed to the "all-9" feed on a different monitor which took some getting used to.
Most importantly though, the inability to talk to the players and coaches prevented us from getting the kind of insights and stories that make the broadcasts more interesting. That's what I missed the most.
Although apparently no fans complained about what I considered to be lower quality broadcasts, I felt the audience didn't get the kind of broadcast I am used to providing them. I would not be interested in doing it remotely long term. At this point of my career, if the job isn't enjoyable, I am probably not going to do it. A big part of the fun of the job for me is traveling and being in the different ballparks around the country. I really missed that, and if we are not traveling, I will probably retire fairly soon.
Dave O'Brien – Boston Red Sox – TV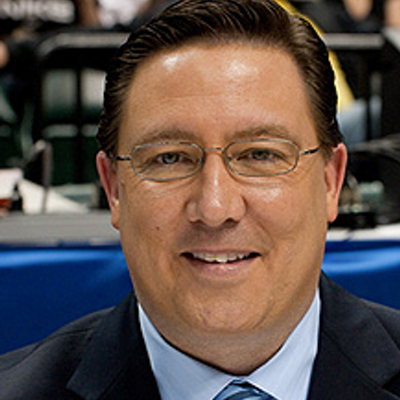 We were really happy with how the short season went, all things considered. Everybody with NESN and the Red Sox quickly got on the same page – the strangeness had to be sort of embraced immediately. Nothing like this had ever happened to the planet, let alone sportscasting. Driving to a studio to broadcast Opening Day – not Fenway Park – and then calling the game off monitors, with your partners behind plexiglass-glass 6 to 15 feet away … we never envisioned it in a million years. When we began hearing from fans that it was difficult to tell all the time that we weren't at the ballpark, we felt better. Your expectations are often different from the reality, so that was a major hurdle I think we cleared.
Remote broadcasts are far from ideal. We are bound to miss certain things we wouldn't miss if we are in our booth at Fenway. It can be a challenge to judge home run distance, even direction: you're not seeing the ball come off the bat live, like you have for 30 years, in person. You have to wait for the director's cut instead of just reacting. That takes getting used to. You can't see who's warming in the bullpen – the camera must show you first. That was the big difference: watching the game as the fan does at home. It's one thing to enjoy a game from your couch, but quite another to try to broadcast it that way. Then of course, you don't have a live crowd. For most announcers, it's the bed we lie on. We revere the sound of the crowd, we trust it, depend on it. That's what momentum and the mood swing of a game – a season – is born from. Synthetic crowd noise really helped, but nothing touches the real thing.
Of course, having almost zero interaction with players, managers, coaches, writers, trainers and fellow broadcasters made all of our jobs more difficult. The information deficit was tough.
I could see, post-COVID 19, broadcast networks deciding to cut costs by not sending production trucks to every series. That could be a major change. The pandemic altered a lot, and a lot of those changes are going to show up in budgets. But being live at the event shouldn't be sacrificed, in my opinion. I think of how many questions I never got to ask of players this season, because we couldn't travel: Did you think you got squeezed on that 3-2 pitch? Did you tag him on that review in the 9th? How tough was that sun? Why did you sit Vasquez, when he was 10 for 14 against that starter?
Howie Rose – NY Mets- Radio
I found broadcasting games remotely to be exhausting, challenging, and ultimately unfulfilling. Working off of several monitors required some quick changes from screen to screen to stay on top of the play, and we were continuously at the mercy of those camera angles and directors to get us as close to accurate in real time as possible. Without being on site and being able to describe everything within our visual range, had we been at the ballpark, made for a less than satisfying experience from the artistic standpoint.
I will always be eager to broadcast Major League Baseball and I can see where in this challenging environment it can be a cost-effective move for teams and networks, but as the saying goes, there's nothing like the real thing.
Dan Shulman – Toronto Blue Jays – TV / ESPN Radio – World Series
I think all of us in baseball made the best of things and adjusted fairly quickly. You learn which monitors have what you need in a given situation, and what bits of info you could find quickly during a game.  Our setup in Toronto was as good as it could be.  We had a huge program monitor, we could see both bullpens, and we had an All-9 look, which gave us a look from up high at the entire field to see things like the infield being in, the shift, etc.  It was still challenging at times, and there were certain plays or moments where it wasn't possible to see everything you needed to see, but for the most part we got comfortable with what we had and could see what we needed to see.
I will always be eager to call baseball games, no matter what the situation is. But every announcer will tell you that the job is easier, and the product is better, when we are at the ballpark.
Matt Underwood – Cleveland Indians – TV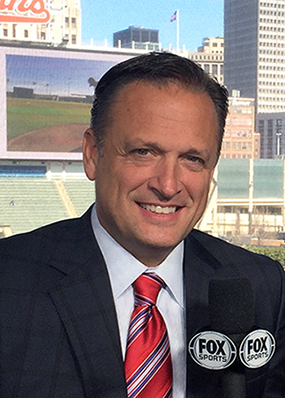 I would say overall the season was a success. The remote games presented us with many challenges. Lack of one-on-one access to players, coaches and the manager.  This is a critical piece of our puzzle and helps us pass along insights to the viewer.  Also, just the mechanics of calling a game while watching the game on TV monitors as opposed to being there in person is an adjustment.  Eventually we moved away from our traditional approach and adopted more of a "we're all watching the game in a sports bar together" style.  This involved telling stories and involving our sideline reporter Andre Knott more.
I seriously hope remote broadcasting does not gain a foothold in our industry.  It can work on a limited basis and especially when circumstances like those of 2020 arise. What we lose however is the personal connection to the team and its personnel. Zoom calls do NOT replace the one-on-one interactions that give the broadcast a personal connection. After all, we are the conduit between the fans/viewers and their team/players.
Dave Van Horne – Miami Marlins – Radio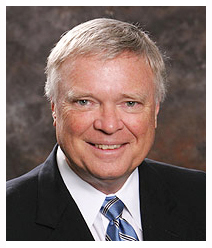 My partner, Glenn Geffner and I did all 60 games during the season and playoffs, originating the radio broadcasts from Marlins Park in Miami.  The "home" games were broadcast from the regular home radio booth. When the team was traveling, we did the road games from a special studio set up in one of the large auxiliary booths on the broadcast level.  There were TV monitors set up and we each had a desk with a monitor to work from, spaced at least six feet apart. There was one large 55″ monitor which featured views of the bullpens, the two dugouts, a stationary view of the scoreboard and a stationary camera behind home plate that gave us  a view of the entire playing field. The monitors for each of us carried the TV feed of the home team's telecast. The radio broadcast required us to pay close attention to every pitch, every play and defensive positioning. So, we relied heavily on the work of the TV producers and directors.  It took a few games to get used to broadcasting the road games, not seeing the whole field all the time while trying to describe the game; following the baseball in play, baserunners advancing and a variety of defensive plays all happening at the same time.
To be honest, I felt detached from the team.  Even when doing the home games, we didn't have access to the players in the usual way.  No clubhouse access, no field access during batting practice, which is normally a time to talk to players, coaches and managers.  Interviews were done via ZOOM on a scheduled basis. The atmosphere in the ballparks was definitely different from the norm.  For me, the absence of fans changed the entire feel of the game. We were fortunate that the Marlins, for the most part, played exciting games and got to the playoffs for the first time since 2003. Covid 19 took a toll on the team. It was terrible. However, Don Mattingly and his coaches kept everyone focused and the team excelled.
I hope and pray the worldwide pandemic ends soon. I wouldn't like to see baseball, or any sport, take the broadcasters away from the live action of the games, and the fans who love the game and fill the seats. All broadcasters feed off the flow of play by play and fan reaction, and the energy that mix provides. I stil get excited thinking about it……."Hi everybody, we are LIVE from……………."