Sharing the same birthday, John Madden brought novelty and Don Meredith levity to NFL booths
Two birthdays passed quietly last Saturday, April 10th. John Madden turned 85. The football broadcast icon now lives quietly in California while the Madden brand continues to live vibrantly in homes across the country. Don Meredith, an NFL broadcast star during the 1970s and early 80s passed in 2010 at age 72.
Madden and Meredith might very well be number one and two among all-time analysts by a strict measure of uniqueness and entertainment. Both men brought more than just football to the broadcast booth. 
Don Meredith 
When ABC launched Monday Night Football in 1970, it was considered a risky move. There were three networks then, ABC, CBS and NBC and they dominated primetime television, amassing 90% of the national audience.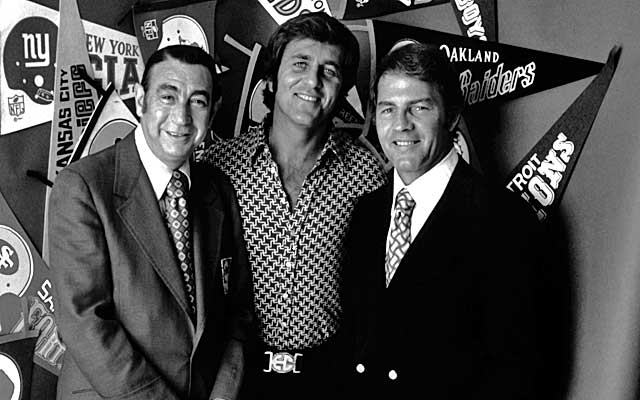 Ray Scott and Pat Summerall were fine for Sunday afternoons on CBS but a typical play-by-play and analyst duo wouldn't cut it on Monday nights.
To make football work in prime, ABC Sports' Roone Arledge added fresh elements, personified by a colorful duo who joined play-by-player Keith Jackson.
There was Howard Cosell, a sharp-tongued opinion monger who made his mark controversially, supporting Muhammad Ali. Howard was either loathed or loved but he undoubtedly helped build the Monday night TV series through his multisyllabic and gruff-toned commentary.
Don Meredith was the retired quarterback of the Dallas Cowboys who joined Cosell and Jackson. Jim Spence, Arledge's lieutenant at the time, remembers. "I think the guy sitting there in his easy chair really identified with Don. He saw him as a good old boy with a pretty good outlook on life." Meredith brought an irreverence not heard before and perhaps not since. In the booth of three, Dandy Don balanced the acerbic Cosell with lighthearted humor, jabs and a laid-back demeanor.
He brought a neighborly warmth which the viewing public loved, from his fellow native Texans to hardy souled Midwesterners. On air, he would charmingly refer to himself as "Jeff and Hazel's baby boy." Once a game's outcome was a foregone conclusion, no matter when, even in the third quarter, Don would warmheartedly sing, "Turn out the lights, the party's over, they say all good things must end." It annoyed Cosell to no end, but forced him to chuckle each time that Dandy Don broke into song.
Meredith, like Cosell, nipped at the bottle from time to time, before and during the broadcast. Doing a game in Denver one night, Don astonishingly said, "We're in the Mile High city and I sure am."
How did Don Meredith get the gig. Spence says that Arledge and Frank Gifford were good friends and Frank recommended Meredith to Roone. "The thinking was that Meredith, with his Texas drawl and cornpone humor, would play well off Cosell."
Spence recounts a story in his absorbing book, Up Close and Personal. One Monday night in Houston a fan looked bored stiff by the poor play of the Oilers so ABC focused one of its cameras on him. The unhappy fan realized it immediately and flipped the bird to millions of viewers across the land. Spence writes that Dandy Dan drawled an immediate reassuring retort: "He's just telling us we're number one!"
His carefree drawl was special. Frank Gifford succeeded Jackson as play-by-player in MNF's second season. He told a reporter one day, "Don can say 'Good morning' and everyone around him would laugh. (Cosell, Meredith and Gifford, l-r, above)
Meredith left the ABC trio in 1974 to join NBC's Curt Gowdy on the NFL. There, he was also given an opportunity to "grow as a performer." Meredith did have some success as an actor and as a commercial spokesperson for Lipton Tea. He had a role in the short-lived NBC television series, Police Story.
But Don returned to MNF in 1977 and remained there through 1984. Spence says, "He would have you believe he never worked, never really prepared. That's not true for his first stint, but I don't think he put in a comparable amount of effort for his second tour of duty. There was a lack of freshness to his commentary."
During his second tenure of duty on MNF, Meredith was being paid $35,000 per game, a ton of money forty years ago.
John Madden
Madden, a Super Bowl winning coach with the then Oakland Raiders, erupted onto the NFL broadcast scene with CBS in 1979. By 1981, he was paired with Pat Summerall, and the two were the network's number one NFL team.
In the late 60s and early 70s, players turned analysts like Frank Gifford and Pat Summerall, were restrained in their new off-the-field roles. While they were comfortable behind their microphones, network television can be intimidating. There were traditional rules which they followed assiduously. George Allen and Hank Stram were fine coaches who later migrated to television. They too and others of similar ilk went about their new jobs gingerly, careful not to rock the boat. (Madden, right, with Pat Summerall)
But Big John revolutionized coverage of the NFL. He wasn't intimated by the big screen. For that matter, he cherished it. Most importantly, John was himself. His big and bulky body embodied what football was all about, hard hitting tackles. His timbre was perfect too. Throaty and husky, it had football stamped all over it.
Technology that we take for granted today wasn't even an embryo then. There were no first down lines, high resolution close-ups, score bugs or replays from every angle imaginable.
In time, a new word emerged, telestrator. Madden put it to work, using it first to inform about the game by diagraming plays, and later to entertain, like demonstrating the art of cooking at tailgates. Food and football go together and Madden teamed with writer Peter Kaminsky, penning John Madden's Ultimate Tailgating.
For Thanksgiving about thirty years ago, he concocted Turducken. The base ingredients are duck, chicken and turkey. Yes, you never knew what Madden would spew  but one thing for sure, he added spice to the role of color commentary. It was something never seen before. He brought the vernacular of the field to the booth.
His exuberance was contagious. Uses of words like, boom, bang and doink were Madden regulars. His quotes were either clever, telling or ridiculously simple. He said, "If you think about it, I've never held a job in my life. I went from being an NFL player, to a coach, to a broadcaster. I haven't worked a day in my life."
"When your arm gets hit, the ball is not going to go where you want it to." So silly but Madden could pull it off.  Al Michaels who worked with Madden in his final seven years as an analyst, first at ABC and then at NBC, said John was "pithy, succinct and right to the point."  Michaels said that the coach conversed about virtually any subject and intelligently so.
There's no question that Madden fashioned a style that was novel and one that had an irrepressible and memorable 30-year run. By the time that his broadcast career ended, Madden had been the number one analyst for all four of today's networks, ABC, CBS, Fox, and NBC.
But Madden never overcame the fear of flying. In the late 1980s, a Greyhound bus was converted into the "Madden Cruiser." It had all the amenities imaginable including a queen sized bed. The original cruiser that transported John from one city to the next was donated to the Pro Football Hall of Fame in 2018.