Should CBS/Turner consider a merit based system for game assignments in the Sweet 16 and Elite 8?
Game broadcasters should advance in the tournament based on performance
How about promoting broadcasters based on merit, particularly analysts? Maybe millions of viewers would collectively learn more about the game.
The best referees and game officials move up depth charts of their respective leagues based on achievement. It's about competition. One's better than the next. That's how the world works. That's how capitalism works.
Exemplary work fuels promotions.
For instance, the better officials work NFL playoff games and the best are assigned Super Bowls. Sarah Thomas completed her sixth year in the league in 2020. She capped it with a flourish, getting the nod to serve as the Down Judge in the big game. Sarah was the first woman on a Super Bowl field in a striped shirt.
During March Madness, NCAA officials too are evaluated after the first couple rounds. The ones with the top grades in the sub-regionals are assigned regional sites where they'll work either a Sweet 16 game or a regional final, not both. 
In 2014, SI did a lengthy story on referee Mike Roberts whose day job was law enforcement. Mike got his first DI officiating job in 1994. It was the start of an enduringly long climb. Ten years later, Roberts was invited to the Final Four but only as a standby official. So he sat at courtside, hoping that one day he'll be tapped to actually work a Final Four. It finally happened in 2018 when he assigned a national semifinal game. 
Just as the NCAA begins the tournament with a set number of designated game officials, CBS/Turner should start with a pool of voices. The ones who excel in the early rounds should continue. The ones who don't can watch the rest of the tournament on television.
Like officials, broadcasters should be evaluated regularly. Maintaining highly visible broadcast gigs can't be a matter of entitlement, politics or just time-in-grade. The best broadcasters early in the tourney deserve promotions to later rounds, replacing those who grade a rung or two below. CBS and Fox do so for the NFL. In the fall for instance, CBS elevated Kevin Harlan to #3 on the depth chart and demoted Greg Gumbel to #4.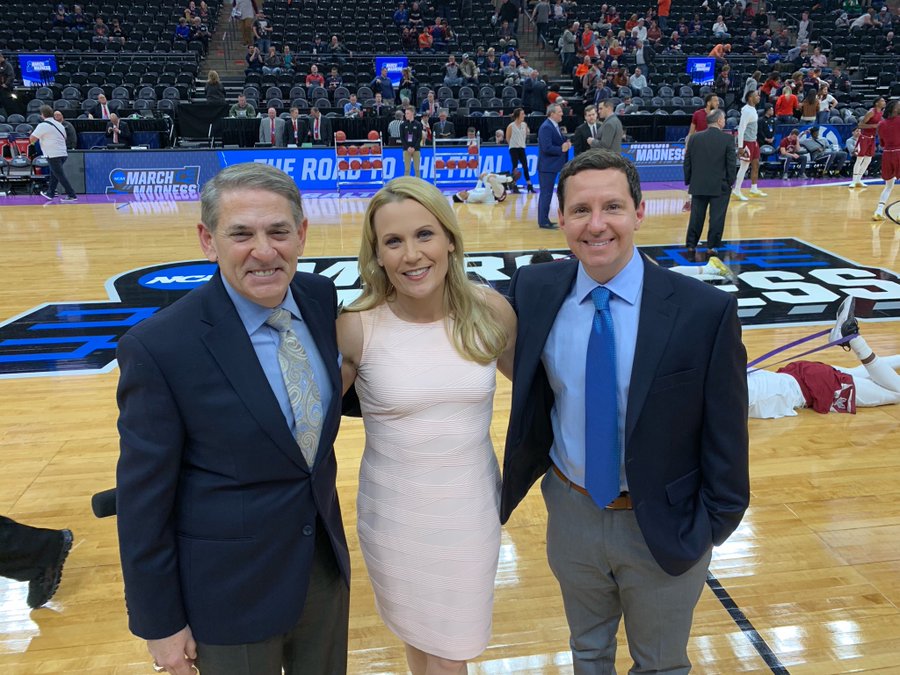 Prior to this year's tournament, we were given an initial roster of game voices. It was made up of ten announce teams and we were told immediately which of the four teams would advance beyond the first couple rounds. In other words, everything was pre-determined.
It's a terribly inconsistent process that belies the spirit of the tournament where there are winners and losers, great refs and just good refs, gifted beat reporters and the so-so.
Suppose that CBS/Turner announced its opening pool and assigned regional rounds based on merit?
The play-by-play voices this year were for the most part all solid. You might say that Brad Nessler, always the consummate pro, might have struggled identifying names of players on unfamiliar rosters early in the games he covered. Lisa Byington showed improvement over her regular seasons struggles, albeit viewers might have found her big-moment calls, somewhat strident. (Lappas, Byington and Andrew Catalon, l-r)
It's the analysts whose assignments should be sorted out in a fairer way. 
While newcomer Jimmy Jackson was a fresh and enjoyable voice, CBS/Turner gave him four rounds right up front. It was a good bet, but why bet?
Steve Lappas who has been phenomenal for years got only two rounds. He's up there with Bill Raftery and Jim Spanarkel. But he had no shot at the regionals.
Avery Johnson and Brendan Haywood were hired for only two rounds and both were superb. Johnson provided a coach's perspective so I'd put him ahead of Brendan. But advancement, based on proven excellence, was no factor in determining third and fourth round assignments. Those who proved their worth were gone after two rounds.
Meanwhile Dan Bonner, a frustratingly shallow commentator, worked alone in the Sweet 16 and will be behind the mic again tomorrow night in the regional finals. He needs help. How about Lappas? How about Johnson? Nothing. Bonner doesn't belong in the chair of a solo analyst. That's for sure. I've never seen him diagram a play on television. He's weak. CBS/Turner could easily have added Lappas or Johnson.
The studios
I liked the addition of Andy Katz to the Atlanta studio crew. He added meat that Kenny Smith and Charles Barkley lacked. Barkley is funny but ill-prepared for college ball. Smith knows the NBA game and crams his prep for the college game. But he pontificates too much. Katz is a solid reporter who did his best to keep Kenny and Chuck in line. Ernie Johnson is always a wonderful orchestrator and gets the best out of the hand he's dealt.
Greg Gumbel is a great pro in the studio. He's understated but monotone. Clark Kellogg knows his stuff but doesn't shut up. If you can say something in ten words, Clark will find a way to say it in a hundred. Wally Szczerbiak and Seth Davis were both well prepared. But the group lacked stimulated debated, sounding more like a mutual admiration society.
Schedule for tonight and tomorrow:
MONDAY MARCH 28,2021
7:15 PM     CBS        Lucas Oil Stadium Equality (North)
(12) Oregon St. vs. (2) Houston      
Ian Eagle / Jim Spanarkel // Jamie Erdahl
9:57 PM     CBS        Lucas Oil Stadium Unity (South)                               
(3) Arkansas vs. (1) Baylor                  
Jim Nantz / Bill Raftery / Grant Hill // Tracy Wolfson
TUESDAY MARCH, 29,2021   
7:15 PM     TBS     Lucas Oil Stadium  (North)    
(6) USC vs. (1) Gonzaga      
Kevin Harlan / Dan Bonner // Dana Jacobson
9:57 PM     TBS         Lucas Oil Stadium (South)                               
(11) UCLA vs. (1) Michigan                 
Brian Anderson / Jim Jackson // Allie LaForce