Syracuse is the citadel of college sports and broadcast training; How about smaller schools?
I am an aspiring play-by-play announcer who recently graduated from Dean College. It's a small school in Massachusetts with an upstart broadcasting program. I like to keep track of who went there and who plans to attend.
If you look at the list of the best sports broadcasting schools in America, published by the Sportscasters Talent Agency of America, you'll note some trends:
Power 5 mainstays such as Syracuse (Bob Costas), Arizona State (Al Michaels), or much of the Big Ten Northwestern (Brent Musburger); an assortment of smaller D1 state schools like Ball State or Ohio University, or a mid-sized of those around a major city—think Hofstra or Fordham. Those schools have earned built reputations over the years.
But without nearly as much fanfare, Division II, Division III, and non-NCAA schools have consistently churned out top play-by-play announcers as well. From longtime national mainstays,  Greg Gumbel (Loras) and Kenny Albert (NYU) to current network leads Brian Anderson (St. Mary's of Texas) and Kevin Burkhardt (William Paterson), Howie Rose (Queens College), this trend isn't going away anytime soon. Even studio hosts such as Curt Menefee (Coe) and sideline reporters like Kaylee Hartung (Washington and Lee) have proven you can find great sports media figures anywhere. One reason is simply so many more jobs available.
But who's coming up next? I came up with a list of eight play-by-play announcers under the age of 45 who went to schools not labeled Division I. Some have already made it to the big time, some aren't far from it, but all deserve your attention. I will limit the selections to one broadcaster per school.
This list is in alphabetical order by last name:
Brendan Burke (Ithaca)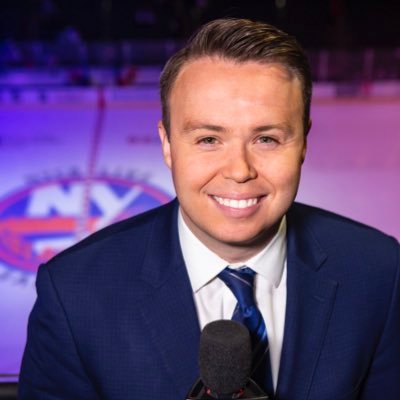 Ithaca has long been the class of small-college broadcasting programs—Knicks radio voice Ed Cohen is another who could qualifies for this list and so can Eric Reid TV of the Miami Heat. Eric has been with the club since the team's birth in 1988. He begins his 35th season this month. Burke landed his jobs in both Minor League Baseball and hockey after college, but built his name most prominently in the latter sport. He became the New York Islanders' TV announcer in 2016, and added national NHL duties soon afterward. He moved from NBC to Turner with the new hockey rights deal in 2021, and currently serves as TNT's #2 NHL announcer. Expect Burke to be the voice of hockey in America one day.
Joe Davis (Beloit)
Davis attended Beloit with the intention of both playing football and preparing for his future career as a broadcaster, calling games once the season was over. After college, he moved up the ranks from Minor League Baseball to ESPN to Fox, and landing with the Los Angeles Dodgers as Vin Scully's successor. He turned all of 30 then. Davis remains a regular on Fox, serving on the network's college basketball coverage, having recently been named its #2 NFL announcer, and succeeding Joe Buck as the voice of the World Series starting this October.
Lowell Galindo (Emerson)
Emerson has produced a lot of big names in the television field, and the next generation looks strong, with Galindo, among others, leading the way. The face of the ESPN-operated Longhorn Network, he hosts all of the network's main shows and is the television voice of Texas' football and men's basketball teams. Before joining Longhorn on Day #1 back in 2011, he spent four years in a similar role with ESPNU.
Aaron Goldsmith (Principia)
Goldsmith's path is very unorthodox—he studied history at Principia and didn't start broadcasting until he graduated. Starting his career by working unpaid internships in baseball, he quickly worked his way through the minors until he was hired by the Seattle Mariners before his 30th birthday. Currently, he splits radio and television duties with the team, as well as calling college football, basketball, and Major League Baseball for Fox Sports.
Stephen Nelson (Chapman)
Chapman is largely known for its film school, but it has churned out some talent in media too, with Brewers announcer Jeff Levering also qualifying for this list. Nelson began his professional career as a host and reporter, first popping up nationally with Bleacher Report, but added regular play-by-play work when he landed with MLB and NHL Networks in 2018. Now he presided over a weekly schedule of games on the new Apple TV MLB package, and co-hosts the popular MLB Network show Intentional Talk.
Wayne Randazzo (North Central)
Randazzo began his career in sports media while a student at North Central and had a steady rise to the major leagues. After seven years in the minors, he joined the New York Mets as a radio host in 2015, and became the team's #2 play-by-play announcer four years later. Occasionally he fills in on Apple's baseball coverage too, and you would think he's in line for a local MLB TV job at some point. During the offseason, he does college sports for ESPN and Big Ten Network. The Chicago native is the rare current New York play-by-play announcer not originally from the Tri-State area. The big New York voices early were from outside New York. They included Mel Allen, Red Barber, Lindsey Nelson, Russ Hodges, Curt Gowdy and Jim Woods.
Jason Ross Jr. (Lawrence Tech)
Don't know this guy yet? You will soon. The deep-voiced 24-year-old, has already started his national TV career on the freelance circuit, primarily working for the Big Ten Network as a football, basketball, hockey, and lacrosse announcer. You may also see him freelancing for NFL Network, or ESPN, or if you're in the Chicago area, as one of the announcers for the WNBA's Chicago Sky. Like Nelson, he participated in the open audition too, for the Blackhawks job this past year.
John Sadak (Rowan)
Sadak has worn a lot of different hats on television and radio over the last 20 years. He worked in Minor League Baseball, in multi-sport roles for Princeton and the University of Delaware, with the New York Mets, CBS Sports Network, and Westwood One before being named the television announcer for the Cincinnati Reds for the 2021 season. In addition to calling Reds' games, he remains with CBS Sports Network and Westwood One calling a broader menu, most prominently Navy football for the former.