Talent Agent, Steve Herz: Romo worth every penny; Pandemic will be similar to the Industrial Revolution
With the limited hand dealt by Covid-19, it's tough to awake optimistic each morning. There are so many unknowns. 
But not if you listen to Steve Herz! His long term perspective is uplifting. "This pandemic will have an impact similar to the Industrial Revolution. The move to part time commuting for so many people will free up a lot of time for more creative pursuits that will lead to great inventions."
Herz is the veteran talent agent whose stable of represented voices includes ESPN's Dan Shulman, Jason Benetti and Holly Rowe, Turner's Brian Anderson and other household names. Steve is president of the Montag Group which in 2017 merged with IF Management which he previously ran .
He says that as we come out of the pandemic and settle into a new normal, "People will have more time to consume sports and entertainment." He adds that "new business models will be created and that we will likely prosper, once the dust settles and the OTT models are better monetized. But it will happen. In time."
He recently authored, Don't Take Yes for an Answer which intersects self-help, inspiration, introspection and philosophy.
Truth be told, Herz' assessment is likely spot on.
Think about this. Before the recent health scourge, there had never been as many openings for broadcasters. Talent demand erupted during the last decade in lockstep with the growing number of sports media platforms. Network tentacles and streaming sites are endless. Before Covid-19, it seemed that there was never a shortage of sports programs. Just about any event, from high school swimming to the Super Bowl was available somewhere. It wasn't always. And once the games return, they'll be available again.
Technology has facilitated the demand, whether it's a one-camera production of a fencing match that's streamed or the Super Bowl with reporters and cameras positioned in places we didn't know exist.
If Herz is right and his projection about more leisure time is plausible, sports video will continue to grow. Even during this unsettling quiescence, we've experienced creative and scripted programming like ESPN's The Last Dance and MLB Network's The Sounds of the Game. In the future, we'll see more of the kind. 
So while sports events are at a standstill and the battles between millionaire baseball players and billionaire owners baffle and dispirit fans, there is a future!
Herz is as optimistic as ever. "There will be some challenges in the short term…but I am VERY bullish on the near and long term for our business."
Steve and I caught up, talking about the business today and his book, Don't take Yess for an answer.
How would you label Don't take yes for an answer? Is it self-help, inspirational, philosophical, introspective or an intersection thereof?
It's partly all those things AND it's also most importantly actionable. Inspiration alone usually abates. This is a constructive book of storytelling and exercises.
Address turning a negative into a positive at the start of your career. While in law school at Vanderbilt, you were a paid summer intern at a prestigious firm. At the end of your internship, you were told by a senior partner that you'd never make it as an attorney. Naturally, you were crestfallen but it didn't temper your desire to succeed.
The partner was very direct about his belief that I would not reach my potential as an attorney. He was also complimentary about other skills he felt would help me succeed in another field. So he gave me the direction and the confidence to pivot in this direction towards talent management and coaching.
What do you mean when you say broadcasters get too many counterfeit yesses?
It seems like in local news almost everyone I've ever met has either been nominated or has won an Emmy Award. Producers often don't want to have a contentious relationship with talent so they just tell them they're doing great. And some are…but I have seen so many people who were allegedly "doing great" lose their jobs. And not be told what they could have done to avoid this fate. Hence the counterfeit yesses.
Are bosses and colleagues in the media business more disingenuous than in other industries? Broadcasters often hear nothing but praise before they're unexpectedly fired or not renewed.
I would have agreed with you until I started researching the book and interviewing some HR executives at many large and midsize companies. And the attitude there is often worse in terms of false praise. One executive told me that his firm never fires anyone nor puts people on any notice. They "stealthily" coach them out of the company with periodic reorgs and downsizing's so the people never even know what hit them.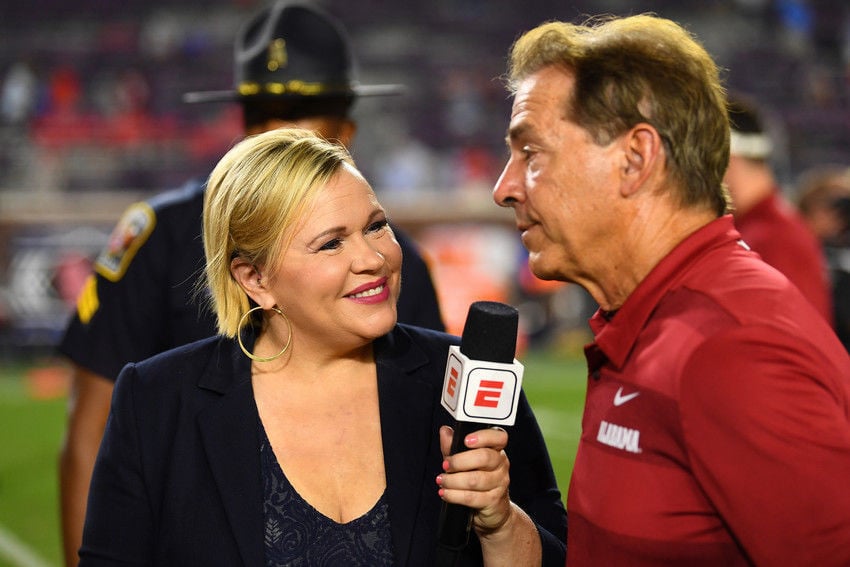 You raise the name Holly Rowe and talk about the response she got after sharing with viewers and fans that she was battling cancer. What's the takeaway?
Holly (with Nick Saban left) is clearly connected to a higher purpose beyond broadcasting. It's apparent from her energy, her drive and her passion. She is focused on making the world a better place – and she uses her platform to inspire people with her courageous attitude. People feel a kinship with her. Not only those who are also fighting cancer (or other diseases) but anyone who needs to feel a sense of community or inspiration to take on a challenge.
You say, a good broadcaster commands authority. How? Give us an example of who and how.
I get into the granularity of this in the book. I'll purposely choose someone who is not a client. An easy one: Al Michaels. He has a commanding voice – and speaks in a calm measured way. There's an effective energy to his delivery that is modulated. He's relaxed in a way that gives the viewer (akin to Barry Sanders scoring a touchdown) that Al has been here before. He's in control and we can feel and sense his authority.
You have a chapter titled, Warmth: The seed of Trust. Is warmth something that can actually be taught? Doesn't warmth come naturally?
Yes and Yes. Some people have a natural innate warmth – an ability to connect and engender trust. Even those who may have some deficits in this area can learn to improve. There are some easy little tricks/things to do to improve this area that we spell out in the book. Some relate to body language, eye contact and just smiling and being interested in the other person.
As a society, we generally learn from everyone. Share with us a thing or two you've picked up from your broadcast clients that you've been able to use effectively in your everyday life.
Be interested in not just people you think are important. Pay attention to the "little people" because they are the ones who make the trains run. Show them respect and attention, not because it'll help you but because it's the right way to be and to live. And don't be tactical about the way you treat people. Often, that eventually comes back to bite you. Behave in a way that shows you just believe in karma and often good karma comes back tenfold.
You've talked about good voices and the need for broadcasters to learn to speak within their God given vocal range. Share names of a few network announcers today who have commanding voices and use them effectively.
There are so many. A few that I know well that come to mind are Dan Shulman (my wife compares his voice to a fine aged glass of scotch), Brian Anderson (who is the gold standard for vocal improvement) and Jason Benetti (whose voice belies his physical challenges in the most wonderful ways).
Yes, the market dictates pricing and salaries. But is a talent like Tony Romo really worth $17 million? Phil Mushnick in the New York Post recently raised the exorbitance of his payday in these challenging times of mass unemployment. With men and women out of work, the compensation gulf is glaring. Don't you think?
I think he's worth every penny. Nobody held a gun to CBS's head. To see the Romo deal in a vacuum misses the larger value he brings to a broadcast network. He's become bigger (or soon will be) as a broadcaster in terms of helping with the league branding than he was as the face of the Dallas Cowboys. It shows the power of the media. If CBS had not signed Romo and it caused them to lose the NFL, it's possible that even more people would have been unemployed there. These things aren't so simple. Romo is not a client but I think CBS made a wise decision.