Talented Josh Lewin quotes Marvin Gaye on remote broadcasts: "Ain't nothing like the real thing, baby"
Josh Lewin likens his play-by-play travels to those of Paul Revere.
The British are long gone and no modern-day Henry Wadsworth Longfellow to celebrate the announcer's circuitous journey from Rochester to San Diego and his handful of stops along the way.
No "lantern aloft in the belfry-arch" either. It's 2021. His voice, a microphone and a broadcast booth will do. That's it.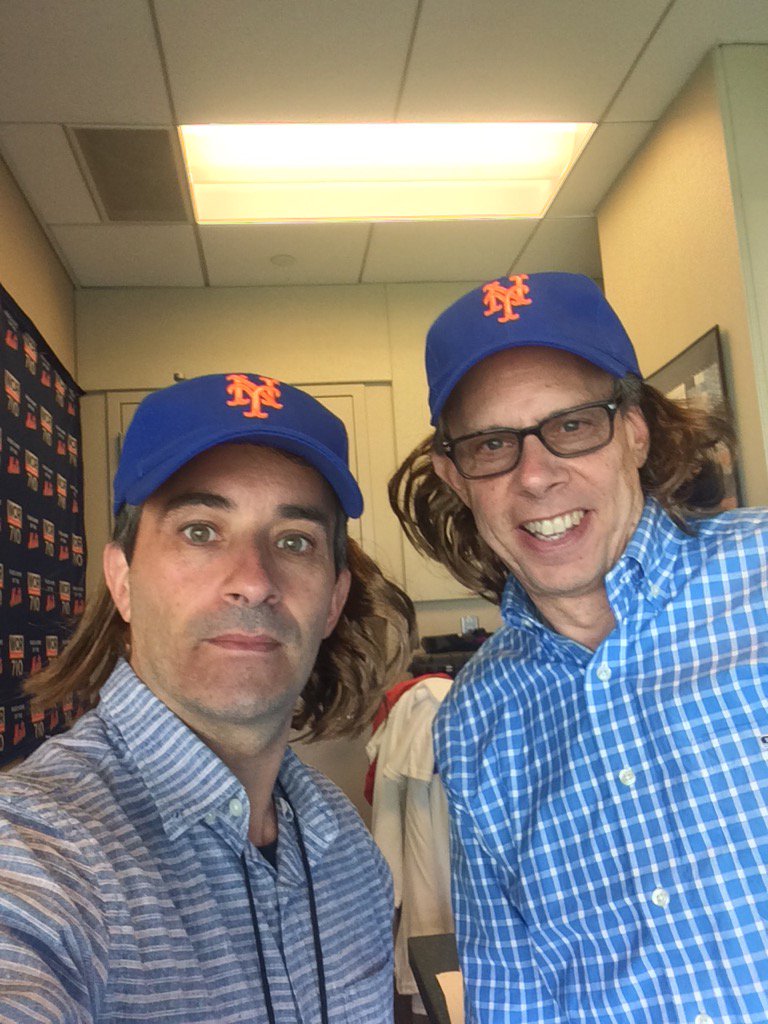 The peripatetic Lewin, 52, has done play-by-play for over thirty years. It started in his hometown of Rochester, New York where he called the Minor League Red Wings baseball games at age 21. The quick witted Lewin has had baseball broadcast pulpits across America, Chicago with the Cubs, Detroit, Arlington, New York with the Mets, Boston and Baltimore. He also spent 15 years covering Major League Baseball for Fox. No chopped liver. (Howie Rose, right, with Lewin, calling Mets games on radio.)
The Revere reference tells you a little about Lewin's depth of knowledge and rounded interests. You never know what to expect on one of his broadcasts other than interesting, entertaining and offbeat nuggets. Never a rigid or dull moment.
Revere is one thing and Sons of the American Revolution are another. Josh Lewin traces his family roots to sports media. His great uncle was the late sportswriter Leonard Lewin who covered the New York Knicks in the 70s for the New York Post. Josh's first cousin once removed is Dennis Lewin, a longtime ABC Sports executive who served as producer of ABC's Monday Night Football and later headed up the NFL's broadcast division.
Josh is a versatile broadcaster, having covered the San Diego Chargers and hockey in Dallas, filling in on Stars NHL broadcasts.
We had a chance to do a Q&A with Josh. His answers from start to finish are enlightening and well written. It's  evidence of a man who's as comfortable with his pen as he is with his voice.
Lewin now makes his home in San Diego. As Dick Enberg once said about his hometown, "Someone has to live there."
You grew up in the Rochester, New York area. Who were the broadcasters you heard as a kid, those whom you grew to admire?
Rochester was ground zero for AM radio reception back in the days before Sirius/XM… I was truly blessed. As a kid, I got to listen to Jon Miller and Chuck Thompson in Baltimore; Harry Kalas in Philly; Ernie Harwell in Detroit; Bob Murphy in New York; on a good night, Harry Caray in Chicago; on and on and on. It was a "who's who" of baseball broadcasting, not to mention basketball, football and hockey. The legendary Joe Tait came in clear as a bell on WWWE out of Cleveland, and when he would narrate Bingo Smith's jumpers as "15 footerrr… Bingo!" there was no question what I wanted to do with my life. Guys like Joe Tait and Bob Murphy sent shivers down my goofy little spine.
You've had a successful career, particularly calling baseball. You've followed teams in big markets, New York, Boston, Chicago and Dallas/Fort Worth. It is unquestionably a feather in your cap. But why so many stops?
I have indeed become "have voice/will travel" guy; an itinerant, a vagabond, a gun-for-hire. The Edwin Jackson of the broadcast booth. That was never my intention, but it seems the universe makes its own plans for us, right?
The FOX Network gave me my big break in my mid-20's allowing me to be one of their original MLB play-by-play guys, which I thoroughly enjoyed for 15 seasons. Doing that high-profile gig kicked open the first door, allowing me to go from pre-game/post-game host in Baltimore to Harry Caray's understudy in Chicago.
Fox Detroit offered me a chance to be their full-time Tigers guy instead, so it seemed like a logical move, but after a few years there, my first wife was hoping we could somehow get to her native Texas. So when the Rangers called, I answered. I loved my first eight years with the Rangers, but when new ownership came in, we had what they call philosophical differences, and it was time to find a better fit for how I like to announce ballgames, which is with lots of information and entertainment and not just balls and strikes.
There should never be bad feelings when a professional divorce happens.  I think you have to be mature enough to shake hands and walk away, which is precisely what we did. On to Mets Radio, which was a perfect philosophical fit.  The Mets were the team for which I rooted as a kid and Howie Rose was a phenomenal partner… but geographically, it became challenging to ping-pong back and forth from my home in San Diego to Queens. I saw a path to settle fulltime out west, and although the baseball job I originally thought I had lined up never did pan out, it's been terrific living and working in paradise, especially during a pandemic.
You've done work for Fox Sports. Was there a point at which point you thought you were headed directly for network stardom?
I was always pretty comfortable with my place in the network pecking order.  Joe Buck was the clear-cut number one, and with talented guys like Thom Brennaman and Kenny Albert around, I was keenly aware I was never going to be FOX Sports' leading man; rather a solid character actor that could fill whatever role popped up.  Network stardom is best-reserved for network stars!
My hope was and is always just to be prepared, do a solid days' work, help make my partner shine and help the viewer get a better understanding of what's happening. That's the best part of play-by-play, in any sport, any medium… you're Paul Revere, riding the horse through town, letting the citizens know what's up. It's a big responsibility, and I think every play-by-play'er adores and embraces that challenge.
You hop seamlessly between covering pro sports and college. How would you define the differences in environment and culture?
That's a nice compliment, thank you! Pro sports are tough to beat, since you're watching the best of the best athletically. But there is something very special about a big time college environment. The cliché of "the color, the pageantry" is pretty close to the pin, or in other words, everything Keith Jackson used to say about every 10 minutes from his Rose Bowl broadcasts. From the fight songs and marching bands to the shared memories of past years, it's a slice of Americana that never fails to warm your soul.
Calling games remotely is becoming the thing today, good or bad, and some aspect of it will likely continue once the pandemic ends. Your thoughts? How do you feel about calling games away from their venues?
In some ways it's a cool throwback to when we all used to practice our play-by-play in front of the TV during Monday Night Football. Doing a game off a TV screen isn't impossible, but it's hardly ideal. Nothing beats being on site and having access to context, let alone to the athletes and coaches themselves. That stated, I get it. It's cheaper to leave us all at home, and as long as we all keep faking it decently, the ledger sheets are going to rule the roost. I can't speak for everyone of course, and believe me, I'm happy to follow the rules as they're set, but in the words of the great Marvin Gaye, "ain't nothing like the real thing, baby."
Tell us about the podcast you host, "The Throwback League."  What is it about and why did you choose to start it?
I just really missed baseball, and especially when the pandemic had everything shut down, it seemed like a fun, creative project. Why not have a March Madness tournament of all the great World Series teams of the last 30-odd years, have the computer play it out, see what happens, then announce the games? What else did we all have to do, right? Besides, I'd always wondered what it was like for our predecessors to have done those re-creates off the old ticker tape feeds… that always fascinated me.
The Throwback League broadcasts still live as podcasts, so if anyone wants to hear whether or not the '86 Mets made it through, feel free to listen! Podcasting and content creation are terrific platforms, and I've really embraced them. Content is king, now and forever.
What is the most memorable broadcast you have ever done? Why was it so memorable? 
Can I lobby for a 20-way tie on this? I've been so fortunate to see and broadcast so many fun games and fun moments, but you know what I'll always remember? Way back when I was 21, my very first year as a full-time announcer, the Rochester Red Wings won the Governor's Cup in Columbus and to this day, thirty years later, it's still the only championship I've ever announced for a local team. The Mets fell short in the 2015 World Series… the Chargers always lost in some embarrassing way in the playoffs… UCLA has yet to win it all since I've been on the job… so that's the only time I got to make a call that resonate that loudly.
Even though it was for a minor league team, and even if it only told the story to a core of a few thousand fans instead of a million, I still get goose bumps thinking about Bob Geren flying out to center to end Game 5 at Cooper Stadium. Those moments are what it's all about; that's the horse you dream of saddling up and riding through the center of town.
Is there an event you'd love to do that you haven't?
Get me to England for Premier League soccer immediately! I'm a huge fan of European soccer but the only soccer I've ever announced is some indoor soccer in and some college soccer for FOX, and all of that feels like centuries ago. Oh my God, put me on the mic for my beloved Brighton&Hove Albion Seagulls against Man U just once and I'll have the biggest item on my bucket list crossed off.
What would be one or two pieces of advice you would give budding broadcasters, particularly now, with the prospect of play-by-play losing its traditional seat in a stadium booth?
Patience and persistence. Things probably aren't going to happen when you want them or how you want them, but be flexible, be patient, as be grateful that this medium exists for us.  I'm so glad to see some longstanding walls are disappearing and that this business is more and more open to minorities, to women, to anyone with passion.  It's a privilege to be the man or woman with the opportunity to connect the fans with a particular franchise, or the fans with a particular event.
If you can be persistent and maintain that passion… and do your best to get a little better every day, whether that means learning a new word, a new rule, a new story… you'll get to where you want to get. Even if you go on a wild, twisty road like I've done, it's still very much worth the journey.  I wish every aspiring broadcaster all good things, and if I can help in any small way, my email is JLewin47@yahoo.com.