Ted Leitner: One of a kind; Loved or hated, the longtime Padres' voice is a legend in San Diego
By any measure, time in grade, irreverence, television visibility, number of games voiced, breadth of on-air experience in a single market or plain unorthodoxy, Ted Leitner is at the top of the broadcast charts in one of America's most popular cities. For Leitner, this strange year, 2020, marks 41 seasons in the San Diego Padres' broadcast booth.
His longtime Padres broadcast partner, the late Jerry Coleman was beloved too. He was a war hero, had a brassy voice, was a Yankee Rookie of the Year and was best known for his malaprops. "It's hit deep to right, the outfielder is on the dead run. His head hits the wall and he picks it up in the warning track! Oh, doctor!" But Jerry stayed in his lane, had a hearty laugh and didn't veer far from the game. Coleman earned the Ford Frick Award from Baseball's Hall of Fame in 2005.
Leitner isn't Coleman. They were as opposite as New York and California, yet the two were good friends. Ted is outspoken but not testy. He's just different. You'd hear him for ten minutes and you'd know he's not your cookie cutter play-by-play announcer. He weaves game description into what sounds like an hours-long soliloquy of opinions, passion and heartfelt emotions. You might say that he's the city's preacher, who speaks of the teams he covers with avuncular pride. He's got a little Billy Graham in him and some Henny Youngman too.
Like many Easterners who migrate to California, Leitner traces his roots to New York. Once he was done with high school there, he left for the University of Oklahoma. Norman must have felt like culture shock but Ted had to like it. He didn't wander far to earn his graduate degree, hopping over to Stillwater where he earned his Masters at Oklahoma State. After broadcast stops in Eastern cities at the outset of his career, he wound up in San Diego in the late 1970s. But there's hardly a trace of his native New York that's redolent in his commanding timbre. His voice resonates and he is comfortable talking any subject.  
Give him a microphone and he's capable of yakking it up about any topic you raise. In his more than four decades in San Diego, he's hosted a political and news focused talk radio show too. You want to talk with him about the ups and downs of marriages, he's probably your man too. They call marriage, man's most optimistic undertaking. Well, Ted's tied knots four times and untied them four times too. Along the way, he's fathered seven children. 
At the ballpark, Leitner has seen it all, winning seasons, losing seasons, playoff games and plenty of ownership changes. He's had pies thrown in his face as part of a promotion when the Clippers were still in San Diego. He's also been the punchline for comedy skits. Leitner is one of these larger than life guys known for his outgoing personality and catch-phrases like "my Padres" and "ball going, ball gone!"
The man is busy year-round. After the baseball season, it's San Diego State Aztecs football and basketball. And it's always been that way. For 25 years he was a San Diego sports TV anchor where he gained fame in the marketplace. He also called Clippers games for a while before the team moved to Los Angeles and when the Chargers still called San Diego home, Leitner was their voice for a time too.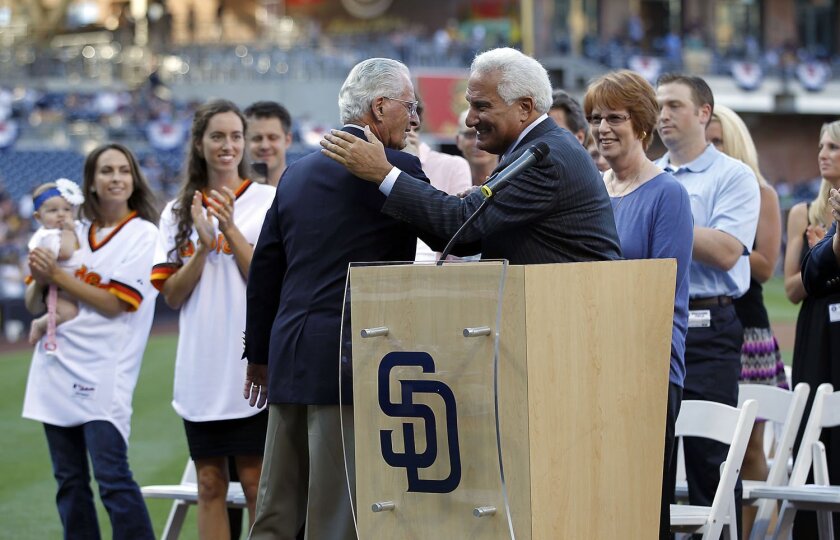 Despite the pandemic, Ted is having a blast with the year's Padres team, "This baseball season is heaven for the Padres and especially their fans. Even though they can't come to the ballpark you can feel the vibe throughout the community. The national media is saying they're the most fun team to watch… must see TV. The fans haven't been in a race since 2010. No playoffs since 2006. It's Christmas every day now in San Diego and our radio broadcast is a true gift for us," Leitner told us. (Leitner, right, with Jerry Coleman)
At 73, Leitner's not thinking retirement. He  went through a scare a couple years ago announcing publicly that he had cancer and left the Padres indefinitely. Before long, he went on social media to report that his tumor was benign and in short order, he was back where he wanted to be, the Padres booth.
We recently spoke with Ted about his colorful and vibrant career.
Ted, you're a native of the Bronx and got your inspiration for sportscasting growing up there and while working for the Yankees at age 16. After relocating and living in Southern California for decades, have you noticed any real differences between sports broadcasting, sports, or even fans between the two coasts?
I really think there's a slight difference between the coasts in terms of baseball fans. West Coast fans love their teams but I think the constant stadium noise level in New York, Philadelphia and Boston takes it to a more intense level throughout the regular season. Having witnessed the crowds and excitement for the Padres playoff and World Series games, I would match San Diego with any I've ever heard and seen. 
The Yankees, throughout your childhood, had some of the most famous baseball broadcasters of all- time. How influential were Mel Allen and Red Barber on your desire to become a broadcaster and your style on-air.
Mel Allen made me love baseball play by play and he was sooo good. In my first year with the Padres I hadn't settled on a home run call and in a game I used Mel's famous (and perfect) "Going, going, it is gone!" That clip showed up on This Week in Baseball which Mel narrated. He came out of that clip with "Ted, about that home run call. We need to talk." He made me love baseball on radio but I flat out just fell in love with radio growing up in New York, listening to disc jockey Dan Ingram on WABC, the most talented radio performer I've ever heard. Those two were huge influences. 
In a San Diego Tribune article, you talked about how important fans are for a broadcaster's success. How did you cultivate your relationship with the local fans, calling games for the Padres, San Diego State and other San Diego teams?
I first connected with San Diego sports fans doing nightly sports on TV news before I started Padres play-by-play on TV and radio. And it was difficult because I was doing a Howard Cosell style with a lot of ad lib commentary and opinion and being told, as Cosell often heard, that half the audience loves you and half hate you. Now when I added local play by play with Padres, Chargers and San Diego State football and basketball it was a fine line to walk, criticizing teams, players and ownerships on the nightly news, then doing their games the next day. Big time Excedrin headache! I went to a comedy club one night and a comic said, "Audience research in this market shows only two types of people. You either hate Ted Leitner or you ARE Ted Leitner." Nice. 
How do you maintain fan engagement and excitement during losing seasons?
I've personally never had a problem having "high energy" on any play-by-play performances regardless of winning and losing. A majority of my games through the years have not been with winning baseball teams but so what? It's the Major Leagues. Winning makes it easier and much more fun and exciting, but I just love the job itself so much. When it's then, like this season, it's as David Letterman says "The most fun you can have with your clothes on!" I broadcast a Chargers game in Kansas City on the final day of a 1-15 season, went to a commercial break, turned and said to my analyst, "God I really love this!" He looked at me and said, 'You're an idiot.'" I know fans like the broadcasters more when the team is winning and I've been lucky with that with San Diego State football and basketball. Like Vin Scully said, when asked who the best baseball play by play guy was, "I don't know but I'll bet he works for a winning team." Vinny lied.  HE was the best. EVER.
You said in a recent interview with the Tribune that you have been working with the Padres longer than the team owners. How has your job with the Padres and relationships with team management changed through the years? Were there ownership groups better to you than others?
I've been blessed with the Padres ownerships through my career. I started with McDonald's founder Ray Kroc. So help me, he would watch me on the TV news then call the club president and tell him to get rid of a player I might have criticized. The president, Ballard Smith, would call me and say, "I told you Ray likes you and believes you actually know something. Do me a favor-shut up!"
I had great friendships with Ray and his wife Joan who later inherited the club. I was closest to Joan than the other owners.  She was the godmother to my twin boys…..they have big coin from her trust fund.  I, on the other hand, have very little remaining after four marriages! I was  close with Tom Werner and John Moores and have a good relationship with the current owners Peter Seidler and Ron Fowler. Their group has spent whatever it takes to give the city a winner.
I've had friction with owners based on the TV news criticism as mentioned and also because I've been told I have a different style….more opinion, humor and stories than 'ball one, ball two.' You do baseball play by play differently and you'll be criticized by fans and owners alike. Just a fact. I worked Padres' broadcasts with Joe Garagiola and he told me it was so for him, getting comments like, "We don't want to hear your stories, just give the damn score." Way it is……. 
How has the movement of teams, Chargers to Los Angeles or Clippers to Los Angeles, impacted your career?
I did play by play at various times for the Clippers on TV and Chargers on radio. Them leaving San Diego clearly cost me work I would have liked to do again. But I feel worse for San Diego fans than me. Losing the NFL after 56 years was unbearable…..like a death in the family. And it's another reason that I love the shape of this Padres season for those fans that really deserve a winner.
You have signature phrases such as "My Padres," "Your Padres," and "Ball going, ball gone!." How did you come up with these catchy sayings and how did you get them to be such a big part of your identity?
I started on TV news saying "My Padres" when they won and "Your Padres when they lost." Kinda silly, but then everywhere I went people wanted to know, so they'd yell to me, "Hey Ted are they yours or mine today?" Really caught on. Clearly "ball going, ball gone" is my homage to Mel Allen derived from 'Going, going, gone. 'About three years ago I said after a huge home run, "That ball was carrrrushed!" Now I've added that before ball going…..I like that cause it's different and I've had good reactions to it from Padres fans.
What has been the most exciting sports moment that you have broadcast in your career? 
A moment I loved was when the Padres beat the Braves in Atlanta in game #6 of the '98 NLCS. Many calls in San Diego State football and basketball especially over the last 10 years in bowl games and March Madness. I've never thought about being the guy who did iconic moments elsewhere but you can't get better than Al Michaels' "Do you believe in miracles?" and my friend Jack Buck on Ozzie Smith's playoff home run against the Dodgers, "Go crazy folks, go crazy!" My theory? With those and dozens of others I don't think I would have done it as well and certainly not better than those guys who nailed it that day. 
Tell us a little about the famous pie-throwing promotion in 1979 when you were the target. It was a Knicks-Clippers game. What did it do for your career?
During my controversial TV news days, the Clippers asked if I'd be a sport and be the target for a pie throwing contest at halftime of a game with the Knicks. It was my first year in San Diego I said yes- I'm not that bright.
Neither were the Clippers. They didn't put a tarp on the side of the court where fans threw the pies at me. Ready to start the second half and there's pie all over the court. A 40 minute delay. The great Yankee voice John Sterling is doing the game back to New York* and he has to fill all this time while they're cleaning apple cherry merengue chocolate off the floor. He has reminded me of that night a few times. BUT I was new to the market and our station CEO was there that night and he said to me, "Hey all these 12,000 people knew you. They tell me when they call to complain that they don't like you and will never watch again. But obviously they're still watching!" Like, on a much grander scale, the Howards, Cosell and Stern. It was a big boost after that from my TV/radio management to "Go out there and do commentary give your opinions and make 'em watch us." It was a lucky bolt at the end of my first contract at a time they were wondering if I was the right guy for the job. Bless you Clipper fans…..
**
Wire-service story of the night that the pie-throwing contest starring Ted Leitner made national news -12.20.1979. This ran in the NY Times on 12.21.1979:
SAN DIEGO, Dec. 20 (AP) — Lloyd Free scored 32 points and Swen Nater had 29 points and 17 rebounds, leading the San Diego Clippers to a 128‐118 victory tonight over the New York Knicks in a National Basketball Association game delayed 50 minutes because of pie‐throwing promotion at halftime.
The promotion was called "Throw pie at Ted Leitner," and the delay was caused by the lengthy cleanup needed after a group of local sports celebrities and 50 fans chosen from the stands threw pies at the San Diego television sports personality.
The 60 cream pies made a mess of the playing surface underneath one of the baskets.
The New York coach, Red Holzman, filed an official protest because of the conditions. The announcement of the protest, shortly before the second half began, drew a cheer from the crowd of 6,843 at the San Diego Sports Arena.
"The referees feel that they have to try to play," said Holzman, in response to a question about a possible forfeit. "I've never seen anything like this before. It's not my responsibility, I didn't throw those pies."
The Clippers led at halftime, C‐58. The second half began more than an hour after the first half ended.
The Knicks' last lead was at 102‐101, with eight minutes to go, but Nater, a center, scored to put the Clippers ahead to stay and Freeman Williams. helped San Diego to keep its advantage down the stretch.
Joe Bryant added 19 points for the Clippers. Brian Taylor and Williams. both guards, had 17 and 15 points, respectively, for San Diego.
Bill Cartwright led the Knicks with career‐high 37 points. Toby Knight added 15 points for New York while Michael Ray Richardson and Mike Glenn had 14 points apiece.
Editor's note:
*John Sterling was a New York broadcaster then and I'm sure he's reminded Ted of the pie-throwing occasion because it was news in New York. My recollection is that Marv Albert did the game on WNEW Radio. The game was not televised back to New York.