Baseball's All-Star Game reaches its lowest TV rating ever; From a 26.8 in 1980 to a 4.5 Tuesday; Here's why:
What has happened? Why have television ratings for

baseball's All-Star Game

suffered such a terrible drop in audience through the years? 

Ratings have taken a dive, one of a terrible magnitude. (numbers from the Baseball Almanac). The big leagues have lost its swagger.
In the old days, most players had to work each winter to feed their families.
Announcers themselves are now tired. John Sterling, 84, might have caught a nap one-doubleheader day, insisting in his 80s, on doing two full games. I can recall when Howard Cosell did Mets' pre and post game shows on WABC Radio in 1962 and '63. He rocked Manager Casey Stengel for actually snoozing in the dugout. The Ol' Professor was already in his 70s. If it were the digital age already, owner Joan Payson would have had to fire him. Social media would have made a subject of it.
There have been tricks including two ASGs in one season, (1959-62). Both scheduled for the daytime, The men who presided over the broadcasts were Mel Allen, Curt Gowdy, Vin Scully, Russ Hodges and Joe Garagiola.
Outfielders keep their gloves on the field between innings through 1954.
In the 20th century, we had our first president who was a bigger basketball fan than baseball, Barak Obama.
The game is now unrecognizable. Relief pitchers start and starters close. The whole thing sounds like a misnomer.
The seeds of cable in the early 80s weakened the 

command of the

over-the-air networks. The legacy of the then dominant telecasts are now, no more than just a memory of the past. America has became a speedier nation. Football now rules the roost in sports. John Madden made the game one of competition and entertainment on TV. The NBA introduced Julius Erving, Kareem, Bird, Magic and then a fellow named Jordan. Meanwhile, baseball continues to flutter.
Then there were the labor stoppages and in the 90s and a World Series cancellation.
Fewer Black players. Younger athletes turned to football and basketball.
Cruel are the games that take forever. Oh, and for $25 you'll get a bag of popcorn and a paper cup of Coke, filled mostly with ice.
More talk of analytics and fewer profiles of foreign ballplayers, about whom, we know little.
Slow Joe Davis makes many yawn. His debut on Tuesday night hardly sparkled Another one who sounds like he's presiding over a soporific.
The World Series is conventionally slipping into November.
In 2002, the All-Star Game ended in a tied game as declared

 

by Commissioner Bud Selig

  because arms for both clubs were fading. So the game was ended  after 11 innings.
You can bitch and moan but as long as the ballplayers make the big bucks, the grass will be lush and the cash still green.
If the money continues to flood its way through the pipeline of advertisers. the networks, teams and leagues will collect every last penny.
In Seattle next summer, will the ASG break the low barrier, and be blown out of town? A rating below a 1.0? I doubt it.
Loyalty to a hosting All-Star city? Not sure. What ever came of Atlanta? Lots of hilly downtown but no magnificent mountains. Why was it moved to Denver? No answers. A rush to political judgment?
How did baseball get into this mess? Adults 18-49 is the age cell that advertisers covet most. They earn the most and reach 

deeper

into their pockets to consume, more than any other cells.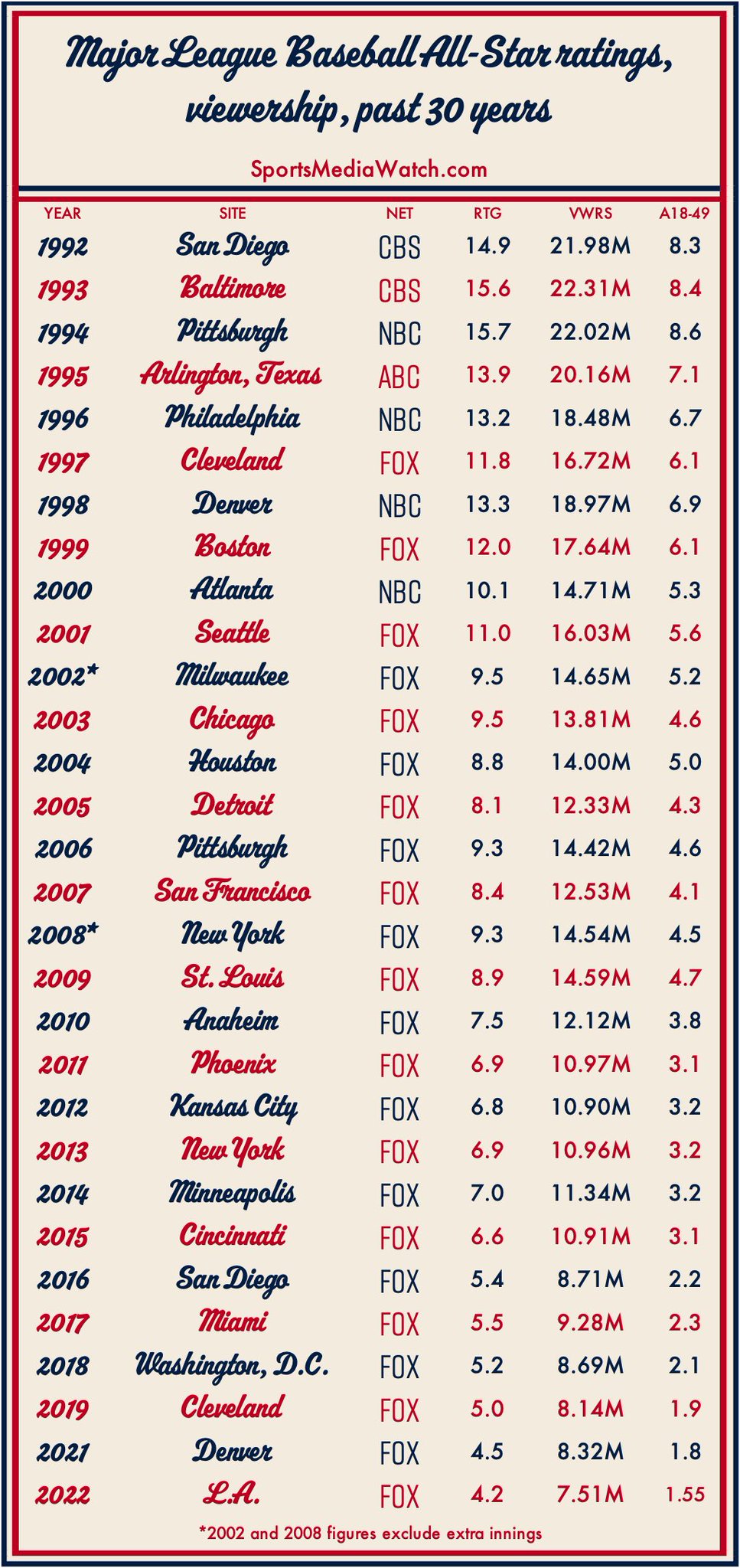 1967-NBC-25.6-50-14,050,000-Not Available
1968-NBC-25.8-49-14,450,000-Not Available
1969-NBC-15.1-42-8,610,000-Not Available
1970-NBC-28.5-54-16,670,000-Not Available
1971-NBC-27.0-50-16,230,000-Not Available
1972-NBC-22.9-43-14,220,000-26,300,000
1973-NBC-23.8-45-15,420,000-27,600,000
1974-NBC-23.4-44-15,490,000-Not Available
1975-NBC-21.5-41-14,730,000-28,170,000
1976-ABC-27.1-53-18,680,000-36,330,000
1977-NBC-24.5-45-17,440,000-31,000,000
1978-ABC-26.1-47-19,030,000-35,529,000
1979-NBC-24.4-45-18,180,000-31,980,000
1980-ABC-26.8-46-20,450,000-36,270,000
1981-NBC-20.1-36-15,640,000-Not Available
1982-ABC-25.0-44-20,380,000-34,120,000
1983-NBC-21.5-39-17,910,000-27,190,000
1984-ABC-20.1-35-16,840,000-28,500,000
1985-NBC-20.5-36-17,400,000-28,210,000
1986-ABC-20.3-35-17,440,000-28,375,000
1987-NBC-18.2-37-15,910,000-24,295,000
1988-ABC-20.4-33-18,070,000-29,526,000
1989-NBC-18.2-33-16,450,000-25,840,000
1990-CBS-16.2-33-14,940,000-24,365,000
1991-CBS-17.4-32-16,200,000-24,670,000
1992-CBS-14.9-27-13,720,000-21,981,000
1993-CBS-15.6-28-14,550,000-22,306,000
1994-NBC-15.7-28-14,790,000-22,015,000
1995-ABC-13.9-25-13,260,000-20,163,000
1996-NBC-13.2-23-12,690,000-18,479,000
1997-FOX-11.8-21-11,420,000-16,723,000
1998-NBC-13.3-25-13,026,000-18,970,000
1999-FOX-12.0-22-11,890,000-17,640,000
2000-NBC-10.1-18-10,167,000-14,714,000
2001-FOX-11.0-19-11,198,000-16,029,000
2002-FOX-9.5-17-10,046,000-14,653,000
2003-FOX-9.5-17-10,156,000-13,810,000
2004-FOX-8.8-15-9,573,000-13,995,000
2005-FOX-8.1-14-8,884,000-12,330,000
2006-FOX-9.3-16-10,301,000-14,424,000
2007-FOX-8.4-15-9,343,000-12,530,000
2008-FOX-9.3-16-10,441,000-14,540,000
2009-FOX-8.9-15-10,754,230-14,610,000
2010-FOX-7.5-13-8,692,500-12,100,000
2011-FOX-6.9-12-7,712,000-11,000,000
2012-FOX-6.8-12-6,743,724-10,900,000
2013-FOX-6.9-12-7,511,000-11,000,000
2014-FOX-7.0-13-10,123,000-11,340,000
2015-FOX-6.6-12-9,127,000-10,900,000
2016-FOX-5.4-10-5,981,000-8,707,000
2017-FOX-5.5-11-7,312,000-9,280,000
2018-FOX-5.2-9-6,440,000-8,690,000
2019-FOX-5.0-11-5,930,000-8,162,000
2020-n/a-n/a-n/a-Cancelled-COVID-19
2021-FOX-4.5-11-6,358,000-8,237,000
2022-FOX- 4.2 -(what we have now)