The early plight of women to cover sports was widespread: Getting equal access has been a long battle
Gender equality in sports media: Courageous acts from Visser, Ludtke, Elliott and others helped pave the way for reporters who followed.
The job of working on the beat as a sports journalist is no easy task. Scheduling and conducting interviews and getting the necessary quotes are just a few of the challenges.
Now, imagine trying to get these basics done while facing a spate of obstacles because of gender bias. That was the life of a female journalist in the 1970s.
On June 23, 1972, President Richard Nixon passed Title IX of the Education Amendments prohibiting gender discrimination in any educational program or any activity that received federal financial aid. At the time, the law seemed to be a game-changer for women in the workplace, particularly in the world of sports media. With no hurdles in sight, the doors opened for female sports journalists. Unfortunately, what followed were years of hostility and gender discrimination toward female sportswriters.
A major example that caught national attention occurred during the 1977 World Series between the Yankees and Dodgers. At the time, Melissa Ludtke was the only female covering baseball as a full-time reporter. Though she had a press pass, Ludtke was barred from entering the locker room by then Commissioner Bowie Kuhn. It didn't matter that Ludtke had press credentials, or that the Yankees granted her access to their locker room, the commissioner promulgated his power and that was it. Though the decision was a setback, Ludtke didn't allow Kuhn's ruling to temper her career as a journalist.
In 1978, Ludtke filed a civil rights action against Kuhn and Major League Baseball (Barrett, 2016). The action sought to eliminate the Yankees and other franchises from enforcing a gender-based policy in the locker room (Barrett). Ludtke's legal team claimed that baseball's policy violated the 14th Amendment as well as Ludtke's fundamental right to pursue a career under the equal protection and due process clauses (Barrett).
The court ruled in favor of Ludtke in 1978, stating MLB's actions violated the 14th Amendment. In a David v. Goliath case, Ludtke came away victorious, but that didn't mean that gender discrimination in the workplace vanished.
Leslie Visser was the first female beat writer in the NFL. She covered the New England Patriots. Though Ludtke's court case had been decided, Visser stated last July 21st in a Boston Globe article that she experienced discrimination and wasn't allowed into locker rooms up until the early 1980s.
"The locker rooms were closed until the early 1980s, which meant that in rain or snow, I'd have to wait in parking lots after games to interview players," Visser said. "This proved difficult on many levels. If I asked Steve Grogan to stop and talk, I'd miss Terry Bradshaw getting on the bus. If a player was exhausted, he'd hurry to his car. I didn't want to tell the Globe about this juggling act, in case they said a woman couldn't do it, and I didn't want to complain to the Patriots, in case they might agree."
Along with the battle of being permitted into the locker room, Visser (l) also faced challenges while inside the press box. With no room for distractions, Visser was forced to navigate sexist hurdles while on assignment.
"The credentials I wore, with no irony, said, 'No Women or Children in the Press Box,' Visser said. "Without a ladies room in said press box, I'd have to take the elevator down and sprint across the field like Usain Bolt to find the public restroom and try to get back before the Patriots punted."
Though Visser encountered discrimination, that hindrance didn't stop her from becoming one of the country's most distinguished sports reporters. Visser's knowledge and passion led her to a prominent career with CBS and she collected a multitude of awards along the way. Lesley became the first woman to cover the NBA Finals, Final Four, Super Bowl and World Series. For her work, Visser won the coveted Pete Rozelle Radio and Television Award from the Pro Football Hall of Fame, becoming the first woman to earn the honor.  By the women who followed and most others in sports today, she is viewed with great esteem and considered a pioneer for women pursuing careers in sports media.
As for today, Visser had high praise for ESPN's Maria Taylor: "It's a sign of the times that nearly everyone, male and female, rose up in support of Maria Taylor, an extremely accomplished sports journalist, who, like everyone else, quickly turned the page." Taylor, 33, was quite outspoken this summer about racism in this country.
Another influential sportswriter who dealt with gender discrimination is Los Angeles Times' columnist Helene Elliott (l). She started with the Chicago Sun-Times and remained there until 1989. Helene then moved to the Los Angeles Times for which she still writes. Through the years, like Visser, Elliott was forced to overcome the hardships of discrimination.
The hurdles notwithstanding, Elliott has worked in the industry for over 40 years, in which times she's collected a series of accolades. In 2005, the scribe was awarded the Hockey Hall of Fame Elmer Ferguson Award, emblematic of writers who have brought "honor to journalism and hockey."
When I asked her how she was able to break through the wall of gender inequality, she credited her success to hard work and keeping an open mind. "It wasn't easy, because at that time some teams didn't admit female reporters into their locker rooms and I was often at the mercy of a public relations person bringing an athlete out of the locker room to talk to me, but I was determined to prove I could do the job."
Elliott, Visser and Ludtke are influential figures in the early movement of women sports journalists and their growth of in sports media. The persistence of the three has helped facilitate a more inclusive hiring process for the ladies who have followed.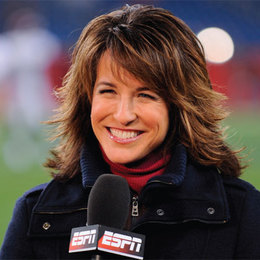 ESPN's longtime Monday Night Countdown host Suzy Kolber (l) is yet another example of a woman who has had a brilliant career.  A University of Miami alum, Kolber moved to WPEC-TV in West Palm Beach where she beat out a man for the job. With gender discrimination in the industry decreasing during the late 1980s and early '90s, Kolber was able to demonstrate her love for sports. She credits that passion for helping her nail the job during the competitive interview process.
"In my soul I loved sports and I loved being around it and I think that quality came through," Kolber said. "There weren't very many women on the air. It came down to another guy and me in West Palm Beach. I was serious about sports. And my love helped my progression through the grace of becoming a successful reporter."
In Palm Beach, a winter playground for many northerners, Kolber was noticed by corporate bigwigs from the television networks. At that point, ESPN was about to launch ESPN2. She applied and was hired in 1993 to co-host the Deuce's new show Sportsnight. Since then, Kolber rose the ranks, now hosting Monday Night Countdown with colleagues who include Randy Moss and Steve Young. 
"I'm thankful for people like Lesley who paved the way," Kolber said. "I didn't face any sort of discrimination. In my experience, if you are professional and respectful, they will treat you the same way. It's not a pleasant place, especially a losing locker room, but I never came up against any walls inside the locker room."
NBC's Sunday Night Football reporter Michele Tafoya (l) also exemplifies how hard work can lead to prominence regardless of gender. Tafoya is excellent in both her communication skills and knowledge of the game. The only three-time winner of the emmy for "Outstanding Sports Personality-Sports Reporter," Tafoya didn't let gender bias be a roadblock on her pathway to success.
"Of course I faced the challenge of being looked at as less knowledgeable than my male counterparts. I didn't care. I entered the profession eyes-wide-open, knowing I was one of a very small number of female sports journalists," Tafoya said. "I viewed myself as a professional journalist, not a female sports journalist. I competed with everyone, not just with women. There was no reason to put a hurdle in my way."
In 2020, Tafoya enters her 10th season with Sunday Night Football. Tafoya believes that work ethic is first and foremost, a major key for women integrating themselves into the industry. Though she had never faced much discrimination in her time, Tafoya's vision for the future is to take 'identity politics' out of reporting.
"There are certainly more women in sports journalism now, so our presence is more normal." But progress comes when people stop thinking of us as female sports journalists, Tafoya said. "Progress is there when we all — including women — stop considering ourselves at a disadvantage. I would encourage everyone — men and women — to consider each other as individual people."
Though Kolber and Tafoya are two models of success, there is still progress to be made. Sexism still exists for females in sports media and one glaring issue is social media.
More often than not, women are the primary targets of critical tweets when reporting during the game. In a 2019 article in Quartz, female reporters opened up about the hostile tweets aimed at them.
"I still get tweets to go back in the kitchen," Tina Cervasio, a sports reporter for Fox's New York affiliate, told Quartz. "They're worried about the color of hair and how a woman looks. … If I was as fat and bald as [some male sportscasters], I would not have that job."
NFL Network's Kim Jones also added, "I've gotten tweets that the only reason I have a job is because of my looks; I've also gotten plenty more tweets that, you know, I'm an unattractive reporter who shouldn't be on television."
Without brilliant journalists like Elliott, Kolber, Ludtke, Tafoya Visser and others, the hurdle of gender inequality in sports journalism would still stand tall. These folks are among the prime examples of women who have excelled when given the opportunity.