The final resting places of heavenly and beloved sports voices: Allen, Gowdy, Harwell, Caray and others
Editor's note:
A longtime buddy of mine, Vince Gardino, and his brother Robert, often toured gravesites of war heroes, movie stars, renowned athletes, great musicians and politicians. For years, they visited cemetery after cemetery, particularly on the East Coast. One of their missions, as they put it, "was to dispel the notion that cemeteries are dark and depressing places." It can serve as a way to relive history and trigger memories.
The Gardinos tracked down the grave of the somewhat obscure like Edwin Booth for instance, the brother of notorious Lincoln assassin, John Wilkes Booth. They viewed the burial spot of mega star, Lou Gehrig.
Last year, the Gardinos published a nugget-filled, unique paperback about their experiences, Grave Trippers, History at our Feet. It was published by Camino Press and is available at Amazon.
When I thumbed through it, I found an interesting photo of Harry Kalas' tombstone. It's shaped like a microphone. So I thought to myself, let's capture photos of gravesites of popular and famous sports announcers. Robert did some digging and was assisted by the University of Wisconsin's Jason Shebilske. Together, they put together an interesting representation of the deceased broadcasters and their tombstones.
Well, not everyone was buried. Quite a few were cremated, broadcast pioneer Red Barber, Hall of Fame baseball voice Milo Hamiton, famed football and basketball play-by-player Marty Glickman, the Yankees' Phil Rizzuto and the baseball Giants' Lon Smmons. Chuck Thompson, forever the voice of the Orioles and Colts, was also cremated but has a memorial built in his honor in a suburban Baltimore park.
**
Mel Allen – Yankees
He was the undisputed Voice Of The Yankees from 1940 to 1964 excluding the three years he served in the army during WWII. With a very recognizable and distinct voice, Allen developed famous catchphrases such as "How About That!" and "That Ball, is going, going, gone!" Allen passed away in 1996 and is buried in Temple Beth El Cemetery in Stamford, Connecticut. He is also honored with a monument plaque in Yankee Stadium.
Allen also dominated network television sports in the 1950s, calling multiple World Series and Rose Bowls. After he left the Yankees, he recaptured his national broadcast identity in the 70s and 80s, narrating the popular, "This Week in Baseball."
Harry Caray – Cubs – Cardinals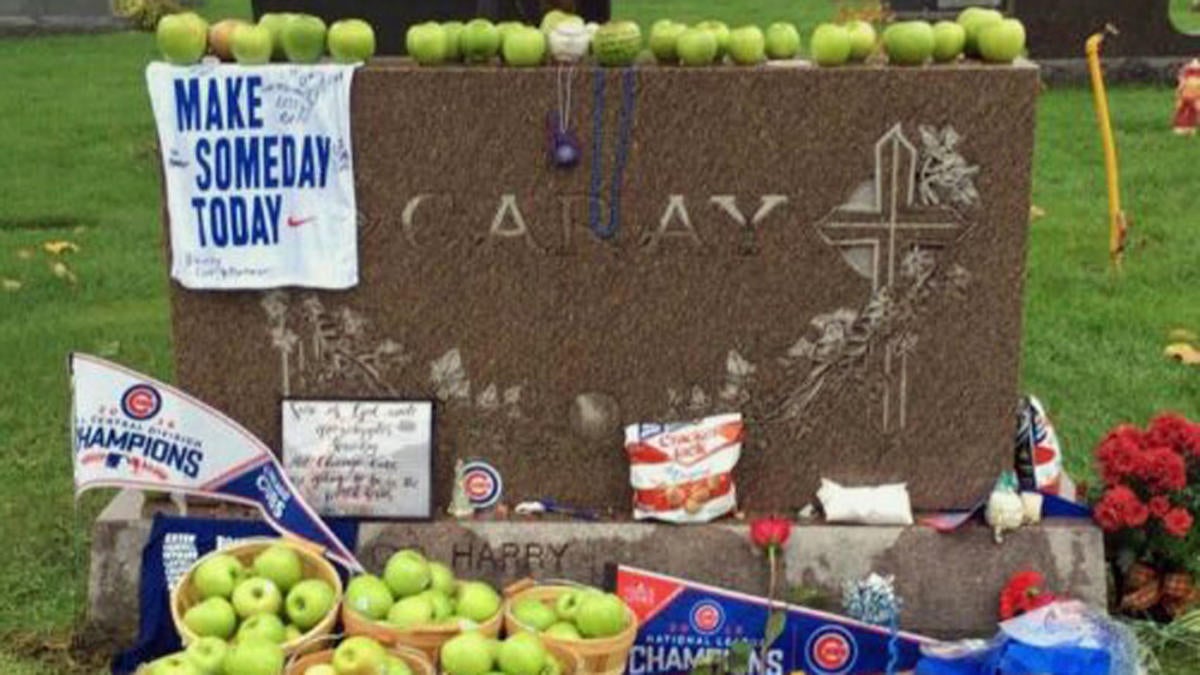 The emotion, the dedication, the love of the game and the bond he developed with fans first in St. Louis then in Chicago made Harry one of the all-time great baseball announcers. For that matter, historian Curt Smith puts him in the top five of all-time baseball voices. Harry sold beer for his sponsor Anheuser Busch as no one could, with cogently voiced reads. He worked both television and radio and his enthusiasm never waned on either medium
I think the fans loved him!
Howard Cosell – ABC Monday Night Football/Boxing
He once described himself as, "arrogant, pompous, vain, verbose, a show-off." Howard Cosell was network sports' first indomitable personality, the father of sports broadcast journalism.
In the 1960's, sports broadcasting was made up of a small body of anchors, play-by-play announcers and analysts. "I am a journalist," Cosell declared, differentiating himself from his otherwise deferential and conciliatory peers. And so he would proceed to harangue, decry and pontificate, all in the interest of telling it like it is.
Cosell died a lonely man, a star who missed the limelight. But unquestionably, Howard was network TV's first personality.
Curt Gowdy – NBC – Boston Red Sox
If one word best describes Curt Gowdy's sportscasting career it's ubiquitous. From MLB, to the NFL, the Rose Bowl, the NCAA Tournament, the NBA, the Olympics, and finally to hosting a popular weekly TV program titled "The American Sportsman." Curt Gowdy was hard to avoid. In fact he was nicknamed "The Broadcaster Of Everything."
Locally, he worked under Mel Allen in New York in 1949 and '50, calling Yankees games. Like Allen, Gowdy had a  distinct speaking voice, which could have been described as mildly hoarse. In 1951, he moved to Boston where he would remain for 15 years broadcasting for the Red Sox. In New England, Gowdy is still considered an icon.
Ernie Harwell – Tigers
A broadcaster in the booth and benevolent in the community, Harwell is remembered for what he said, did and how he made so many feel. Labeling this dulcet toned talent an understated Georgian or a play-by-play man extraordinaire would be like cataloging Sully Sullenberger a superb pilot. Of his 55 years as a big-league announcer, Ernie spent 42 with the Tigers.
His bond with baseball fans, fervent or passing, was unbreakable. From the wards of Detroit to the northern hamlets in the Upper Peninsula. game time meant Ernie time. Season after season his welcoming voice washed over Michiganders reassuringly.
Chick Hearn – Lakers
Chick began broadcasting NBA games when the Lakers arrived in Los Angeles from Minneapolis in 1960. He called the games devotedly and passionately for 41 seasons. His streak of unmissed games in 36 years (1965-2001) underscores his commitment to a franchise which he loved. Hearn talked at lightning speed, never missed a dribble and shared humorous anecdotes as the game bopped along. His TV/radio simulcast turned into a Vaudeville Act. He was unique and enormously popular. How popular was Chick? His funeral mass was carried live on television.
Harry Kalas – Phillies
Harry Kalas' grave site at Laurel Hill Cemetery in Philadelphia grabbed our attention. For close to 40 years (1971-2009), Harry Kalas was an extremely popular announcer for the Phillies.
Kalas' flamboyant grave is situated on a scenic bluff above the Schuylkill river overlooking his beloved Philadelphia. The gravestone is eight feet tall and it's in the shape of a microphone with the base shaped like home plate. The grave is surrounded by four actual baseball park seats, taken from the demolished Veteran Stadium. The seats allow visitors to sit, pay their respects, and enjoy the view. He called 6 no-hitters, 6 NLCS'  and 3 World Series. Kalas' distinct baritone rose for the occasion, when a play got exciting. His signature home run call of "Outta Here" became part of his legend. In addition, for years, Kalas was Voice of NFL Films. (The Gardinos, Vince, left, and Robert, right at Kalas' grave.)
Dan Kelly – Blues – CBS TV
Dan Kelly's reputation exploded in his very first season in St. Louis, 1968-69, calling Blues games on powerhouse KMOX Radio. Unfortunately, Kelly died way too young at age 52 in 1989 and didn't get to witness the Blues' Stanley Cup last year, the club's first. His son John is now the Blues' TV voice. 
When hockey on network television began to develop some persona in the early 1970s, Dan was the cynosure in the booth. He modulated his gripping baritone in lockstep with the frenetic action. He paused perfectly, rhythmically paralleling the game's drama. At left are John and members of the Kelly family photographed with the Stanley Cup at Dan Kelly's grave after the Blues won it last season. A great tribute.
Johnny Most – Celtics
Johnny became the Voice of the Celtics in 1953. He turned into an icon and the soundtrack of so many Celtics' championships. The joy in his voice when Boston won was genuine. He rooted hard on-air. From his perspective, the Celtics never committed a foul, ever! In time, he became a caricature of himself. Most, a heavy smoker, had a palpable and inimitable rasp. He's a legend in Boston. "Havlicek stole the ball!"
Most, Bronx born, voiced Celts' games for 37 years.
Chuck Thompson – Orioles
For five decades, Thompson dominated Baltimore baseball coverage. Cal Ripken said it best: "When the Orioles were doing some great things on the field, the excitement and familiarity of his voice just made it that much better. When I hear his voice now, I'm just flooded with memories."
Thompson also did Colts' games on radio for years, covering Johnny Unitas and standout Colts' teams. He also did the "Greatest Game Ever," the 1958 NFL championship, won by the Colts over the Giants at Yankee Stadium. It was the first NFL game ever decided in overtime. Thompson did it on NBC TV.
The durable Ripken couldn't have put it better, "He'll forever be associated in my mind with what was right with the Orioles."
Thompson was cremated and had his ashes mixed into mortar for an outdoor fireplace in the Hunt Valley Town Center common area.