The Mount Rushmore of sports public relations; They found writers angles and made press row laugh
Back in the day, they were called PR flacks. Sometimes they were referred to as tub thumpers and occasionally they answered to publicists.
But they all had one thing in common – they promoted their clients' interests with imagination, creativity, pleasant persistence and personality. Their minds were always at work.
Joey Goldstein was one of the best. He promoted basketball for Madison Square Garden in the early 1950s, yet is best remembered for his humorous and innovative work around New York racetracks.
Times were different then. The news cycle was slower. There were dozens of sportswriters representing a city brimming with daily newspapers, all looking for angles. Goldstein had their backs. He delivered unique stories cleverly.
In the spring of 1959, a star trotter in France named Jamin was invited to take part in the first International Trot at Roosevelt Raceway on Long Island. Goldstein (l) was the track's Public Relations Director.
The trotter was hooked on artichokes so 154 pounds of the stuff was shipped from France to New York's Idlewild Airport (now JFK). But the Department of Agriculture confiscated the shipment when it arrived and then the goods couldn't be found.
Goldstein stirred it up. He took out ads in the New York Times and the New York Herald Tribune that said, "French Trotter Needs Artichokes. Can You Help?" He gave the telephone number of Roosevelt Raceway.
"People from the Bronx who grew artichokes in their backyard brought them to the track," Goldstein told the New York Times' George Vecsey. In Goldstein's obituary in 2009, the Times noted that United Airlines got in the act too. It shipped in artichokes, "from Watsonville, the artichoke capital of America, Steinbeck country."
The artichokes invigorated the trotter, the Times wrote. "Jamin won the International Trot before more than 45,000 people in an era when Roosevelt and Yonkers Raceways drew large nighttime crowds."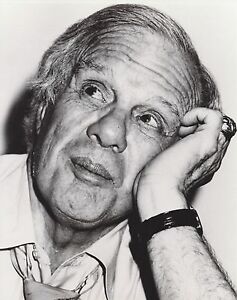 Enter Irving Rudd (l), another colorful character who refused to be called a PR man: "I'm not so fancy. I'm a press agent and proud of it." The Times described him a "Runyonesque character."
He started out promoting small fight clubs in Brooklyn and was then hired to promote the Brooklyn Dodgers.
When his beloved Dodgers moved to Los Angeles, Rudd did not move with them. He was hired by Yonkers Raceway, and he posted a large sign that read 'Yonkers Racewya.' The intentional misspelling generated reams of newspaper headlines and stories.
While in the fight promotion business, he got the IRS to use Marvelous Marvin Hagler and Thomas Hearns to do a TV commercial, one that urged citizens to file their tax returns. That got a laugh from the gamblers and bookies, but it was great PR for Hagler and Hearns, who should have been hired by H&R Block.
Allen Jerome Finkelson (l)– my Godfather – was another in the line of hucksters. He got his start at Monticello Raceway in Upstate New York and delivered with elephant races. And, who could forget his Ben-Hur Restricted Pace for Jewish drivers? On Valentine's Day Finkelson had a race for women drivers, and on Soul Night, Monticello hosted a race for Afro-American drivers. "People are my business," Finkelson would say. His car tag said it too. It read 'PR Man.'
But you can add another to the list of Mt. Rushmore PR men – Jay Horwitz.
His new book – Mr. Met – chronicles his 40 years as the PR maestro for the New York Mets—as well as his press days as sports publicist at New York University and Fairleigh Dickinson University. Mr. Met, with a foreword by Jacob deGrom was published by Triumph Books.
Jay had the knack of finding the off-beat, sometimes wacky stories that gained attention. At FDU, he was blessed with a cross-country runner, Larry Manieri, who enrolled at 5′ 5″ and actually shrank to 5′ 4″. Leave it to Jay. He found a 43-year-old freshman football player, a one-armed fencer and the priest who played hockey. He got all of them ink!
His life has been fully dedicated to sports and the personalities engaged, both rich and poor. Jay Horwitz is atop the four figurative PR legends of Mt. Rushmore.
Excuse me – Press agents. Sorry I. Rudd.
###
There are others, too many to spell out fully. Who can forget Beano Cook, the father of ESPN's College Game Day. The show was urged at Beano's urging. Yes, the ESPN show that travels from site to site every Saturday and features Lee Corso donning the helmet of the team he predicts will win the featured game.
For years the PR Director at ABC Sports was Donn Bernstein who passed last year. He grew through the college ranks to the network. One night, he was out to dinner with announcer Jim Lampley and company when according to Jim Perry, USC's former Sports Information Director, he ordered Tia Maria, an after drink, which came in a tiny glass. Perry said, "Bernstein was outraged."
"What is this?" Donn demanded of the waitress. "That's a Tia Maria, sir," she answered. "Really!" he shouted. "It looks like an ant specimen!"
The NBA's first publicity man was the legendary Haskell Cohen (l). During the league's first 19 years, the NBA couldn't afford a fulltime PR man so the job was outsourced to Cohen. In 1951, five years after the league was born, Haskell put together the first NBA All-Star Game.
**
We've enjoyed colorful baseball announcers too. Harry Caray, who'd call an occasional game from the bleachers bare chested, Phil Rizzuto broadcasting a game with string around the hems of his pants because someone told him that there was a mouse in the booth. The great Jack Buck presiding in the Cards' booth with his feet stuck in a bucket of ice water on a sweltering. How about the Pirates' voice Bob Prince who jumped from the third floor of the Chase Hotel in St. Louis into a swimming pool when dared to do so by Pirates third baseman Gene Freese.
What happened to these guys? We miss 'em.