The NFL moves onward with Week #11 of #18; Full regional schedule, Talent and more!
Bye-teams this weekend – The Jacksonville Jaguars, Miami Dolphins, Seattle Seahawks and Tampa Bay Buccaneers have bye weeks this upcoming weekend.
Masters of soporifics: CBS: Trent Green; semi-awake, Adam Archleta  – – – Masters of Soporifics: Fox: Daryl Johnston; semi-awake – Mark Schlereth
Excellent- but unfortunately buried too often is CBS' James Lofton. Fearless about lashing out when needed.
CBS has a doubleheader and Fox is single again this Sunday.
Last Monday Night in Philadelphia, the Eagles suffered their first loss of the

NFL

season. Washington knocked them out of the ranks of the season's unbeatens. When I saw Lisa Salters and Suzy Kolber collaborate, I said to myself that the duo were both born and raised in Philly. There they were, feeling proud, I'm sure to be back in town. 
Thursday, November 17
8:20 PM- Tennessee Titans at Green Bay Packers

(Amazon Prime)
AMZN: Al Michaels, Kirk Herbstreit, Kaylee Hartung
Westwood One: Kevin Kugler, Ben Leber 
Sunday, November 20
1 PM- Detroit Lions at New York Giants 

(

33% of country / 63 stations)
FOX: Kevin Burkhardt, Greg Olson, Erin Andrews, Tom Rinaldi
1 PM- Chicago Bears at Atlanta Falcons 

(22% of country / 55 stations)
FOX: 
Joe Davis, Daryl Johnston, Pam Oliver
1 PM- Los Angeles Rams at New Orleans Saints 

(8% of country / 19 stations)
FOX: Kenny Albert, Jonathan Vilma, Shannon Spake
1 PM- Carolina Panthers at Baltimore Ravens 

(11% of country / 24 stations)
FOX: Kevin Kugler, Mark Sanchez, Laura Okmin
Compass Media Radio: Chris Carrino, Brian Baldinger
1 PM- Washington Commanders at Houston Texans 

(9% of country / 19 stations)
FOX: Chris Myers, Robert Smith, Jennifer Hale (Myers underrated and versatile)
1 PM- Philadelphia Eagles at Indianapolis Colts 

(54% of country / 126 stations)
CBS: Ian Eagle, Charles Davis, Evan Washburn
ESPN Radio:
Steve Levy, Harry Douglas
1 PM- New York Jets at New England Patriots 

(39% of country / 86 stations)
CBS: Kevin Harlan, Trent Green, Melanie Collins
Sports USA: Larry Kahn, Dave McGinnis
1 PM- Cleveland Browns at Buffalo Bills 

(7 % of country / 28 stations)
BRUTAL SNOW FORCES THE MATCHUP TO DETROIT
CBS: Andrew Catalon, James Lofton, Amanda Renner
4:05 PM- Las Vegas Raiders at Denver Broncos 

(16% of country / 33 stations)
FOX: Adam Amin, Mark Schlereth, Kristina Pink
ESPN Radio: Mike Couzens, Kelly Stouffer
4:25 PM- Dallas Cowboys at Minnesota Vikings 

(90% of country / 215 stations
CBS: Jim Nantz, Tony Romo, Tracy Wolfson
Compass Media: Kevin Ray, Danny White
4:25 PM- Cincinnati Bengals at Pittsburgh Steelers 

(10% of country / 25 stations)
CBS: Greg Gumbel, Adam Archleta, AJ Ross
Sports USA: Josh Appel, Brandon Noble
8:20 PM- Kansas City Chiefs at Los Angeles Chargers 

(100% of country in prime)
NBC, Peacock: Mike Tirico, Cris Collinsworth, Melissa Stark
Westwood One:
Tom McCarthy, Ross Tucker
Monday, November 21
8:15 PM- San Francisco 49ers vs. Arizona Cardinals
ESPN: Joe Buck, Troy Aikman, Lisa Salters
Westwood One: Ryan Radtke, Mike Golic
CBS EARLY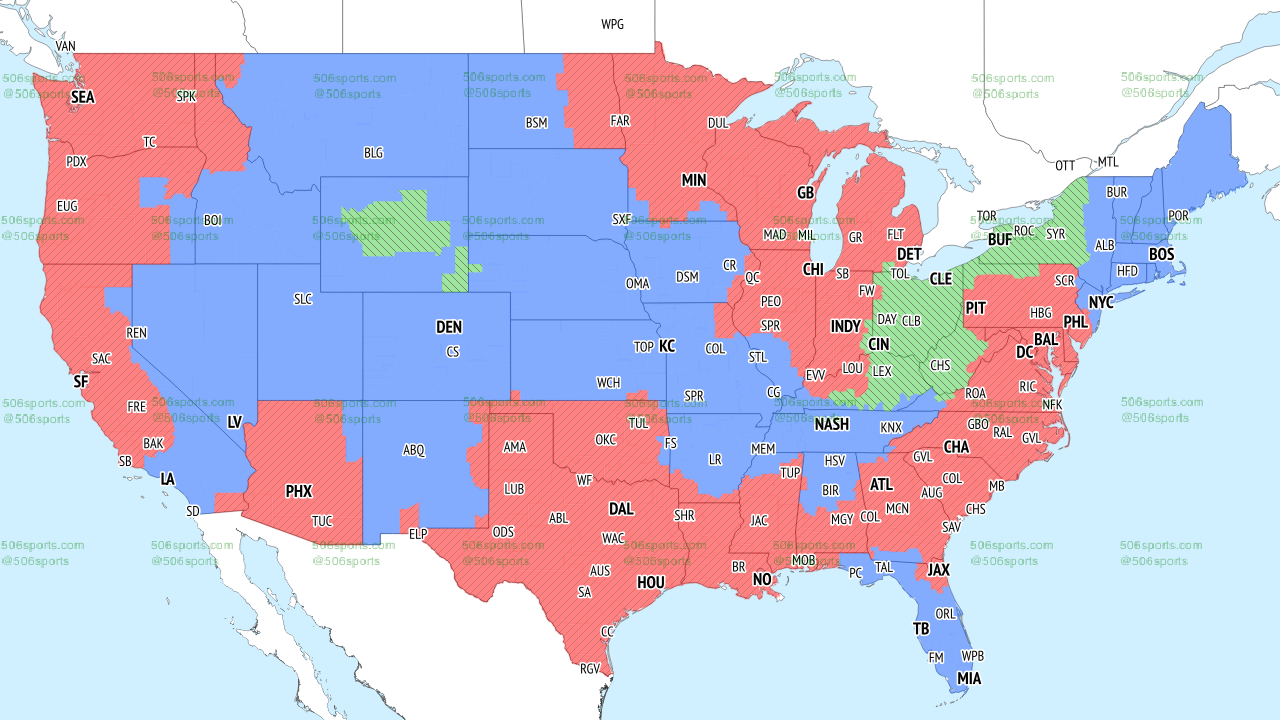 █ 
Philadelphia @ Indianapolis – Ian Eagle, Charles Davis
█ 
NY Jets @ New England – Kevin Harlan, Trent Green
█ 
Cleveland @ Buffalo – Andrew Catalon, James Lofton
---
CBS LATE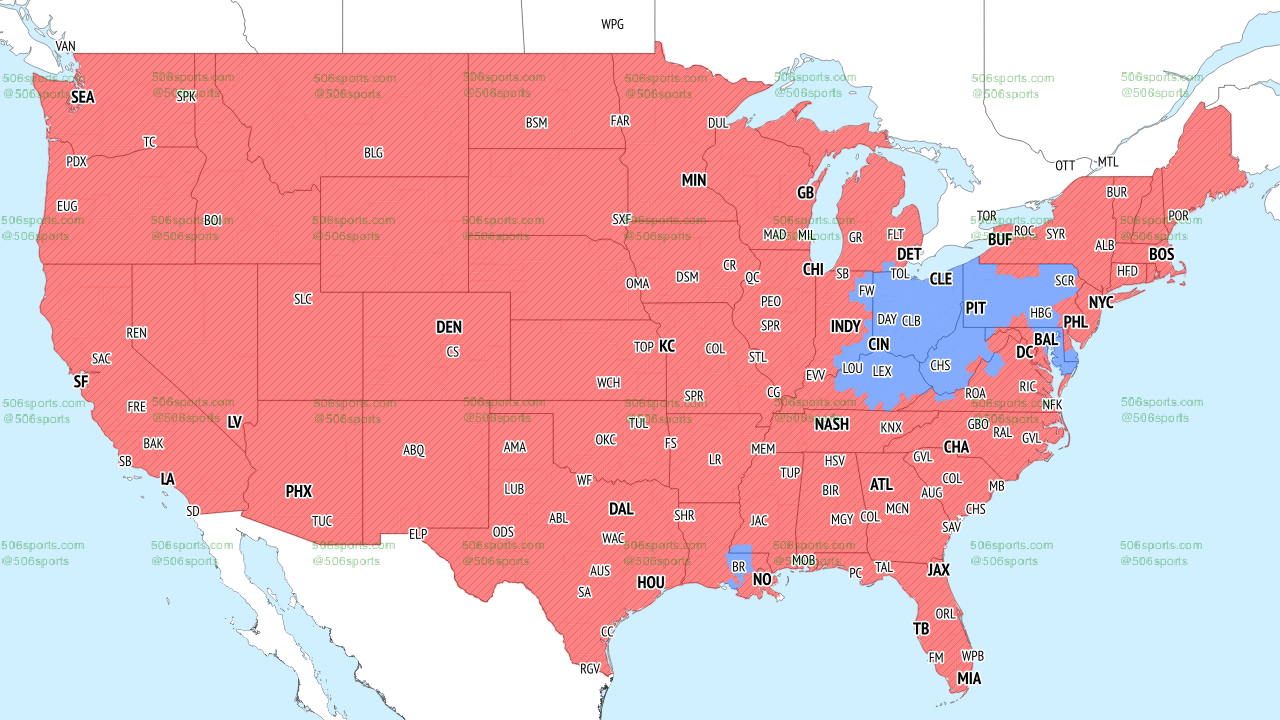 █
Dallas @ Minnesota –
Jim Nantz, Tony Romo
█ 
Cincinnati @ Pittsburgh – Greg Gumbel, Adam Archuleta
---
FOX SINGLE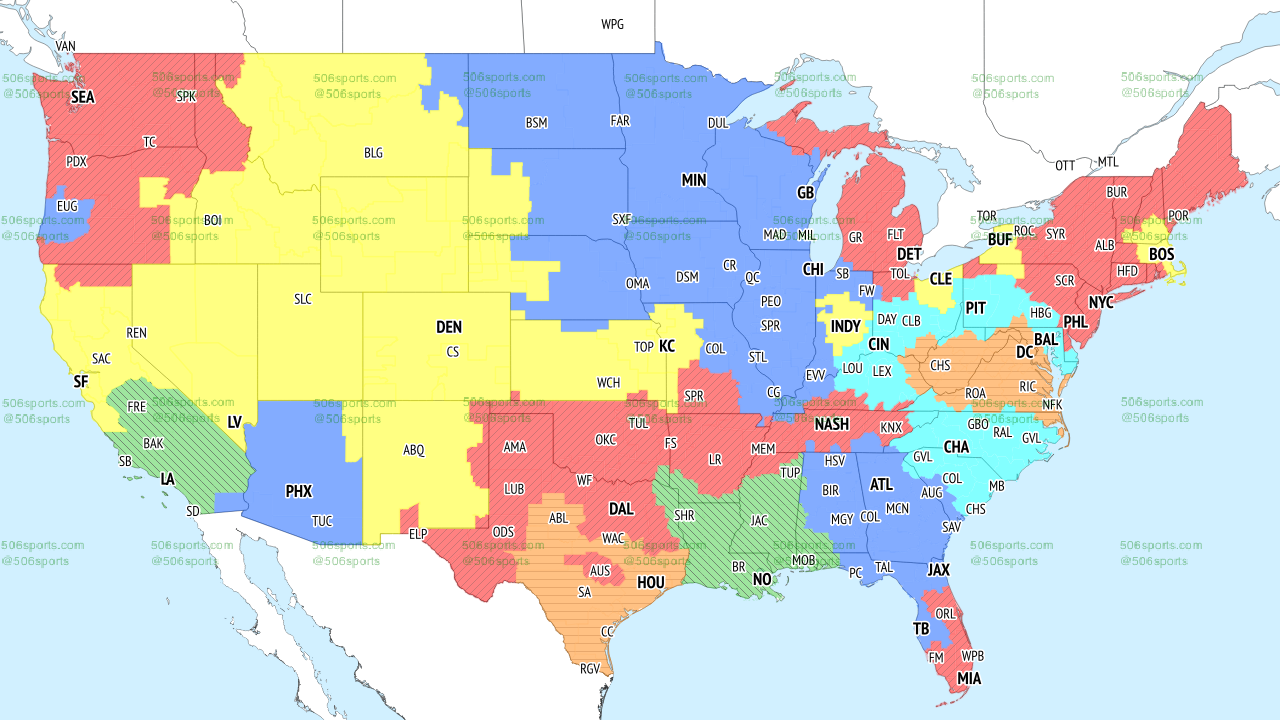 █ 
Detroit @ NY Giants – Kevin Burkhardt, Greg Olsen
█ 
Chicago @ Atlanta – Joe Davis, Daryl Johnston
█ 
LA Rams @ New Orleans – Kenny Albert, Jonathan Vilma
█ 
Washington @ Houston – Chris Myers, Robert Smith
█ 
Carolina @ Baltimore – Kevin Kugler, Mark Sanchez
█ 
Las Vegas @ Denver (Late afternoon wave) – Adam Amin, Mark Schlereth