This weekend America will be saturated with pro and college football, an everyday affair
A complicated weekend – A heavy NFL schedule over Thursday,  Saturday, Sunday and Monday. Lots of football.
Fox has the doubleheader, CBS goes single. The second game of the Fox twin-bill on Saturday is made of just one game. It's on Fox, Philadelphia at Dallas, 4:25 PM. A dandy!
Rich Eisen who excels on the stage as the face of the NFL Network calls a few late season games too. He gets better every season. His voice seams to thicken every season.
Howie Long is about as well prepared each week for his Fox studio work as I am for a moon shot. Goodness. Some folks are born lucky.
Judging on my own naked ear, partner Jonathan Vilma is

getting

Kenny Albert to l

oosen up a bit. The two now kid 

on-air

sufficiently where there's an entertainment value to the broadcast. It led to a funny episode when Vilma praised a person randomly, suggesting that Kenny invite this person to his home for Christmas Dinner. "I don't want to go there," meaning, I suppose, my guess, my Jewish brothers don't generally host Christmas dinners. The conversation ended immediately.
---
Saturday, December 24, 2022
NATIONAL BROADCASTS (These are a mix of subscribers 100% of country, except Amazon and ESPN – subscription)
Thursday Night: Jacksonville @ NY Jets (Amazon)
Al Michael and Kirk Herbstreit
Saturday 8:15 PM ET: Las Vegas @ Pittsburgh (NFLN)
Rich Eisen, Kurt Warner, Steve Mariucci, Michael Irvin also KTNV (ABC 13) Las Vegas; KDKA 2 (CBS) Pittsburgh
Sunday 1 PM ET: Green Bay @ Miami (FOX) (100%)
Joe Davis, Daryl Johnston
Sunday 4:30 PM ET: Denver @ LA Rams (CBS) (100%)
Jim Nantz, Tony Romo or Noah Eagle, Nate Burleson (on Nickelodeon)
Sunday Night 8:20 PM: Tampa Bay @ Arizona (NBC) (100%)
Mike Tirico, Cris Collinsworth
Monday Night: 8:15 PM:  LA Chargers @ Indianapolis (ESPN) (75 million subscribers)
Joe Buck, Troy Aikman, Lisa Salters and Suzy Kolber
---
CBS SINGLE – Saturday – 1pm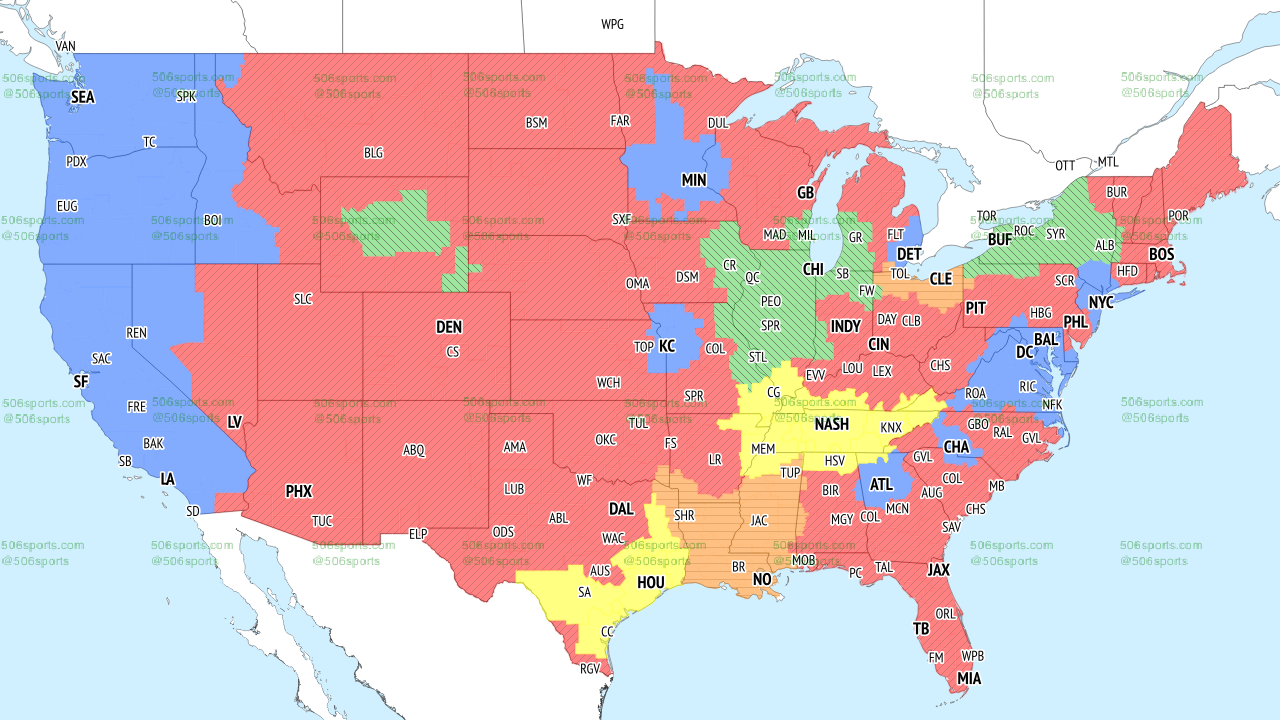 █
Cincinnati @ New England,
Ian Eagle, Charles Davis 

46%/137 stations
█
Buffalo @ Chicago, Greg Gumbel, Adam Archuleta 
27%/27 stations
█ 
Houston @ Tennessee, Andrew Catalon, James Lofton 
7%/17 stations
█ 
New Orleans @ Cleveland, Spero Dedes, Jay Feely 
4%/16 stations
█ 
Washington @ San Francisco (
LATE

-4:30 PM
), Kevin Harlan, Trent Green

34%/42 stations
---
FOX EARLY – Saturday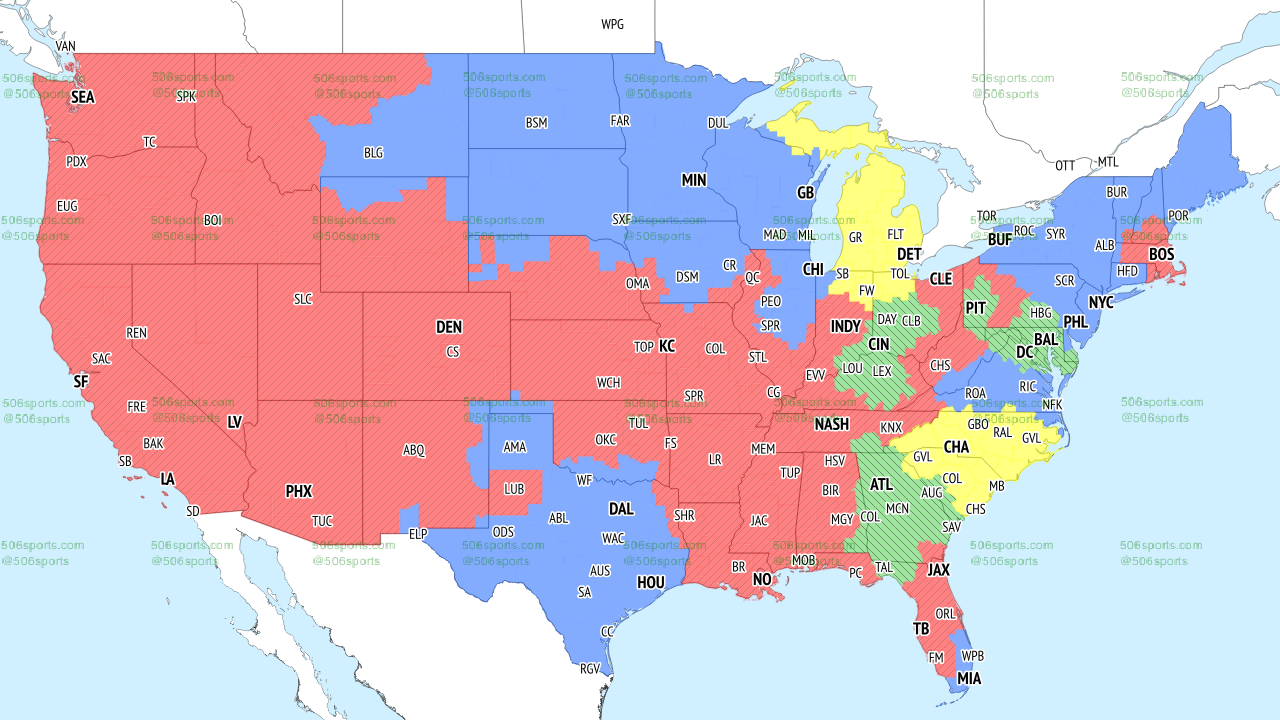 █ Seattle @ Kansas City, Kevin Kugler, Mark Sanchez 46%/137 stations 
█ NY Giants @ Minnesota, Adam Amin, Mark Schlereth 34%/64 stations
█ 
Atlanta @ Baltimore, Kenny Albert, Jonathan Vilma 
11%/20 stations
█ 
Detroit @ Carolina, Chris Myers, Robert Smith 
9%/20 stations
---
FOX – Saturday 
█ Philadelphia @ Dallas  (4:25 PM) – Kevin Burkhardt, Greg Olsen 100% of country
COLLEGE BALL – BOWL GAMES – NEXT WEEK
Thursday, December 22
7:30 PM– Armed Forces Bowl: Baylor vs. Air Force
ESPN: Brian Custer, Dustin Fox, Lauren Sisler 
Bowl Season Radio: Brian Estridge, Landry Burdine, Chris Mycoskie
Friday, December 23
3 PM– Independence Bowl: Baylor vs. Air Force
ESPN: Dave Neal, Deuce McAllister, Harry Lyles Jr. 
Bowl Season Radio: Brian Estridge, Justin Fuente, David Beaudin
6:30 PM– Gasparilla Bowl: Wake Forest vs. Missouri
ESPN: Chris Cotter, Mark Herzlich, Lericia Harris 
Bowl Season Radio: Bill Roth, John Denton, Breanna Sorensen 
Saturday, December 24
8 PM- Hawaii Bowl: San Diego State vs. Middle Tennessee
ESPN: Mike Monaco, Rod Gilmore, Quint Kessenich 
ESPN Radio: Kevin Winter, Jack Ford
Monday, December 26
2:30 PM– Quick Lane Bowl: Bowling Green vs. New Mexico State
ESPN: John Schriffen, Rene Ingoglia, Tera Talmadge
Bowl Season Radio: Kyle Wiggs, John Denton, Adam Jaksa
Tuesday, December 27
Noon– Cameilla Bowl: Georgia Southern vs. Buffalo
ESPN: Drew Carter, Aaron Murray, Lauren Sisler 
Bowl Season Radio: J.D. Byars, Chad Pilcher
3:15 PM– First Responder Bowl: Memphis vs. Utah State
ESPN: Mike Monaco, Charles Arbuckle, Nicole Rigoni
Bowl Season Radio: Brian Estridge, Justin Fuente, Chris Mycoskie 
6:45 PM– Birmingham Bowl: Coast Carolina vs. East Carolina
ESPN: Tiffany Greene, Jay Walker, Jalyn Johnson 
Bowl Season Radio: Travis Jones, John Denton, Chad Pilcher
10:15 PM–Guaranteed Rate Bowl:Wisconsin vs. Oklahoma State
ESPN: Beth Mowins, Kirk Morrison, Stormy Buonantony 
ESPN Radio: Mike Couzens, Max Starks, Kelsey Riggs
Wednesday, December 28
2 PM- Military Bowl: UCF vs. Duke
ESPN: Kevin Brown, Hutson Mason, Marilyn Payne 
Bowl Season Radio: Pete Medhurst, Joe Miller, Scott Wykoff 
5:30 PM– Liberty Bowl: Kansas vs. Arkansas
ESPN: Dave O'Brien, Dan Mullen, Taylor McGregor 
ESPN Radio: Clay Matvick, Rocky Boiman, Tera Talmadge 
8 PM- Holiday Bowl: Oregon vs. North Carolina
FOX:
KGB, FS SiriusXM: Jon Schaeffer, Rich Ohrnberger 
9 PM- Texas Bowl:Texas Tech vs. Ole Miss
ESPN: Roy Philpott, Andre Ware, Paul Carcaterra 
ESPN Radio: Marc Kestecher, Kelly Stouffer, Ian Fitzsimmons 
SportsRadio 610 (KILT): Brett Dolan
Thursday, December 29
2 PM– Pinstripe Bowl: Syracuse vs. Minnesota
ESPN: Wes Durham, Roddy Jones, Taylor Davis 
ESPN Radio: Chris Carlin, Mark Herzlich, Dawn Davenport 
5:30 PM–Cheez-It Bowl:Oklahoma vs. Florida State
ESPN: Bob Wischusen, Dan Orlovsky, Kris Budden 
ESPN Radio: Mike Morgan, Rene Ingoglia, Quint Kessenich 
9 PM- Alamo Bowl: Texas vs. Washington
ESPN: Tom Hart, Jordan Rodgers, Cole Cubelic 
ESPN Radio: Jorge Sedano, Dustin Fox, Ian Fitzsimmons 
Friday, December 30
Noon- Duke's Mayo Bowl: Maryland vs. NC State
ESPN: Anish Shroff, Brock Osweiler, Andraya Carter 
ESPN Radio: Bill Roth, Charles Arbuckle, Dana Boyle 
2 PM- Sun Bowl: Pitt vs. UCLA
CBS: Brad Nessler, Gary Danielson, Jenny Dell 
Bowl Season Radio: Brian Roth, Justin Fuente, Rachel Phillips
3:30 PM- Gator Bowl: Notre Dame vs. South Carolina
ESPN: Taylor Zarzour, Matt Stinchcomb, Alyssa Lang 
Touchdown Radio: Frank Frangie, Gino Torretta 
4:30 PM– Arizona Bowl: Ohio vs. Wyoming
Barstool Sports: Jake Marsh, Dan Katz, Dave Portnoy, Adam "Rone" Ferrone, Caleb Pressley
8 PM- Orange Bowl: Tennessee vs. Clemson
ESPN: Joe Tessitore, Greg McElroy, Katie George 
ESPN Radio: Mike Couzens, Max Starks, Paul Carcaterra 
Saturday, December 31
Noon- Music City Bowl: Iowa vs. Kentucky
ABC, ESPN3: Matt Barrie, Louis Riddick, Harry Lyles Jr. 
Bowl Season Radio: Joe Fisher, Hans Olsen, Amie Wells
Noon-Sugar Bowl: Alabama vs. Kansas State
ESPN: Dave Pasch, Dusty Dvoracek, Tom Luginbill 
ESPN Radio: Sean Kelley, Robert Griffin III, Stormy Buonantony