Vin Scully: From voices to network bosses to players, these folks played a role in his enormous success
Allow me to identify the names of those who were in some ways connected to Vin Scully during his unmatched seven-decade career. Vin of course didn't need any assistance in the booth. He was sports broadcasting's best ever one-man show. 
Yet Vin needed the right broadcast chemistry with his on-air partners, and executives who gave him his on-air freedom. Importantly too, Scully needed a roster of star-studded players who produced success on the field.
These folks might have been facilitators, employers, supporters or admirers. So here they are in alphabetical order.
Walter Alston
Think of this. Between 1954 and 1996, the Dodgers had two managers, Walter Alston and Tommy Lasorda. Walter was well known for working on one year contracts. Alston was in the Dodgers dugout for 23 seasons. He arrived in Brooklyn in 1954, the Dodgers' first year without Red Barber who hopped over to the Bronx. Vin was all of 26 at the time when he became the de-facto number one man in the booth. Connie Desmond, older and more experienced, had the alcohol issue. He simply wasn't considered reliable. Vin, precocious and coming off his first network World Series, was unofficially considered the club's top voice. (The team's threesome were Scully, Desmond and Paris born André Baruch who lasted just one season.)
Henry Aaron
You might say that Vin's most courageous call occurred in Atlanta on April 8th 1974 when Henry Aaron broke Babe Ruth's record for career home runs. It's been 47 years since and Atlanta wasn't the cosmopolitan city it is today. The south was still stigmatized in many ways as racist. Vin exulted on Dodgers radio: "What a marvelous moment for the country and the world. A Black man is getting a standing ovation in the deep south for breaking the record of an all-time idol." Scully's call established his credibility for being an unbiased broadcaster, one who was genuinely delighted that Aaron made it to the top of the chart. The other two men who made the call, Curt Gowdy on NBC and Milo Hamilton on Braves radio, didn't venture down that road.
Red Barber
Mentor and taskmaster, Barber advised Scully to be himself in the booth. Vin too, when asked by hundreds for career counseling, suggests the same, be yourself. Of his eight years in Brooklyn, the first four were under Barber's strict supervision. When Barber got into a spat with sponsor Gillette covering his fees for calling the 1953 World Series, he sought the assistance of Walter O'Malley who by then owned a controlling interest of the club. O'Malley refused to intervene and told Red, "It's you problem." The two never had a good relationship. At age 25, Scully was hired to do the fall classic with Mel Allen. Before accepting the role, Scully respectfully sought Barber's permission. Red said, sure, and even offered Vin his scorebook.
Dwight Clark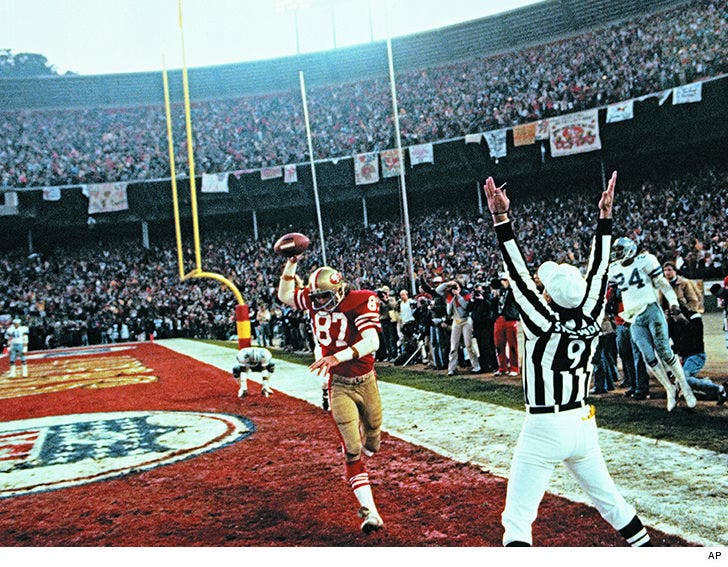 Scully did NFL games for CBS beginning in the mid 1970s. On January 10th 1982, Scully presided over his last NFL broadcast, the NFC Championship, Dallas at San Francisco. The winner advances to the Super Bowl. Dallas, already America's team, were being challenged by the upstarts from the Bay Area led by quarterback Joe Montana. It came down to what's become known simply as "The Catch," Joe Montana to receiver Dwight Clark. "Clark caught it," an excited Scully said, his voice in full timbre. Stealing a term from Vin, "His NFL career ended with a flourish." In many ways, the two names, Clark and Scully, have become somewhat synonymous. If you review Vin's call, you'll note that he perfectly built to the dramatic moment. But just as Montana took the snap, partner Hank Stram interrupted him. From my point of view, it dulled the luster of the call.
Connie Desmond
Barber was a tough cookie. He was hard on Scully that first year, 1950. Vin would say that he was the son that Red  never had. (Red and Lyla had only one child, a daughter, Sarah, who died at 67 in 2005. According to the New York Times, Sarah founded the Lesbian & Gay Partnership at Santa Fe in New Mexico.) One day when Barber asked Scully to go down to the clubhouses to get the lineups, there was a change in the batting order. But the rookie broadcaster couldn't satisfactorily answer Red's question. Why was there a change? It was a teaching moment for Red. And there were many such teaching moments that first season that must have kept Vin on edge. Breaking in under Red was a difficult baptism. Pa' Red was a drill sergeant. Yet  big-brother Desmond helped hold Vin's hand through the emotion of it all. Connie and Vin were together for four full season, plus parts of two others.
Jerry Doggett
Scully has said that without Jerry Doggett, who called Dodgers games with him for 32 years, 19 as a twosome with Vin, the setup wouldn't have been the same. Doggett never seemed bitter about his secondary role as an associate-announcer. He would generally do only two innings on radio-only games and every other extra inning. In LA, the Dodgers had very few TV games. When they did, Jerry got some more visibility. The two also spent lots of times together on the road. They were true friends. Vin said that Jerry never complained. Doggett said of Scully, "He's a terrific broadcaster, and an even better person."
Don Drysdale
Sandy Koufax and Drysdale were the one-two punch on the Dodgers' mound in the early to mid 60s. Calling the 1965 Twins-Dodgers World Series on NBC, Scully told the audience that the difference between the two was that the big right hander Drysdale would have stronger starts and more challenging finishes. The lefty Koufax might start slowly but would finish with staying power. After he retired, Drysdale entered the booth with alacrity and sharpened his play-by-play fastball. He worked with Dick Enberg on Angels broadcasts and Hawk Harrelson on White Sox games, among other fine voices. He died a young man in 1993 at 56 while in Montreal with the Dodgers to broadcast an Expos game. The broadcast opened on schedule but it wasn't until next of Drysdale's kin was notified, could Scully and partner Ross Porter say a thing. Once cleared to do so, Vin poured his heart out. Don was already an ABC broadcaster too by the time he passed.
Joe Garagiola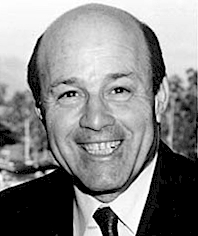 By the 1970s, Garagiola had evolved into NBC's MLB coverage, first encroaching upon Curt Gowdy's space in 1975, forcing Curt to share the play-by-play role with him and then becoming the network's lead baseball voice. Dick Enberg had been promised the role but it never became a reality. When Vin Scully was hired, and did the Series in 1984, Garagiola was asked to become the analyst. It took a lot for Joe to accept this new role. He understood what it would require to give Vin the full runway he needed. Had he interrupted Vin, the entertaining success of the duo could have been a failure. Listen to Vin's call of the Kirk Gibson home run in the 1988 World Series and check out how Joe minimized his commentary to accommodate Vin.
Ernie Harwell
A mentor in many ways, Barber was rough on the young Vin in the booth. Harwell had left the disciplinarian Barber at Ebbets Field after the 1949 season and joined the easygoing Russ Hodges covering the Giants in the Polo Grounds. Vin used Ernie as a sounding board for advice during his rookie season in 1950. Ernie told Vin to hang in there and that Barber would make him a better broadcaster.
Sandy Koufax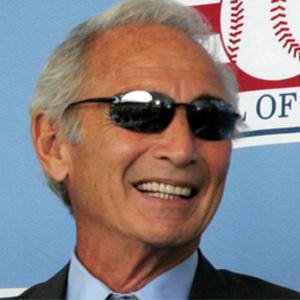 Vin and Sandy are among the most famous Dodgers ever. Koufax threw his first pitch for the Dodgers in 1955. They've known one another for 66 years. Vin's soundtrack of Dodgers highlights is so intertwined that the two men are almost inextricable. Going back all those years, made the embrace of the two men at the 2016 ceremony honoring Vin. a lachrymose moment. A perfect game, plus three no-hitters will do that. 
Harvey Kuenn
In part, the late Kuenn is on this list in jest. Of Vin's flawless radio calls, the one played most often, is Koufax' perfect game in September, 1965. Harvey played for a handful of teams through fifteen MLB seasons and then served as a coach and two stints as a manager for the Milwaukee Brewers. Through it all, Harvey might be best known for striking out against Sandy to end the perfect game. "Two and two to Harvey Kuenn, one strike away, Sandy into his wind-up…"
Tommy Lasorda
As Vin said, sixty years are a long time in anyone's life. They would chew the fat, as Vin told LA Times' columnist Bill Plaschke earlier this year. As we know Tommy was hardly laconic and very unlike Vin, Tommy would bellow impromptu sermons, many laced with profanity. Scully was the club's voice for all Lasorda's years in the dugout. A few days after Scully lost his wife Sandi in January, Tommy passed. Not easy.
Jim Murray
When the city's top columnist sings your praises, you have it made in the shade. Jim Murray did just so. The msn was able to turn a phrase. When Scully got the NBC baseball gig in the 1980s, Murray wrote:
Scully Handles a Mike Like Ruth Did a Bat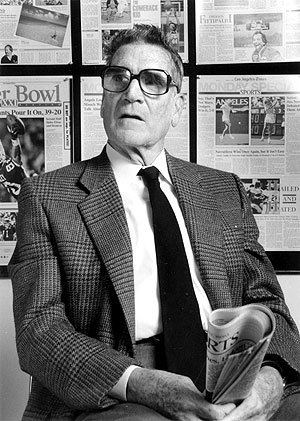 "It took baseball in its wisdom 10 years to turn Babe Ruth, the most perfect hitting machine of all time, from a pitcher into a slugger.  It took football seasons to figure out Marcus Allen wasn't a blocking back and to hand him the football. And it took network television forever to get the message that Vin Scully should do major league baseball and stop fooling around."
Lesley Visser, a marvelous writer herself, shared with me that Murray would let a column sit on his desk for a day or two so that he can reexamine it. At a memorial for Murray at Dodger Stadium after his death in 1998, Vin's words were equally as stirring:
"This is not an overcast day, nor is it a gloomy day. The Irish would call it a soft day. And considering the man whose memory we honor today in this hardhearted world, it's a perfect day. A soft day. I wear a smile today like so many of us because I smiled whenever I saw Jim. I smiled whenever I talked to Jim. And I will smile whenever I think of him."
Peter O'Malley
In 1970, Walter's son Peter who had worked his way up the Dodgers' org chart under his dad's aegis, became president of the club. Peter and Vin remain friends to this day. In the mid 1970s, Scully was offered a football gig with CBS and Peter accommodated him, allowing Scully to take time off to do the NFL while remaining the beloved Dodgers' voice. Father Walter died in 1979, Peter and company sold the Dodgers to Rupert Murdoch and Fox in 1988.
Walter O'Malley
While Barber and Walter O'Malley, who took control of the club in late 1950, were oil and water, Scully had a mutually prosperous and warm relationship with him. O'Malley recognized Scully's precociousness almost immediately. Who wouldn't have? In 1957 when O'Malley was making plans to move the Dodgers out west, he had three announcers, Scully, Desmond and Al Helfer. In his autobiography, Lindsey Nelson wrote that Helfer made demands of O'Malley that he be assigned as many innings as Scully. The upshot, only Vin and Doggett were moved out west. Scully was assigned seven innings. It was clear immediately who would rule the roost.
Ross Porter
Ross joined the Dodgers booth in 1977. At that point, the club went from two to three voices, Scully, Doggett and Porter. Ross was hardly a storyteller and was often criticized for spewing numbers and more numbers. He was smooth and reliable though. You'd always know what was going on in the game. In all, he spent 28 seasons with the club and was unceremoniously canned without as much as a thank you. Introduced for his induction into the Southern California Sports Broadcast Hall of Fame, Scully said: "I had the pleasure and the opportunity to work alongside Ross for 28 years. He fulfills all of the requirements of a successful professional announcer. His work habits and preparation are exemplary. Ross is accurate, informative and entertaining while modestly keeping himself secondary to the game. I have great admiration and respect for him not only as a professional but as a man."
Branch Rickey
Rickey was the club's chief officer through 1950. He and Barber had a delightful relationship. It was said that Branch was a teetotaler who rarely used a foul word. Barber had lost Harwell from the Dodgers booth after the 1949 season. He welcomingly accepted the giants job in the Polo Grounds with the likeable Russ Hodges. Barber wanted Vin, and convinced Rickey to hire him. Vin signed his contract in December, 1949. The contract surfaced a couple years ago and was sold on bid at a hefty $76,193.
Jackie Robinson
The man was a pioneer, and a fearless one in that. The first Black man to play the game, he didn't move with the Dodgers to LA, ending his career after the 1957 season. Yes, the southerner Barber, wasn't sure whether he wanted to continue calling Dodgers games in 1947 but after some introspection, he did. Vin and Jackie were friendly and no broadcaster called more of Jackie's games than Scully, eight seasons in Brooklyn.
Arthur A. Watson
Watson ran NBC Sports. He was a fellow Fordham alum of Scully's. Arthur leaped at the opportunity to sign  Scully and bring his silky delivery to NBC. Scully would end up doing numerous League Championships and World Series on the Peacock Network. Think 1986, "It gets by Buckner!" or in 1998, "In the year of the improbable, the impossible has happened!" The decision wasn't easy to execute for Watson. In the sports stable, NBC had Enberg whose first love was baseball, Garagiola who had previously been the network's lead baseball voice and Bob Costas whose eloquence was and still is unmatched.
Bob Wussler
Bob ran CBS Sports in the 1970s. He recruited Vin to CBS to do football and the Masters. Vin had several partners in the booth including John Madden. When an opportunity arose to get the number one NFL gig in the early 1980s, CBS settled with Pat Summerall. Scully, unable to get the lead voice, left. He would then join NBC on baseball and all would be good.
A roaring crowd:
The roar of the crowd: It inspired him. On all his big calls, he wouldn't say a word until the crowd quieted down.
A book
Scully was a voracious reader. The long trips, particularly in the early years, extended for two weeks. He'd say that a book was his best friend
The National League
The 1950s lineup in the National League was striking, For starters, Hank Aaron, Duke Snyder, Roberto Clemente, Willie Mays, Ernie Banks, Frank Robinson, Stan Musial, Warren Spahn and Lew Burdette. Enough said!
Transistor Radios
For their first four years in Los Angels, a big football stadium was the team's home. The LA Coliseum's sightlines were awful for baseball. Frans brought transistor radios to the game to get a better view. It grew into a widespread habit. Vin's voice would reverberate and echo throughout the ballpark. Players would talk about hearing their own names while positioned in the field.
Southern California 
Baseball was new in SoCal and the area  was hungry for it. The weather was near perfect too. In 1958, baseball was still our national pastime. Radio was critical. All  but 11 road games were televised (from San Francisco), the rest were only on radio. In other words, the elements were perfect for the star of star broadcasters to sparkle. And Vin sure did!