Vin Scully: My last interview with the greatest sports voice; No play-by-player will ever be as missed
He gave me a hint but I didn't want to hear it. Was he suggesting that he wouldn't make his next birthday?
I never uttered it out of my mouth for two reasons. I couldn't believe I heard what I did and two, I don't betray comments that I perceive as personal. We had developed a professional relationship but no real personal friendship. It was coming up on the first year anniversary of his second wife's death, Sandi. Vin was enduring a difficult time. I got a sense that there wouldn't be many more happy birthday greetings. But I didn't want to believe it.
Like so many others, there were the hoi polloi who loved him, to play-by-play voices themselves, who put his work above anyone else's. They were all emotionally touched. It was like losing a friend. We're still in a collective lugubrious state from Bob Costas down.
****
Dated December 26, 2021 – For what it's worth – David J. Halberstam's last interview with the sparkling Vin Scully. He passed some seven months later 
One early Thursday evening, my home phone rang at my desk and the screen read Vin Scully.
I took a deep breath, picked up the call, and the gentleman on the other end had the Voice of God. He greeted me as he typically does, enthusiastically and unhurriedly. "Hi David, it's Vin."
Absorbing his warmth is always thrilling and stimulating. We usually talk at some point around his birthday. There's never a shortage of topics with which to engage Vin. He's the broadcaster of the century. This time it was a few weeks afterward, yet equally as rewarding.
I asked him how he's doing. "Oh," he said, with a bit of a drawl and pause, "I'm looking out the window and it's raining, it's overcast, and a little foggy." Christmas was around the corner.
By now you know Vin's famous line about making plans, rain or no rain. On occasion, on-air, when he ran down the status of injured players labeled day-to-day, he'd pause and add, "Aren't we all?" Scully turned 94 on November 29th and his timbre is still so reassuring. It's uplifting. It grabs you and takes you through a lifetime.
My conversation with Vin swerved to the Polo Grounds. I told him that I attended my first National League game in 1962 when the first-year Mets hosted the Dodgers in a doubleheader on Memorial Day. A reserved seat at Coogan's Bluff then was only $2.50 then.
For Vin and the Bums, 1957, was their first trip back to New York after leaving Brooklyn. The cheers were mixed between Mets and Dodgers. One thing for sure, the interregnum was over. The Dodgers and Giants were out and the Mets were christened NY's new NL franchise. Scully is a New Yorker through and through, born and bred. He has vivid memories of the old Giants and the grand old park with its hollow center field. The 1962 game was played on a Wednesday afternoon and the grass was lush. It was before Congress moved most holidays to Mondays to develop more three day weekends.
Sandy Koufax pitched the Dodgers to a Memorial Day win in game one. Vin and the team were starting a 19 game road trip. The Dodgers had their own plane, a prop at the time. Still, just the thought of a six-city trip can be daunting and draining, even before it starts.
Growing up in Washington Heights, down the street from the Polo Grounds, the Giants were Scully's favorite team. For Vin, the old Polo Grounds of the Giants, always spawned joyous thoughts. These good memories stuck to his ribs as he himself might say.
The world is uneven. The next night, May 31st 1962, tabloids around the globe ran headlines about the execution of Adolf Eichmann, one of the key organizers of Germany's Final Solution. I'm sure that my father, took note. A survivor of the concentration camps, he was the only member of his family of five, not gassed in the Holocaust. The juxtaposition told the harsh truth of two worlds on two different sides of the Atlantic. For my father and me, it inspired a special appreciation for America.
Nineteen years later in 1981, Vin presided over the Yankees-Dodgers World Series on CBS Radio. I always thought that's where Scully did his best work, radio. And that's saying something for he was the best no matter the medium. He might agree with me about radio. In fact, he hinted to me in an earlier conversation that if it weren't for the larger paycheck, he'd have stayed with radio exclusively. He laid out the mat and did what he loved. Or as Warren Buffett answered why no personal exigency to do so. "It's like going to a museum."
On radio, Scully was given a canvas and asked to punch, not counterpunch, as he would do on television. The redhead did all nine innings during those CBS Radio's, play-by-play broadcasts. Quite a few budding announcers would listen assiduously to Vin back then, a yellow pad by their sides to keep notes of Scully's uses of phrases.
In 2014, when the Dodgers were being bounced hard by the Cards in post-season, a buddy, Barry Kipnis, sent me an email after listening to Vin. His note to me read: "Vin: 'The Dodgers are about to tiptoe their way out of St. Louis.'" So simple, so Vin! He told me the last day we spoke, "When I use a word that might be viewed as pompous, I say to myself, 'Oh Vin.'"
On another broadcast, Vin wandered back thirty or forty years to reference street-corners and spirited arguments. Who's New York's best centerfielder, the Yanks' Mickey Mantle, the Giants' Willie Mays or the Dodgers' Duke Snider? Scully then paralleled the centerfield debate to other famed and friendly arguments like who's the best clarinetist, Benny Goodman or Artie Shaw?
This year 2021, has been a rough one for Vin. It started in January when he lost his wife Sandy to a form of Lou Gehrig's Disease. Yet talking with him Thursday, I got the sense that his spirits were back. He told me his three daughters come over regularly to spend some time with dad, that he gets help in the house and uses a cane, to prevent him from falling.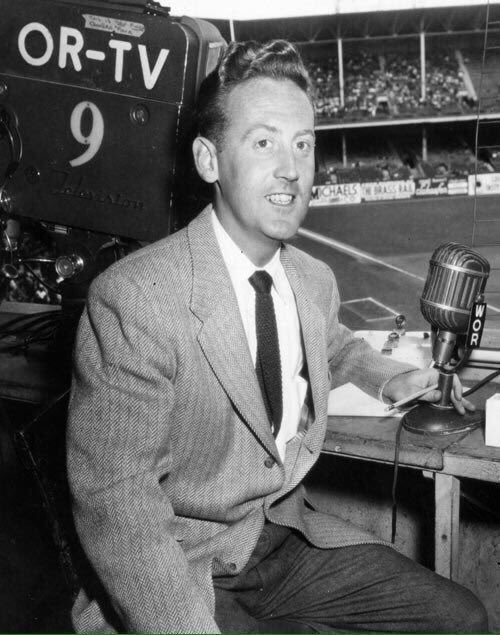 I flashed back again to 1949 when Vin launched his career in Washington DC on WTOP, a 50,000 watt signal.
When the staff typist began stuffing envelopes with Vin's resume in them, he asked her why she's sending one to WTOP, thinking it would be a longshot. The assistant told young Scully, it's only a three cents stamp. You never know. And that's how Vin's career began, 71 years ago during the Harry Truman administration. There have been 13 U. S. presidents since Vin began talking into a microphone.
Back to the Polo Grounds, Scully said, "I think that the first game I ever attended at the Polo Grounds was Memorial Day, 1939."
I actually checked the record books. He was spot-on. Indeed, on May 30, 1939, Brooklyn was at the Polo Grounds and the two teams split a doubleheader. Vin was 11 then. The Dodgers had just started broadcasting games that very season. Brooklyn boss Larry McPhail brought Red Barber from Cincinnati to Ebbets Field where he was the first Dodgers' voice. Between Barber and Scully, the two were the team's game callers from 1939-2016, 77 uninterrupted seasons.
"I had an inexpensive seat in the bleachers at the Polo Grounds," Vin Scully told me, adding, "From the outfield I can look directly onto press row, upstairs behind the plate. I kept thinking to myself, one day I hope to be up there. I longed for it."
Vin then added a nuanced message perfect for Christmas. "When I was at the Polo Grounds that Memorial Day in '39, looking onto press row from the outfield bleachers, the good Lord gave me a book of directions."
The Lord also gave Vin the perfect phrase for the right time. Tiptoe home in baseball from St. Louis or in football when a QB didn't pass, he angled it in to the receiver. Not a descriptive word you'd often hear on the gridiron. 
Here's to many more years on earth. Vin Scully, The "Sports' voice of the Century!"