Vin Scully talks about this season, the broadcasts and more; Says twin bills should be 9 and 7 innings
This week, I had a chance to catch up with icon Vin Scully who called thousands of games in his 67 seasons behind the mic. The game never had anyone better, be it on radio where he painted the picture with graphic detail or on television where he punctuated what viewers saw with fitting phrases and masterful storytelling. He started in 1950 at age 22 under the demanding mentorship of Red Barber and retired at the end of the 2016 season at age 88. For fans during those seven decades, baseball would not have been the same without him.
It's been four years since baseball viewers got their regular doses of Scully. So, absorbing the warmth of his greeting on the phone reinforced just how much he is needed. Vin would mean a ton in these contained, confusing and confining times of social distancing. 
Vin, 92, sounded strong and in good spirits, no better or worse than anyone else enduring this pandemic. "We (he and his wife Sandra) stay home. The family comes by and we're happy to see them. In many ways, it's a sad time for the country. It's a weird baseball season and we know that some of college football has already been lost."
Scully touched generations of fans from Brooklyn to Los Angeles and much of the American landscape in between. He covered baseball from the days of Preacher Roe to Justin Turner and Burt Shotton to Dave Roberts. In time, he became the cynosure of listeners and the model of baseball broadcasting. Ask any of Vin's announcing colleagues, any one, and invariably they'll put him on an unreachable pedestal. Mention his name to the fiery Tommy Lasorda and he'll say, "What makes Vin great is that he loves the game and knows the game!" 
When I heard ESPN's Boog Sciambi do a game the other day, it reminded me of what he said about Scully. In 1991, when Boog was breaking in, he heard Vin do a World Series game on radio. The Braves 5'6" Rafael Belliard got on base. The Twins bruising 6'4" first-baseman Kent Hrbek held him on. To paint a picture for listeners, Scully said, "Belliard at first, looking like something that fell out of Hrbek's pocket." Sciambi told me, "It was a striking word-picture for the mind's eyes. For me, it was inspiring and unforgettable."
The nonagenarian has experienced some of the greatest moments in baseball history, stamping the perfect games of Sandy Koufax and Don Larsen, chronicling many moments of the brilliant career of Willie Mays who Vin says was the greatest player he ever covered. Then again, he also presided over the saddest day in Brooklyn baseball history, September 24th 1957. It was the team's last game at home. Only 6,700 showed up for a 2-0 Dodgers' win over the Pirates.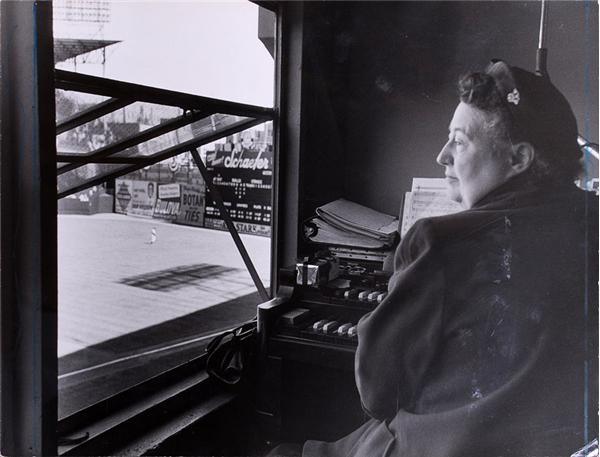 Vin reminisced: "There was a heavy feeling in Brooklyn. Gladys Gooding (at Ebbets Field, left) was the team's longtime organist and she locked herself in her booth, had a drink and played one sad song after another. One was 'My Buddy.'" (Doris Day sang a version of it: 'Nights are long since you went away, I think about you all through the day, My buddy, my buddy, no buddy quite so true.') Vin said that owner Walter O'Malley sent one of his lieutenants up to Gooding's enclosed perch to have her pep it up but she refused to open the door.
I asked Scully about Bob Kennedy who hit into the last out in a Brooklyn uniform. Remember, I'm asking Vin to think back instantly about something 63 years ago. He didn't pause. "Bob trained pilots during the war. He was the worst person you'd want to sit next to on a plane. He would always second guess the pilot. Why is he taking so long to take off? Things like that. He'd scare you to death," Scully remembered.
The conversation fast forwarded to a challenging time, now. I asked him if he ever called games off a monitor as announcers are doing today. He said he didn't, but took note of an ESPN game where the three broadcasters were all apart, each in their own homes, calling the same game. Vin liked Fox' creativity of using virtual fans. "It added punch to the telecast," he said. When I told him that Brad Zager, the production chief at Fox must have had his fingerprints on the idea, Scully was full of praise for him. Zager was his Dodgers producer on television for nine years.
But Vin certainly was familiar with broadcast recreations, the ones before today's advanced technology. He'd call games on radio based on bare bone information coming in from the old Western Union ticker. Vin would then put the flesh on the skeleton.
"When we were kids, we'd listen to Red Barber. Other than Red, all you'd hear in the background is the tick-tick coming off the ticker machine. If we heard a long tick, we figured it would be a huge hit. If it was a short or quick tick, we guessed, it was nothing dramatic. So as kids, we would count the clicks to see if we can guess what happened." Barber was a purist. He didn't use any manufactured sound effects like fabricated crowd noise that we hear today or from other broadcasters who did recreations on radio, back when.
So I asked Scully about a key game that he recreated on Saturday, September 29th 1956 during the final weekend of the season. The Dodgers started the day 1/2 game behind Milwaukee in second place and Cincinnati was in third, just two back.
That afternoon Brooklyn swept the Pirates in an Ebbets Field doubleheader. By Saturday night, Brooklyn was 1/2 game ahead of Milwaukee. The Braves though had a night game in St. Louis which was critical. A win by the Braves would have resulted in a tied pennant race on the final day. A Cards win and the Dodgers would control their own destiny on the final day, up by a full game.
So after the Saturday doubleheader, Vin found himself in the studios of New York radio station WMGM where he recreated the Braves game from St. Louis.
Vin remembered it well. In the ninth inning of a tied game, the Braves were threatening. "The Cards had a center fielder named Bobby Del Greco. I'll never forget it. The Western Union operator in St. Louis messages, 'Del Greco makes great catch.' I had no idea whether the operator knew anything about baseball and I'm thinking should I say great catch. If the operator was misinformed, I'd be making a huge mistake. I looked at the small strip of paper and after a minute, I said to myself, I'll go with it. But I had no more information than just great catch. Did he race over to left center, did he dive. Meanwhile, if it was a routine fly, I'd look silly."
The Cards won the game 2-1 in extra innings. The Dodgers beat the Pirates the next day, clinched the pennant and their last Subway Series against the Yankees. A few days later, Scully called Don Larsen's perfect game on NBC Television.
Back to the great catch. "I checked the paper after the recreation and found out that indeed, Del Greco made a great catch," Vin said
I went back this week to the microfilm of the New York Times on September 30th 1956 and found an article by Joseph Sheehan who traveled to St. Louis to cover the critical Braves series. His description: "(Del Greco) raced into the right-center alley for another sparkling play, on Jack Dittmer." (Apparently, the outfielder had a few great catches that night.) The Braves' Joe Adcock was on base. Had it not been for Del Greco's huge catch, Adcock might have scored and the pennant race could have been tied going into the final day.
***
I asked Vin for his thoughts on this baseball season and the rule changes, beginning with cutting the number of innings from nine to seven for both ends of a doubleheader. "Well, the whole year is so different anyway. I kind of like a nine inning game followed by a seven inning game. Seven and seven to an old horse like me isn't a big league doubleheader."
How about starting extra innings with a man automatically on second base? Vin: "No matter what you're going to do, you'll lock horns with somebody and it will go on and on. The Dodgers played the Astros a couple weeks ago. The game went 13 innings and took 4:44." In that one, the on-base advantage helped both teams score a run in the 11th before the Dodgers won 4-2.
Scully continued, "The other night against the Angels, the Dodgers won in 10, 6-5, so it might have made some sense." The game though still took 3:17.
Vin has followed baseball since the 1930s. He's obviously seen the game evolve in the ten decades he's watched it, first as a fan, scores of years as a broadcaster and now as a private citizen. His response to the rule of a three batter minimum for relief pitchers: "It's a whole new game. If you're a starting pitcher, you're no more than the first on the hill. It's a constant parade. Not very many complete games at all. I'm not sure how they'll speed up the time of game. With television and commercials, it's hard to make a dent. I don't know how they'd do it.
"When I started the average time was something like 2:10 or 2:20," Vin remembered. In fact, in 1950, his first year broadcasting, Brooklyn had nine games that were played in under two hours! "Sometimes, by the time you sat down, the game was over," he said.
"When I was working, I found that it was the broadcasters and writers who complained. The fans want an exciting game, I don't think they're looking at their watches."
Vin pauses when I ask about hitters leaving the batters box too often. "I had a call a few years ago from a writer in Boston who asked me whether I had any suggestions on how to cut down on the length of games. I told her. 'It's velcro!' They strap their batting gloves. They then re-strap their gloves. Velcro is to blame!"