Week #14: CBS' Brad Nessler and Gary Danielson have the biggie, #1 Georgia vs. #3 Alabama
Well, here we go.  Let the playoff arguments continue. Can a Marcus Freeman move to succeed Brian Kelly influence the committee if all the other pieces fall into place? Or will it backfire? 
Voices:  
The man with a widespread reputation for verbosity, Herbie, is out west Friday night with Chris Fowler for the Pac 12 Championship.
This weekend you'll have some of the best and a few who aren't  that great.
Listed – all alphabetically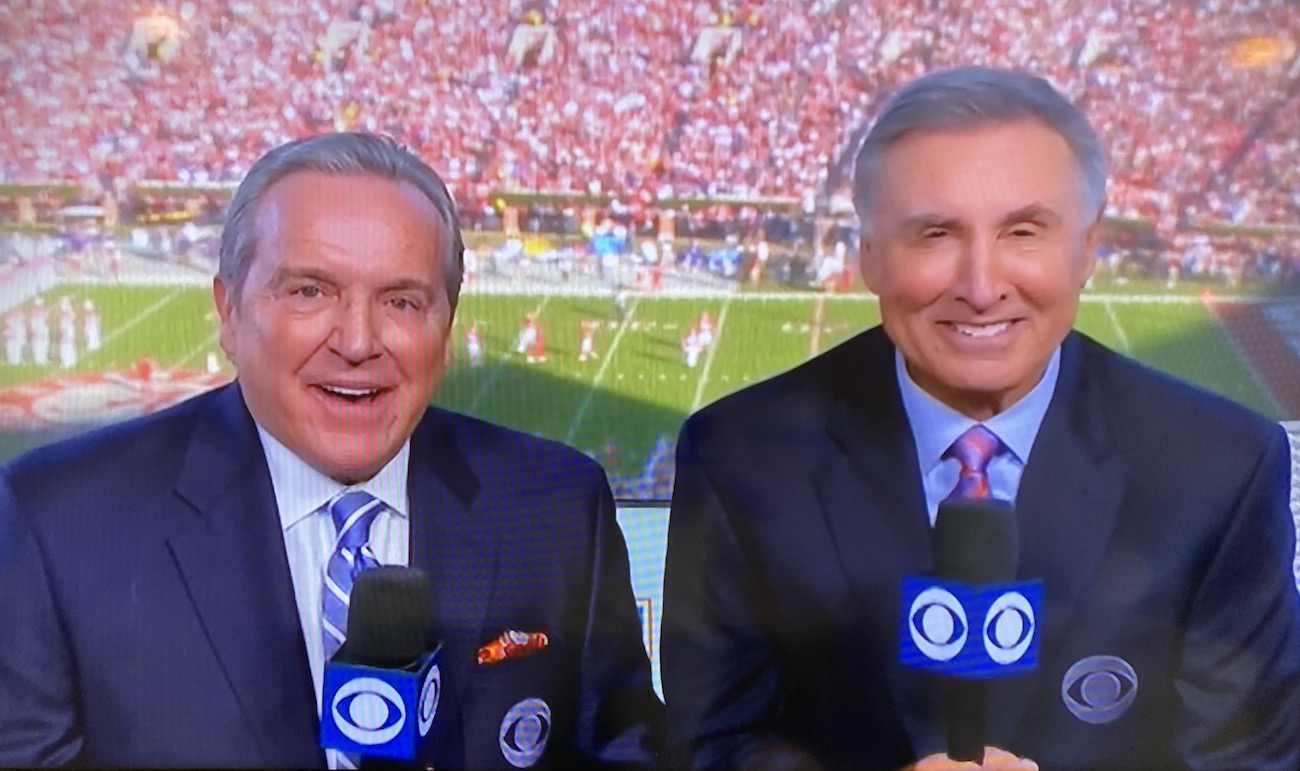 Top three teams:  
Tim Brando/Spencer Tillman
Sean McDonough/Todd Blackledge
Brad Nessler/Gary Danielson  (l-r)
The three teams – not too good
(Napping) Joe Davis/Brock Huard
(Hyper) Joe Tessitore/Greg McElroy
(Ill-prepared) Gus Johnson/Joel Klatt
Friday, December  3d 
7:00 PM-Conference USA Championship
Western Kentucky @ UTSA
CBSSN-Rich Waltz, Aaron Taylor 
8:00 PM-Pac-12 Championship
10 Oregon vs 17 Utah
(in Las Vegas)-
ABC-Chris Fowler, Kirk Herbstreit 
Saturday, December  4th
12:00 PM-Big XII Championship
9 Baylor vs 5 Oklahoma State
(in Dallas)-
ABC-Sean McDonough, Todd Blackledge 
12:00 PM-MAC Championship
Kent State vs Northern Illinois
(in Detroit)-
ESPN-Jason Benetti, Andre Ware, Paul Carcaterra 
3:00 PM-Mountain West Championship
Utah State vs 19 San Diego State
(in Carson)-
FOX-Joe Davis, Brock Huard 
3:30 PM-Sun Belt Championship
Appalachian State @ 24 Louisiana-
ESPN-Dave Pasch, Dusty Dvoracek, Tom Luginbill 
4:00 PM-American Championship
21 Houston @ 4 Cincinnati-
ABC-Joe Tessitore, Greg McElroy
 4:00 PM-SEC Championship
1 Georgia vs 3 Alabama  (in Atlanta)-
CBS-Brad Nessler, Gary Danielson 
8:00 PM-Big Ten Championship
2 Michigan vs 13 Iowa
(in Indianapolis)
FOX-Gus Johnson, Joel Klatt 
8:00 PM-ACC Championship
15 Pittsburgh vs 16 Wake Forest
(in Charlotte)-
ABC-Mark Jones, Robert Griffin III, Quint Kessenich
 11:00 PM-USC @ California
FS1-Tim Brando, Spencer Tillman