Week #17 of #18: Decision time; TV geographic splits to accommodate regional races
The penultimate weekend of the NFL season. All the league's 32 teams will be in action.
Fox has the doubleheader, CBS sails alone.
Tight races, lots of teams still have opportunities.
Eli Gold, deliberate and thick throated voice of the University of Alabama does Miami at Tennessee game on an ad-hoc radio network. Always liked his call. Doesn't overdo it. I was surprised recently when he pegged Kevin Harlan as the best radio NFL voice today. You're talking about two of the best. Well, Harlan has the same assignment Sunday, but for CBS TV.
I always liked Tom Rinaldi. He can drill an interviewee so softly that the subject never knew what hit him or her. I just wish Tom would be used a bit more consistently.
Mike Tirico is getting more preps prior to his expanded role next SNF season . He has Minnesota – Green Bay this New Year's weekend. Kathryn Tappen and Cris Collinsworth join Tirico. The mystery behind Michele Tafoya's absence is troubling. Maria Taylor came out of hiding last weekend. Look out.
The 506 and its well known and convenient maps are always helpful and convenience
NFL commissioner Roger Goodell will be the Mannings' guest on ESPN's MNF
NFL WEEKEND #17 SCHEDULE
Sunday, January 2
1 PM- Kansas City Chiefs at Cincinnati Bengals
CBS: Jim Nantz, Tony Romo, Tracy Wolfson
 45%, 146 stations
1 PM- Miami Dolphins at Tennessee Titans
CBS: Kevin Harlan, Trent Green, Melanie Collins               
 7%, 15 stations
1 PM- Jacksonville Jaguars at New England Patriots
CBS: Andrew Catalon, James Lofton, Sherree Burruss
 7%, 12 stations
1 PM- New York Giants at Chicago Bears
CBS: Spero Dedes, Jay Feely
12%, 16 stations
1 PM- Los Angeles Rams at Baltimore Ravens
FOX: Kevin Burkhardt, Greg Olson, Pam Oliver 
55%, 142 stations

1 PM- Philadelphia Eagles at Washington Football Team
FOX: Adam Amin, Mark Schlereth, Shannon Spake
18%, 11 stations
1 PM- Las Vegas Raiders at Indianapolis Colts
FOX: Kenny Albert, Jonathan Vilma, Sara Walsh
10%, 22 stations
1 PM- Atlanta Falcons at Buffalo Bills
FOX: Kevin Kugler, Mark Sanchez, Laura Okmin
7%, 21 stations
1 PM- Tampa Bay Buccaneers at New York Jets
FOX: Chris Myers, Daryl Johnston, Jennifer Hale
16%, 16 stations
4:05 PM- Denver Broncos at Los Angeles Chargers
CBS: Ian Eagle, Charles Davis, Evan Washburn
16%, 37 stations
4:05 PM- Houston Texans at San Francisco 49ers
CBS: Greg Gumbel, Adam Archuleta, AJ Ross
13%, 14 stations

4:25 PM- Arizona Cardinals at Dallas Cowboys
FOX: Joe Buck, Troy Aikman, Erin Andrews, Tom Rinaldi
85%, 172 stations
4:25 PM- Detroit Lions at Seattle Seahawks
FOX: Gus Johnson, Aqib Talib, Megan Olivi
8%, 24 stations

4:25 PM- Carolina Panthers at New Orleans Saints
FOX: Brandon Gaudin, Matt Millen
6%, 16 stations
Sunday, January 2 – Sunday Night
8:20 PM- Minnesota Vikings at Green Bay Packers
NBC, Peacock: Mike Tirico, Cris Collinsworth, Kathryn Tappen 
100% of U.S.
Monday, January 3
7 PM- Cleveland Browns at Pittsburgh Steelers
ESPN, ESPN+: Steve Levy, Brian Griese, Louis Riddick, Laura Rutledge 
83 Million subscribers
CBS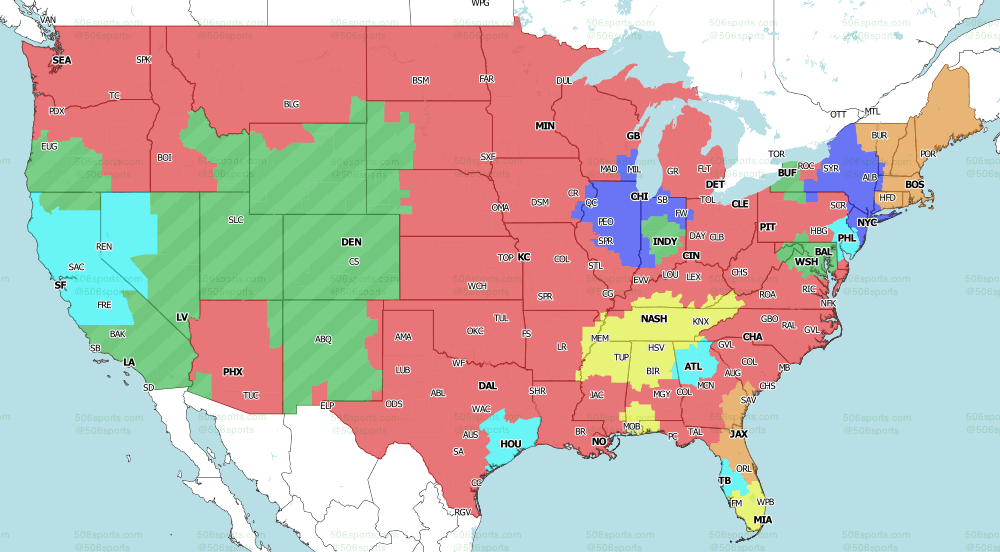 █
Kansas City @ Cincinnati
█
NY Giants @ Chicago
█
Miami @ Tennessee
█
Jacksonville @ New England
█
Denver @ LA Chargers (LATE)
█
Houston @ San Francisco (LATE)
FOX EARLY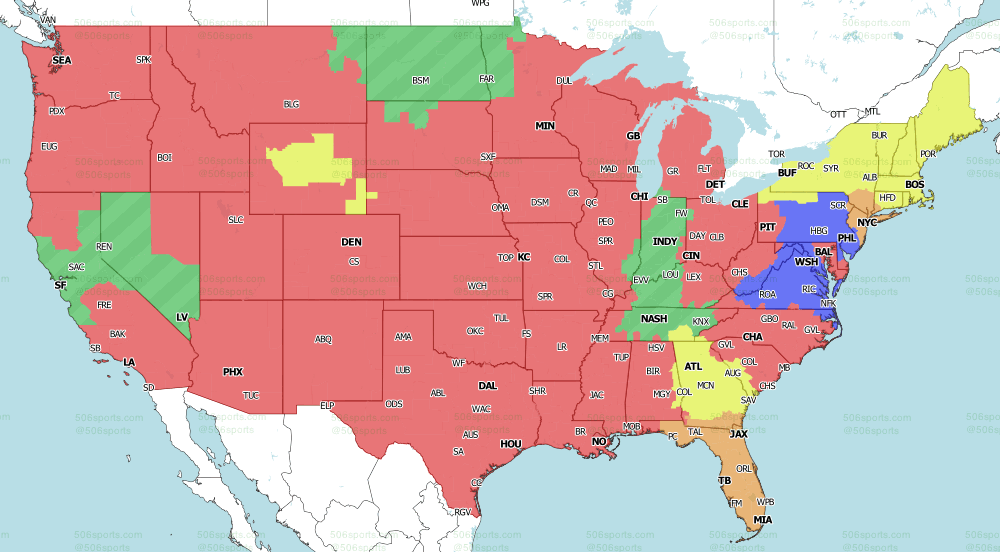 █ 
LA Rams @ Baltimore
█
Philadelphia @ Washington
█
Las Vegas @ Indianapolis
█
Atlanta @ Buffalo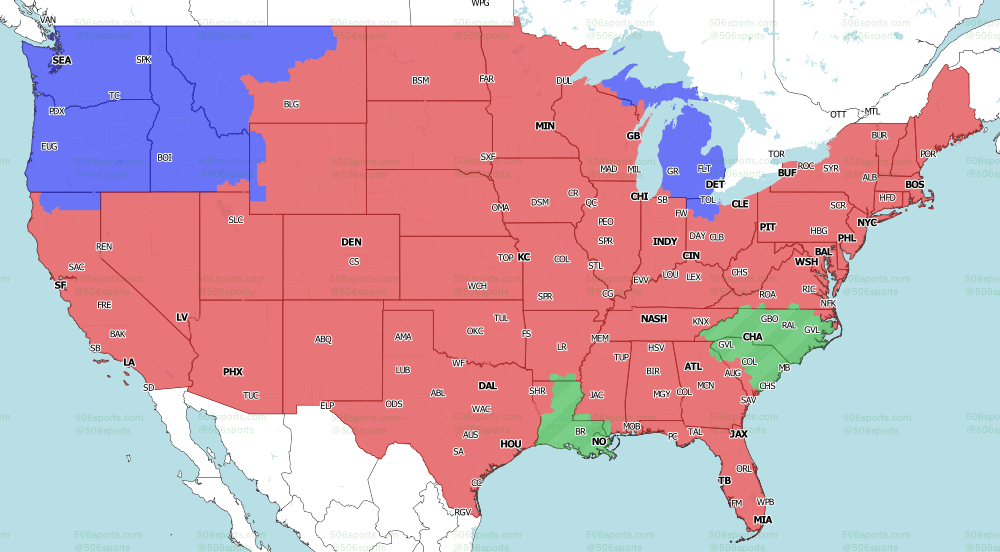 █
Arizona @ Dallas
█
Detroit @ Seattle
█
Carolina @ New Orleans