Week #18 at stake; ESPN's Herbie will show us what he knows about NFL; Fox and CBS both have DHers
From a business perspective, few will argue that the NFL is brilliant. Each decision is so well thought out. All moves, times and games are laid out meticulously. Look at the standings this weekend. There are lots to be determined. 
Beginning with a Saturday afternoon doubleheader through the season's final gun on Sunday night, viewers will watch assiduously. Millions will be set for the playoffs.
The league, as far as I know, doesn't force-feed talent on the networks. We can criticize all we'd like or not, but the ones who pay the fiddlers call the tunes. So the decision makers are CBS, Fox, NBC and ESPN. The league doesn't butt in very much on that front.
So looking ahead and seeing that the first names hit our eyeballs are Chris Fowler and Kirk 'Herbie' Herbstreit, it makes you wonder. And to think that Herbie will interject what he'd like about the NFL when his biggest assignment of the year is Monday night?, (Yes, the Alabama-Georgia title game is coming up.) For ESPN led by Herbie, football coverage has become a mockery. Herbie himself pretty much said publicly that he wants an NFL gig at ESPN. Good friend he is, of Griese and Riddick trio.
(Chris Fowler, left, with Kirk Herbstreit)
May I suggest that the Bristolites examine their roster of talent. Dave Pasch does Arizona Cardinals on radio and Bob Wischusen, has been calling Jets games for years. They also do excellent work for ESPN.
CBS and Fox both have doubleheaders this final weekend.
Next weekend the the playoff roller-coaster begins.
Saturday, January 8
4:30 PM- Kansas City Chiefs at Denver Broncos 
ABC, ESPN, ESPN+: Chris Fowler, Kirk Herbstreit, Laura Rutledge
100%
8:15 PM- Philadelphia Eagles at Dallas Cowboys 
ABC, ESPN, ESPN+: Steve Levy, Brian Griese, Louis Riddick, Laura Rutledge 
100%
Sunday, January 9
1 PM- Pittsburgh Steelers at Baltimore Ravens
CBS: Ian Eagle, Charles Davis, Evan Washburn 
83% – 198 stations
1 PM- Indianapolis Colts at Jacksonville Jaguars 
CBS: Greg Gumbel, Adam Archuleta, AJ Ross
6% – 11 stations
1 PM- Tennessee Titans at Houston Texans
CBS: Andrew Catalon, James Lofton, Sherree Burruss 
11% – 31 stations
1 PM- Green Bay Packers at Detroit Lions
FOX: Kevin Burkhardt, Greg Olsen, Pam Oliver 
60% – 131 stations
1 PM- Cincinnati Bengals at Cleveland Browns 
FOX: Kenny Albert, Jonathan Vilma, Lindsay Czarniak 
15% – 35 stations
1 PM- Washington Football Team at New York Giants 
FOX: Chris Myers, Daryl Johnston, Jen Hale
16% – 23 stations
1 PM- Chicago Bears at Minnesota Vikings
FOX: Gus Johnson, Aqib Talib, Megan Olivi
8% – 23 stations
4:25 PM- Carolina Panthers at Tampa Bay Buccaneers 
CBS: Jim Nantz, Tony Romo, Tracy Wolfson  
57%- 119 stations
4:25 PM- New York Jets at Buffalo Bills 
CBS: Kevin Harlan, Trent Green, Melanie Collins
35% – 107 stations  
4:25 PM- New England Patriots at Miami Dolphins 
CBS: Spero Dedes, Jay Feely, Jenny Dell 
8% – 14 stations
4:25 PM- San Francisco 49ers at Los Angeles Rams
FOX: Joe Buck, Troy Aikman, Erin Andrews, Tom Rinaldi 
80% – 161 stations
4:25 PM- Seattle Seahawks at Arizona Cardinals 
FOX: Adam Amin, Mark Schlereth, Shannon Spake 
7% – 16 stations
4:25 PM- New Orleans Saints at Atlanta Falcons
FOX: Kevin Kugler, Mark Sanchez, Laura Okmin
12% – 35 stations
Sunday night, January  9
8:20 PM- Los Angeles Chargers at Las Vegas Raiders
NBC, Peacock: Al Michaels, Cris Collinsworth, Michele Tafoya 
100%
CBS EARLY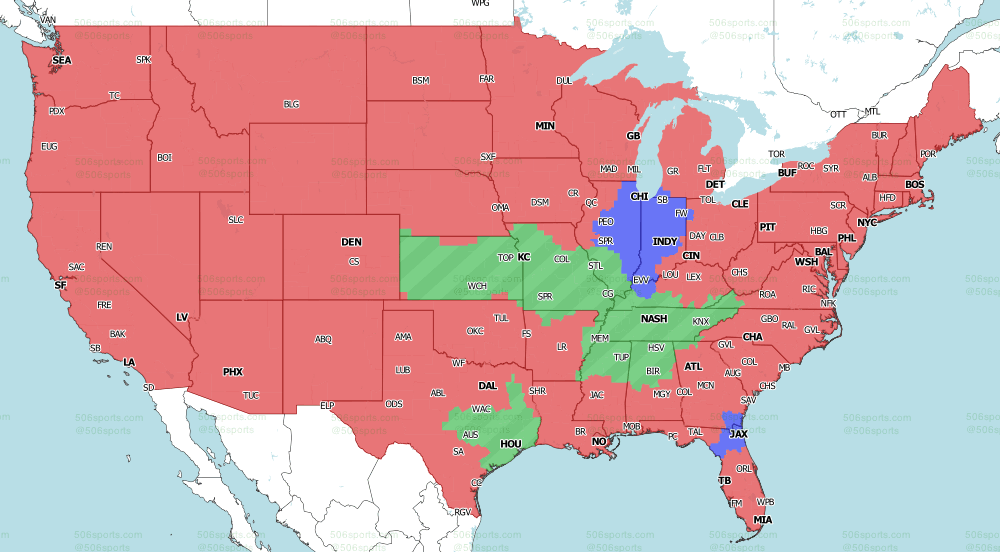 █
Pittsburgh @ Baltimore
█
Indianapolis @ Jacksonville
█
Tennessee @ Houston
---
CBS LATE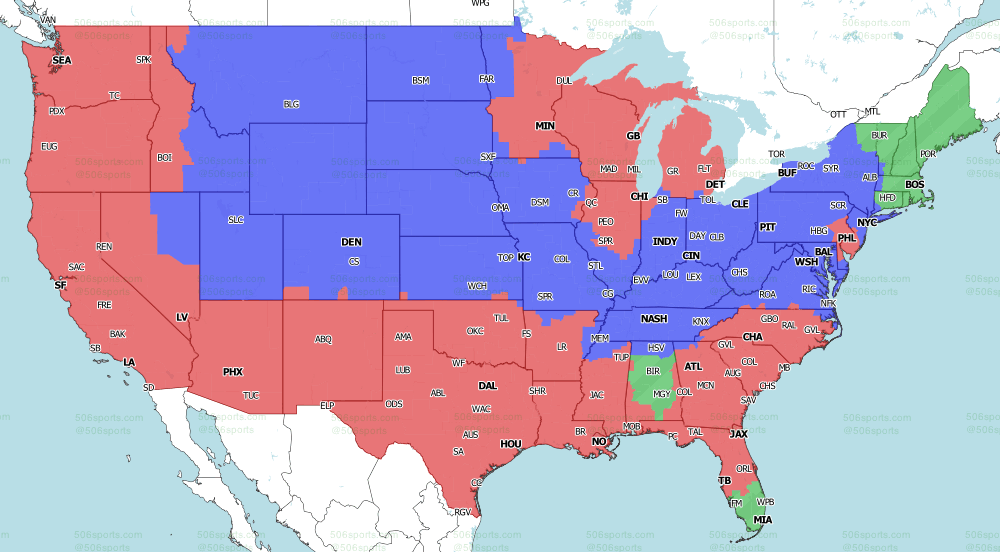 █
Carolina @ Tampa Bay
█
NY Jets @ Buffalo
█
New England @ Miami
---
---
FOX EARLY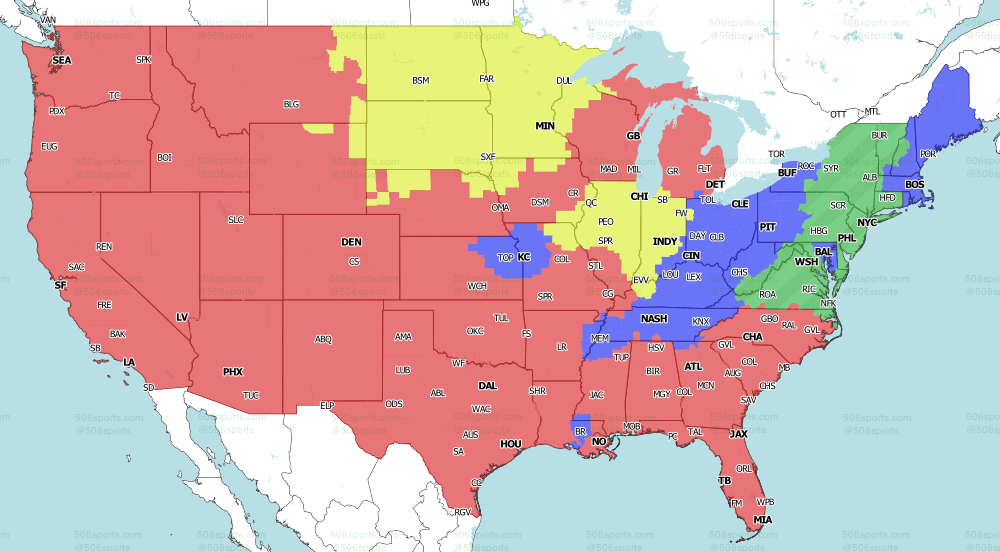 █ Green Bay @ Detroit █ Cincinnati @ Cleveland █ Washington @ NY Giants █ Chicago @ Minnesota
FOX LATE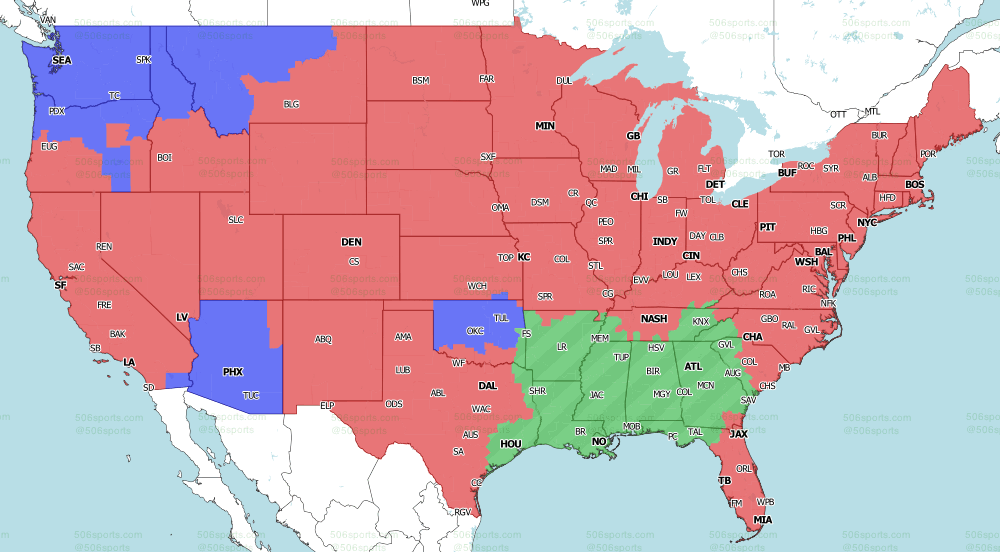 █ 
San Francisco @ LA Rams
█
Seattle @ Arizona
█
New Orleans @ Atlanta
---