Week #2: Al Michaels will always be remembered for launching the NFL's first real play-by-play streamcast
F U L L S C H E D U L E - A L L - N E T W O K S
Looking forward to Thursday's game and the first regular season telecast ever produced by Amazon on Prime. If there's anyone deserving of the honor it's the fellow who in essence is the Voice of the NFL, Al Michaels. Let's keep an ear on his sidekick Kirk Herbstreit and whether Al can keep him in check. For Michaels it's a walk in the park. For Herbie, it's a matter of staying in his lane.
It didn't take Mike Mayock, 64, long at all, to return to football. Hired by John Gruden as a top executive in Las Vegas, he was let go this this past January. Mayock always lands again. He had worked for NFL Network, and seemed to want to sound professorial. He ended comments with flourishes and metaphors, angering some fans and media critics. Mayock  and play-by-player Jorge Sedano are on the late Sunday Houston-Denver game at 4:20 pm for ESPN Radio.
No double-hearing. Two games on Monday night that overlap. Steve Levy, will back up Joe Buck on game one over ESPN. Steve will partner with Dan Orlovsky who has to tone down his passion. Louis Riddick will be alongside too, as he was the last couple years. Brian Griese left ESPN to join the Niners as a quarterback's coach. Game one is Tennessee at Buffalo on ESPN at 7:15 pm.
Game two of Monday's doubleheader has ESPN's top broadcast crew this season. It will be overlapped on ABC. Yes, Buck and Troy Aikman.
Lisa Salters assertively and warmly did a good job on the sidelines Monday with Joe and Troy. She's a vet and assured.
Let's hope that Cris Collinsworth's hoarseness will clear for Sunday night's Bears-Packers age-old rivalry.
CBS has the doubleheader and Fox the single game. Last week, the two networks, both ran doubleheaders.
Fox' top game is Tampa-New Orleans with Kevin Burkhardt and Greg Olsen
Thursday, September 15
8:20 PM- Los Angeles Chargers at Kansas City Chiefs 
AMZN: Al Michaels, Kirk Herbstreit, Kaylee Hartung
AMZN SAP: Miguel Gurwitz, Rolando Cantú, Mayra Gomez
Westwood One Radio (clearances vary by week):
Ian Eagle, Tony Boselli
Sunday, September 18
1 PM- New England Patriots at Pittsburgh Steelers (74%) 181 stations
CBS: Ian Eagle, Charles Davis, Evan Washburn 
ESPN Radio: Chris Carlin, Sal Paolantonio
CBS SAP: Benny Ricardo 
1 PM- Miami Dolphins at Baltimore Ravens (12%) 19 stations
CBS: Kevin Harlan, Trent Green, Melanie Collins 
Compass Media: Chris Carrino, Brian Baldinger
CBS SAP: Nelson Fernandez 
1 PM- New York Jets at Cleveland Browns (10%)  9 stations
CBS: Spero Dedes, Jay Feely, Aditi Kinkhabwala
CBS SAP: Jerry Olaya 
1 PM- Indianapolis Colts at Jacksonville Jaguars (4%) 13 stations
CBS: Tom McCarthy, Tiki Barber
CBS SAP: Roberto Abramowitz
1 PM- Tampa Bay Buccaneers at New Orleans Saints (47%)  121 stations
FOX: Kevin Burkhardt, Greg Olsen, Erin Andrews, Tom Rinaldi
Sports USA: Larry Kahn, James White
1 PM- Carolina Panthers at New York Giants (17%)  24 stations
FOX: Joe Davis, Daryl Johnston, Pam Oliver 
1 PM- Washington Commanders at Detroit Lions (9%)  22 stations
FOX: Kenny Albert, Jonathan Vilma, Shannon Spake
Sunday late Afternoon Games
4:05 PM- Seattle Seahawks at San Francisco 49ers (9%)  25 stations
FOX: Adam Amin, Mark Schlereth, Kristina Pink 
Sports USA: John Ahlers, Hank Bauer
4:05 PM- Atlanta Falcons at Los Angeles Rams (17%)  20 stations
FOX: Kevin Kugler, Mark Sanchez, Laura Okmin
4:25 PM- Cincinnati Bengals at Dallas Cowboys  (81%)  74 stations
CBS: Jim Nantz, Tony Romo, Tracy Wolfson 
Compass Media: Kevin Ray, Danny White
CBS SAP: Armando Quintero
4:25 PM- Arizona Cardinals at Las Vegas Raiders (9%)  22 stations
CBS: Greg Gumbel, Adam Archuleta, A.J. Ross
CBS SAP: Halim Zadat
4:25 PM- Houston Texans at Denver Broncos (10%)  44 stations
CBS: Andrew Catalon, James Lofton, Michael Grady
ESPN Radio: Jorge Sedano, Mike Mayock
CBS SAP: José Antonio Melian
8:20 PM- Chicago Bears at Green Bay Packers 
NBC, Peacock: Mike Tirico, Cris Collinsworth, Melissa Stark
UNVSO: Carlos Mauricio Ramírez, Rolando Cantú 
NBC SAP: Edgar López, René Giraldo
Westwood One: Ryan Radtke, Mike Golic 
Entravision: Ricardo Celis, Tony Nuñez
Monday Night Doubleheader (ABC and ESPN)
7:15 PM- Tennessee Titans at Buffalo Bills
ESPN: Steve Levy, Dan Orlovsky, Louis Riddick, Laura Rutledge
ESPNDEP: Ciro Procuna, John Sutcliffe 
Westwood One: Tom McCarthy, Ross Tucker
8:30 PM- Minnesota Vikings at Philadelphia Eagles (100 %)
ABC: Joe Buck, Troy Aikman, Lisa Salters
ESPN+ SAP, ESPNDEP (JIP @ 10:15 PM): Eduardo Varela, Pablo Viruega
Westwood One: Kevin Harlan, Kurt Warner 
Entravision: Ricardo Celis, Tony Nuñez
CBS EARLY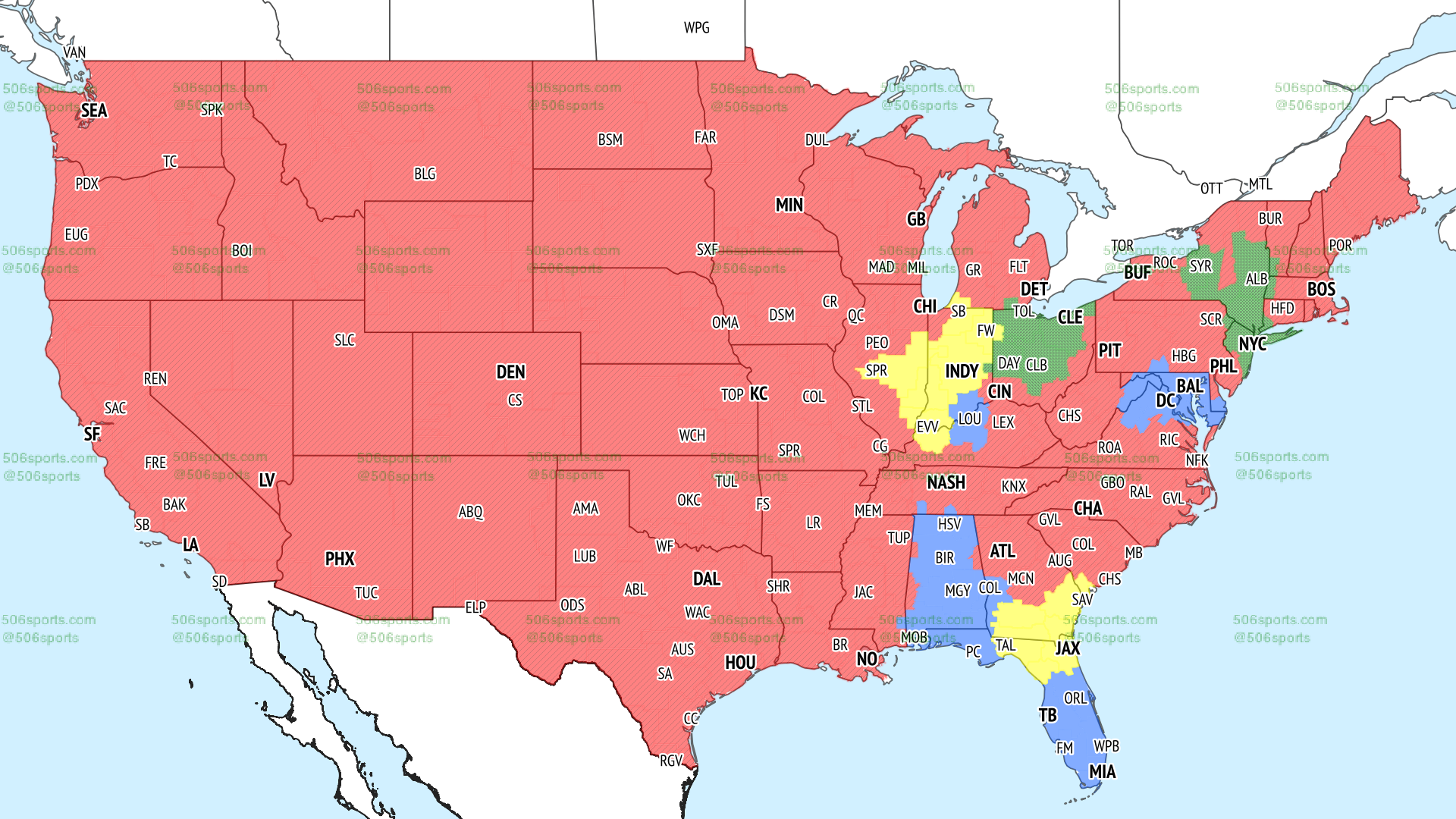 █
New England @ Pittsburgh, Ian Eagle, Charles Davis
█ 
Miami @ Baltimore, Kevin Harlan, Trent Green
█ 
NY Jets @ Cleveland, Spero Dedes, Jay Feely
█
Indianapolis @ Jacksonville, 
Tom McCarthy, Tiki Barber
---
CBS LATE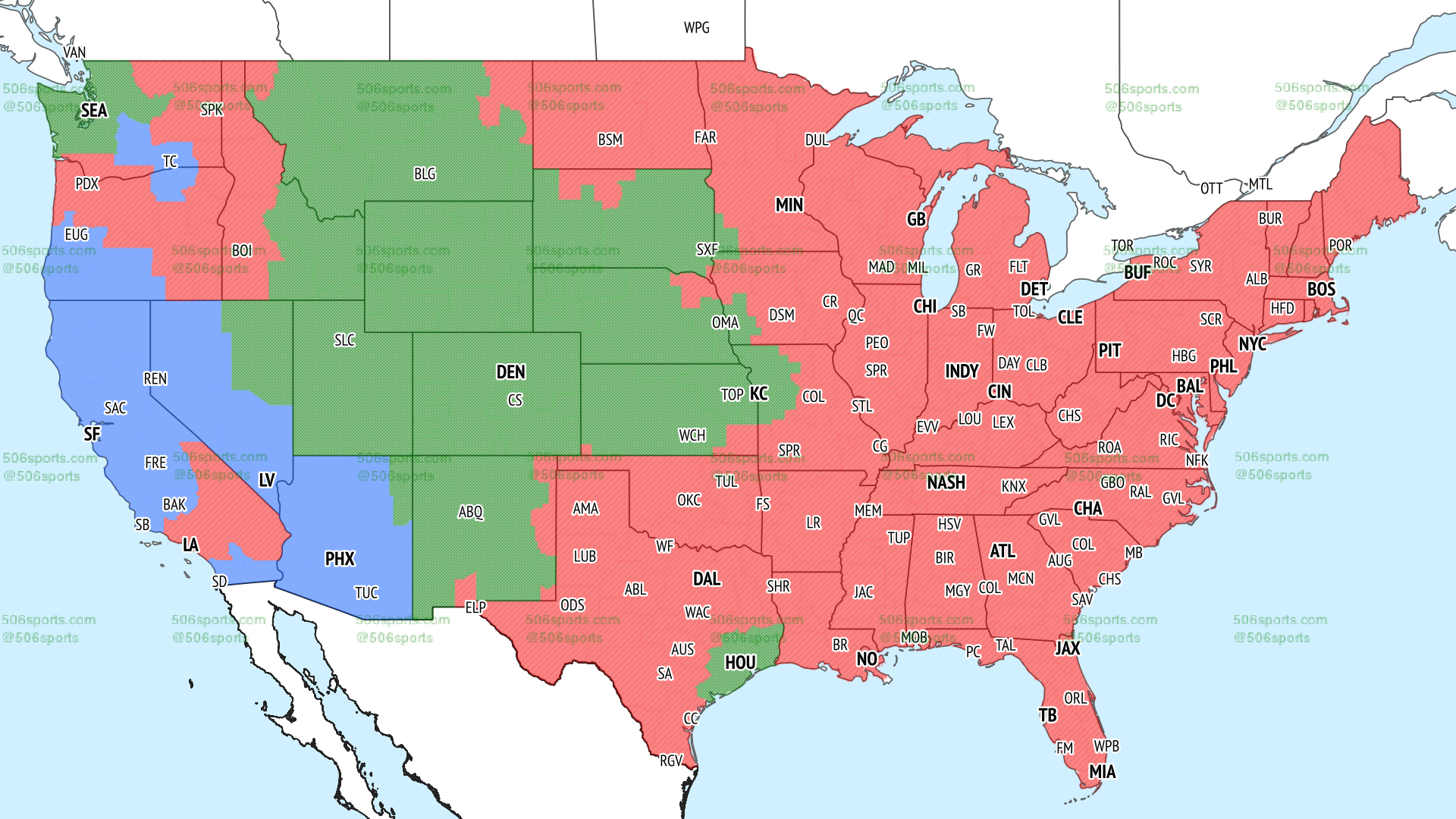 █
Cincinnati @ Dallas,
Jim Nantz, Tony Romo
█
Arizona @ Las Vegas, Greg Gumbel, Adam Archuleta
█ 
Houston @ Denver, Andrew Catalon, James Lofton
---
FOX SINGLE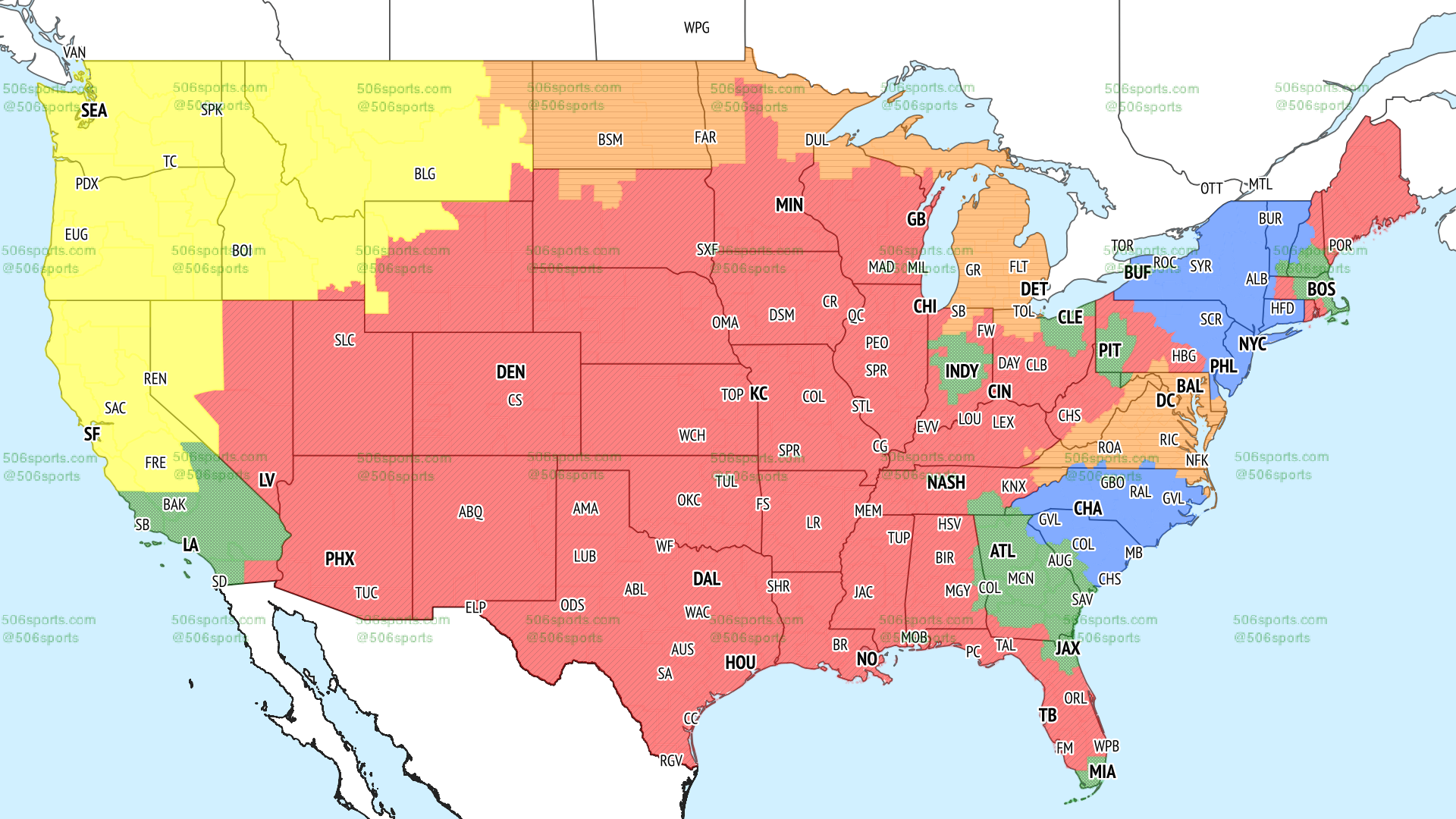 █
Tampa Bay @ New Orleans,
Kevin Burkhardt, Greg Olsen
█ 
Carolina @ NY Giants, Joe Davis, Daryl Johnston
█ 
Washington @ Detroit, Kenny Albert, Jonathan Vilma
█ 
Atlanta @ LA Rams (LATE), Kevin Kugler, Mark Sanchez
█
Seattle @ San Francisco (LATE), Adam Amin, Mark Schlereth