Week # 4 NFL: Game Times, number of stations cleared per game and which sections of America
CBS Has the  doubleheader and Fox has the single game.
Kevin Kugler leads Mark Sanchez and Laura Okmin to London for Saints-Vikinghttps://www.sportsbroadcastjournal.com/week-4-nfl-game-…tions-of-america/s.
Greg Olsen got a raw deal. Thinking he got the number one analyst's slot, Fox then jumped on the opportunity to sign Tom Brady when he's good and ready to retire. The perennial champ will then call the plays. Sorry Greg.
The audience has been surprisingly high for Amazon's Thursday affairs. That's invigorating news for the NFL – more dough!
Thursday, September 29
8:20 PM- Miami Dolphins at Cincinnati Bengals (NFLN)
AMZN: Al Michaels, Kirk Herbstreit, Kaylee Hartung
Westwood One: Ian Eagle, Tony Boselli
1 Over-the air station in each market
Sunday, October 2
9:30 AM- Minnesota Vikings vs. New Orleans Saints (London)
NFL: Kevin Kugler, Mark Sanchez, Laura Okmin, Stacy Dales
Westwood One: Bill Rosinski, Derek Rackley
1 PM- Washington Commanders at Dallas Cowboys (48% – 110 stations)
FOX: Kevin Burkhardt, Greg Olsen, Erin Andrews, Tom Rinaldi
Compass Media: Kevin Ray, Danny White
1 PM- Chicago Bears at New York Giants (20% – 42 stations)
FOX: Joe Davis, Daryl Johnston, Pam Oliver
1 PM- Tennessee Titans at Indianapolis Colts (4% – 13 stations)
FOX: Adam Amin, Mark Schlereth, Kristina Pink
ESPN Radio: Mike Couzens, Kirk Morrison
1 PM- Seattle Seahawks at Detroit Lions (8% – 25 stations)
FOX: Brandon Gaudin, Matt Millen, Megan Olivi
1 PM- Buffalo Bills at Baltimore Ravens (63% – 174 stations
CBS: Ian Eagle, Charles Davis, Evan Washburn
Sports USA: Josh Appel, Brandon Noble
1 PM- New York Jets at Pittsburgh Steelers (11% – 14 stations)
CBS: Greg Gumbel, Adam Archuleta, AJ Ross
1 PM- Los Angeles Chargers at Houston Texans (13% – 28 stations 
CBS: Andrew Catalon, James Lofton, Amanda Renne
1 PM- Jacksonville Jaguars at Philadelphia Eagles (6% – 9 stations 
CBS: Spero Dedes, Jay Feely, Aditi Kinkhabwala
1 PM- Atalanta Falcons at Cleveland Browns (7% – 15 stations)
CBS: Beth Mowins, Tiki Barber 
4:05 PM- Arizona Cardinals at Carolina Panthers
(19% – 22 stations)
FOX: Kenny Albert, Jonathan Vilma, Shannon Spake 
4:25 PM- New England Patriots at Green Bay Packers ( 77% – 176 stations) 
CBS: Jim Nantz, Tony Romo, Tracy Wolfson
Sports USA: Larry Kahn, Mark Carrier
4:25 PM- Denver Broncos at Las Vegas Raiders (23% – 64 stations)
CBS: Kevin Harlan, Trent Green, Melanie Collins
Compass Media: Chris Carrino, Brian Baldinger
8:20 PM- Kansas City Chiefs at Tampa Bay Buccaneers (100% of country)
NBC, Peacock: Mike Tirico, Cris Collinsworth, Melissa Stark

Westwood One: Ryan Radtke, Mike Golic
Monday, October 3
8:15 PM- Los Angeles Rams at San Francisco 49ers (ESPN)
ESPN: 
Joe Buck, Troy Aikman, Lisa Salters
ESPN2: Peyton Manning, Eli Manning 
Westwood One: Kevin Harlan, Kurt Warner 
CBS EARLY
█ 
Buffalo @ Baltimore – Ian Eagle, Charles Davis
█
NY Jets @ Pittsburgh – Greg Gumbel, Adam Archuleta
█ 
LA Chargers @ Houston – Andrew Catalon, James Lofton
█
Jacksonville @ Philadelphia- Spero Dedes, Jay Feely
█ 
Cleveland @ Atlanta – Beth Mowins, Tiki Barber
CBS LATE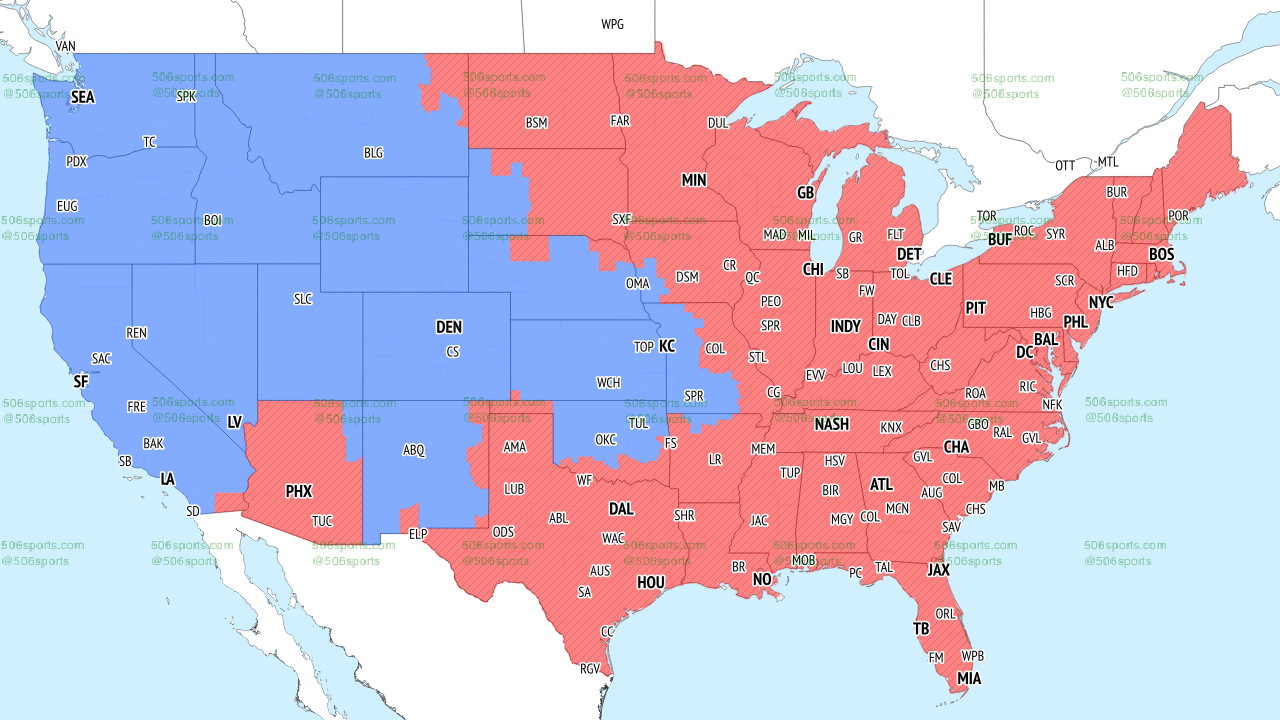 █ 
New England @ Green Bay, Jim Nantz, Tony Romo
█ 
Denver @ Las Vegas, Kevin Harlan, Trent Green
FOX SINGLE
█ Washington @ Dallas, Kevin Burkhardt, Greg Olsen
█ Chicago @ NY Giants, Joe Davis, Daryl Johnston
█,Seattle @ Detroit, Chris Myers, Robert Smith 
█ 
Tennessee @ Indianapolis, Adam Amin, Mark Schlereth
█ 
Arizona @ Carolina (LATE), Kenny Albert, Jonathan Vilma