White Sox: The Old Commander, Bob Elson, was as identified with Chicagoans as the club itself
Today our series continues about radio/TV Voices of all of baseball's 10 post-season teams by Curt Smith, former Speechwriter for President George H.W. Bush and author of 18 books, including the 2021 Memories from the Microphone: A Century of Baseball Broadcasting.
The series features one announcer from each club who represents that franchise— current, retired, or deceased. The profile below recalls Bob Elson, play-by-play Voice of the celebrated 1959 American League titlist White Sox, who are playing in the American League Division Series against the Houston Astros.
** 
The Sporting News 1959 preview issue showed White Sox radio Voice Bob Elson's photo: like the run, field, and pitch mode of that year's pennant-winning club, slightly out of date. Bob was still termed "The Old Commander" for World War II service at the U.S. Great Lakes Naval Training Center, having received leave to call the 1943 World Series. "Franklin Roosevelt asked that Bob announce," said fellow Sox broadcaster Jack Brickhouse. "Only time a president used rank to get a uniformed baseball guy home."
By the 1930s, Bob had succeeded Graham McNamee as "the most imitated, creative announcer who ever lived," mused Jack, calling 12 Series and nine All-Star Games, all but one on Mutual Radio. He was also preeminent beyond the pastime. Ultimately, the War ended, culture changed, and Elson seemed less salient. Yet he was crucial in taking radio from baby steps to today's ubiquity.
A 1904 baby, Bob's voice so wowed nuns at a local Chicago church that he won an audition for the Paulist Choir. Elson competitively toured five years in Europe, taught not to shout for fear it might hurt the voice. He entered Loyola, transferred to Northwestern, but failed to graduate, radio too fetching. In 1928, Bob visited St. Louis to see pool whiz Willie Hoppe, where his career took a carom.
At the Chase Hotel, Elson readied for a KWK tour but, finding it to be an announcing contest, decided to audition. He read a script, won a listener vote, and worked at the station before local papers, reporting it, led Chicago's WGN to make an offer. In 1929, Bob debuted there news, music remotes, and network lead-ins—everything but sports. Quin Ryan, once editor of WGN's boss, the Chicago Tribune, aired baseball but liked station politics more.
In 1931-42, Bob replaced him as Cubs/Sox mouthpiece on WGN's home-game coverage. Four other Chicago outlets carried the sport. "There were no soap operas, so women either listened to baseball or shut the radio off," Elson said. Kenesaw Mountain Landis helped him become the big leagues' network prism, the commissioner's office "down the street" from Bob's. They often lunched, especially after 1930 when Landis chose his first Classic Voices:  NBC's Graham McNamee and CBS's Ted Husing.
That year baseball sold exclusive rights to Ford Motor for $100,000. Another first was Elson's on-field radio interview with A's manager Connie Mack. "Landis said it was OK to run a wire from the booth," Bob said. "At first players were antsy, but soon got the swing." In 1933, he interviewed former skipper John McGraw at the first All-Star Game at Comiskey Park. "We have a sellout," McGraw told CBS, "a fine day, and I hope the best team wins."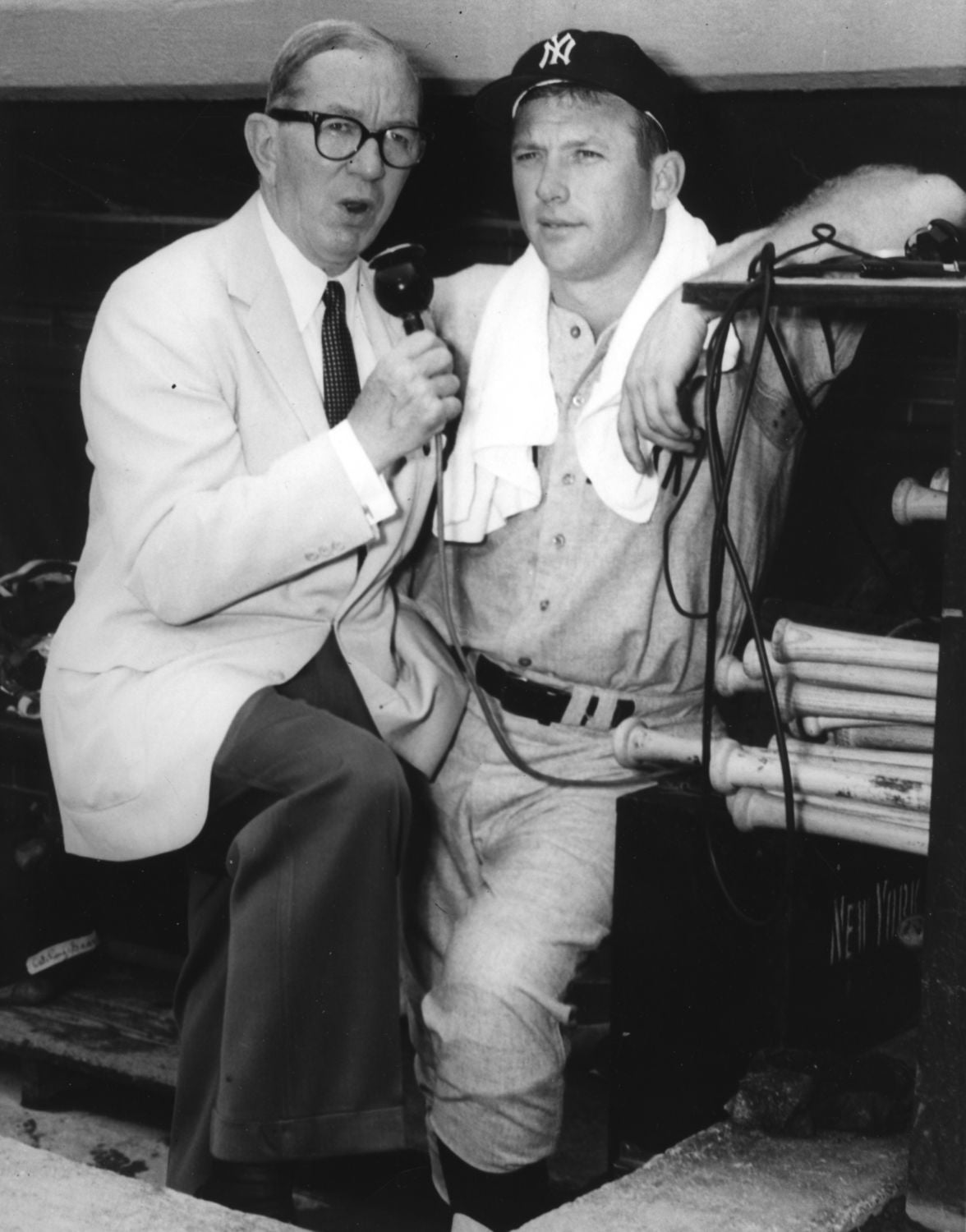 The Americans did, 4-2, Babe Ruth belting the All-Star Game's first homer. Landis picked its mike men, too, only a 1936 illness breaking Bob's 1933-42 streak. "[The commissioner] would say, 'Stick to baseball. They'll be a lot of Hollywood people in the park, and I don't want to hear a thing about them. I don't care if Harpo Marx slides into second base … it better not be mentioned in the broadcast.'" With Bob, it was more rewarding to recall what was.
Elson voiced the 1932 Series where Ruth did or did not predict his home run against the Cubs. "I was there!" Bob said. "He pointed to the bleachers." In 1935, Mutual's first Classic began with a bang, The Commander and Red Barber airing. In 1937, "Yankees 1, Giants 0 … And there's a long one! … Joe DiMaggio has hit … over the roof!" In 1939, ending multi-network coverage, Gillette got Series exclusivity, pairing Red and Bob for the first of four more times. (Ford Frick winner Bob Elson interviewing Mickey Mantle)
Beside baseball, Bob did football, boxing, and horse racing and interviewed big-wigs at Chicago's Ambassador East Hotel—his 1942-45 service as a lieutenant, senior grade, drew celebs to U.S. bases. They also graced the 1946-48 series Bob Elson On Board the Century for the New York Central Railroad's Twentieth Century Limited, mid-century America carted from Grand Central Station to Chicago's Union Station and back.
Bob's subjects included Eleanor Roosevelt, John F. Kennedy, and Marilyn Monroe: newsmakers at a time he was felt in their league. Even reclusive DiMag spoke, if not architect Frank Lloyd Wright. Elson: "I've always had a great appreciation for your work." Wright: "In that case, I've done enough for you already." Bob did voice-overs for newsreels and the first yearly 1943-48 official Series highlight film. He was a household voice, and name.
By the 1950s, the passenger train's heyday past, Elson took his show to the Pump Room in Chicago's Ambassador East on each non-big-league weekday afternoon, studying an answer before posing the next query—rare even for a medium of conversation. The 1930 Mack interview baptized Bob's Man in the Dugout, heard before and/or after each game—a feature that can hardly be exaggerated, given how future clubs employed such shows to sell ad time, humanize the club, and raise a player's profile.
In October 1945, Bob was discharged from the Navy, continuing to arrange for entertainers to tour military hospitals and service bases. After Mutual's 1943 Series—Bob in uniform behind a mike—he may likely have despaired of one-upping himself. You try. Of more concern was deciding for which post-war Chicago team he would broadcast, its electronic world turned upside down.
The 1947-48 Sox and Cubs planned to air all games on radio and add TV when possible. The Cubs had won the 1945 pennant, Bob thinking it a fluke and the Pale Hose a better bet. Meantime, Brickhouse had grown up in Peoria believing that Elson would play anywhere, such loyalty making him Bob's protégé in everything but name. A 1940 telegram from his mentor concerned a job as a staff and sports assistant. "Expect a call [from WGN]," Elson wrote. "Remember if asked you have a thorough knowledge of baseball."
Hired, Brickhouse introduced Les Brown's band, continued "Man on the Street" interviews begun in Peoria, became Notre Dame's football mike man, and helped Bob air the pastime. In mid-1942, Jack replaced Navy-bound Elson as WGN's Cubs and Sox Voice, Bob returning in 1946 to Sox-only WJJD. Brickhouse spent next year on experimental TV and 1948 airing each club's WGN 77-set home slate—unleashing his catch phrase "Hey-Hey!" in every crevice of the city.
By 1952, The Commander had sailed to WCFL. The Pale Hose highwater mark was 1959. After nine Yankees titles in ten years, the "Go-Go White Sox" took the lead in July, broke their attendance mark, and once scored eleven runs in an inning of one hit, ten walks, a hit batsman, and error. On September 22, they beat Cleveland, 4-2, to wave a first flag since 1919. Secondary Voice Don Wells did radio's last out, Bob readying the post-game show. On TV, Brickhouse said, "Vic Power is up. There's a ground ball! [Luis] Aparicio has it … steps on second, throws to first … The ballgame is over! The White Sox are the champions of 1959!"
At Midway Airport, 50,000 gathered to greet them as the plane arrived after 2 A.M. from Ohio, owner Bill Veeck shocked to find that on the final out Mayor Richard Daley had activated air raid sirens, their cry presaging Elson's. Each 1947-65 local-team Voice aired half of each Series. "With the Sox in, it couldn't be Allen," said NBC's Lindsey Nelson of the usual AL suspect. "The problem was that [NBC sports head] Tom Gallery and Bob had loathed each other as kids" on the same block in Chicago.
Gallery chose Brickhouse to represent the Sox on NBC TV. Elson's network snub was "the biggest hurt of my career," he lamented, re-creating the Classic locally on WCFL. He spent his last Hose decade reading box scores, calling his broker, and expertly playing gin rummy. In 1969, Richard Nixon hailed baseball's centennial at the White House. When an aide introduced Elson, the president nodded, fondly. "Oh, I know Bob," he said. "I even knew him back when the White Sox had a good team."
Axed in 1970, The Commander lasted one season in Oakland. Without Chicago as a canvas, the artist was lost, dead of a failing heart in 1981, at 76. Referencing Allen and Barber making Cooperstown in 1978, Brickhouse said, "If Bob had lived in New York, he'd have been the first inducted into the Hall." Elson was the next honored, in 1979. If the Voice of the White Sox's trademark call was "He's out!," sublime is that Bob is in.